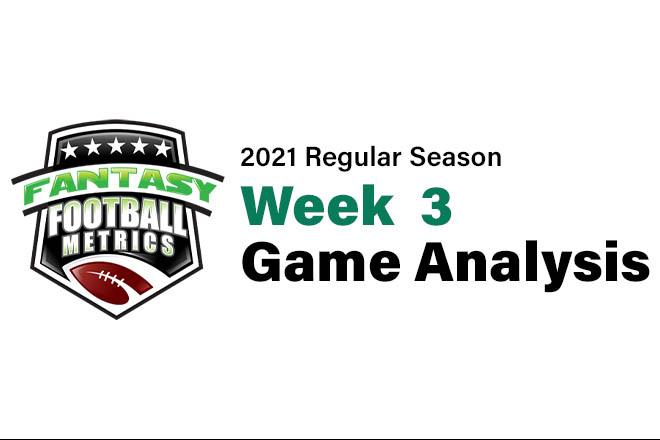 Ross Jacobs
FFM
29 September 2021
2021 Dynasty/Fantasy Game Analysis Week 3: Packers 30, 49'ers 28
The Packers jumped out to a big 17-0 lead over the 49'ers and the game looked all but over. But San Fran clawed their way back into the game and nearly pulled off the win after taking the lead with about a minute left. Unfortunately a minute is too much time with Aaron Rodgers on the other side and the Packers drove down and kicked a 51 yard field goal to take the game.
The narrative from the national media is that the Packers are fixed, they are fine, that Week 1 against the Saints was an aberration. They have a dominant offense and are going to win 13 games again this year. Don't believe it. This offense is nowhere near as strong as they were last year. The offensive line is beaten up and Rodgers only has two real ways to attack defenses, Aaron Jones and Davante Adams (who apparently is a complete unknown because no defense seems to know he's getting the ball every other play). The defense seems average at best. Add it all up and you have maybe a 10 win team, which is decent but not one of the strongest in the NFC. They are going to be battling the Vikings for the division all year.
RC Note: I believe the Packers are better than a 10-win team, and are going to get better as we go on two fronts:
1) The offensive line gets a huge boost when David Bahktari comes off PUP midseason.
2) This defense got better this week/game when they moved to starting Eric Stokes -- Jaire Alexander and Stokes are a lethal CB duo. This defense is getting, and only ignored because the Saints thumped them Week 1 -- but that was a fluke of a game where the Saints barely had any yards but did have a ton of TDs. This defense is good/going to get better as we go. 
As for the 49'ers, they are in a somewhat similar boat. The offense isn't great because Jimmy Garoppolo is holding it back (there are other issues but this is the biggest). I've been hammering this point for months now. He's a limited QB with a weak and somewhat erratic arm, and even though he mostly makes good decisions, he stills throws some incredibly stupid passes at times. The defense isn't great either because they have one gaping problem and that's the secondary. Why they continue to ignore this problem is beyond me. SF was already short on good corners to start the year, and now a bunch of them are hurt. SF is going to score some points this year because despite all his flaws, Shanahan is still a good offensive coordinator, but the current iteration of this team is only good for maybe a 9-8 record or so. They aren't a real playoff threat and will very likely finish last in that division.
Fantasy Notes
--Jimmy Garoppolo (25-40 for 257 yards, 2 TD/1 INT) continues to look underwhelming. He's just so limited it's beyond obvious that the team needs to just roll out Lance and let him take his rookie beating. This team is going nowhere with Jimmy.
We're getting closer and closer to the debut of Trey Lance. I thought perhaps Kyle would come out with him in the 2nd half here after Jimmy completely bombed the first half, but they stuck with the veteran and nearly pulled off the win. Garoppolo likely held onto his job for another week with this near comeback win, but it's just a matter of time until the dam breaks.
‍
RC Note: They longer they don't make this change...to me, shows more that they do not fully trust Lance. We'll see Lance when the season starts getting away from SF...and it will, soon enough.
--The debut of Trey Sermon (10-31-1, 2-3-0/3) was...disappointing to say the least. The TD saved his fantasy day, but you can't count on this going forward. Sermon looks poor running the ball and Kyle was doing everything he could to keep Sermon from taking carries. Juszczyk was taking carries. Samuel took carries. Even Kittle got a carry. Most tellingly Garoppolo threw 40 passes. Some of that was because they were in an early hole, but mostly it was because Kyle does not trust Sermon at all. When Elijah Mitchell comes back this is his backfield. Sermon is unusable for the time being.
--Deebo Samuel (5-52-0/10, 2-0-0) is the #1 WR here by a mile and will get a nice amount of targets this year, but Jimmy is a limited passer and Lance is likely going to be rather scattershot when he gets in, so it's really going to limit Samuel's upside. He didn't help himself here either with a couple of drops. RC likes him as a WR1 this year, or at least he did before this game, but I've always been of the opinion that he was more of a WR2.
--To start the year we thought it was Deebo as the 1A and Brandon Aiyuk (4-37-0/6, 1-8-0) as the 1B, but so far Aiyuk has been significantly behind Deebo. He really doesn't look good at all. I'm not seeing any juice in his movements, his hands have been shaky; it's been a real mess. Not sure what's going on with him right now. He got as many targets as Mohamed Sanu which is worrisome, but he's on the field nearly every play so I have to imagine they are going to try to get him more involved soon. If Deebo goes down with another injury things get more interesting.
--The best player on this offense is still George Kittle (7-92-0/9), but only 2 TD's in his last 10 games, 4 in his last 18 games, and 7 in his last 24 going all the way back to 2019. It's not an aberration at this point. It's a pattern. I'm not saying it's a Kittle issue, but it is an issue regardless. You simply can't have Kittle in the same conversation for fantasy with Waller and Kelce right now. He fits better in the next group with Andrews and Hockenson.
--I put out the warning last week on Aaron Rodgers (23-33 for 261 yards, 2 TD/0 INT) and I'm doing it again now. This offense doesn't look good and this is about as good as it's going to get for Aaron this year. This isn't 2020 anymore and Rodgers isn't throwing for 300 yards or 4 TD's every game. Against a very shaky 49'er secondary all he could manage was about 250 yards and 2 TD's with half of that going to Davante. What's going to happen against better teams that can take Adams away? I hope you were able to flip him for Allen like I suggested last week because that window is gone now. The schedule is about to get really rough and I don't think Rodgers is going to handle it well.
RC Note: I'm not as worried about the GB schedule ahead...if PItt is still missing T.J. Watt Week 4, and if Washington's defense has died then Week 7 is fine. The schedule is shifting to OK/neutral ahead, for me, on GB/Rodgers. 
--Speaking of Davante Adams (12-132-1/18), how is it possible that this guy is wide open every single play? What is media darling defensive coordinator DeMeco Ryans doing all week? It doesn't take a brain surgeon to see that Adams is literally all Rodgers has to throw to and yet you don't think to put two guys on him every single play? Pray your franchise doesn't hire Ryans to be its head coach in a few years.
--Aaron Jones (19-82-1, 2-14-2) continues to look as good as I've ever seen him. He's still an underrated RB1 in this offense where he's half of the volume.
--You know who doesn't look good? AJ Dillon (6-18-0, 2-8-0/2). It might just be this terrible offensive line, but he looks slow as hell. It may be that he simply doesn't have anywhere to run, but Jones seems to be doing just fine. I thought we might see more of a 60-40 split between the two backs this year, but so far Jones is dominating the touches. Is that because Dillon isn't performing as well as expected for the coaches?
--I'm not even going to talk about any other Packers receiving options. They are suck at the moment and this lame offense isn't doing anyone any favors. Allen Lazard (1-42-0/1) is the one player that could really take this offense up a notch, but you see how he gets treated. Early catch and run for 42 yards after blowing past his defender off the snap and doesn't get another target the rest of the game.
IDP Notes
--RC mentioned one of my favorite defenders in the game in his 5 Things article and he's absolutely correct. I was complaining to him all summer how I didn't understand why literally nobody was signing De'Vondre Campbell (12 tackles) and then the Packers scooped him up for a mere $2 million. That was quite possibly the best value signing of the off-season. Campbell has instantly become their defensive leader and best player (other than maybe Jaire Alexander). Being a GM in the NFL is such a difficult job...
--Another guy RC brought to my attention recently is SF linebacker Azeez Al-Shaair (10 tackles) and through 3 games now he's got 22 tackles for a bit over 7 tackles a game. He's on pace for around 120 tackles for the year. Not bad! It looks like he's going to get a bit more work with Dre Greenlaw out for a few weeks. I still maintain that my scouting on him is correct: he's not an impact player at all and half his stats come from cleaning up other people's tackles (5 assisted here), but regardless it works for fantasy so keep riding it.
Snap Counts of Interest
63 = Deebo Samuel
60 = Brandon Aiyuk
45 = Mohamed Sanu
48 = Kyle Juszczyk
41 = Trey Sermon
56 = Davante Adams
42 = Allen Lazard
40 = Marques Valdes-Scantling
46 = Aaron Jones
18 = AJ Dillon