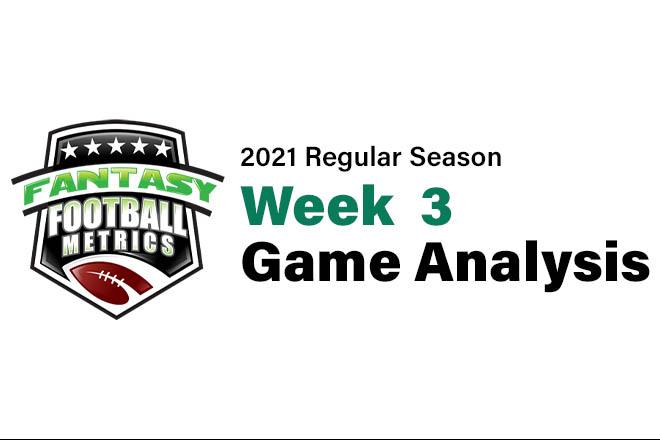 Ross Jacobs
FFM
27 September 2021
2021 Dynasty/Fantasy Game Analysis Week 3: Panthers 24, Texans 9 
Yaaaaaawwnn. This was possibly the most boring game we'll watch all year. Sam Darnold vs Davis Mills does not make for riveting tv. So to help me out with this game recap I've recruited one of the color commentators from this game, Troy Aikman, to help me out.
How are you doing Troy?
I'm good. Didn't get much sleep last night so my eyes are a bit red and swollen. It happens a lot, but I'm excited for a great game of football!
Troy, the game is already over. It was last Thursday. You were there commenting on it.
Right, right, I remember. I just spend so much time studying all these players that sometimes I forget what day of the week it is.
Well those two things don't seem related, but I'm glad to hear you study every player in so much depth because I have a few questions to ask about some of the younger guys. Let's start with Sam Darnold. As everyone is aware by now, he is finally free of the clutches of the worst football coach alive, Adam Gase, and he seems to be doing pretty well. What do you think about the turnaround Darnold is making in Carolina?
I like this guy, always have. He's got great feet in the pocket and a strong arm, makes good decisions. He just needed to clean up the turnovers and you're seeing him do that. I think he's going to be a really good player.
I mean, turnovers come from bad decision making and he's still doing that but ok. He also doesn't throw many passes further downfield than 10 yards so I'm not sure about the big arm either. Do you think playing the Texans, Jets, and Jameis Winston led Saints has anything to do with his success?
No, football is football. Opponent doesn't matter. What's important is that you're playing good football and winning games and Darnold is doing that right now. I really like him.
So you said. Ok well what some of the young pass catchers for the Panthers? Can you give me a breakdown of Terrace Marshall?
I really like this guy. He's a big, strong kid, good hands. He played at LSU with his offensive Coordinator Joe Brady, so Brady is really going to know how to use him.
Well, familiarity is great I guess. Not sure I'd draft someone just because I knew them, but this coaching staff seems to do an awful lot of that. What about Tommy Tremble? He had a rushing touchdown here. That seems pretty athletic for a tight end!
Yeah, it really is. I like this kid. He's a good blocker, really loves football. That's going to help him as a pro.
Umm, ok. Can you tell me anything about his skill set and how it might translate? How does he look as a receiver to you?
He looks really good. I like him.
Fascinating. As you know, the Panthers star player RB Christian McCaffrey got hurt here and is going to be out a few weeks with a hamstring injury. His backup is rookie Chuba Hubbard, a guy that Matt Rhule is familiar with from his time at Baylor when they played Oklahoma St. There are reports that Rhule's wife was at that game and watched Hubbard run wild to help his team beat Rhule and she suggested to her husband that they should draft Hubbard. Doesn't that sound a little strange to you?
No, not at all. He's a good player. I really like him and so does the team.
Right. You've said that. But can he play? He's just an ok athlete and doesn't seem to have a lot going for him.
He ran a 4.36 40-time at his pro day. That's pretty fast! Being fast helps you be a good football player.
Actually the 4.36 times were random social media posts. Jim Nagy, the executive director of the Senior Bowl had him timed at 4.50, which is ok at his size but nothing special.
But he ran for 2,000 yards at Oklahoma St and there's not a lot of guys that can do that. I'm pretty sure all the ones that did are in the Hall of Fame now. He's a guy that I really like and I think he has a bright future.
You're kind of dense, aren't you Troy?
I haven't slept much lately. That's why my eyes are so red and puffy.
Tell me about Houston's rookie QB Davis Mills.
He's a big, strong kid with a big arm. He can make all the throws. The team really likes him and is high on him. I like him too.
I never would have guessed. He struggled a lot in the preseason. Did you see anything here to give you hope that he might be better than that?
Yeah, he really threw the ball well, made good decisions. He has a big arm. I really li...
We got it. Thanks Troy. Thanks for the commentary. You really illuminated some things for us today.
I'm going to go take a nap.
You sound like you need one.
Fantasy Notes
--Can you trust Sam Darnold (23-34 for 304 yards, 0 TD/0 INT, 8-11-2) for fantasy now? No. Don't even go there. He's played three of the worst teams in the league (well, the Saints had key defenders out for their Week 2) and has had an awesome defense helping him out. Getting short field position consistently can make even terrible QB's look good. See the Saints week 1 game vs. GB for evidence.
Now he doesn't have his best player (CMC) to take attention away, and the defense has lost an important piece as well. Luckily for Darnold the schedule is pretty light on good teams. He's likely going to have some halfway decent games this year because he gets to play so many bad teams, but against the good teams you're going to see old Darnold because nothing has really changed. Even here he didn't throw a TD and only had a decent fantasy day because he ran in a couple of short scores. Save yourself the headache and avoid him as usual.
--Chuba Hubbard (11-52-0, 3-27-0/5) will step in for McCaffrey for a few weeks and there are some analysts touting him as an RB1 for that time. You've got to be kidding me. You can't take an average RB, give him McCaffrey's workload (which he isn't likely to get because he's not McCaffrey) and expect the same results. Hubbard is nowhere close to McCaffrey. You also have to worry about the threat of Royce Freeman (5-17-0, 1-8-0/1) who is the superior back of the two, although as Troy and I discussed Matt Rhule loves him some Chuba because his wife loves Chuba and that might trump all. There's also the matter of this offensive line not being very good. McCaffrey can make that work. Not so sure about Hubbard.
Don't sell your soul for Hubbard. McCaffrey will be back in a few weeks anyways. He's just not a guy to really get excited for.
--DJ Moore (8-126-0/12) is the clear #1 WR here as I've been talking about going back to the preseason. Whatever connection Darnold had with Robby Anderson (1-8-0/2) doesn't matter now. Anderson is a speedster, downfield threat, and Darnold can barely get the ball past 10 yards. That leads to Moore getting a ton of short passes because it's the safe throw for Darnold. With McCaffrey out for a bit though we might see teams clamp down on Moore knowing it's all Sam throws. Of course, after some of the decision making I watched this weekend in other games, I'm not sure we can trust coaches to make sound, rational decisions and actually come up with a decent gameplan.
--Scratch whatever I said about Brandon Zylstra last week. He's a non-factor. Not sure why he was so involved last week, but it's still Terrace Marshall (4-48-0/5) as the #3 in title and #2 for stats at WR. Just like with Moore, Marshall plays the role of a possession receiver in the short game, and that suits Darnold much better than trying to throw bombs to Anderson. It's not going to be worth much, but it's something if you're desperate.
--Dan Arnold (2-23-0/4) is still not being used nearly enough. He's one of the most talented pass catchers on this team, but it's going to go to waste.
(Literally 2 seconds after I sent this article to RC we found out that Carolina traded Arnold to Jacksonville for CJ Henderson. That's a great, great move by Rhule and the Panthers and yet another completely unbelievable one for Meyer and the Jags.)
--The fact that Carolina was willing to part with Arnold means they are about to give Tommy Tremble (1-30-0/1, 1-7-1) significant time as a receiver. He's fine I guess. I've covered Tremble a lot going back to the draft and you could do a lot worse. He's a decent athlete overall. He's not better than Arnold, but I would trade a TE I'm using in a rotation for a young, stud CB any day of the week. Tremble is now in a 50-50 split with Ian Thomas but Thomas is being used as a blocker almost exclusively. 
For what it's worth Tremble is going to get all the receiving work at TE now. It's yet another safe throw for Darnold so it might be somewhat decent. Tremble is a favorite of Rhule's so you know they are going to push him. Being the head coach's pet is often worth more than being talented.
--Brandin Cooks is now the 5th most targeted player in the league through 3 weeks with 32 and the 3rd leading receiver with 322 yards. I don't see why that would stop seeing as teams seem to be completely unaware that Cooks is a good player and Houston's only real option to move the ball. Not sure I've seen a team actually try to cover him yet. He's going to be lacking in TD's this year but should still make a nice ppr option.
--My only other note for Houston is on Davis Mills (19-28 for 168 yards, 1 TD/0 INT). He played quite a bit better than in the preseason where he looked like an abject disaster. He did that while hanging in against a ferocious pass rush. Honestly I was quite impressed watching him work here. Maybe he can do ok after all. This team still sucks though so don't expect any miracles.
IDP Notes
--Carolina lost rookie corner Jaycee Horn for the year and that might have really hurt their chances of being a shutdown defense for the rest of the year, but they smartly went and traded for Jacksonville castoff CJ Henderson first thing this morning. This is a fantastic move and keeps Carolina's hopes alive on defense. Combined with their schedule they could easily still be a top 5 defense in 2021.
Snap Counts of Interest
45 = Terrace Marshall
19 = Brandon Zylstra
37 = Ian Thomas
27 = Dan Arnold
19 = Tommy Tremble
40 = Chuba Hubbard
11 = Royce Freeman
34 = Akins
31 = Ph Brown
21 = D Johnson
19 = Ingram
09 = Lindsay
08 = Burkhead