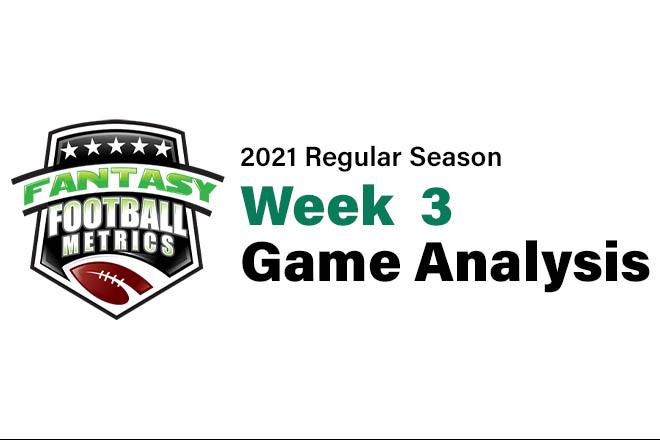 R.C. Fischer
FFM
01 October 2021
2021 Dynasty/Fantasy Game Analysis Week 3: Broncos 26, Jets 0
Before the game you were probably thinking…the Broncos will likely play a controlled, safe, steady game and just methodically roll over the Jets – Denver just needed to get the lead and then just let the Jets flail away, and Denver occasionally capitalize on the gifts of good field position.
And what really happened in this game was… The Broncos played a controlled, safe, steady game and just methodically rolled over the Jets – Denver got the lead and then just let the Jets flail away, as Denver occasionally capitalized on the gifts of good field position.
This was never a game. The Jets have the worst offense in the NFL…the worst O-Line (along with PIT) …5 sacks, 9 QB hits…and no run game and the worst WR group in the NFL. They will win a game before too long because one of these times they will face a weak pass rush team and catch a break, and they have a top 10 NFL defense…but boy are they painful to watch on offense.
Denver jumps to (3-0) out of the gates, as we modeled could/would happen due to a fortuitous schedule. If they can just go (7-7) from here, they will win 10 games and make the playoffs. Their schedule ahead is more difficult (how could it not be?) but is not daunting until after a Week 11 BYE where in a 7-game span they play LAC and KC 4 times. They should get to 10 wins and sneak into the playoffs, but The Computer's data is flashing warnings on Denver – that there are issues being hidden by a very easy schedule (NYG-JAX-NYJ…teams a combined 0-10 as I write this).
This game went about exactly as everyone thought, so not a ton of player notes.
Fantasy Player Notes…
 -- Another week, another Zach Wilson (19-35 for 160 yards, 0 TDs/2 INTs) looks bad event. Because everything is about the QB and/or who won last week for the fans/analysts, so everyone in football is up in arms calling Wilson a bust. They want him to be a bust, so they are going to try to speak it into existence. It's the cool thing to do among the media elites…and the football plebes (fans) take their cues from their overlord media.
The talking point for them this week is – Justin Fields's Week 3 disaster is Matt Nagy's fault…because THEY like Fields. He's THEIR guy. So, it can't be his fault. However, they don't like Wilson…so this is all his fault.
The correct answer is – it's neither QB's fault. They're thrown into the NFL arena with bad O-Lines and are under constant pressure to do anything.
When Fields was dying Week 3…he just took it. It's a me-first guy worried about his stats ( my opinion). He won't throw the ball under pressure. He'll eat the sack.
Wilson doesn't care…he's trying to make plays on 3rd and long, or 4th-down. He's trying to make something happen against all odss/pressures. He should just check down more to pad his numbers and get everyone off his back, and he did that more here but between RBs dropping the passes or the WRs dropping passes/not getting open with max pressure on al most every snap…what's Wilson to do? Wilson had 100+ yards and a potential TD pass left on the field with drops.
Corey Davis (5-41-0/1) as your #1 WR…is the crime of the century. Oh, Zach don't worry…we got Ryan Griffin (1-5-0/1) and Tyler Kroft (2-12-0/2) to help you as TE 'weapons'.
Wilson's two best WRs seem to be Braxton Berrios and Keelan Cole, so of course we get Corey Davis and Elijah Moore starting/see the most targets. His best WR is really Denzel Mims…not even active.
If Matt Nagy is killing Justin Fields…then what is Robert Saleh doing to Zach Wilson? How is Mims not even active? You mean hiring your best friend's brother to 1st-time coordinate an offense in the NFL isn't working 3 weeks in against three top 10 NFL defenses (CAR-NE-DEN)…I'm shocked!
I'll buy all your Zach Wilson in Dynasty for 2022 and beyond…for pennies on the dollar now. But my QB room is pretty salty already in most cases, so…not a great need. I'll buy only to make you bleed for it…virtually give me it for nothing.
 -- Michael Carter (9-24-0, 2-5-0/3) is now just 'the man' for NYJ at RB, I guess. They went the whole summer gearing up for Tevin Coleman…and two weeks in that's done and Carter is the man, for now.
Wilson tried to use him as a checkdown weapon some, but not enough. Wilson hit him for a sweet 10+ yard pass in stride that might have gone for 20-50+ yards, but Carter dropped it. Those things happen.
Main takeaway…it's Carter's backfield for now. That's FF-worth something.
 -- The Broncos played very vanilla and just sat on the Jets…so no high-flying passing game numbers. Courtland Sutton (5-37-0/5) caught everything thrown his way, just low targets. He had a TD shot but fell 1-yard short. Ditto Tim Patrick (5-98-0/5).
 -- The typical backfield split again for Denver…
Melvin Gordon (18-60-1, 1-21-0/2) starts, but Javonte Williams (12-29-1, 3-33-0/4) was in quickly, and they shared touches. Gordon had a chance for a second TD halted by the Jets near the goal line. Javonte had two more TDs halted from short range.
That Jets defense never surrenders…they stopped so many plays from short distances in this game. This defense is terrific but no support from the offense to make them FF-viable.
Snap Counts of Interest:
58 = Fant
51 = Sutton
51 = Patrick
36 = Gordon
27 = Javonte
31 = Ty Johnson
23 = M Carter
51 = C Davis
42 = Berrios
27 = Cole
26 = E Moore