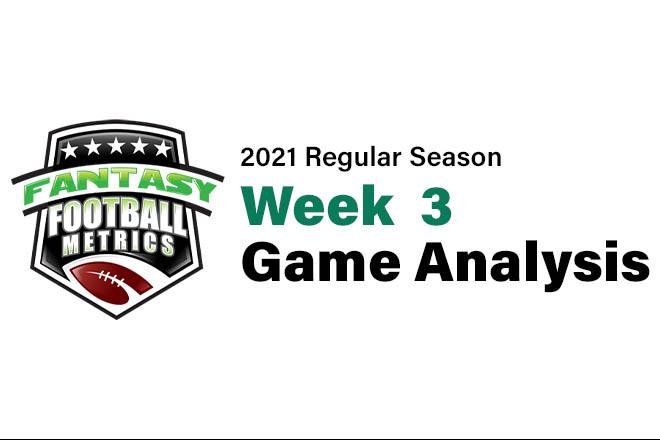 R.C. Fischer
FFM
28 September 2021
2021 Dynasty/Fantasy Game Analysis Week 3: Saints 28, Patriots 13
Jameis Winston played some of the worst quarterbacking you'll see in the NFL this game, but the guy has to be the luckiest player in the NFL. Truly. Not saying that because I can't stand him. In fact, he's so lucky I'm starting to think I should endorse him and just glom onto it…roll with the trend/what's working.
You want to know about this game in a nutshell, in one play? Here it is: https://youtu.be/qgYDtaeuLy4
A ball that the QB should just eat…even if he thinks the penalty is on the opponent, you have no need to risk this – Winston is hit, wrapped up, his eyes drop to the ground because he's about to be pulled down for a sack (so he has lost sight of the entire end zone situation)…but the pull down sack attempt actually spins him back upright for a second, so (falling down backwards) he blindly tosses it to the end zone – where Marquez Callaway outfights a DB for a TD.
Aside from that play, this was a battle of coaches trying to out-run game, hide their QB's deficiencies, and play good defense to get over the other team. The Saints have the better O-Line and defense…and more energy as a 'team', so they got the win…over lifeless New England.
Every week, the legend of Bill Belichick gets another round of tarnish.
What will people say about Belichick if Tom Brady returns to New England and drops 40+ points in a blowout win and the Patriots are sitting (1-3) with the season essentially over for them…humiliated by their 'ex' in what will be one of the highest rated regular-season games in the NFL in a long time?
We project 6-7 wins for New England, possibly 8 wins this season…because of a schedule littered with bottom tier teams (like the Patriots are). But this is not a good team. It's not even a young emerging team. It just exists like a pickup basketball game where random players are thrown together on a team.
The Saints win and go to (2-1). This is a good football team that could win the NFC South over Tom Brady, if they didn't have Winston – who eventually will burn the Saints with his terrible play. The Saints playoff chances are directly correlated to how long they roll with Winston when the dark times hit. We're projecting (9-8) for the Saints right now, but any QB changes can shift this 1-2 wins.
Fantasy Player Notes…
 -- Sean Payton is now playing to the strengths of this team: a good-to-great offensive line and a top 5 or so NFL defense. Gone are the old run-and-gun Saints. Now, it's a heavy run game and good+ defense, protecting their terrible QB.
Winston's passing yards in his three games with NO in 2021: 148-111-128. The Saints are #5 in rushing attempts in the NFL, however. They are also #32/last in passing attempts.
They're hiding Winston, which makes me wonder why they even bother with him…because all he is risk waiting to happen. Unnecessary risk. They need a game manager, and they have the opposite. It's a bold strategy. https://youtu.be/9HVejEB5uVk
Because this is the lowest volume in the NFL passing game – you're hosed on Callaway-Deonte-Trautman…Michael Thomas (if/when he returns). All you got is a lot of Alvin Kamara (28-89-0, 3-29-1/4) and now red zone Taysom Hill (6-32-1) as a wrinkle.
Kamara is going to take way more work than he ever has…way more hits to his wiry body. Tony Jones as a hold/bet on the starting RB getting hurt…it isn't a bad hold & hope #2 RB back of the roster guy.
 -- Mac Jones (30-51 for 271 yards, 1 TD/3 INTs) is already a better QB than Jameis Winston will ever be or has been. Jones is progressing nicely. This was the first game where I saw him really working down field with more purpose.
Mac is the current favorite in the 'who wound up the best rookie QB in 2021' sweepstakes.
Zach Wilson is dying in a terrible Jets offense. Justin Fields was never as good as Jones, but he's mobile and decent…but he's stuck in a terrible Chicago offense. Trevor Lawrence just isn't as good as Jones, in general. And Trey Lance can't be trusted to play QB yet in the NFL. So, by process of elimination it's Jones as the top QB…which is going to make fans of NYJ-CHI-SF all kick themselves all offseason, but the media will only focus on Jones being a better QB than Wilson (to them). The media will cover for Fields-Lance for as long as they can.
Jones is progressing nicely, but only has so much upside with this increasingly behind-the-times coaching staff.
 -- Mac lost his #1 pass target, James White to injury…not sure how much time he'll miss. Losing White and the Pats quick deficit to New Orleans all forced Jones to have to open it up to all his other options.
Jakobi Meyers (9-94-0/14) is the winner in that equation.
YTD Targets for NE:
29 = Meyers
18 = Agholor
16 = Jonnu
14 = J White
14 = Bourne
13 = H Henry
I should've put Meyers on the Three things/Five Players Waivers to trust…right in the Hunter Renfrow range as a PPR WR body that's working. But it's apropos I overlooked him…Meyers is always overlooked, even by me.
6.3 rec. (9.7 targets), 58.7 yards, 0.0 TDs per game = Meyers through Week 3
Meyers is the 13th most targeted WR in the NFL right now. He's a legit PPR hopeful…lot's of catches, decent yards, but low probability of TDs.
 -- The loss of James White springs J.J. Taylor (1-2-0, 2-3-0/2) to some life in the NE backfield. He is going to be the future James White, and the future might be now if White is out an extended period of time. Mac Jones needs/wants that checkdown option…Taylor can provide that but has nowhere near the time/experience as White.
I'm not sure JJT will get enough work to truly matter for FF just yet, even with White out. And Brandon Bolden (who led all NE RBs in snap counts this game) might get more time due to his experience.
 -- Damien Harris (6-14-0, 2-0-0/2) has not been running the ball very effectively this year. It's either an O-Line issue, or Harris isn't that good. This might lead to more J.J. Taylor opportunity as well.
Rhamondre Stevenson was a healthy scratch…he's only likely to matter if Harris gets hurt. He's getting the rookie treatment Harris did a few years ago, but in desperation – he may get the call.
But we have a 'watch' warning here – I think Belichick is getting frustrated with Harris. Brandon Bolden (3-0-0, 3-23-0/4) played a lot in the 2nd-half here. A more trusted pass blocker.
A lot of negative news on Harris this week – and then facing Tampa Bay's run defense…this could kill off Harris for FF value for several weeks. You might be able to dump him on an unsuspecting RB-desperate person.
 -- The public was all over the Patriots-DST Week 3…while the Saints-DST was under 50% owned nationally.
The Patriots didn't really embarrass Tua Week 1, and they lost the game. They got trampled by the NO run game here. Zach Wilson/the Jets handed this DST a gift Week 2…it wasn't a super-menacing defensive performance but great output/FF stats. Outside of the Jets gift week, the Patriots defense isn't really playing all that well…not like people think (from the past).
Consider they have played three of the worst offenses/QBs in the NFL and were FF duds in two of the games. They face TB this week, so they will be dropped in FF leagues in places. You might consider picking them up and sitting on them. Pats get HOU Week 5 and the Jets Week 7. Have one DST for Weeks 4 and 6, use the Pats Weeks 5 and 7.
You know what a really nice fit is? NE with CIN DST…
Week 4 = CINN hosting JAX
Week 5 = NE at HOU
Week 6 = CIN at DET
Week 7 = NE hosting NYJ
Week 8 = CIN at NYJ
A five-game stretch with good DSTs facing NYJ 2x, HOU, DET, JAX
 -- The Saints DST is hot…this is a really good defense and CB Bradley Roby only played 2 snaps, as they get him up to speed. If Roby ends up starting/playing heavy snaps with Lattimore and Adebo – it's a special secondary developing.
Rookie CB Paulsen Adebo (5 tackles) is so good…he might be the real DROY, if not for Micah Parsons.
Snap Counts of Interest:
69 = Meyers
58 = Agholor
55 = Bourne
52 = H Henry
30 = Jonnu
33 = Bolden
22 = Dam Harris
10 = JJ Taylor
06 = J White
51 = Trautman
30 = G Griffin
08 = Juwan Johnson
38 = Callaway
29 = Stills
19 = Deonte