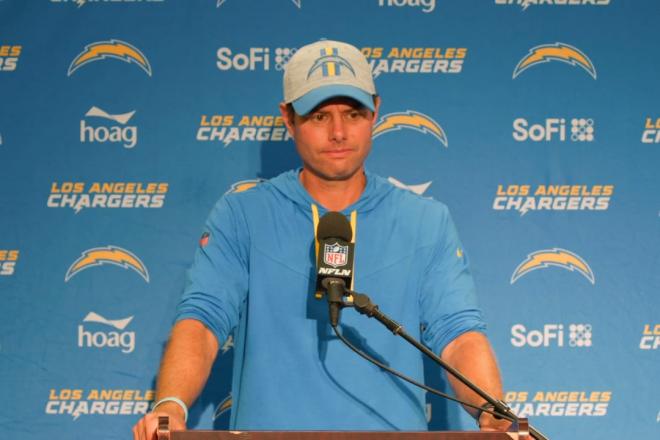 R.C. Fischer
FFM
25 June 2022
‍
2022 REWIND: 2021 Dynasty/Fantasy Game Analysis Week 5: Chargers 47, Browns 42
I've started re-reading back through my 2021 game reports looking for good and bad scouting instincts on things I might have lost track of, whether for Fantasy or just the team in general. I especially wanted to focus on the L.A. Chargers' 2021 season…because my first computer simulation of the season showed them as the 2022 Super Bowl champs. From not making the playoffs in 2021 to the Super Bowl in 2022.
The Chargers didn't change their coaching staff this offseason and they didn't overhaul much of their offensive core, but they have dramatically boosted their defense this offseason. So, in theory, this team should be gelling and taking a step forward from a 9-win team last season to what I think will be a division winner and serious Super Bowl contender this season. At a minimum, it's a playoff team (if Herbert stays healthy).
For some summer reading material, I'll be looking back at my Chargers' game reports from last season week-by-week and writing/typing some instant reaction notes (forgive any typos) to what I'm re-reading and then publishing that full 2021 game recap for LAC from each week of 2021 season WITH the 2022 reaction notes.
We'll start with Week 1 and go through each game week, one game post per day for the next 16-17 days.
‍
‍
As a football scout, as a professional…watching this game a 2nd-time, on tape, at my own pace, rewinding and rewatching certain plays – this was a true piece of art. The best football game that I've seen in a long time.
I don't mean 'best' as in 'most entertaining' like witnessing a crazy hail mary finish or weird fumble when you thought the clock was all but running out or there was some 20+ point comeback in the 4th-quarter. I mean, this was true art – two great football teams playing great football at each other, both sides of the ball playing at a high level, but the offensive play calling and execution was so brilliant, the QBs so smart, the players so one-upping making big plays…the defenses couldn't contain them. In a 47-42 game, really good defense was actually displayed here – just the offenses were *insert Chef's Kiss here*.
I walked away from this game, for the first time, really thinking the Cleveland Browns were legit. I thought they were more likely the also-rans of the great AFC teams…BUF and LAC, and maybe KC…especially after CLE lost to KC Week 1. Now, I 'believe'. This was as great a performance from a football team you could have asked for…and that's with the Browns playing with a weak WR group and losing Denzel Ward 9 plays into the game (which was probably the difference in the game).
The Browns are legit.
The Bills and the Chargers are legit.
The Chiefs and the power teams in the NFC are cute stories not deserving mention in the BUF-LAC-CLE war ongoing.
The Chargers are this good -- beating KC and CLE in successive weeks…and they are missing their ace linebacker (Murray) and top OL LT (Brian Bulaga).
Unreal game, I don't want to step on it by any nitpicking discussion of 'plays'. Just take a few hours away from reality and watch this game as a fan of great football/teams.
The Browns are going to win the AFC North and the Chargers will win the AFC West, end of story (barring QB injury). Getting the home field for LAC or CLE or BUF is HUGE. LAC is hindered if they have to travel to CLE or BUF (or KC) in January. The reverse is not as true. LAC gets to the Super Bowl ONLY (likely) if they have the #1 seed/home field every game.
If LAC beats PIT Week 11, whereas BUF lost to PIT Week 1…that might be the edge for the title for LAC, right there.
*2022 JUNE NOTE = Well, maybe I got a bit too excited here from watching and re-watching this excellent game that particular week.
LAC won this game, taking down KC and CLE in successive weeks and rising to (4-1)...the division was theirs for the taking, and then they lost that heartbreaker to KC in Week 15 (we'll get there) and crumbled late from there. I can't wait to re-read my game notes on the upcoming LAC games because I don't know how this team didn't make the playoffs. This was as good a team as there was in the league after Week 5. But...so too was Arizona, last season at this point.
CLE was in the thick of their division race but Baker got hurt and they collapsed to the finish the same time LAC did, late in the season. Baker was playing in a sling and lost three in-a-row Weeks 15-17 as Cincy rose up, and now the Browns are hellbent on destroying themselves in 2022 and for the future.
‍
‍
Fantasy Player Notes…
 -- As I mentioned earlier, this was a stellar performance by both teams. So, let's first discuss the giant dud in this game…Odell Beckham Jr. (2-20-0/3).
The Browns are SO MUCH better when OBJ isn't there or when he's deemphasized…like this game. In every big spot in the 2nd-half, Baker wasn't even looking at him. So, as the game went, OBJ started running half-hearted routes and slow-walking back to the huddles, etc.
That guy, OBJ, is a piece of crap…and should be gone from the league because he's a waste of snaps and a locker room cancer. He's also a cautionary tale for Kadarius Toney. If I were the Giants, I would trade for or sign the most respected WR on the market and add him this year or this offseason…and pay that guy to be Toney's personal shadow/coach/motivator/'sponsor'.
If I were the owner of the Giants, I would pay Larry Fitzgerald $500K per month for the next 15 months to be Toney's personal WR coach (and coach of the other WRs too, but specifically for Toney). And let Fitz do color commentary for the Giants games too so he can start getting ready for his future.
What was I saying? Oh, yeah…OBJ blows. And I think the Browns will cut him if they can't trade him in the next few weeks. Welcome to Dallas, OBJ…I can see it now.
Early on in this game, the Browns drove down the field and had a 4th & 2 in the red zone, and Baker hit OBJ with an easy over the middle pass for the conversion and then some…but OBJ looked up to see what was going on and treated the incoming pass like someone hurled a wet bar of soap shaped in the form of a football at him. Think I'm kidding? https://youtu.be/Meg9auAjMRk
*2022 JUNE NOTE = OB would go on to get cut...and then have some life with the Rams, but if you go back and look at his LAR run, he wasn't awesome -- he was fine, but more importantly he was motivated. OBJ's issue is his desire/focus. And with his ACL and Super Bowl ring in pocket...I wouldn't touch him for 2022+.
‍
‍
 -- You know who looked terrific here…I can't believe I'm saying this…David Njoku (7-149-1/7).
The Browns ran several smart plays using their weak WRs and strong RBs to their advantage. Defenses have to chase the WRs, no matter who they are. They also have to overplay the run game. Njoku would just slip out in to the WIDE open and be available and then speeded off after the catch a few times, including one 71 yards, which was more Njoku running than air yards.
All I know is, in my mind (mistaken memory), all I remember is the Browns playing 2-3 TEs a lot…and if anyone did anything for FF it was Austin Hooper (0-0-0/0). But in the last two games, Hooper has 1 catch on 5 targets, while Njoku has 9 catches on 9 targets (most of that in this game).
The trends say this is just a blip, but my brain is saying…with this weak group of pass game options, Njoku might be ready to take a step up as a bye week fill-in, etc., or maybe better than that. He's mostly available over all FF waivers, but if he has another pop game next week…then everyone comes shopping.
*2022 JUNE NOTE = Never overestimate Njoku being Njoku...a waste. He quickly died off after this little spike moment.
YTD Snap counts:
237 = Hooper (67.5%)
219 = Njoku (62.4%)
143 =Bryant (40.7%)
YTD FF Half-PPR PPG:
9.8 = Njoku (most of it Week 5)
4.6 = Hooper
2.0 = Bryant
Two games with 75+ yards this season, and three games under 20 yards.
All Njoku's targets in 2021 so far: https://youtu.be/fTJXHuyeWL0
 -- You know I love, and you love Mike Williams (8-165-2/16)…and many FFMers own him in Dynasty and/or redraft…so, we LOVED this game. Just note it was made possible by Denzel Ward going down 9 snaps in and then Williams (and Herbert roasting the backup corner, A.J. Green). There was some good fortune here along with Williams ballin'.
*2022 JUNE NOTE = Look at that Mike Williams line! After this game/week, Big Mike was like #2-3 in FF scoring per game among WRs. He would get hurt the following week and the swan dive would begin. But the Mike Williams from Weeks 1-4 in 2021, it left a mark on my soul.
‍
 -- Austin Ekeler (17-66-2, 3-53-1/5) is straight fire right now, and I thought the Browns would clamp him down to a marginal game here…so, I'm an idiot (not that I would ever bench him, just thought he'd have a lid on him). Ruminate on how dumb you think I am later; I want to ask…did you notice who the #2 RB was in this game?
53 snaps = Ekeler
26 snaps = Joshua Kelley (2-17-0, 0-0-0/0)…memba him?
00 snaps = Roundtree (only played special teams)
Kelley got the push over Roundtree this week, with Justin Jackson hurt (as always). And Kelley looked good here…legit. He was playing in several key spots.
I bring this up because…you know how everyone goes crazy off waivers for the #2 RB when the #1 RB goes down on Sunday/Monday, are you familiar with this…have you heard about this thing? Yeah, it's true, I'm not joking…people love #2 RBs when the #1 RB goes down. ESPECIALLY if it's on a top offense with a great O-Line.
What happens if Austin Ekeler gets hurt for 2-4 weeks?
I'm just sayin…
My vote/the guy I'm watching is a still talented Kelley – and he looked darn good running the ball here.
  -- Justin Herbert (26-43 for 398 yards, 4 TDs/0 INT) was wonderful here, but I need to point out that Baker Mayfield (23-32 for 305 yards, 2 TDs/0 INTs) subtly went toe-to-toe with Herbert, with far inferior weapons.
This may have been the best game of Baker's NFL career…the turning point where he should be looked at as a top 10 QB, regardless of weaker FF numbers. Looked at as a guy who can win a Super Bowl. He's not all the way there yet, but he's getting there. Having to keep up with Hebert against a really top-notch pass defense is not easy…and Baker was out there slinging. Still QB2 for FF…but he's got top talent. If he ever gets rid of OBJ and gets better WRs to work with, who knows if he'll start popping for FF.
*2022 JUNE NOTE = Now, all Baker needs is a team to play for...
That guy is such a talent, but it just goes to show how poorly NFL teams are run that they are afraid of Baker because he doesn't kiss the head coach's ass and play golf with him, etc. Baker could make Carolina a playoff team if they get him.
‍
 -- Baker can't pop for FF because the Browns are such a run-heavy team, with good reason. Nick Chubb (25-161-1, 1-9-0/1) is the best runner of the ball in the NFL outside of Henry and maybe Cook. And Kareem Hunt (12-61-2, 5-28-0/6) is the heart and soul of this offense.
You beat the Chargers by running it at them…CLE had 35 carries for 230 rush yards and 3 TDs, 6.6 ypc here.
Good news for your FF RB facing this LAC defense…so, next week it's Baltimore. Well, I take that back then…that's a win for the Chargers run defense.
*2022 JUNE NOTE = The Chargers season is about to take a turn downward when Baltimore utterly destroys them next week...
‍
 -- I don't look at either DST here as a bust just because they both went off on each other.
The Browns have some serious firepower on their D-Line…turning formerly washed up things into something like Malik McDowell (1 tackle, 1.0 sack) and Takk McKinley (1 tackle). Even Jadeveon Clowney (DNP) has played better here. No Clowney, no Ward…not at full strength for this one.
I'd argue you could use the CLE-DST the rest of the season, every week…except Week 13 bye and Week 16 at GB isn't a treat. Week 6 v. ARI is them with Kyler iffy and their starting center down.
The Chargers-DST had several occasions where their backs were against the wall and they stopped CLE or held their drive to a field goal. They've given up stuff to KC and CLE this season…not a crime. Held down WSH-DAL-LV. When Kenneth Murray returns, then they're even better.
This LAC-CLE game in a 3+ minute viewing: https://youtu.be/AiyJI5Kmcro
Snap Counts of Interest:
50 = J Cook
40 = Parham
53 = Ekeler
26 = Kelley
52 = Hooper
46 = Njoku
31 = H Bryant
58 = OBJ
49 = DPJ
34 = Higgins
03 = Felton
‍