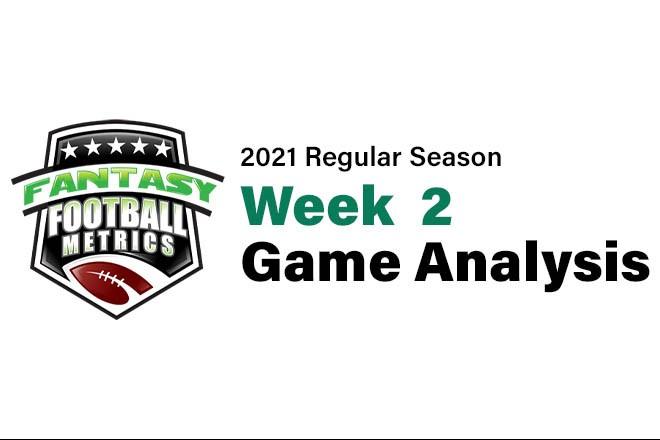 R.C. Fischer
FFM
24 September 2021
2021 Dynasty/Fantasy Game Analysis Week 2: Titans 33, Seahawks 30 in OT
I thought this re-watch was going to be standard fare -- a lot of Derrick Henry battling a lot of Russell Wilson, and the Henry side snuck it out in the end. But I found, after the study/watch, that I have a good collection of notes to discuss from this contest.
As for the game itself, the Seahawks had everything go right in the 1st-half and Tennessee had about everything go wrong…from penalties to drops to turnovers to broken coverages…and Seattle took a commanding 24-9 lead at the half. While watching live, I just mentally wrote this game off at the half and assumed the Titans stink and would lose.
The Titans don't stink.
The Titans were the better or equal team here, and the fact that they overcame a 15-point deficit at the half, at Seattle, after getting blown out by Arizona last week – kudos to this team, and to Mike Vrabel (yeah, I said it).
The Titans are CLEARLY the best team in the AFC South. Their offense is really good…but it's their defense that has gotten better which is the key. When you consider how bad the rest of the AFC South is – the Titans may be a shock contender for an AFC #1 seed and be a very tough out with Derrick Henry and friends.
The fans are down on Tennessee because the analysts are, because the analysts got mad that Tennessee got ripped by Arizona Week 1 – but when you live with the FFM knowledge that Arizona is fantastic and a possible NFC title winner…then that loss isn't so bad. The Titans have faced two MVP candidate QBs Weeks 1-2. Now comes Eason-Z.Wilson-Trevor the next 3 weeks…before a gauntlet BUF-KC Weeks 6-7…and then it's off to the races from there. The Titans are going 11+ wins if they can sweep the AFC South.
Seattle is now (1-1) and not as good as Arizona…so a wild card is as likely as winning the division.
The Titans are so unlucky to have their first two games against the two best teams in the league's 1st/2nd toughest division (NFC West). We need to use that knowledge to our advantage on how to play Tennessee things from here.
Fantasy Player Notes…
 -- Julio Jones (6-128-0/8) is still good. Breaking news. Weird, but it kinda is breaking news.
I get the feeling we've all just accepted that Julio is getting older and has moved to unsexy pass game Tennessee…he's being put out to pasture to play out the final year of his contract.
I would like you to consider:
1) He's working hard in Tennessee. He's getting chippy/trying to bully corners. He's fighting for extra yards. He's not fading off, he's still fighting…maybe more energized than I've seen him in a year or two.
2) He's not the speedster he used to be, but he's still plenty fast…getting open…making catches…smartly boxing out small CBs and making his plays. He's gone from a D.K. Metcalf type receiver to a Michael Thomas one – the reliable #1 WR worker.
3) Ryan Tannehill 2021 is exponentially better than Matt Ryan 2019-2020 (and 2021). Anyone who thinks Julio went to a worse place for production…you're wrong.
4) Julio had his hands on a TD Week 1, but couldn't bring it in. He also had a sweet TD catch that was controversially overturned for being out of bounds but it looked like he was good to me.
If Julio had scored a TD in each game the last two weeks, his numbers would be tracking WR1.5 right now…not the WR3-4 FF scoring he is YTD at the moment.
I think Julio Jones is a crafty 'buy low' from an owner who is writing Julio off. If your team is really good/going for the title…you might could add this veteran cheaper than you think. Don't pay full price or any price…this is a try and steal stealthily moment.
 -- A.J. Brown (3-43-0/9) had a rough game…3 catches on 9 targets and 1-2 drops. It looked worse and was portrayed worse in the media than it was. I'm not thinking there is a hands issue. He doesn't look as fast/explosive as last year, but he did have double knee clean-up surgery in January.
 -- Derrick Henry (35-182-3, 6-55-0/6) caught 6 passes in this game!
I was going to joke about how that's more catches than in his last X games or all of last season…because, don't you know Henry can't catch?
Well, did you know Henry has 2 or more catches in a game in six of his last 9 games (incl. playoffs)? In those last 9 games, he has 19 catches…2.1 per game. 19 catches off 22 targets…a catch rate of 86.4%.
Who the hell keeps saying he can't catch the ball (I'm guilty as charged of just running with an old narrative)? He looked really good catching it here.
If Henry is going 2-3 catches a game instead of 0-1…you know what that means? He is the true #1 asset in all of FF – not always-hurt Christian McCaffrey.
If we were redrafting now/today, you would not take CMC…you would take Derrick Henry…or you should.
"You know all those carries are gonna catch up with Henry!" *As Christian McCaffrey gets hurt in an early season game again on TNF Week 3 and will miss several weeks*
 -- Another TEN buy low candidate – Ryan Tannehill (27-40 for 347 yards, 0 TDs/0 INTs, 4-27-0). His crime? Not having a TD pass this game…and only 1 TD pass all season.
He was so close to two passing TDs in this game, minimum. One of them the Julio reversal BS. And, again, don't fault him for not producing huge against Arizona's defense.
Tannehill is always distrusted, always undervalued…by me and most everyone.
Overlooking Tannehill as a nice 2nd QB emergency option and always assuming Derrick Henry is going to get hurt – two massive Tennessee-mistakes we FF-make over and over and over again.
 -- D.K. Metcalf (6-53-0/11) is transforming, but not sure what it means for FF output…but it could be great.
History lesson…
1) DKM fell in his NFL Draft because he had weak output his final year of college. Why did he? Because SEC corners and D-Cs saw that all he did was run deep routes…so they all played him to go deep, and he was rarely open for his bad QB.
2) DKM splashed in the NFL because all the millionaire coordinators who watch tape 20+ hours a day had no idea that the SEC had figured out how to neutralize Metcalf. They deployed CBs up in Metcalf's face, and then DK just batted them away and sprinted past them deep for easy, long TDs over and over.
3) Some D-C finally figured it out in 2020 2nd-half, then the others started to copy, and thus Metcalf's output fell off a table to end the season.
4) 2021…Seattle is adjusting…
I've never seen Metcalf run shorter routes in a game as much as he did here. He was like Michael Thomas (or like Julio on the other side of the field) in this game working the interior – with the added bonus that once he catches it, no one can tackle him. It's opening up a whole new world of possibilities for DKM.
Two issues…
1) Will Seattle keep up running Metcalf on shorter routes?
2) Will DKM flop doing it? He is very clunky running routes and catching basic passes, sometimes. Will Seattle persist through it or change back to making him a deep ball guy again?
We'll see but watching him catch a short pass with 10-yards of space because DBs are playing way back off him for the deep route…and then him running over people after the catch like he's the WR version of Derrick Henry (not joking). It's a real weapon that could emerge, and then he becomes a more dangerous NFL and FF WR when teams can't just play him to run deep 95-99% of the time.
 -- Freddie Swain (5-95-1/5) was left wide open on a play in the 2nd-half and Russ hit him for a 68-yard TD. Nothing emerging here…it was just a moment. When Dee Eskridge is back, Swain goes back to a #4 WR.
 -- Let the Gerald Everett (1-3-0/2) excitement…die.
OH, they're going to use him in so many creative ways! So far, two games, 3 targets for 23 yards total. WOW! What creativity!!
 -- MyCole Pruitt (3-43-0/3) got better treatment by the Titans than Everett did by Seattle…for millions of dollars less contract. Pruitt is good, and he was a force when they called upon him here. He played a heavy number of snaps and with Anthony Firkser out he might get some surprising numbers ahead.
I've always been a fan. He's always underutilized but makes catches when they go to him.
 -- You want more Titans undervalued things? How about the Titans-DST?
This isn't a bad unit…not great, but not bad. Their crime is facing Kyler-Russ the first two weeks. They look pretty decent to me, not great, but not the joke everyone thinks. Down 24-9 at the half, off of some fluky circumstances…they shut the door on Seattle 2nd-half to get the comeback win.
They might be a decent option in a decent matchup…like vs. TEN with Brett Hundley starting.
Snap Counts of Interest:
43 = Everett
26 = Dissly
64 = Swaim
55 = M Pruitt
21 = Tommy Hudson