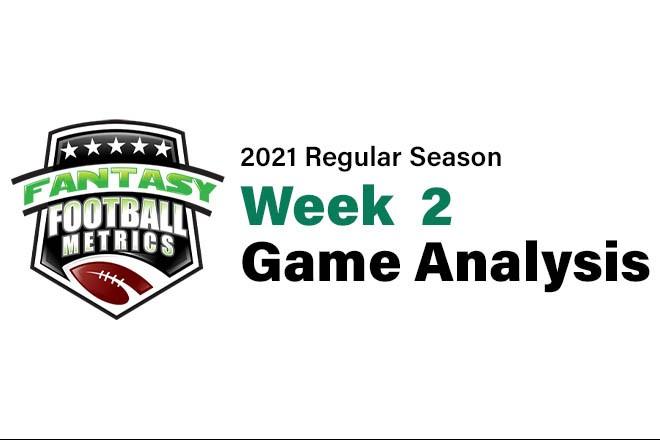 R.C. Fischer
FFM
25 September 2021
2021 Dynasty/Fantasy Game Analysis Week 2: Broncos 23, Jaguars 13
The Jaguars, shockingly, struck first in this game…a nice TD pass by Trevor Lawrence had the Jags up 7-0. Up 7-3, later, the Jags went for a field goal to extend the lead in the 2nd-quarter…and then Josh Lambo had an epically bad shank of a kick/miss. Urban Meyer was shaking his head in disbelief.
Then the rain started.
Then the Jags' drops of passes started (rain not helping).
Then the Broncos offense perked up.
Then it was all Broncos until a late Jags KR TD made it semi-respectable.
What's really weird here is, you'd think this was just the Jags being bad again…and they had their head-shaking moments for sure, but for most of this game the Jags were battling with Denver. This wasn't easy for the Broncos.
I was, dare I say, impressed with Jacksonville here. They played some good football in spurts…but then some of the bad outweighed and dragged down all the good. Denver wasn't as strong as I thought here, nor Jacksonville as bad as I felt after watching this on tape mid-week. The tape says, Jacksonville is not a total 'loser' team. We'll get into more of why I think that with the player comments.
Denver is (2-0) and tied with Las Vegas (2-0) for first place in the AFC West. Do I need to type that again to believe it? The Chiefs (1-1) are in last place. I projected Denver to be (3-0) out of the gates, on their way to the playoffs…the first leg of that prediction is about to become true…maybe. The Jets are scrappy, like Jacksonville, and might give Denver a shock if they're not careful.
Jacksonville isn't the complete rollover and die team I thought, at least not in this game. We'll see if they can keep it close at all with Arizona this week.
Fantasy Player Notes…
 -- First things first…this was a stellar game by Courtland Sutton (9-159-0/12). He just took over this game. I'd go so far as to say if Sutton didn't play in this game, the Broncos would have lost…Sutton was that important.
Sutton is not a random WR2…he's not the #2 WR behind Jerry Jeudy. He is a dominant, stud #1 WR…and Teddy Bridgewater (26-34 for 328 yards, 2 TDs/0 INT) knows it. This connection isn't going away.
Sutton nearly had a 30+ yard TD to really send his FF scoring into orbit.
 -- Trevor Lawrence (14-33 for 118 yards, 1 TD/2 INTs) had terrible statistics but I thought he played a pretty good game…and made me pause from making as radical of fun of him as normal.
When you can get well-trained QBs into a 7-on-7 type groove…they can do some work. Lawrence isn't horrible, but his flaws show when he's under pressure. He had his bad throws here some, but he's also let down by receiver drops too much as well.
If Lawrence has time, comfort in the pocket he can be OK. And the Jags have only allowed him to be sacked 2 times this year…2nd-best in the NFL (SF #1 with just 1 sack allowed). This O-Line was beautiful against a pretty good defense. If Lawrence gets this kind of protection and it doesn't start downpouring in every game, and his receivers cut back on drops…he might have some decent games ahead.
He's still not generational, but he's well-schooled…and in the right situation he's decent. It's probably too much to ask for him to break through with this team as a rookie. But better days might be ahead if he gets this protection every week.
 -- Javonte Williams (13-64-0, 1-10-0/1) is such a pleasure to watch. The guy has star written all over him, but he may be splitting with Melvin Gordon (13-31-02-38-0/2) for many more weeks…maybe all season.
But if Gordon goes down…
 -- The Broncos are using two TEs fairly regularly, sometimes together, sometimes rotating, which means two things…
1) Noah Fant (4-33-1/6) has a little bit of a cap on his upside.
2) Albert Okwuegbunam (4-24-0/4) has a pulse in deep roster leagues looking for plausible TE2s. Albert O. is #16 among TEs YTD in catches (7), #18 in PPR PPG so far this season.
 -- Two useless Fantasy WRs…
1) D.J. Chark (1-19-0/4)…the wrong WR for Lawrence's short game. DJC has caught 4 of 16 targets from Trevor this year, and most all the disconnects are not Chark's fault. Lawrence is not a great downfield thrower…and Trevor's real connection is with Marvin Jones (6-55-1/11).
2) Laviska Shenault (2-0-0/7) got hurt in this game and might miss Week 3…but he's so slow in the bubble screen game that he's becoming a wasted throw. He'll catch passes all day long, but he just doesn't do much with them after he catches them.
 -- Teddy Bridgewater is taking special off-field interest in K.J. Hamler (1-5-0/3), as mentor…and with Jerry Jeudy out, we saw Teddy take a couple longer shots with KJH…that didn't connect. I have a feeling (that's all it is) they will connect on one this week vs. NYJ.
 -- Broncos starting ILB  Josey Jewell got hurt and is done for the year. Justin Strnad (7 tackles) then took over and looked really good/ready to be the starter. I know the Broncos claimed Micah Kiser from the Rams, but Strnad has been a Fangio favorite since they drafted him. It's Strnad's job to lose.
 -- Josh Lambo (0/2 FGs) had been one of the best kickers in football for the past 5+ years, but he got hurt last year and this year he looks dreadful. Lambo is 0-fer-3 on FGs so far this season. His 53-yard miss in this game looked like a fan was kicking for a million-dollar prize giveaway stunt or something.
Snap Counts of Interest:
41 = JRob
14 = Hyde
53 = Fant
37 = Albert O.
53 = Sutton
51 = Patrick
49 = Hamler
41 = Gordon
28 = Javonte