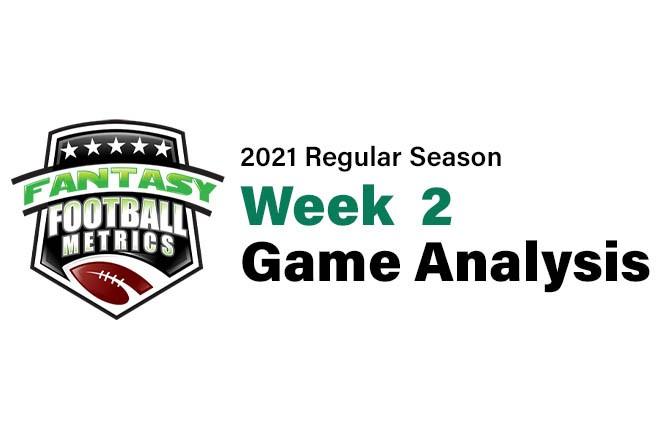 Ross Jacobs
FFM
21 September 2021
2021 Dynasty/Fantasy Game Analysis Week 2: Panthers 26, Saints 7 (By Ross Jacobs)
I'm not going to bore you with the details of this game because it was a total beatdown by the Panthers, but there are definitely some things we can take away from this game.
The first is that this is a pretty salty Panthers defense, an easy top 10 squad. They aren't elite yet, but they are getting there/in the conversation for best in the league. The entire Carolina team is so polished and well-coached, as we expected from Matt Rhule. But they have one big fat wart that's going to hold them back and we all know who that is...more on that in a moment. They might win 10 games anyways.
The Saints got throttled here, but know that the final score was both completely indicative of what happened but also a bit overblown. They got crushed but also did a lot to beat themselves as well. Penalties took away what little offense they might have had in the first half and by the second half they were just too far behind and the Panthers D was completely fired up. Winston only had 7 pass attempts at the 2-minute warning in the first half and finished with 22 total. What the Saints did to the Packers week 1 happened to them this week. Winston sucks but the offense won't be this terrible every week. It was just one of those games.
--Fantasy Notes
That big fat wart I mentioned...everyone knows it's Sam Darnold (26-38 for 305, 2 TD/1 INT). This is as good as it's going to get for Darnold. He was barely pressured all day, the top opposing CB was out, and he still threw a dumbass interception and nearly had 2-3 more. The only score the Saints got happened because Darnold decided to try and flip the ball to his RB while being sacked except there were two defensive tackles between him and the RB. Guess what happened. And there were multiple other terrible throws he tried to force into double coverage. 
It's entirely possible with a little more luck that the Saints could have won this game if they capitalized on every bad Darnold throw. That's how terrible he is. Darnold is going to cost this team wins and it's a shame because they are so solid otherwise. I really hope Matt Rhule comes to his senses and ditches this mess next year. If he doesn't I really think Darnold could cause him to lose his job somewhere down the line.
Darnold is a trainwreck but even he can't seem to slow down the best player in fantasy. I don't think I have to tell anyone that Christian McCaffrey (24-72-1, 5-65-0/6) is pretty good. He's still the offense, don't worry. Once the TD's start coming he's going to be the overall RB1 and single best fantasy scorer again this year. He came up a yard short of another TD on two different occasions here. It will happen eventually.
Chuba Hubbard (8-10-0) is just another guy. If McCaffrey went down there would likely be some type of split between Hubbard and Royce Freeman. It would be hard to trust Hubbard too as this offensive line isn't great at run blocking.
The Carolina passing game is limited to short, safe throws because of Darnold, and that means that DJ Moore (8-79-1/11) is the engine that he uses. Nothing is going to change that. Expect good ppr work from Moore this year, a backend WR1 or 1.5.
With Darnold unable to hit anything deep that leaves his old buddy Robby Anderson (3-38-0/6) out in the cold. He'll have a splash play here or there but he's essentially dead for fantasy. There are better options to chase.
Brandon Zylstra (3-44-1/3) is playing fewer snaps than rookie Terrace Marshall (3-17-0/3) but looks much better than the rookie. If Rhule is as smart as I think then Zylstra's role might grow more as the year goes on and he pushes Marshall out. We'll see. You can't use either in fantasy though.
Dan Arnold (3-55-0/4) was 50-50 with Ian Thomas (1-7-0/2) in week 1 but played fewer snaps here because they were running the ball more. Tommy Tremble played more for the same reason. Arnold looks exponentially better as a receiver than either of the other two. Thomas looks like he put on weight and it's slowing him down. Arnold looks like a big WR. They really should use him more, especially attacking LB's over the middle. He's such a mismatch.
Wonder what the media excuses will be for Jameis Winston (11-22 for 111 yards, 0 TD/2 INT, 3-19-1) this week? He's such a joke it's unreal. I'm legitimately unsure who is worse between Winston and Darnold. Watch his interception from this game if you want a laugh. How anyone can continue to think he's a franchise QB is beyond me. I will say, however, that he won't be quite this bad most weeks. The offense got off to a rough start with a bunch of penalties and then a tough Carolina defense crushed what little life they had left. It was a bad day but should be a bit better most weeks. You still can't count on anything in this offense with Winston as the lead...
...and that includes the great Alvin Kamara (8-5-0, 4-25-0/6). There's nothing wrong with Kamara, just nowhere to go here and no one to get it to him in space. Without Michael Thomas it's easy for the defense to just key on Kamara as well. Volume isn't going to save him. There is one hope though...
...and that's Taysom Hill. Hill didn't throw any passes here, but he did start taking a few wildcat snaps later in the game as the team was desperately trying to catch a spark. They might make this change if Winston continues to struggle this bad. If they do there's a chance this offense could come back to life.
As the offense continues to go down the sink with Winston it's killing off any Marquez Callaway (2-8-0/4) hopes. I do think things will get better on this front. Again, it was a strange game where nothing got going and the Panthers wiped out everything else. Callaway was open despite good coverage. It's not going to be good except in bursts where Winston can blindly fling him 50-50 balls to come down with, but Callaway should start ticking up a little, maybe not enough though. He's got a lot of good corners coming his way. Until we see otherwise he's a WR3 at best.
If Callaway and Kamara aren't getting numbers you know nobody else on this offense is either. I don't like the matchup with the Patriots next week either.
--IDP Notes
This Carolina defense is full of really good players, but the two guys that made life hell for Jameis this game were Brian Burns (4 tackles, 1 sack) and Haason Reddick (3 tackles, 1.5 sacks). They were abusing the Saints offensive line all day.
Another great addition to that defense is Morgan Fox (2 tackles, 0.5 sacks) who the Rams stupidly let go. He's a menace on the interior of the line and was helping open things up for everyone else.
Rookie Jaycee Horn (1 pd) didn't have much to do today. It was hard to get a read on him with as bad as the Saints were on offense, but I thought he looked good from what I saw. He wasn't shadowing Callaway as much as I thought. I think they are mixing coverages around for now. I wouldn't count on him to shut down the best opposing WR because of that, even if he is really good already.
The Saints defense actually played pretty well here. They kept McCaffrey in check in the run game but just couldn't get to Darnold frequently enough, mostly because he throws the ball like it will burn his hands if he holds it too long. They are still a solid squad, possibly top 10 and will be better with the return of Marshon Lattimore.
Demario Davis (12 tackles, 1 tfl, 1 pd) has been such an underrated defender for years. I never understood why the Jets let him go (well I do, their management sucked at the time). His high tackle counts here obviously come due to a McCaffrey heavy offense but he's a good player and will get his numbers regardless.
Two Saints rookie defenders were impressive here. Corner Paulson Adebo (7 tackles) was on DJ Moore all game and while he got beat routinely, he was all over Moore. It was nearly always a contested catch or the ball was just inches past Adebo's outstretched arm. He's going to be a really good corner and will be much better when Lattimore is back and he doesn't have to shadow opposing #1's. He's already playing nearly 100% of the defensive snaps.
The other rookie was 1st round DE Payton Turner (5 tackles, 3 tfl, 1 sack). His sack was an impressive bull rush where he just pushed his man straight back into Darnold and engulfed him. He looks like a fine replacement for Trey Hendrickson.
--Snap Count of Interest
39 = Terrace Marshall
14 = Brandon Zylstra
52 = Ian Thomas
29 = Tommy Tremble
22 = Dan Arnold
32 = Callaway
24 = Humphrey
21 = Deonte
23 = Trautman
18 + Juwan Johnson