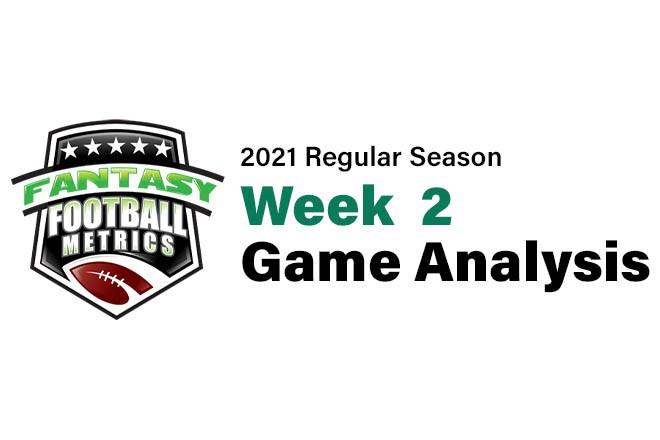 Ross Jacobs
FFM
24 September 2021
2021 Dynasty/Fantasy Game Analysis Week 2: Ravens 36, Chiefs 35 (By Ross Jacobs)
Whew, what a game. As a fan you just have to step back and appreciate these clashes between some of the best QB's and teams in the league. It doesn't get any better.
I'd like to be coy here and try to spin some complicated story about how the Chiefs shouldn't panic after losing to a Ravens team decimated by injuries, or how the Chiefs outplayed the Ravens and would have won except for an uncharacteristic interception by Mahomes and the first career fumble for Edwards-Helaire. I could dive into the play-by-play and dissect every move that happened, the twists and turns, who got lucky and why, but that would be a waste of time.
You can make up all kinds of stories and narratives about this game and people will, but the truth of the matter is that two really good football teams played a game and one of them won. Somebody had to. I wouldn't read too much into anything that happened here. Nothing has changed with either of these teams. They are still two of the best in the league, just like they've been for the past several years. So long as Patrick Mahomes and Lamar Jackson are healthy these two squads have a chance at winning every game they play. End of story.
Fantasy Notes
--Let's start with the one real unknown from this game and the thing that could most affect your fantasy season depending on the outcome, the thing RC and I have spent more time on than anything else...Ty'Son Williams (13-77-0, 2-16-0/2). Nearly every analyst I have seen this week has been saying the Ty'Son experience is over, that he's not that talented, that it's a split backfield situation between him, Latavius Murray (9-36-1) and Devonta Freeman (2-29-0), and that you can safely leave Ty'Son on your bench.
Do not listen to anyone that tells you that. I'm begging you.
Ty'Son is going to matter this year. The case is settled after watching this game. We already knew he was easily the most explosive, most effective back for Baltimore, but the only reason for skepticism, whether the team would recognize it and commit to him, is gone now. They know. Ty'Son is going to put up some numbers this year and this may be your last chance to buy low on him.
Thankfully for those that haven't already acquired him, a couple of fluky plays kept him from scoring 2 TD's here and that's going to hold his price down for at least another week. The first was a carry on their first redzone trip where Ty'Son made a great cut and was headed for an easy TD but got blasted on his arm with a helmet at the 1. The ball popped straight to Devin Duvernay who scored the TD. The second was the Ravens go-ahead score in the 4th quarter. Ty'Son looked like he was going to finish another run but was dropped just short of the goalline and Lamar kept the next play himself to score. We were inches away from a 2 TD game and people would be going wild for him, but instead we have one final chance to get in before this thing takes off.
Ty'Son is the lead back here and that's not changing. Don't be fooled by the fact that he's only playing 50% of the snaps and taking 55-60% of the RB carries. None of it matters. What matters is that he is going to get 12-15 carries every week and he's going to average north of 5+ ypc along with a TD chance every week. He's also getting around 2 catches a game which is not bad at all for a Ravens RB. We're talking somewhere around 14.5 ppg in ppr leagues which is going to put him in the 12-15 range or so for RB's on the year. That's his floor. It's possible we could even see those numbers go up a bit.
Don't overpay for him, but definitely try to acquire him for RB2-2.5 prices. Trust me, most people don't trust him because they didn't know his name to start the season. He's not a real player to them. We know the truth.
--If I haven't made it clear enough the past several weeks, please don't have Murray on your team. He's dreadful. 4.0 ypc here against one of the weakest run defenses in the league in a Ravens backfield where everyone averages 5 ypc? Even the Ravens know he's limited because they barely gave him any work between the 20's here. It was all short yardage stuff and inside the 10 where he doesn't have to go far. He gets what is blocked and that's it. The TD's are the only thing propping him up and they aren't going to be that frequent. Don't even entertain the idea.
--Another player RC and I have been pointing out is Marquise Brown (6-113-1/10) and the public is waking up to this one. Brown isn't my favorite player ever, but he's the top WR target for Lamar and Lamar scores touchdowns, therefore Brown scores touchdowns. Isn't fantasy easy? Probably not the time to buy in on him coming off a huge Sunday night game, but there will be a lull in his scores eventually where he goes 3-57-0 or something and that will be the time to grab him if he's not too hot already.
--Mark Andrews (5-57-0/5) has had a slow start to the year. Don't worry about him. His numbers are coming. Nothing has changed for him in this offense, just other things have been available. He's going to have a 2 TD night soon and everyone will forget about the start. He'll finish as a top 5 TE like usual.
--All these Ravens players are only useful because of one man though. Lamar Jackson (18-26 for 239 yards, 1 TD/2 INT, 16-107-2) is so good and somehow still underrated at times. It's weird. I think sometimes we drop him a step down in our minds because he relies on his legs more than most other top guys, and even though he isn't as threatening a pure passer as a Mahomes or Kyler, we tend to think he's less dangerous because of it. He's not. And don't worry about the 2 interceptions here. The pick 6 happened because Sammy Watkins slipped. The second one was a stupid pass into coverage, but he doesn't do that often.
--Patrick Mahomes (24-31 for 343, 3 TD/1 INT) continues to do Patrick Mahomes things. He's unstoppable. Why do we even bother with other QB's for fantasy? Everyone has question marks every year. Pat may not finish as the #1 QB, but he's going to be in the mix and he's as safe as it possibly gets. You cannot go wrong drafting him. Don't overthink it next year. Just draft him.
And I don't want to hear people complaining on Twitter about how we should crucify Mahomes for throwing that stupid interception as he was falling to the ground because we smash Darnold or Jameis when they do that crap. Darnold and Jameis aren't good enough to shine Mahomes's shoes first of all. And second of all Darnold and Jameis do that every game while struggling to throw 200 yards. Mahomes is the best QB the game has ever known and makes jaw-dropping plays multiple times a game. He can do whatever the &%$# he wants and you can deal with it. You don't reign in greatness because it makes an occasional mistake. You reign in terrible mistakes that far outweigh the occasional good thing. Not remotely the same comparison, but thanks for proving that you know nothing yet again Twitter fans. Rant over.
--Travis Kelce (7-109-1/8) is a boss and the only other thing in fantasy that can compare with Mahomes. There's a reason RC and I advocate taking him even as high as the 1st round. Forget his age, forget your charts and graphs and "regression" analysis. Kelce is immune. Mahomes is immune. The rules don't apply to them. Stop overthinking it!
--Tyreek Hill (3-14-0/4, 1-15-0) is immune for the season, but he does occasionally have these type games. It's unfortunate but it happens. Take your lumps and move on. He's going to help you win most other weeks.
--I don't get the Clyde Edwards-Helaire (13-46-0) hate this week. We just all collectively decided that now it's ok to hate on him? He fumbles for the first time in his career and it causes the Chiefs to lose and now suddenly he's the worst? The guy is fine. He's playing good football. We always knew he was a somewhat limited athlete, doesn't have the best long speed. He's not going to give you 100 yard games very often. He doesn't get the carries for that. This particular game he didn't get any catches which hurts but it happens sometimes. The selling point for Helaire has always been that he should have good opportunity to score points because of the offense. Well guess what? The Chiefs have been scoring for 30+ yards out nearly every drive so far this year. That isn't going to always be the case.
Last week it was Tyreek, this week Pringle and Kelce had long catch and runs and Robinson caught a bomb. I know patience isn't the strong suit of fantasy players, but please, try to have some. Helaire has no competition for his job, he's going to get 12-15 carries a game, about 3 catches, and (hopefully) start bringing in a TD every other week or so. If nothing changes I'd expect him to fall right outside the top 12 or so, right in the same bucket as Ty'Son and if the TD's start coming faster he could make it into the back of the RB1 range. He's not a top 5 RB like everyone was hoping for the last two years, but he is a nice, safe option to keep you from hurting too badly at RB. Remember, somebody else out there is starting Latavius Murray.
--Byron Pringle (2-63-1/2) showed why RC thinks he should be KC's second option at WR with a terrific catch and run TD here, but it's probably not going to change anything. He's still the 4th option behind Demarcus Robinson (3-46-1/4) and Mecole Hardman (5-55-0/8).
‍
IDP Notes
Daniel Sorensen (10 tackles, 1 sack), Anthony Hitchens (12 tackles, 1 tfl), and Nick Bolton (9 tackles, 1 tfl) had elevated tackle counts because the Ravens run so much. Don't expect that next week.
I'm not loving what I see from Bolton. He's as advertised that's for sure, a somewhat slow of foot, thick, hard hitting throwback middle linebacker. He's a good run defender when he can play downfield, but he struggles if you get him chasing side to side. He defended Ty'Son just fine for example, but when Lamar took off around the edges he was usually out of position. He also struggles in pass coverage. Don't mean to sound too critical of him, he's a good player for what he does, especially as a rookie, but I'm just not sure what a run-stuffing MLB is worth in the NFL these days.
Patrick Queen (8 tackles) shows up every week now and is going to be among the league leaders in tackles this year. He's really developed into a very nice LB. I definitely missed that one when he came out of college.
I still don't see it with Jayson Oweh (3 tackles, 1 tfl, 1 fumble recovery). He seems to be in the right place though so maybe there's hope for him if he can ever incorporate his athleticism into his game.
Snap Counts of Interest
70 = Sammy Watkins
55 = Marquise Brown
37 = Devin Duvernay
37 = Ty'Son Williams
27 = Latavius Murray
10 = Devonta Freeman
33 = Clyde Edwards-Helaire
14 = Darrell Williams
40 = Mecole Hardman
30 = Demarcus Robinson
11 = Byron Pringle
‍