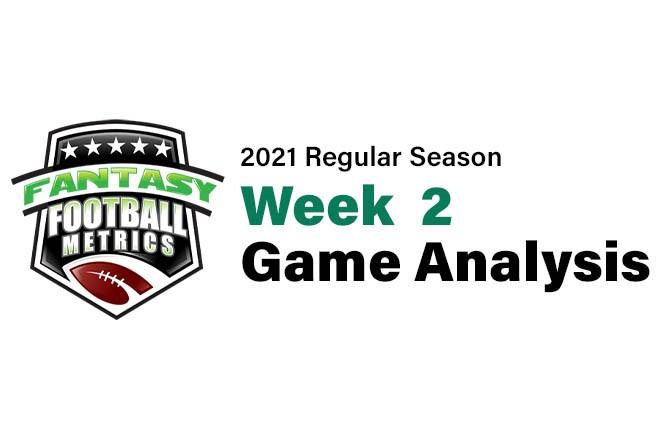 Ross Jacobs
FFM
23 September 2021
2021 Dynasty/Fantasy Game Analysis Week 2: Bills 35, Dolphins 0 (By Ross Jacobs)
I don't need to do a long recap of the game here. Everyone knows what happened. The Bills came out firing and knocked Tua out of the game with a rib injury and the rout was on.
The Bills are one of the better teams in the league. They have a top 10 offense and a fringe top 10 defense. Nothing has really changed from last year except the defense looks to be a little better which is scary news for the rest of the league.
The Dolphins, meanwhile, have a really good defense but no offense to back it up. Tua is a joke and much like Darnold and the Panthers, he's going to hold this team back from being a playoff contender. If the Dolphins bite the bullet and trade for Deshaun Watson now they would instantly be a much scarier team.
Fantasy Notes
--I wouldn't worry about Josh Allen (17-33 for 179 yards, 2 TD/1 INT, 5-35-0) just yet. He's played two really good defenses, particularly two really good pass defenses, so far. He looked mostly normal to me, maybe just a touch off. It didn't help matters that it rained during a large chunk of the game. In fact, looking at his schedule, I think he makes an excellent buy low candidate right now. If you have Aaron Rodgers could probably get a deal done easily and even get a few trinkets thrown in for good measure. Remember, even if Allen isn't passing quite as well as last year he still has an extremely high floor due to his rushing prowess. He nearly had a rushing TD here but started his slide just a tick early and was called down at the 1. Allen should be a very safe top 5 QB the rest of the year.
--Devin Singletary (13-82-1, 2-9-0/3) is so obviously Buffalo's best back it's not even funny. He looks spry and elusive while Zach Moss (8-26-2, 2-8-0/2) looks like a tugboat. The only reason Moss should ever be in the game is if you need a yard or two. That's all he's good for. Other than that it should be Singletary in every other situation. Unfortunately, despite the vast difference in total snaps, Moss is still getting far too much of the work and it's rendering Singletary as a RB2 at best.
--Just like with Allen, I wouldn't panic on Stefon Diggs (4-60-1/8) and might even buy him low if possible. He looks fine. It's completely natural for him to have less output against Joe Haden and Xavien Howard, two of the best corners in the league. He's got another tough matchup against William Jackson this week but that hasn't been as threatening as it might have been 2-3 years ago. Diggs is a must start every week.
Emmanuel Sanders (2-48-0/6) and Cole Beasley (4-36-0/4) are the next two options in the Buffalo passing game. They are both WR3 hopefuls with occasional spike games. Find the right matchup and they are more useful in DFS. In redraft it's hard to justify starting them unless necessary.
Dawson Knox (2-17-1/3) looks like he's going to try for a repeat of 2020 where he doesn't offer much receiving upside but catches a TD every other game to make himself marginally useful.
--With Tua out I actually think the Dolphins are getting an upgrade with Jacoby Brissett (24-40 for 169 yards, 0 TD/1 INT). It's not a huge deal and you still don't want Brissett for fantasy, but it should help the team a little. Brissett is a very similar player to Tua in that he's a smart, safe passer, isn't going to make a lot of mistakes, but he comes with the added benefit that he can run a little and he has a bigger arm than Tua. I wouldn't be shocked to see him and this defense jump up and surprise a suddenly hot Raiders team this week.
--You don't want anything related to this Miami backfield, but if you must, Myles Gaskin (5-25-0, 4-21-0/5) is the only option at the moment and only in ppr because of all the dump passes he's catching. He's still not a good player and the offensive line isn't good either.
Malcolm Brown (5-21-0) "split" carries with Gaskin here but not really. He only came into the game in the last 4 or 5 minutes. Ditto Salvon Ahmed (6-17-0). He's the worst of the three backs and was only taking carries because the game got out of hand early.
--Who is the #1 WR in Miami?
Probably Jaylen Waddle (6-48-0/8) although it's not worth much. He's solid but doesn't have a QB that can get him the ball in space. Might be an interesting option if the team ever upgrades though.
The next contender is RC's old favorite DeVante Parker (5-42-0/9). He's still not interested in anything involving contact.
I thought maybe Albert Wilson (4-20-0/6) might provide a little juice, but he looked like crap and dropped at least two easy passes.
Mike Gesicki (3-42-0/6) might have a little life with Brissett at QB. He's a safe option for Jacoby in 1-on-1 coverage.
IDP Notes
--The Bills defense is just so well-coached and disciplined. They don't have many stars but they work together very well as a unit. They'll flirt with top 10 status this year.
Rookie Greg Rousseau (5 tackles, 2 sacks) will get the headlines this week. He was fine and has certainly helped upgrade the pass rush, but everyone on the team was beating up on this Miami offensive line so I wouldn't read too much into it. AJ Epenesa (1 tackle) didn't get much in the stats department, but he was causing just as many problems for Austin Jackson as anyone else.
--On the Dolphins side two players stood out. The obvious one is all-pro CB Xavien Howard (2 tackles, 1 INT, 2 pd). He picked off Josh Allen on a short slant which is really impressive given the nature of the play. The ball was thrown a little behind Diggs, but it was still a great play by Howard. He just makes it so tough on opposing #1 WR's and his counterpart Byron Jones is great at shutting down #2's. Beware starting lesser guys against this Miami secondary.
The other standout was a longtime favorite of mine and RC's, Emmanuel Ogbah (4 tackles, 0.5 sacks). He doesn't have much help but he really played well here and was the only guy consistently getting pressure when Miami didn't blitz. Good to see him playing well and getting some long overdue recognition.
Snap Counts of Interest
51 = Stefon Diggs
50 = Emmanuel Sanders
39 = Cole Beasley
21 = Gabriel Davis
13 = Isaiah McKenzie
43 = Devin Singletary
18 = Zach Moss
55 = DeVante Parker
49 = Jaylen Waddle
41 = Albert Wilson
47 = Mike Gesicki
22 = Durham Smythe
45 = Myles Gaskin
23 = Salvon Ahmed
9 = Malcolm Brown