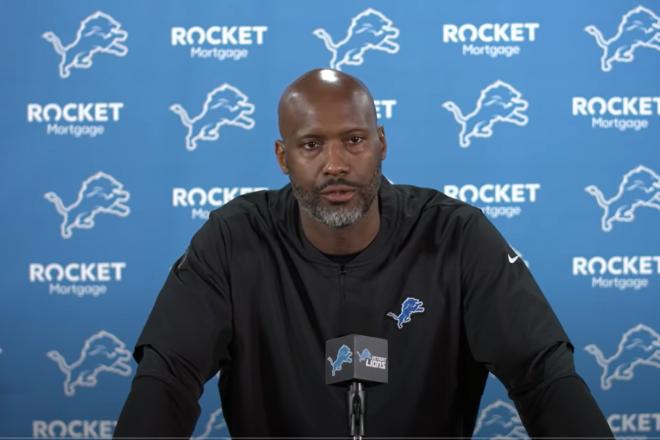 Ross Jacobs
Weekly Report
13 April 2023
National Mock Draft expert Ross Jacobs shares his 5.0 version 1st-Round mock draft -- with 5,000+ words of commentary on his research and sources for each pick PLUS a projected trade by the Titans and Lions...


#1 Carolina Panthers: QB Bryce Young, Alabama
I think there are a lot of false narratives about what has happened with this pick. The perception of many people was that Carolina traded up with the intention of drafting Stroud and the betting odds shifted to reflect that inside knowledge. Now the media is slowly leaking information, hinting that Bryce is the pick, and from the outside it looks like BS. Why change the pick now?
What I think actually happened is Carolina traded up to #1 with Bryce in mind from the very beginning and the media/market went crazy speculating and drawing conclusions based on a video produced by Josh McCown (the new Carolina QB coach) from before he was hired, and a 10 second video of McCown talking to Stroud at his pro day where he said something like "when you live in Charlotte we'll play a game of basketball." I think we got the order of operations wrong. Young has always been the favorite even going back to last year. Carolina and the rest of the league have been scouting these guys in detail their entire careers. They aren't finding out much new information right now, and thus the draft boards aren't really moving much, especially at the very top. Bryce, rightly or wrongly, has always been QB1 for most teams. It's also impossible for me to dismiss the fact that all the sharpest draft people I follow all think it's Bryce. He's the pick for me unless I hear strong evidence otherwise.
 
#2 Houston Texans: EDGE Will Anderson, Alabama
And here's where the draft goes off the rails from what everyone has long thought. I've been talking about this possibility from my very first mock earlier this year. It was never a given that Houston would take a QB here. They still might. I acknowledge that and I understand why everyone thinks they should. I agree for what it's worth. But I don't think Nick Caserio agrees…and Nick Caserio is the one making the pick.
So, what's the logic? Contrary to popular belief, I believe many teams think there is a decent gap between Young and Stroud and then an even larger gap between those two and Levis/Richardson. I believe there are two defensive players that are widely considered to be "can't miss" Pro Bowl caliber players at the top of the draft. I believe Caserio is an incredibly conservative, overly confident type of person and he is going to stick to his board come hell or high water. He won't "reach" for a QB if he thinks one isn't worth it. He and DeMeco Ryans are going to take one of Anderson or Wilson and wait to see what happens at QB. If they can get one at 12 or by trading up a little, they will. If they like a guy in the middle rounds they'll take him. But they won't force it.
So why Anderson over Wilson even though Wilson theoretically fits their defense better? Because Anderson grades out with impeccable character and leadership traits on top of being a very solid and productive player. He's a defensive captain/heart of the defense type guy and Houston hasn't had someone like that since Watt left. I know that sounds a little goofy to our ears, but that's actually how these NFL offices think. They aren't "just adding talent" as they love to say. They are "building a team." Especially among the ex-Patriots guys. You can expect similar moves from the Raiders as well.

#3 Arizona Cardinals: EDGE Tyree Wilson, Texas Tech
Not a trade?! But Stroud is still on the board! We've been told teams were trying to trade up to 3 for Richardson so surely, they'll trade up for Stroud!
Possibly. But as I've pointed out for months now...who are these teams, and do they really love Stroud enough to give up multiple first-round picks for him? I think multiple teams would come up for Bryce, but Stroud I'm not so sure anymore. He's routinely rated as the 5-8th best player by many "experts"...not so often the 2nd or 3rd best. I also don't believe that the teams everyone claims are so desperate for QBs actually crave one that badly.
The Raiders know they have a ton of holes to fill. The Lions are ready to contend and aren't likely to waste time trying to replace the very capable Jared Goff. The Falcons are ready to give Ridder a shot behind a dominant running game. The Titans would probably like one the most, but they don't have the resources to mortgage their future with so many other problems. Everyone else is much too far away to trade up this high. As for proof that the QBs aren't rated as highly as we've all been led to believe...don't you think someone would have already traded for the 3rd pick like SF did if that were true? They knew they were highly coveted and had to move up to secure one quickly. There's been no mad rush to do that this year...it must be for a reason. It's also why Indy has never once budged despite everyone insisting they had to. I think Ballard knows perfectly well that he can sit right there at #4 and wait on one, possibly even the 2nd best.
So, there's nobody that wants to give up the amount of resources Arizona is asking for. Indy calls their bluff that "six other teams have called about the 3rd pick" (which is probably true but only on the off-chance Bryce were to fall...it's due diligence). What does Arizona do? They take the next best defender in the eyes of most of the league. Tyree fits perfectly with what Jonathan Gannon wants to do on defense. I know they would love to trade down and grab one of the corners, but assuming that doesn't happen they'll be perfectly happy with this outcome.

#4 Indianapolis Colts: QB CJ Stroud, Ohio St
And despite all the chatter, Ballard doesn't move a muscle and still gets arguably the best QB in the draft with the fourth pick. I've talked enough about why I think this is a completely reasonable conclusion to draw so I won't expand on it here. If Stroud does happen to go with the 2nd or 3rd pick I believe Indy would select Levis and not Richardson. Levis is ready to play now. Richardson, for all his gifts, isn't there yet. He's not as big a project as many claim, but some seasoning would help.

#5 Seattle Seahawks: QB Anthony Richardson, Florida
Go ahead and keep mocking Carter here...you will be wrong. Everyone loves to say that Seattle has no problem taking chances on guys with character issues in the past. That's true. What is also true is that they aren't doing that any longer because of how it blew up in their faces so many times. Go look at last year's draft. Every pick was a guy with outstanding character, very professional types that just want to work hard. Schneider and Carroll have raved about that group and their success last year. They aren't going to throw away what just worked so well to try and fix a lazy, out of shape defensive tackle. They can get guys nearly as good in the 2nd and 3rd round. Carter simply isn't worth the risk.
What is worth the risk is gambling to find the next Josh Allen. It might not work out. But if it does you are set for 10+ years. And Seattle can afford to try a move like this where other teams cannot for a few simple reasons.
1) They have an established head coach and GM that are not at risk of being fired.
2) They have a capable, veteran QB on the team that can pilot them for another year or two until Richardson is ready to go.
3) They have a very QB-friendly scheme (I never believed this until seeing what happened with Russ and Geno but it's clearly true). Seattle is the perfect spot for Richardson. There's not one other team in the league that is set up to handle this project the way Seattle is.
If for some reason Anderson or Tyree is available here, I do believe Seattle would consider taking him and try to trade up for Richardson or Levis later for the same reason that Houston is. I also think they could just choose to take Levis over Richardson if they want a similarly high upside but with less risk. Levis is smart, tough-as-nails, a great leader, big arm, mobile, and came from a similar scheme at Kentucky (his OC Liam Coen was with current Seattle OC Shane Waldron on the Rams from 2018-2020).

#6 Detroit Lions: RB Bijan Robinson, Texas
I refuse to move this pick until I hear from a source inside Detroit that they are taking a corner.

I don't care that they signed the wonderful, amazing, fantastical David Montgomery and paid him an ok sum of money. Would you bypass drafting Edgerrin James because of Montgomery? I don't care that they trade Jeff Okudah to the Falcons. They already signed several corners, and they can draft more later. It's a really deep draft at corner and, oh yeah, they have another first round pick. There are multiple good corners available. There is only one elite RB (in the minds of NFL people). Barkley went 2nd overall ahead of Denzel Ward. Fournette went 4th overall ahead of Marshon Lattimore. Zeke went 4th overall ahead of Jalen Ramsey.
So, tell me again why Robinson, who is being compared to Edgerrin, Faulk, and Barry Sanders is going to get drafted behind 5'10" Devon Witherspoon...

#7 Las Vegas Raiders: CB Christian Gonzalez, Oregon
Ideally the Raiders would love to trade this pick, and they very well might do it. Houston, who the Raiders obviously have connections with, could easily trade up for a QB right here. The Patriots could come up for something, maybe Gonzalez actually. If that happened, I'd look for the Raiders to possibly take Darnell Wright. But if they are forced to stay at #7 and pick, I think they'll just choose the safe option and snap up Gonzalez. There's almost nothing to nitpick about him. He's big, fast, agile, smart, grounded, a hard worker and family-first type of guy. He's an absolute perfect fit for what the Raiders are trying to build, and he happens to fill a big need on their defense.
https://www.dailyemerald.com/sports/no-matter-what-christian-gonzalez-gives-everything-he-s-got/article_48975e80-c25e-11ec-a7e9-e7e4925fbdf3.html

#8 Atlanta Falcons: OT/OG Peter Skoronski, Northwestern
Atlanta would love to grab a long edge rusher like Tyree Wilson here, but I no longer think he'll be available. A corner would have made sense before they traded for Okudah, but that's out of the question now. So, do they reach for someone like Van Ness or Murphy? I think they would love for Bijan to be available to turbocharge their run game (if you don't think they would draft Robinson because of Allgeier then you haven't been paying attention) but he's off the board too.
So, what's left that fills a need and helps them progress their plan? Skoronski slots in nicely at left guard as a rookie, provides a possible future replacement for Matthews at tackle (I think he's a guard personally), and helps keep that league-leading running game churning for Arthur Smith to protect Ridder with.

#9 Chicago Bears: DT Jalen Carter, Georgia
I suspect Chicago is deciding between two lines here...either Carter is available (which they don't quite believe) and Poles snatches him up to great media adoration, or they try to trade back with someone like Pittsburgh. I don't believe there's a single team ahead of them that will take a chance on Carter so he's free and clear to fall in their laps in this scenario. Many people love to mock Carter to the Seahawks or Lions, but both of those organizations are heavily focused on guys with outstanding character. They aren't going to risk it. Ditto the Raiders and Falcons.
Poles comes from the KC tree where they were willing to take chances on guys like Marcus Peters, Tyreek Hill, and Tyrann Mathieu. Poles is already full of himself for successfully trading down from the first pick and isn't in any danger of getting fired, so he'll run the card up to the podium with Carter's name on it. It just so happens that Carter fills the 3i technique tackle spot that is so crucial for an Eberflus defense. This is a match made in heaven.

#10 Philadelphia Eagles: OT Paris Johnson, Ohio St
Suffice it to say that Howie Roseman loves to keep the shelves stocked with athletic offensive linemen. Due to recent losses at the position in free agency, the cupboard is bare, and I can guarantee he'll be looking for replacements. Every time this has happened in the past, Roseman goes for premium players at the position. He isn't going to wait to draft a tackle in the fourth round when the top guy on the board falls in his lap at 10th overall. I could see him trading back two spots here with the Texans (who would be trading up for a QB). Howie could grab an extra mid-round pick and still hopefully pick Johnson...unless Tennessee grabbed him which would be a risk.

#11 TRADE! Detroit Lions: CB Devon Witherspoon, Illinois
And this is precisely why the Lions can afford to take Bijan at #6. The guy that everyone insists they have to take at that spot is still available a few picks later and they are able to trade up for him just like they did for Jameson last year.
There's a reason everyone matches Witherspoon to Detroit that early...he's just the type of tough-guy, glass-eating, physical player that they crave. He's a perfect replacement for Okudah in their man coverage defense.

#12 Houston Texans: QB Will Levis, Kentucky
Houston might have to trade up to make sure they grab Levis, but there's a good chance he'll be available. Getting Anderson and Levis in the same draft would be an extremely good haul. The fans might not be thrilled, but I would be over the moon for Houston. These are two very, very good players.
So why Levis to Houston instead of some of the others? For one he's the guy that's most likely to still be there for them if they go for a defender at #2. But Levis also fits several other boxes for Houston...he's a perfect scheme fit (as I talked about with Seattle, he has experience in the McVay/Shanahan offense), he played in the SEC (go look at Houston's last draft), and I think Caserio is one of the few GMs that will be able to appreciate the skills Levis brings to the table because he's able to look at the situation at Kentucky with context.
If Houston can pull this off, I'll be the first on the bandwagon.

#13 New York Jets: OT Darnell Wright, Tennessee
I thought perhaps the Jets would be forced to send this pick to the Packers, but it seems that might not be the case. We'll see.
Assuming the Jets hold onto the 13th pick and actually select someone here, there's not a lot of obvious directions they could go outside of offensive tackle. They could probably get by without one, but when someone as good as Wright drops in your lap, you might as well take him to protect Aaron Rodgers. Wright is the fastest rising player in the draft (for the media anyways) and a player I've been championing from the beginning. He's big, physical, smart, and a surprisingly nimble mover despite his great size. You've heard the term "dancing bear?" It was coined for guys like Wright.

#14 New England Patriots: CB Joey Porter, Penn St
There are a number of different directions the Patriots could go with this pick. Offensive tackle and wide receiver are very popular choices, but if Wright is off the board -- I don't see anyone from either position that's worth it this high up.
What NE desperately does need though is a big, physical corner to play outside press man coverage. They haven't had a good one for a few years, but it's a staple of the defense. Think Revis/Gilmore types, someone big to match up with larger receivers. Right now, their three top corners are all 5'10" or shorter. Porter would immediately come in and start on the outside, which would allow Jack Jones to move inside to the slot where he's more suited which would in turn allow Marcus Jones to focus on special teams and gadget plays.

#15 Green Bay Packers: EDGE Myles Murphy, Clemson
I'm still not super confident what the Packers might be planning with this pick, but Murphy feels like a natural option since Green Bay lost Rashan Gary to an ACL injury last year and aren't certain when he'll be returning. Murphy is the kind of big, athletic edge rusher they seem to favor. He would pair up with Preston Smith in the short term and replace Smith when Gary is healthy again.
If the Packers pass on an edge rusher, I could see them going for a receiver or tight end, but that hasn't really been their style in the past. Options include Mayer, Kincaid, Smith-Njigba, and Hyatt.

#16 Washington Commanders: OG O'Cyrus Torrence, Florida
I've been a major fan of Darnell Wright at this spot for a long time, but that was back when I thought he might be available. I think he'll be long gone by the time Washington is on the board, so I had to start thinking...
We know Washington wants a big, experienced offensive lineman with excellent character. Who else fits that criteria? Torrence! He is widely considered a late first round or early second round pick, but Washington has had no qualms about slight reaches in the first round to get "their guy." Torrence is most definitely "their guy" this year. I'm more sure of this pick than anyone else in this mock.

#17 Pittsburgh Steelers: OT Dawand Jones, Ohio St
I'm not terribly comfortable with this one yet, and I do see a few other directions Pittsburgh could go (corner or a slot receiver like Flowers being the obvious choices), but I've come around to this for a few reasons despite Jones rarely being mocked this highly. As much as I like him, he's not a fit for every team, particularly all the zone run teams that populate the league now. The Steelers are one of the rare teams that fit his skillset and it's obvious based on their draft history that they are willing to "reach" for a guy they like if he has the right traits. What trait do they like with Dawand? He's big as $%#&. Look at the offensive linemen they've added this spring. Seumalo, Herbig, Clark...all 330 lb road graders. Jones is as big as they come but also has enough movement skills to not get embarrassed by smaller speed rushers. The Steelers can help mitigate those issues.
Najee is going to appreciate this pick.

#18 Tennessee Titans (via Det): WR Jaxon Smith-Njigba, Ohio St
I had Tennessee trade down from #11 for a few reasons. There was no obvious fit that they had to take right there. All the receivers and tight ends should be available later. They also could use a few more mid-round picks to continue adding depth. This team still has a lot of holes to fill. They could have stayed and taken Levis, but I'm not sure they'll like him enough to forgo other positions. Here they can trade down, grab some more draft capital, and still select the guy they would have taken at 11.
JSN fills arguably their biggest need, a slot receiver with versatility that can separate from coverage with explosive ease. For a while I thought he might end up slipping to the 2nd-round because of speed concerns but running a 4.52 answered that. Vrabel might be a little hesitant to take another player with injury concerns after what's happened to his team the past few years, but he'll have the full scoop JSN because of his Ohio St connections. If the Titans pass on him there might be lingering concerns.
I could also see them taking a tight end like Mayer here. They will almost certainly select a well-rounded one at some point in this draft.

#19 Tampa Bay Buccaneers: EDGE Lukas Van Ness, Iowa
Ideally the Bucs would love to draft a tackle, but all the best ones are already off the board. Many people would say this is a perfect spot for Georgia's Broderick Jones, but I've heard that most teams have him graded much lower than where the media does. He's got a ton of athletic ability, but his technique isn't polished and he tends to duck his head into blocks. He's also a little shorter and blockier than what many teams look for. I'm just getting too many Teven Jenkins vibes to include him high up right now.
If not a tackle then edge rusher seems to be the next best choice and Van Ness has all the traits that Licht typically goes for, length, speed, and power. He's still fairly raw so I don't think he's going quite as high as many think, but this seems like a decent spot for him.

#20 Seattle Seahawks: EDGE Nolan Smith, Georgia
I wouldn't be surprised if Seattle traded down from this spot to grab some more picks. If Njigba is still on the board, look for someone like Buffalo to move up. If they pick someone, I could see them going a variety of directions, defensive line with someone like Bresee, slot receiver with Flowers or Addison, a tight end like Mayer would be a solid pick. But I'm going with an edge rusher similar to one they picked in the past, Bruce Irvin.
Like Irvin, Smith is undersized but extremely fast and explosive. He's also quite strong despite his smaller frame and is shockingly a better run defender than he is pass rusher right now. He's also an A + character/leader from what I've heard and fits perfectly into the culture they are trying to build.

#21 Los Angeles Chargers: TE Michael Mayer, Notre Dame
I don't really know what to expect from the Chargers this year, but Mayer seems like a safe bet to be on their short list. They could go with an edge rusher for some depth, but all the good ones are already off the board here. A receiver makes sense if they want to add some speed, so I could see Hyatt as a sneaky pick. But we know that new OC Kellen Moore wants to run a balanced offense featuring a lot of 2-TE sets. He didn't have a speedy receiver in Dallas, so I doubt he'll be begging for one in LA. What he could use is a solid TE that can block and catch to play across from Everett this year and replace him next year. Parham is good but has struggled with injuries and isn't much of a blocker.

#22 Baltimore Ravens: WR Zay Flowers, Boston College
Your guess is as good as mine when it comes to the Ravens. They will take the highest rated player on their board almost regardless of position. I could see any number of possible players here: Bresee, Banks, Addison, Branch, Smith, Hyatt...etc. Here I'm going to give them yet another receiver to continue building that room for a new more wide-open offense under Todd Monken. I do expect Lamar to be back here and to actually have his best passing season yet (and less rushes) so Flowers will help add more speed to open things up.

#23 Minnesota Vikings: CB Deonte Banks, Maryland
Minnesota always needs corners. It's a rule. Even with the addition of Murphy they could still use more bodies on the outside. More than likely though I think they'll trade back like last year, grab some more picks and dip into the corner market in the 2nd. There are just so many good corners this year teams aren't missing out by going that way early.

#24 Jacksonville Jaguars: WR Jordan Addison, USC
I know the Jaguars want more corners and more receivers. All the best corners will likely be off the board at this point, and they are said to covet Addison and JSN among the receivers. The idea is to surround Lawrence with as many playmakers as possible. This is a sneaky spot for a tight end like Kincaid or (RC cover your ears) LaPorta. Engram is just on a 1-year franchise tag and even though Jacksonville wants to sign him to a long-term deal, they could still use a backup for depth and 12 personnel purposes. Pederson is a Reid disciple and loves his TE's.

#25 New York Giants: C John Michael Schmitz, Minnesota
Don't ask me why Schmitz is so beloved by the NFL. I don't get it. He's fine as far as I can tell, a decent athlete, good kid, tough, smart. But I don't remotely see a 1st round pick much less being the top overall center (I'm partial to the Wisconsin kid Tippmann myself). But for whatever reason teams seem to be head over heels for this guy and it seems more likely than not that someone is going to reach and take him early just so they can have him. It wouldn't surprise me if that team was Seattle, but they have other needs to address first and can grab Wypler in the 2nd or 3rd if they want. The Giants though have a single massive hole still left on their roster...they don't have a center currently signed. It's a huge giveaway but might not matter in the end since other teams have to address bigger problems first.

#26 Dallas Cowboys: DT Calijah Kancey, Pitt
Like most good teams, Dallas can go a variety of different directions because they don't have any massive voids to fill. Their biggest need just happens to be at defensive tackle though, so this mock lines up perfectly for them. They can take the uber athletic Kancey and mitigate his biggest weakness (run defense) by rotating him into the game on passing downs while building up his strength for a year or two. Kancey might be the Ed Oliver we thought we were getting...or maybe he's just Oliver 2.0.

#27 Buffalo Bills: WR Quentin Johnston, TCU
I don't love this pick because I think Johnston is overrated and might fall completely out of the first round, but he does fit what Buffalo has tended to look for in their receivers (explosive athleticism and big play ability). I think it's more likely they move up for someone like JSN if he gets in range, but I'm not going to try to project that here. If they don't get a receiver, then an inside linebacker like Sanders or Campbell would fill the huge hole they have at that spot. They might try to slow-play it though since they want another offensive piece to help Josh Allen.

#28 Cincinnati Bengals: CB Cam Smith, South Carolina
The Bengals filled their biggest need by signing Irv Smith, but I could definitely see them adding another TE at some point in this draft to provide insurance for the future.
I don't know that it has to be in the first round though and I definitely don't think they'll go for Washington (as much as I'd love to see that). If Mayer is somehow still there at 28 though they might pounce. The other position they need help at, one that few people outside of Cincy are talking about, is corner. When Awuzie got hurt mid-season it really dealt a blow to the group although they played much better than expected without him. But with Awuzie coming off an injury and in the last year of his deal, Eli Apple still a free agent (although he'll likely re-sign) and Cam Taylor-Britt struggling with inconsistency, they need reinforcements. Smith is just their type of corner, long, fast, and aggressive.

#29 New Orleans Saints: DT Bryan Bresee, Clemson
The only thing you can count on with the Saints is that they will draft an elite athlete in the first round. A surprising pick to many (and one RC would hate) would be if they took Darnell Washington here. They are looking for a big-bodied blocker to complement Juwan Johnson and I have to imagine Washington would give them Jimmy Graham flashbacks.
Here though I'm going to give them a player at their biggest position of need, defensive tackle. Losing Onyemata was a big blow and they need to replace him. Bresee has been out of sight for the media during draft season, but he's widely regarded by the league and is almost a lock for the first round. He's just the kind of long, jumbo athlete the Saints love.

#30 Philadelphia Eagles: TE Dalton Kincaid, Utah
I had a tight end here once before and I'm putting one back in again. Fantasy fans are going to hate this because it buries Kincaid behind Goedert, but the Eagles are very likely to want another TE so they can run more 12 personnel this year. Here I'm giving them Kincaid, the highest rated one left on the board, but if he's gone in the real draft then they could pivot to Washington or Musgrave.

#31 Kansas City Chiefs: RB Jahmyr Gibbs, Alabama
Ready for a rewind? The Chiefs tried bringing in a smaller pass catching back to be Andy Reid's new Westbrook/McCoy a few years ago with CEH and that bombed magnificently. Gibbs, however, would be a slam dunk. Unlike CEH he's actually fast in addition to being a fantastic receiver. I've heard teams have a very high grade on him, so I'm not even sure he'll be available at this pick. I could see LAC grabbing him as a hedge on Ekeler for example. But if he's available I think the Chiefs will have a hard time passing him up. They still haven't re-signed McKinnon and it doesn't sound like they are going to. If they don't get Gibbs here, they will definitely be looking for a receiving back later in the draft (Evan Hull perhaps).