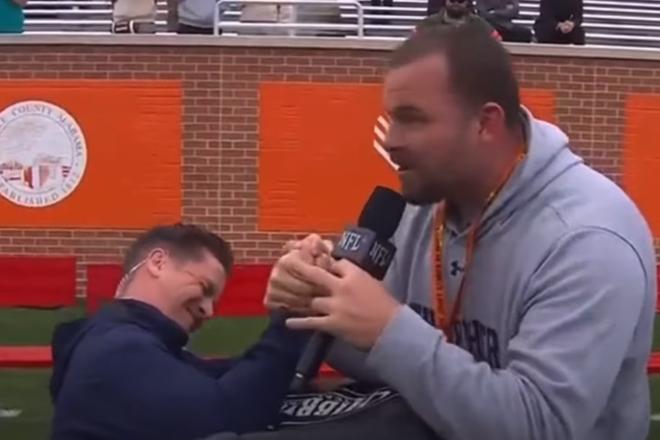 R.C. Fischer
Weekly Report
06 February 2023
I bet a whole $5 on the American team -3.5, on FanDuel, for fun, and they took my money with impunity.
I am leading this report off with my wager loss info to set the table for this game -- it went nothing like I would have expected it to. It was really weird…
The American Team, that I was convinced was loaded with much more high-end talent (after watching the practices the past week) than their counterparts/the National Team, sabotaged their own cause in this game…and I don't know why, and likely never will.
Not that it matters, this type of thrown-together all-star game event, but it's still strange to me what happened here -- the American team had the (voted on) QB of the week (Max Duggan/TCU), the overall MVP of the week (voted on by the players) in RB Tyjae Spears/Tulane (and also, perhaps, the biggest breakout star of the week for the NFL Draft), and they also had Tyreek Hill wannabe Nathaniel 'Tank' Dell/Houston, as well as the week's top TE Luke Musgrave/Oregon State. All this offensive talent and then some (they were deep on offensive talent), and I was all ready to sit down and watch this offensive show, but instead -- I got the Heisman hand/stiff arm to the face…some of the week's stars for the National Team didn't start/hardly played!?!?!
I would have been mad, but accepting of it, had those top players chosen to not-play to keep themselves injury free for the Combine and NFL Draft. Especially Tyjae Spears…he had NOTHING left to prove, and only injury to be risked. But the National Team didn't start Duggan at QB, and he barely played at all, and Spears started at RB for two plays then was barely seen throughout, while Dell had already (smartly) bailed on the game itself. Duggan played for about 4-5 minutes, not stepping onto the field until right before halftime.
It was all very odd…and explains, in part, why the American Team got wrecked -- but this hopeful showcase of top talent ended up empty. They did stream their top offensive talent in, lightly, enough to put them at injury risk but not enough time or continuity to shine. Very strange.
On the other side, the National Team went with their best, mostly, right away and it paid off in continuity and 'the win', ugly as it was. The offensively loaded American Team never scored a TD in this game.
All that to say: Per usual, this game was disjointed…as you tend to expect. However, it was even more disjointed/strange to not see one team's best players out there to start, but they eventually did play/see some snaps, but barely touched the ball/barely played. So, this game had watered down talent by its own hand for one team…so, it's hard to really sink your teeth into anything that matters, scouting-wise from the game itself. The practices were way more important to the process, as they always are…but never more so than this particular year.
You can read my day's 1-2-3 practice notes on FFM: Day 1 | Day 2 | Day 3
My 2023 Senior Bowl re-grade series (updated scouting info/grades after the week of practices and game) started Sunday with re-grading the RBs and will run daily for the next week, position group by position group…as a lead-in to the NFL Combine previews/grades starting soon after.
After all the re-grades of the position groups are finished, we will cap off the 2023 Senior Bowl scouting with a Top 10 Dynasty Rookie Draft Mock post-event ranking.
My notes from the actual game itself…
Player Game Notes:
 -- Jake Haener/Fresno State (12-19 for 139 yards, 1 TD/0 INT) started at QB for the National team and ended up winning the game's MVP. He was consistently OK/good all week…and in this game. Not great…not wow…just plausible. But the TV analysts loved him and are now pushing him as the next Brock Purdy, because this while whole offseason every QB draft analysts see as 'too small'/'physically unimpressive' (among NFL QBs) -- they're gonna play the '…but, maybe he's Brock Purdy' analysis card with.
Two things about Haener's 'MVP performance' here…
1) QB Jaren Hall/BYU was supposed to be the 'it' QB prospect here, overall and for the National Team for sure, but he was clearly not…mid-week Haener started taking the '#1 reps' on things and you could see Haener was moving to top guy for his team…and Hall was maybe the worst pocket passing QB prospect in Mobile (of the 5 pocket QB who attended).
Well, Hall didn't even play in this game. He was scratched with no real explanation. Very odd the National Team only had two QBs to work with…usually, it's a 3-4 man rotation in the Senior Bowl game. Hall better have had a provable injury as an excuse, but I think he might have bailed because he got outclassed and passed up on the roster…just my speculation. And if true, or hinted as true -- Hall is going to fall out of this draft, like I theorized he might on one of my practice reports. Hall is one of the biggest 'losers' from this week. He cost himself a ton of money/draft stock this week.
2) My vote for MVP of this game would've been National Team RB Evan Hull/Northwestern (10-74-0, 2-11-0/2). The bully RB…bullied his way through the American Team just about every touch he had…in a game without a lot of run game effectiveness outside of Hull.
How much did Hull improve on our scouting/grading this week…you'll see it on our re-grade series all this week.
 -- Jayden Reed/Michigan State (1-25-0/2) was the quick-footed Davante Adams comp (in footwork skills) that the TV analysts really promoted/pushed all week. As I was watching the practices, I thought Reed was fine…better than I previewed ahead of the event, and you can see the nice footwork -- but I thought Stanford WR Michael Wilson (4-76-1/6) was the much better version (for the NFL) of what Reed was doing. With the route running/fast feet. Well, in this game…Wilson shined a little more than Reed…for what it is worth.
Both are promising, but Wilson and Reed both moving so well -- you have to be more impressed with Wilson doing his thing while 3" inches taller, and 25 pounds thicker than Reed. Wilson is the more natural Davante comp.
Is he a true/real Davante comp? How high will Reed and Wilson jump in our scouting grades? Find out this week in our post-Senior Bowl re-grade series…and I'm sure at least one of them will be on the Top 10 Dynasty Rookie Draft mock to wrap up our post-Senior Bowl scouting for 2023.
Get the Edge... Get Total Football Advisor Now!
 -- Four RB notes…
Tyjae Spears/Tulane (1-2-0, 3-15-0/5) was voted the player of the week, for either team, and for that honor he started for just two plays, and then was barely in the game…but popped up here-and-there and only got ONE carry the entire game. Very strange. If I were his agent…or his dad…or a friend…or a concerned stranger -- I would have told him to leave Mobile Thursday morning, there was nothing more he could do to help his draft stock…and could only hurt his stock being risked to injury in a disjointed Senior Bowl game.
He didn't get that advice. He played sparingly and was a non-factor…but made it out alive/injury-free.
The rise of Spears, the luster of Spears this week made Kenny McIntosh/Georgia (2-9-0, 1-6-0/3) look like an undrafted free agent RB by comparison. Bad draw for McIntosh to be on the same SB-team as Spears.
Chris Rodriquez/Kentucky (6-27-0, 2-36-0/2) finally got a chance to shine in this game. It's hard for a power runner to do anything attention-getting in three non-contact practices during the week. But Rodriquez got to ram into some people, move some piles and generally show his higher-end power running skills above all others here.
Camerun Peoples (1-15-0, 2-(-3)-0/4) was the other power RB here…one I noted was really struggling, losing draft stock, with his work in the passing game -- he has unnatural/bad hands for the passing game.
So, of course, in the game he got one hand-off and four targets in this game…dropping his first two (easy) targets of the game.
Spears-McIntosh-Rodriquez-Peoples are all gonna be 'on the move' in our post-SB RB rankings, for sure.
 -- Max Duggan (4-9 for 26 yards, 0 TD/0 INT) was voted the top QB of the week by his teammates and worked all the practice drills as the '#1'…but it was Clayton Tune (9-12 for 70 yards, 0 TD/0 INT) who got the start and looked fine enough -- but he's not as good as Duggan, to me. I'm not sure why Duggan did not start this game…it's a total mystery. I've never seen a QB be #1 all week, be voted as the QB of the week…then not start and barely play.
Tune has an NFL arm, made some nice throws with velocity all week…and mostly helped his draft stock this week. He's still a bit erratic in his reads and accuracy.
 -- The third string QBs from each team got some work in, but it wasn't great…
Malik Cunningham/Louisville (3-5 for 49 yards, 0 TD/1 INT, 5-22-1) was a weapon here…not because he's a legit NFL weapon, but because mobile QBs can rule games like this. Cunningham was running well, but threw a pick-six and hurt his hand trying to make the tackle. Cunningham is an OK runner…but he's a terrible passer. He was all over the place in 11-on-11s during the practice week and was way off throwing anything but short passes in this game. He's not NFL QB material…not as a Lamar-like backup continuity hope either. He's an XFL/USFL QB at best.
D2 QB Tyson Bagent/Shepherd (17-22 for 138 yards, 0 TD/1 INT) came in late 3rd-quarter and played all the 4th-quarter and threw a bunch of short dump passes. When he tried to go downfield, he was getting taken advantage of by the defense (threw one pick, had another bad pick that was caught, and the defender landed just out of bounds). I think he helped his draft stock overall to go from UDFA to 7th-rounder.
Tyson's dad, the arm wrestling world champion, stole the show Saturday…the best highlight from the 2023 Senior Bowl game: https://youtu.be/cvhP1Fx_BFY
 -- Tyson Bagent threw one pick, end of game, in the red zone, trying to throw downfield in a known throwing situation. Earlier in his run, he was leading his team down for a score in the mid-4th-quarter, on dinks-and-dunks, but he tried to throw one into the endzone from the red zone, but SAF Daniel Scott/Cal (1 tackles, 1 PD) made a beautiful close in/bait of Bagent and raced in front of his throw and picked him off, but he jumped up for it and landed an inch out of bounds.
Scott was quiet during the practices, but he looked much better in the real-time game. He was our top safety prospect here going in to the week…we'll see if he holds that title post-week on our re-grade series.
 -- Boy…WR Andrei Iosivas/Princeton (1 rush, -1 yds, 0-0-0/0) really did not help his draft hopes this week. He looked totally overwhelmed/out of place, as an athlete and as an overall WR here, I thought. He's gonna go undrafted, I'm afraid. Some people had hope he'd shine here…the opposite seems to have happened.
 -- WR Jalen Wayne/South Alabama (8-50-0/11) led all receivers in targets and catches, and he's fine/solid but I never watched any of his work this week and felt like he stood out…he showed he belonged, but didn't shine like a star. He came in a little smaller than I hoped too (6'1"/211).
 -- TE Will Malory/Miami (5-46-0/5) led all TEs in catches/targets but really it was a function more of a lot of dump passes late from Bagent to get him elevated in targets/opportunity.
 -- LB Ivan Pace/Cincinnati (10 tackles, 9 solo) led all defenders in tackles…that guy just has a nose for the ball. He's only 5'10" but he's thick and quick.
I could go on forever with tiny notes from the game, but let's wrap it there and we'll discuss more details on each player of note in our re-grade series this upcoming week.