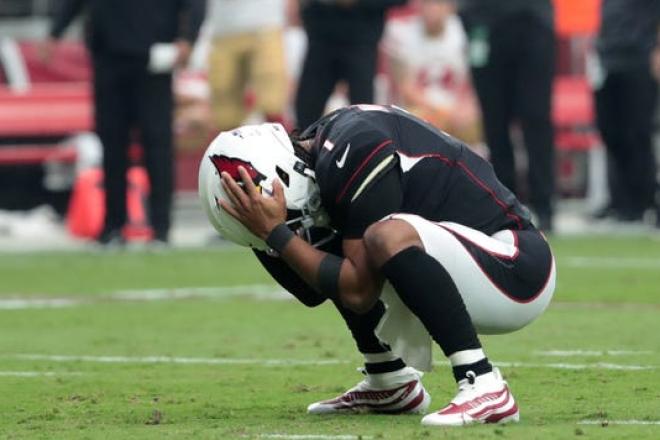 R.C. Fischer
Weekly Report
27 February 2022
This article was originally published in February 2022. There is no doubt Murray has shown the ability to play at an elite level, but problems have persisted with Murray. Is he really the guy to lead your dynasty team to victory, or can you use his diminishing elite status to get better value before it's too late. Here is what I had to say about it last year about this time, and I believe it still applies.
The Original Article Starts Here
This piece is something I've wrestled with for two years now, but really sparked me after watching the 2nd-half of the 2021 season unfold — What to do about a Kyler (for Dynasty going forward)? More to the point — Is it time to sell high on Kyler? And then it's growing into — Is it time to hurry up now and get away from Kyler? 
From a Dynasty standpoint, I have a soft spot for Kyler. In 2019, I was pushing as hard as I ever have for a rookie pick — that he was worth trading into the top 5…top 3…even the #1.01 to land from that rookie draft. And that was a good call. He's been a worthy rookie pick. No regrets. 
Kyler was the top FF QB in PPG for 2020 season (Weeks 1-16) and started out top 1-2-3 again the first half of 2021…looking better than ever as the Cardinals started out undefeated. All was well. 
But then Kyler got hurt late in the game in their first loss of the year in Week 8 (remember that Green Bay game and the AJ Green-turned-the-wrong-way moment?) and then Kyler missed the next 3 games and was never the same (for FF) the rest of the year. Like 2020 season, once Kyler got nicked up, he stopped/slowed producing as much (numbers-wise). 
Kyler has proven he's a legit NFL QB and a legit FF QB the past two+ seasons, overall. So, why do I think it is time to sell? 
I want to talk about Kyler in terms of Josh Allen, Patrick Mahomes, Justin Herbert, and Joe Burrow…and NOT in terms of Aaron Rodgers, Lamar Jackson, or Dak Prescott or any other QBs. 
Why? Kyler belongs in the young and elite QB group. Rodgers is older. Lamar is not elite, but a hell of a runner…who has slowed down on the running production FF numbers. Prescott is not FF elite either. We're talking 'the elite'. Names where you'd/the world would be happy to have any one of the five guys for FF — Allen, Mahomes, Herbert, Burrow or Kyler. 
I'm going to suggest that you trade Kyler in whatever scoring format you have, for one of the other four FF elites.
Having one of the elite QBs is an easy edge in FF. The foundation for high level scoring for a Fantasy team week-to-week. RBs come and go, and the NFL backups to your RB1 can slide in as an RB1 performer — but the top QBs are rarely hurt/missing and their scoring rarely dips out of sight for weeks or a season and you can't replace them with their NFL backup. It's stable, steady, bigger money at a position most every FF analyst says is not as important. And if you've been with me for a while, and if you had the season most FFMers did 2021 — you know how powerful, how stabilizing/steady having a top QB is (two of them, even better). And when they go off, a la Joe Burrow 2021…you can rip right thru the FF playoffs not even remembering who your sad 2nd RB or streamer DST was on your title run. 
And FYI, there's no elite Fantasy QB in this year's draft that can/will crack into that group. Trey Lance might, from last year's draft, but he's unproven and not even assured he's the 2022 starter for SF — the elite group of Allen-Mahomes-Herbert-Burrow-Kyler has been FF elite for the past two seasons. 
Why we should worry/discount Kyler, among the elites, going forward…
*I am going into this assuming the 'Social Media Scrub'-gate issue is more real than not…more 'message sent' than not. Sure, it could be he just wiped-out pictures to clean things up (but it's been like a month now…) and/or is just abandoning the toxic/corrupt world of social media. But he has never come out and clarified any of this to not freak out 1.5M+ followers and the media and his teammates and his owner.
In fact, the Cardinals team president (Michael Bidwill) had to come out and mention that he just had a conversation with Kyler (this past week) and Bidwill ends up mentioning how he 'loves' Kyler and sees him as the future, yada-yada – but then no talk of any urgency to do a contract extension. No definitive talk about Kyler…just a lot of 'fluff'. Which is proper for negotiations representing management…but is also an issue (we'll get into).
So, I am going into this with the mindset of: 'Kyler purposefully did this to force an issue'…but I can't say I'm 100% sure of it…but I am FF reacting to it like it is very much true, and within Kyler's character…which is the crux of what I'm going to discuss here.
The scrub of his social media opened a door I thought we might be a year away from, but it's here now. Kyler wants a new contract…now…two years before his existing deal expires, really three years until it does because teams want to take the 5th-year option course if they can, and then it could be four years away if they were to franchise tag him. Kyler wants a bigger, better, more secure deal…now…and most elite QBs are getting that deal in the offseason between year's three and four of their original deal. Kyler should want in on an early renewal/increase. His only real leverage right now is to make the issue public, since (we assume) he was already denied a new deal discussion by Arizona management from a polite request or two from his agent.
Because Kyler was (assumed) denied/dismissed nicely on any real talk of a new deal…ergo disrespected by the team…he is using his only leverage to try and force a deal – take it public, pit the fans' sentiment and media against the team. A silent protest by divorcing the team on social media. I think Kyler could've expressed his case more gracefully, made his point better publicly without doing what a 13-year-old would do, breaking up with their 'steady' and wiping them from all their social media without any explanation. Boy, you really showed them how mad you are, Kyler!!! It's the childish way to play his cards.
But therein lies the problem with Kyler – he is childish.
I'm guessing from all the media discussion about this 'social media scrub' issue this year, and from my chirpy sources (to take with a grain of salt) – the Cardinals' management also sees Kyler might be 'a problem'. They see he is childish. Emotionally stunted. Can't express himself well in interviews. Isn't a real locker room leader. And I'm sure Cardinals' management wants the QB to be the strong leader of men, the 'face' of the franchise for the next decade – and then they look at Kyler and they ask themselves…'is this the guy we want leading this franchise?' I'm sure the Cardinals want more time to see if he'll grow, and they probably politely/gracefully told Kyler's reps that they love him and want him to be their guy, but let's go another year and see him take another step overall…I'm sure they didn't say 'we want to see if he can mature into a leader and not act like a pre-teen at every sign of trouble' – but that's what they're thinking (I suspect). So, after a polite decline on an early contract upgrade, probably wanting to see him mature and see how he'd handle the 'no' to his desire…Kyler responds by scrubbing his social media, unfollowing the team, and then never saying a real word as to why – which is exactly what they fear from Kyler; he's a child…not the leader of a billion-dollar business into the next decade.
This is also, probably, the first time Kyler Murray has ever heard the word 'no' in his adult life. Which is all part of the problem with Murray's personality and reactions to distress.
Patrick Mahomes got his huge deal with zero pushback. Ditto Josh Allen. Do you think Justin Herbert's and Joe Burrow's teams will not early lockdown their franchise QB without issue? Do you think Burrow and Herbert will resort to 'unfollowing' the team on social media during said negotiations? By contrast, Kyler Murray was denied and is getting bad press leaked on his maturity and he responded by divorcing the team via social media. Again, everything about Kyler – we need to view through the prism that included Mahomes-Allen-Herbert-Burrow, and no one else.
The Chiefs didn't screw around with Mahomes when they engaged in his first big contract talk…getting his huge deal in the preseason/July 2020, going into his 4th-season (which is where Kyler is at today). Josh Allen was deferential to/trusting of the organization talking about being a Buffalo Bill for life, and the team took care of his situation the preseason/August 2021 going into his 4th-season (again, which is where Kyler is at).
Do you think Herbert or Burrow will have any issue or acrimony or need to resort to social media snubs when they negotiate their similar deals going into their 4th season (2023 offseason)?
Not Kyler.
Kyler showed them – he unfollowed the team and took all his pictures of him in Cardinals uniform, and then we found out from multiple sources that Kyler is immature, not a leader, and whining because he got blame for losing their playoff game (also, a game where he refused to go back in for the final minute of their big loss, telling teammates he was 'done').
"One of these things is not like the other…" does anyone remember that Sesame Street song/game? Well, I ask it of the elite FF QB grouping of Allen-Mahomes-Burrow-Herbert-Kyler. And the answer is 'Kyler'.
Getting other leading-edge reports like this one by signing up for Total Football Advisor now!
If all the 2022 contract posturing wasn't bad enough, we also have three other concerns to deal with…
1) Kliff Kingsbury's contract is up after 2023, so he should (normally) be extended this offseason to avoid the lame duck label. Kyler is as much a question mark (for the future) as Kliff is, I suspect, with the Arizona management team.
Kliff has never been a sustained winning coach in college, he has progressed Arizona's win totals each season the past three campaigns, ultimately to a playoff team in 2021 – but after a hot start the team died/was awful to finish the 2021 season. There are more questions and worries coming off 2021 than there is enthusiasm.
Arizona did this to themselves – Kliff and Kyler are tied at the hip. You can't extend one without the other. You either sign both…or you lose both. You either sell your soul to them for the next several years…or you have a very ugly, messy divorce from both.
And you have to know…Kyler, who doesn't take 'no' for an answer well (or he'll throw a tantrum) will demand Kliff as coach. Kingsbury is Kyler's enabler. Kliff has one value, and he knows it – Kyler demands him as coach. So, spoiled Kyler can do whatever he wants and is a 'happy' employee -- because Kliff lets him have candy for dinner or he can refuse to finish playoff games.
Kliff runs that dumb Air Raid offense that is not getting better/didn't take the league by storm, but it's the style Kyler is used to/desires. And if you think Kyler is a baby now…what do you think will happen if he was given a Mike Zimmer or Joe Judge or Brian Flores type to come in and straighten out the loose ship, and install some traditional offense? You think Kyler will be happy? You think Kyler will dig in and study all day and night the new playbook?
I think it is very possible Kliff sees the problem looming and sees his career arc is on the upswing, and that he can parlay that into a big deal in college somewhere – Kliff may be getting ready to leave Kyler regardless. Only Kliff, who is cunning, will not telegraph that…he'll just up and leave. If Kliff 'dumps' Kyler first…then Murray will be unsufferable, knowing he might have to have a real coach come in with rules and a totally different offense.
Kyler could get his massive deal in a few months, but then lose Kliff after the 2022 season…and we got 'Kyler problems' anew this time next year.
2) When things don't go Kyler's way…'things' being his early contract renewal and the threat of his coach leaving…Kyler has an out that Allen-Mahomes-Burrow-Herbert don't or wouldn't think of/need to use – Kyler can simply 'retire' and go play baseball. He can definitely use that as a bargaining chip. And when baseball comes praising him and batting their eyes at him…and if faced with changes in Arizona he won't like, Kyler will respond to the flowery words/promises/recruiting…he'll go the easy/diva way out.
The second Kyler threatens/talks up 'baseball' in 2022 offseason or 2023…his FF value is going to drop. And he may not have said anything about baseball yet in 2022 because they're in a strike. Just know when/if Kyler starts chirping baseball…you'll lose your ability to trade Kyler for fair/good/today's value. The market will freeze on Kyler.
We need to move before something like this would happen.
3) A minor, extra issue I don't love…
Kyler also fell down in results in the 2nd-half of 2021 season, due to his injury, but also DeAndre Hopkins was lost with injury during Kyler's passing drop off. Hopkins is going-to-be 30+ years old this season, radically overpaid, and with questionable character. If DeAndre starts to fade, as the lynch pin in this offense for Kyler – it's another issue for the organization and for Kyler, potentially.  
Bill Belichick would never build an organization with the likes of Kliff-Kyler-Hopkins as it's foundation…and Kyler and Hopkins are super-talented, but they are not the guys you build an organization behind. And you can try and throw J.J. Watt and A.J. Green at the problem and hope they fix it…but it looks like their time is past…or at a minimum, is fading fast. 2021 (the 1st-half of the season) may have been the Arizona Cardinals peak…and maybe 2022 will be OK with all these guys, but age and contracts, etc., means this team is headed down starting 2023…if not 2022.
4) Kyler the runner…
I see nothing but issues ahead for Kyler. Best case scenario…he overcomes them all and remains one of the top 5 QBs in Fantasy. But my predominant thought is -- we're about at peak Kyler, today, no? Do you think if Kyler gets everything he wants…a big, new deal…Kliff stays, etc., that Kyler will work that much harder to be great? Or do you think he'll just get by on his natural talents and cash checks…and run less so as not to get hurt?
Every time Kyler gets nicked up, the past two seasons, he stops running the ball as much and his FF numbers fall off from top 5 elite to like top 10-15 week-to-week. Hasn't Kyler always disappointed you as a runner? He has for me…I expected more/better as a runner. Allen-Mahomes-Burrow-Herbert don't need to constantly boost themselves (for FF) via the run game…they can survive on just their passing talents, the run game is an FF-bonus for Allen-Mahomes-Burrow-Herbert (especially Allen). But for Kyler, his running is what pushes his FF-game to the top. He's a fine passer, even excellent passer at times…but he's not consistently destroying teams through the air like Allen-Mahomes-Burrow-Herbert.
I don't worry that Allen-Mahomes-Burrow-Herbert will stop or throttle back their passing…but I do worry Kyler will reduce his running once he's paid.
Trading Kyler…
*I'm going to get into the weeds on some details ahead…I might sound like I'm stating the obvious in a few spots. I am leaving nothing to chance. This is a big issue and I don't want any of us Kyler long-time owners to go into this 'game' without all the info I would give to my friends and family, if they asked…or cared to sit and listen to me talk about it for an hour.
You're the boss. I'm the consultant. I am making my case (above) and then laying out how I see the execution of a plan (below). If some of it doesn't apply to you, that's OK, it's a wide audience in different types of leagues I am trying to address. You choose what to do with the case I'm laying out. You can ignore it all if you think it best.
There are so many little reasons/risks with Kyler going forward that I don't see how he gets any better (value-wise or NFL-wise) than where he is today – seen as a top 3-4-5 Fantasy QB. So, I propose avoiding all that risk and just moving sideways – trading Kyler in a deal to get Allen-Mahomes-Burrow-Herbert in return. And we'll go through each of the options in a moment.
Let's first talk about the general psychology of a Kyler trade… You/us who have had Kyler for three years know the highs and lows of Kyler. We lived it every week of every season. The run to #1 FF QB scorer per game in 2020…the later season injuries and not-as-exciting return from injury after in both 2020 and 2021. We see all the flaws…because we've lived it every week. However, your league-mates haven't. They only know the exciting Kyler…the guy the media loves, and who makes some cool plays, and is quite the runner! We all think – Kyler has been a disappointing runner…because we micro analyze our own FF guys (as we should). Outsiders don't have that level of understanding. They can't…they haven't walked the same mile in the same shoes as long-time Kyler owners have.
This is true of Kyler…and most every Dynasty/FF player we all have year-to-year. We get too close to the situation and like to complain about nitpick things (the national FF past time) – it's like a long-term partner/spouse…you can name all your partner/spouse's flaws in an instant, but that waiter/waitress, or random person you encounter at the office or school or the supermarket or bar or wherever, or someone we see on TV – they seem to be potentially perfect…you might be happier if you were with them instead (in your mind). BUT you don't even know them…yet the mystery, the glimpse, the 'highlights' seem very appealing…because our day-to-day, long-term reality person is a drag by comparison. Our minds fill in blanks that aren't real on outside things…and it makes 'cases' against the things we know very well, because we like to be negative and complain. It's why players in the league years 3-4-5 have lower ADPs to similar counterparts in year's 0-1-2. They mystery of the unknown…which is why we crave rookies and rookie picks. So, that can be a picture of the Kyler mindset for you and your league-mates (by and large) – you're getting weary of him, but he's fresh, exciting meat for your league-mates.
*This is the mindset for most all Dynasty players that all of us own…and it's killing us as Dynasty GMs, but that's all for another piece I'm working on.
You have to go into a Kyler trade thinking your trade partners really love/respect/get excited by Kyler, and to be careful not to 'project' your current concerns/negativity of Kyler onto your trade partner. We are not DUMPING Kyler…we are selling high.
Now, not everyone has the same, predictable feelings on Kyler. If you try to trade Kyler to a GM who doesn't think all that much about him, one who sees Kyler as a #6-10 type FF QB, and not a top 3-4-5…then you're not going to make a good deal. And that's OK, we move on. We have to find the secret Kyler likers/lovers.
And, OF COURSE, a person is going to bring up the social media scrub and whatever else to head fake they want to sell you during Kyler trade talks. I am always shocked, after 10+ years of doing this, how many times people go to trade a major player and they go to just ONE league mate and ask if the person/trade partner is interested in ____ major player…and when that person says 'not really' or 'maybe' or raises whatever news concerns…then it's reported back to me that the other owner said they hated Kyler and then the ___ major player seller then goes off on how their league is dumb/scared because no one ever makes trades. You went to one person who might be bluffing, and then you rollover and condemn the whole league because you didn't get 19x trade value from the one person you kinda telegraphed your trade desire to.
Don't be a fool…on this or any other deal.
You have no idea who really likes/loves Kyler. Sure, some people in your league are open books…but most are not. You just have to assume they all secretly love Kyler and go from there, no matter what they say. And if a deal doesn't work, then it doesn't work.
Compounding the problem will be you decide you LOVE one of Allen-Mahomes-Burrow-Herbert. For example, let's say you now fixate on acquiring Burrow. So, you make a Kyler for Burrow offer and it's rejected, and you cry and whine about the person and the entire league's lack of balls to make trades. You're trading a major asset like Kyler…and going for a major asset like Allen-Mahomes-Burrow-Herbert…act like it's a major asset trade. It may take days…weeks…with 2-3-4 teams involved in talks to get Allen or Mahomes or Burrow or Herbert. It may take all summer. Don't do the FF-thing of reading this piece and then going and jumping off a cliff with this on your to-do list that you want to get to-done in 24 hours. It usually doesn't work like that.
However, you should feel some urgency after reading this. We are in a bit of a pickle here…with Kyler's next move possibly being publicly dumb and ruining our plan/window of value, but we are not DUMPING Kyler…you might as well keep him if you're just dumping him for Dak Prescott or whatever quick sale just to feel like you checked a box on your sudden to-do list. We're selling high…not dumping.
You most likely want to trade this Kyler chip 'sideways'…into another of the elite QBs, which makes sense to just lessen the risk, then let's discuss how to go after Allen-Mahomes-Burrow-Herbert using Kyler as the bait…
First off, what are the 'stock market' valuations of these QBs?
Early ADPs and my feel for the market says…
Allen-Mahomes, roughly the same value…#1-2 in Dynasty and early redraft ADPs. On a scale of 1-10, let's call their value a '9' in the open Dynasty market (depending upon scoring system…the more favorable to the QB, the more 9+ they'd be)…and this is 'the world's' valuation, not my personal one. 10+ would be Jonathan Taylor and maybe Najee Harris…with Justin Jefferson-Ja'Marr Chase-Cooper Kupp maybe in the 10-range, but more 9s+ because of the anti-WR bias still in the marketplace for most. Then we get to the 9-range values in Dynasty…all the possible (in the marketplace/mainstream) other top RBs (McCaffrey, Swift, Mixon, Javonte) plus Kyle Pitts.
With a drop off from Allen-Mahomes…it's Herbert-Kyler in the similar range together of like '8' values. So, if you wanted in on Allen-Mahomes, it's likely gonna cost you Kyler + ____. Kyler straight for Herbert is approx. the right valuation in the world today – but, again, you need a Kyler believer and/or not-a-Herbert-clutcher to dance with.
Burrow is a slight tick down of the five in ADPs, but in reality, after the Super Bowl run…he's more on the Herbert-Murray valuation. Week 14, you would've gotten Burrow + something nice for Kyler. Now, they are approximately the same valuation. Kyler for Burrow straight up is about the right value today (with twists, and we'll discuss that).
If you go and offer Kyler straight up for let's say Burrow, or Herbert (Allen-Mahomes costs more)…you run the risk of panicking their owner's. They'll wonder what you're hearing/seeing that they aren't. It looks like you're saying (non-verbally) that you're scared of the Kyler situation (and we secretly are). Your best bet to get Kyler swapped for Herbert of Burrow is mixing it up in a multiplayer deal.
My personal preference, a perfect world is Kyler for Herbert straight up, 4 or 6pts per pass TD (especially 6pts), but I'd likely look to offer Kyler + ____ for Herbert + _____ to somewhat mask my desire to move Kyler. And the two blanks being a fairly fair trade/exchange, something I want to dump or someone I want to get…and/or just my best window dressing to achieve the QB swap.
I also do not reach out to the Herbert owner and ask, 'What do you want for Herbert?' The single dumbest trade move in all of fantasy is telegraphing/directly saying exactly who you want upfront. You might ask about the + ____ player you might have interest in upfront, just for this special situation (to make the owner think that ____ player is your desire), but don't ask about Hebert upfront (or Allen-Mahomes-Burrow) generically like you're making some kind of desperate booty call.
Especially, in 6pts per pass TD leagues I'll take Herbert for Kyler…and I'll also take Herbert for Kyler and throw in a mediocre sweetener like a 3rd-round rookie pick…or Herbert and a 3rd-round pick for Kyler and a 2nd-round pick. I won't get into any player ____ (on each side) examples or I'd be typing this for another month. In 4pts per pass TD leagues, I hold the line at Kyler and Herbert are about equal value whether 1-for-1, or mixed into a multi-player deal
For Burrow, I'm a little more reluctant – because I think Herbert is less likely to get hurt and plays in better weather/indoors and plays in a division of shootouts. I love Burrow for the NFL…I love Herbert a little more for FF.
But whichever QB floats your boat the most. In the end…it may be which QB is most obtainable.
In 6pts per pass TD, Kyler for Burrow is about right…in my perfect world. Kyler is seen as slightly FF-better than Burrow by most people. Not all, but most. In 4pts per pass TD, it's Kyler for Burrow + ____ because of the Kyler running aura. In 4pts, Kyler is for sure more valuable (to the masses).
If you go for Herbert or Burrow, I suggest a lot of foreplay and misdirection before you make any offer or counteroffer. However, you don't need to be as coy for shooting for Allen-Mahomes. You're gonna have to go Kyler + ____ thing/s for Allen-Mahomes…we know it, THEY know it. You can be more direct of shooting for a Kyler + ___ for Mahomes/Allen deal/offer. Kyler + a 2nd-round pick? Kyler + Dionte Johnson (example) for Allen/Mahomes + ____ (smaller piece/less than Diontae)…just as an example of what I'm thinking.
If you believe in the need to move Kyler and want to so by moving sideways into one of Allen-Mahomes-Burrow-Herbert, and you need to add an extra minor piece to get it done in any type of deal (1-for-1, or multiplayer)…a 3rd-round pick or 4th-round pick or ____ prospect added in – sometimes you pay retail price or more here because we're not really trying to 'buy low', it's dumb to think Allen-Mahomes-Burrow-Herbert are 'on sale'. We're trying to 'sell high' on Kyler, slickly move on from Kyler.
If you'd be happy with any two or three…or four of Allen-Mahomes-Burrow-Herbert in a Kyler move – if so, then open up talks with each owner and see where it goes. Get as many 'quotes' as you can. Send good/official offers, eventually, to test reactions to where there is any instant…'I'd never trade ____ QB' or 'I hate Kyler Murray' (if you sense it's just posturing).
Even with the 'I hate Kyler' people you come across…I'd still send an offer without any pre-chatting, dancing. Just send the solid 2-for-2 offer and see what happens. When it gets rejected. Just let it cool and see if they come back to you. Don't act desperate. Give them a chance to tell you (indirectly) how interested they are. Don't get your 2-for-2 rejected, then two minutes later you offer the same deal + some small piece nibbling at it desperately reacting fast showing how hot to trot you are. Play it cool. If you make the official offer (and you will be the one making the first offer, I'm sure) and it gets rejected…then just let it cool for a day or two and see if and how they react, then you can make your next moves. Don't get jumpy.
I mean, if they person says 'man, I like it but I gotta think about it'…then comes back later and rejects, if you know your close…if you got a fish nibbling on the line…then see if one extra trinket flips the switch (then if that's rejected, then cool down). But if you get rejected and they climb into their hole, afraid to make counters, etc. Just play it cool and see what happens in a day or three. If they come back to you with any version of a deal with Kyler in it – then you know they WANT Kyler, they like Kyler…and that's who we want to do business with if possible.
If you personally are a true believer in Kyler, you're not crazy, he's talented…and you don't have to do any of this. But if you felt the problems coming the past year or two, and if my overall pitch resonated with you here – it's time for covert action, Operation Kyler Scrub (from our FF teams).
I got most of you into this Kyler situation – and it's been good, a solid ROI for however we all acquired him for Dynasty. Now, to get future ROI from him…I think it's time to sell Kyler (high/hot). Since I got you into this, I'm willing to help get you out of it, for free, a service many pay for – you can email me if you need help constructing an offer or trying to figure out which/how many of the other QBs are in play for you, or analyzing counter offers you got, etc. I'm offering this lifeline because this is a big deal for 2022 and the future – and your FF-success, is my success.
Again, say it with me…put it as a screensaver… WE are not 'selling low'…we are not 'buying low', we are 'selling high' or walking…we are moving sideways (if swapping QBs) in today's value, but we expect it to be a gain in the future. We're moving on from Kyler because of the top 5 elite QBs…he has several risk points bubbling up, things that the other four of 5 elites do not have an ounce of any of the same risk points.