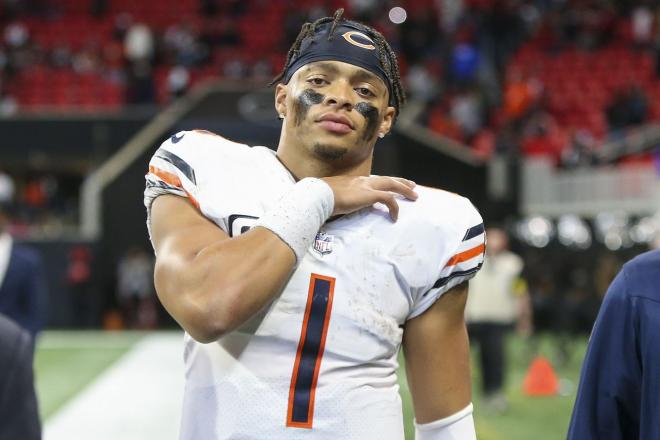 R.C. Fischer
Weekly Game Analysis
25 November 2022
2022 Week 11: Falcons 27, Bears 24 (Dynasty/Fantasy Analysis Game Report)
74 running plays, combined, versus 27 completed passes here. If you're into the run game and loathe the passing game -- this was your jam. Not my jam.
The Bears raced out to a 17-7 lead midway through the 2nd-quarter, behind Justin Fields doing his recent thing, but the Falcons tied it 17-17 at the half. It was 24-24 with 8 minutes to go. Atlanta kicked a field goal with 1:47 remaining to take the lead and the Bears couldn't answer -- because it takes fast, competent passing to get down the field with limited time left, and that's not Justin Fields's game…and then he was hurt on top of that, so the house of cards collapsed on any Bears comeback.
Chicago falls to (3-8)…losers of seven of their last 8 games. The Justin Fields run game rise is a great story but it's not leading to wins. A brutal schedule ahead, and possibly no Fields, means Chicago may wind up with 3 wins at season's end, and a shot at a #1 pick in the 2023 NFL Draft.
The Falcons are somehow (5-6) and still very much in the sad NFC South race. They seem headed towards (7-9), but that may mean the division title is on the line Week 18 hosting Tampa Bay, shockingly. 
*Note any fractional numbers in parentheses (4/2) or (2/3), etc., are a 'split' stat on our definition of a 'quality start' (or not) marker on a player -- using 14 PPR points in a game for RB-WR-TE and 21 for a QB…point levels that are good/productive/well above average starts for a Fantasy week. Trying to identify trends, consistency (or not) in players we might not normally realize.
A (3/2), for example, means: 3 times the player hit at/above the mark, and 2 times they did not.
Fantasy Player Notes…
 -- The big news from this game…the injury to Justin Fields (14-21 for 153 yards, 1 TD/1 INT, 18-85-1). it was a factor late in the game…he got hit/landed badly on his shoulder a few times and was visibly bothered by it. It might have cost them the game. Prior to that, Fields was doing what he had been doing for weeks -- running near unstoppably and then that opening up some kind of easy passing game and the Bears were on their way to another 25+ point game and Fields on his way to 100+ rushing and a shot at 30+ FF points in the game again -- but it all got cut short at the end.
The week after, leading up to Week 12, the Bears keep maintaining that Fields is day-to-day and could play Sunday. I don't believe it for one second. I don't think he'll play Week 12 or Week 13, that leading into a Week 14 BYE…then we'll see what kind of shape he is in. There is absolutely no logic to putting their (supposed) franchise QB out there with a bad shoulder that Fields-admittedly is tremendous pain handing off or throwing, in a lost season already.
Trevor Siemian will take over for the next two weeks. Last year, when pressed into duty with a better Saints offense, Siemian went (0-4) as a starter with 8 TDs/3 INTs in 4 games, not bad…but a 57% Comp. Pct. and a lot of garbage time numbers. He's not the worst, but this is a tough spot for him to get thrown into…facing the hot Jets defense right now in Week 12.
 -- Who is affected good/bad by the Trevor Siemian starting era?
At first, I thought it might drag the whole group of receivers down without Fields -- because Fields is finding some passing game numbers suddenly off defenses fearing his running ability. But the more I think about it, the offense won't be so Fields-centric now…it will be more traditional, so perhaps the targets/catch counts will rise…not explosive but not a massive drop off.
Cole Kmet (3-35-0/4) may be in the worst spot…he'd been the one guy getting free the most in Fields's new rise as the most feared running QB in the game. Kmet went from NEVER scoring TDs to 5 TDs in a three game span Weeks 8-10. He is primed for a bunch of 4-40-0 games with Siemian.
Chase Claypool (2-11-0/3) could see some regular action, except he's all but disappeared after his first Bears' week splash (of targets, not anything else). He's playing 35-45% of the snaps in games three weeks into his Bears career…5 catches on 11 targets total in 3 games is a disaster.
 -- Nothing good comes from the Falcons' passing game…
Kyle Pitts (3-43-0/5) mercifully came to an end, for 2022, with this game …he was going along for an OK game pace and then got hurt/tore his MCL and will be out of action for a while…probably a season ender. No player is underperforming his talents more than Pitts…it's not his fault, but it doesn't matter -- he was an FF-killer, constantly waiting around for his 'turn'…one that Mariota/Art Smith cannot/will not or ever give.
You can freely ditch him, for those who haven't already, in redraft.
For Dynasty? If Art Smith is still his coach in 2023, and he will be, then 'no thanks' to Pitts…and Desmond Ridder is not going to change this either. We're probably 2-3 years away from Pitts fulfilling his destiny, unless he works his way out of Atlanta…which I think he may try this offseason, because the whole situation is costing him millions in future earnings. He might demand out this offseason, but he definitely will in the 2024 offseason if everything remains the same.
No one wins/benefits from Pitts gone…because Pitts wasn't getting numbers anyway. Drake London (1-2-1/3)…I mean, look at that stat line. London has died right along with Pitts this season…that's how you know it's not Pitts, it's this horrid passing game.
 -- Art Smith has ruined the careers, so far, of Kyle Pitts and Drake London, but don't forget about utterly wasting the remaining days of Cordarrelle Patterson (10-52-0, 2-7-0/2)!
We remember that lovely return from injury a few weeks ago, when he scored 2 TDs in a game. Well, since then, his last two games…5 and 10 carries in a game, 18 and 52 yards rushing in those games. In fact, CPatt has been under 55 yards rushing in a game in five of his last 6 games. A tremendous offensive weapon going to waste under Smith. An RB3 is all you can assume/play him as week-to-week, right now.
Snap Counts of Interest:
30 = Allgeier
27 = CPatt
02 = Huntley
37 = Hesse
31 = Pruitt
24 = Pitts
63 = Kmet
56 = Mooney
50 = Eq St. Brown
29 = Claypool
18 = Pettis
14 = Pringle
55 = D Montgomery
15 = Ebner