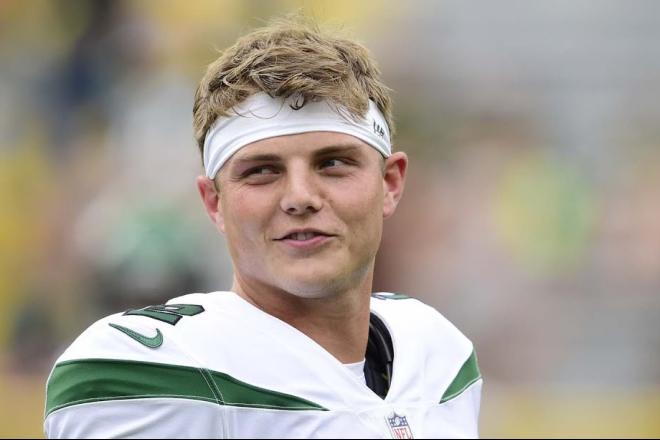 R.C. Fischer
Weekly Game Analysis
24 November 2022
2022 Week 11: Patriots 10, Jets 3 (Dynasty/Fantasy Analysis Game Report)
A barnburner of a game here…the score was 3-3 with under a minute left – and then the Patriots took a punt back for a TD and thus won the game. 
Sometimes a 3-3 slugfest can be highly entertaining— but not this one. It was a slog of two terrible QBs muddling along, and the special teams bailed one of them out. 
This game will be remembered more as the game when everything finally full-turned on Zach Wilson and he was soon-to-be replaced and effectively ended his career. We'll get into that in a moment. 
The Patriots win ugly and rise to (6-4), just a game out of 1st-place in the AFC East. Their only quality wins (against winning record teams) are the two times they barely beat Zach Wilson. Anytime the Pats have faced a decent QB, they've lost with the exception of shutting out Jared Goff with his whole WR group and others out injured. The schedule is much tougher ahead and we see them finishing (9-8) at best but more likely 8 wins and replacing Mac Jones late in-season or in 2023.  
The Jets fall to (6-4), as they turn to Mike White to guide them…likely to a (9-7) record and a wild card hope, where they pray that NE is not also (9-7) with the tiebreaker over NYJ.
Everything about this game was about the week after and the QB change for NYJ, so let's start there… 
*Note any fractional numbers in parentheses (4/2) or (2/3), etc., are a 'split' stat on our definition of a 'quality start' (or not) marker on a player -- using 14 PPR points in a game for RB-WR-TE and 21 for a QB…point levels that are good/productive/well above average starts for a Fantasy week. Trying to identify trends, consistency (or not) in players we might not normally realize.
A (3/2), for example, means: 3 times the player hit at/above the mark, and 2 times they did not.
Fantasy Player Notes…
 -- Zach Wilson (9-22 for 77 yards, 0 TD/0 INT) is getting replaced as the Jets starting QB, as I said was coming even during their win streak weeks ago.
People think, because the media portrays it as, that Wilson struggled on the field this particular game and then Wilson made some dumb comments post game and now his job might be on the line all centric to this game. 
It's more amped than that. 
Wilson hasn't been good for two years, but this game may have been the worst I've ever seen him play. He's not getting any better; he's getting worse…dreadfully worse. Seemingly beyond repair. All the natural talent you can want but a bust mindset for the position. 
And he didn't just get himself in a little hot water with dumb post game comments not taking any real responsibility for the offensive collapse — he's already so unlikable that he'd already lost the locker room months ago PLUS his terrible play just magnified his bad personality. 
Wilson is so bad on the field that he's costing them games and he has no respect in the locker room. Robert Saleh has no choice but to move on. He should've moved on this week ago. They will have to trade Wilson in the offseason, but there will likely be no real takers…some team might give them a 5th-round pick for Wilson, like SEA or LAR, to see if they can rehab Wilson as a backup behind a strong veteran presence.
Mike White is solid. He had that great game as a forced starter last year…pounding the Bengals for 400+ yards passing, then he got hurt in game the next week (but was playing well when he was in), but came back to play Buffalo the following week and got crushed…then he was set aside for Wilson's return from injury. White doesn't have the natural gifts Wilson does, but White is a better QB presence to run the team…like a little better/equal Cooper Rush.
Last year, the best we can take away from his brief appearances, White loved to dump the ball short and safe. A ton of passes to Michael Carter in that Cincy game…9 catches for 95 yards on 14 targets. In the same game, RB Ty Johnson got 5 catches on 6 targets for 71 yards and a TD…14 catches for 166 yards for the RBs in this game. So, Carter and James Robinson are probably ready to ride for PPR…based on this game alone.
In that Cincy game, Jamison Crowder was White's top WR throw (8-84-0/9) along with short/medium throws to Elijah Moore (6-67-0/6). Garrett Wilson and Elijah might be his top looks in the short/medium game.
Also in that Bengals game, White threw a total of 3 passes for 27 yards and a TD to Tyler Kroft and Ryan Griffin. The TE didn't seem as important, but they had stiff TEs too.
White had a pattern against Cincy of safe dump passes and let the receiver do the work from there.
After the Cincy game, White took on Indy and came out firing in two series before getting hurt and gone. Two series, 14 plays, 11 passes, three of them to the TEs, just one to an RB. A more expanded passing game in this one, for his brief time. White is smart…he attacks the weak spots of the defense -- and it made sense to go more TEs against Indy last year.
The following week, the Jets got whacked by a far superior Bills team. White came out firing again…mixing it to RBs and WRs before the game got out of hand and was ridiculous. White actually got benched late for Flacco. The following week, Zach Wilson returned and that was it for White.
2022 is a different dynamic with the team for White. All they need White to do is manage the offense and let the defense be the lead punch. So, I suspect a lot of safe passes to RBs and WR screens, etc. And if the best plan is to attack via TE…he will. If it is best to roll with heavy RB work versus the opponent, he will. White seems like a smart, sound QB…again, a la what Cooper Rush did for the Cowboys.
 -- Zach Wilson's drama, and the NE win in the end, glosses right over the fact that the Patriots have a Mac Jones (23-27 for 246 yards, 0 TD/0 INT) problem. Mike White is being brought in by the Jets to do what Mac is doing for NE…don't screw this up, keep it close, we've got a good defense and special teams…we'll try to win it in the end, if we're lucky.
There's no other plan because Mac cannot produce offense the way NFL teams need it in crisis. He can manage the game but ask him to play from behind and try and comeback to win it -- forget it.
 -- I've said it a few times already this week…Damien Harris (8-65-0, 2-28-0/2) looked like the best, most explosive back in this game. I think we might see more Harris Week 11. He's the set starter, but then has been coming out more and more for Rhamondre Stevenson (15-26-0, 6-56-0/6) especially in passing downs. But for the Pats to win/play their game…it should be a two-headed monster attack, and Harris looks fresh right now. I think we might see a return to FF usefulness this week…like a 11-14 carry, 70+ rush yards and a rush TD game like he used to have earlier in the season.
It's just a hunch. When I see Harris's low snap count here (15 snaps) it rattles me on what they will do Week 12, or if Harris got nicked up or what. He was running way too well to only play 15 snaps…Belichick is not that dumb.
 -- The reason Hunter Henry (1-20-0/1) didn't pan out against the super easy TE schedule of defenses most recently is because he's being phased out of the offense…as the Pats have discovered something right under their nose: Jonnu Smith (4-40-0/4, 1-5-0) is WAY more explosive, a much better TE weapon for them.
The past three games, Jonnu has averaged 3.3 rec. (3.7 targets) and 23.7 yards per game…not amazing, but a big jump for the early season where every other game he might not see a target. They even ran it with Jonnu in this game.
Jonnu is due for a 5-50+ game with a possible TD in his future (his first of the year when it happens).
 -- These two DSTs…
The Pats-DST is getting a lot of accolades, and has great FF numbers, but we can't be full on impressed with them smacking down Wilson-Ehlinger-Wilson the past few weeks. When they've run up against decent or better QBs, top half of the league QBs, they get beat. And I would say Kirk Cousins is a top half of the league QB, so I'd be cautious getting too 'over' on the Pats-DST right now. This game, holding NYJ to 3 points…it was much ado about Zach Wilson miss-firing on everything from missing wide-open receivers on basic routes or just RBs/WRs parallel to him for a simple throw, and he'd throw it about 5 yards feet over their head.
Whereas the Jets-DST was stuffing the Pats offense. The Jets have their way more impressive defense. They might get an epic FF effort this week if they get Chicago without Justin Fields. They'd be solid if facing Fields, but they will destroy Trevor Siemian for a huge FF week.
 -- Nick Folk (1/3 FGs) had been on fire prior to this game with kicking FGs. Folk was 9-of-9 on FGs in his prior two games, but then 1-of-3 here, shanking a couple. When I see that it makes me worry the kicker might fall into a mini slump. Just a note to keep an eye on.
Snap Counts of Interest:
49 = Stevenson
15 = Dam Harris
53 = H Henry
34 = Jonnu
25 = Carter
14 = Ty Johnson
11 = J Robinson