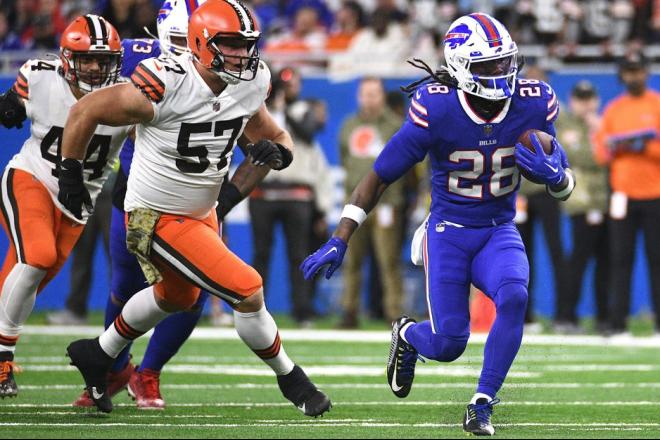 R.C. Fischer
Weekly Game Analysis
23 November 2022
2022 Week 11: Bills 31, Browns 23 (Dynasty/Fantasy Analysis Game Report)
For the 3rd-time in their last 4 weeks, the Bills got out to a nice/two-score lead and looked to be handling business…only for their opponent to come firing back in the 2nd-half to make it a game. The Bills led 28-10 with 6+ minutes remaining and by the end the Browns were going for an onsides kick with 0:19 left to try and send the game to OT.
Since their BYE Week 7, the Bills have been falling. Losses to the Jets and Vikings…a lot of points given up by this once vaunted defense, a lot of yards given up, Josh Allen's production is really falling, and the team continues to deal with injuries all over both sides of the ball. It's a good team right now…it's not that great team we all think. Something is wrong, but Buffalo is still 'good'.
The Bills are (7-3) and at-risk of losing the division to Miami…or the Jets…or the Patriots. If the Bills don't get their injury issues healed up, they are gonna lose the AFC East to Miami. We see Buffalo finishing with 11-12 wins and in a battle with Miami for the division.
The Browns fall to (3-7), their season essentially over. It's a decent team but they had a schedule gauntlet since Weeks 5-6, and they've lost six of their last 7 games. One more week until Deshaun Watson returns, but that's very suspect on if that's even an upgrade -- we don't know how Watson is gonna react to all the criticisms from opposing fans, and Browns fans…and from a two-year layoff. Dark times, again, in Cleveland.
*Note any fractional numbers in parentheses (4/2) or (2/3), etc., are a 'split' stat on our definition of a 'quality start' (or not) marker on a player -- using 14 PPR points in a game for RB-WR-TE and 21 for a QB…point levels that are good/productive/well above average starts for a Fantasy week. Trying to identify trends, consistency (or not) in players we might not normally realize.
A (3/2), for example, means: 3 times the player hit at/above the mark, and 2 times they did not.
Fantasy Player Notes…
 -- Josh Allen (18-27 for 197 yards, 1 TD/0 INT) was killing the league, killing it for FF for the first six weeks of the season but since the Buffalo bye Week 7, his last four games…he's been falling down for FF…falling down as a passer in NFL statistical ways.
Allen was a (6/0) his first 6 games…he's been a (2/2) since.
Over 3+ TD passes per game his first 6 weeks, but just 1.0 TDs passing TDs per game his last 4 games…4 TDs/6 INTs in a four-game span.
This Cleveland game was his worst FF performance of the season by far. Everything looks OK, but something is obviously off. Missing Brian Daboll? The elbow is worse than he is letting on? The WR weapons outside of Diggs aren't great? Or it could be some of all of that PLUS the Bills are starting to run the ball with their RBs…with the rise of James Cook?
Typically, Allen leads the team in rushing yards and TDs…but this game Singletary/Cook rushed for 172 yards to Allen's 7 yards. Is the run game coming on? Are the Browns just too smart to run against? Is McDermott trying to protect Allen's arm? Or all of the above?
I don't know the answer…but something has changed the last few weeks, and after Week 12 in a dome it's six straight outdoor/cold weather/messy weather potential games. Where I own Allen…it's worry time…worry he's not going to single handedly carry my FF to the finish line -- but you really have no choice but to stick with him.
 -- James Cook (11-86-0, 0-0-0/2) coming on is helping Sean McDermott wanna run the ball more, as is his bent anyway…before Allen broke out as a star three seasons ago. Cook looks terrific as a speedster complement to Devin Singletary (18-86-1, 2-11-0/2).
You don't wanna build a run game around Cook…you want to have him take 7-10 carries trying to hit homeruns. Because he has that ability…he's a viable FF option any week for an upside play, hoping he hits the homerun.
What you want to do is build a short passing game around Cook…get him the ball in space 4-8 times a game in screens and swings and wheel routes, he enters the league notorious for that ability…which, of course, means the Bills have thrown him 8 passes in the past 8 games…only 3 of them successfully caught, and have shown zero signs of trying to improve him for the NFL passing game. And then they trade for Nyheim Hines, a strictly passing game back, who they also do not use…one of the most useless trades in NFL trade deadline history.
Cook has a big FF/PPR upside, but the Bills don't seem to care…which…that is the NFL that I know -- so awful at their jobs, it's mind blowing. But if Buffalo gets smart with him in the passing game, Cook could be a thing for the FF playoffs.
 -- I was surprised to see David Njoku (2-17-0/3) only played 37% of the snaps in this game. I thought he was on the field more from the live watch/memories…this was his first game back from weeks off with a high ankle sprain.
I thought Njoku looked fine. Had a 20+ yard throw right to him early, and he caught it but instantly got smashed from behind by a safety and coughed it up…not an Njoku botch, just bad timing for the hit/catch. Point being, he was moving downfield fine (and open). Later, in the game, he got a pass and started rumbling down the sidelines and then did this: https://youtu.be/3TnfPqsmVDM -- so, I'd say the ankle is fine.
I can only deduce that Njoku is being brought back slowly here…and once the game got out of hand, he wasn't on the field as much…or he re-aggravated something? 
Njoku has been working great with Brissett, prior. But he only has one more game with Brissett before Deshaun returns…and then 'who knows' what Njoku's role/targeting will be.
 -- Donovan Peoples-Jones (5-61-1/6) coming into his own and may be set to take targets from Njoku, potentially, as well. Man…does DPJ look great. He's playing as solidly a wide receiver as anyone in the league, among the not obvious stars. Two quality starts in a row…six of his last 7 games with double-digit PPR scoring in each game.
Amari Cooper (8-113-2/12) is also playing great football. The combo of Amari and DPJ is quietly one of the best 1-2 punches at WR in the NFL right now. Deshaun is walking into a great situation.
Cooper is a (6/4) this season.
Wrapping up the Browns WRs…rookie David Bell (4-22-0/5) is starting to come on a little bit now too. 3.5 rec. (5.0 targets), 23.0 yards per game his past two weeks playing 50-60% of the snaps. A solid #3 'hands' WR option. He's not FF-useful because Amari-DPJ are killing it.
 -- What will happen when Deshaun Watson takes over Week 13? I have no idea…nor does anyone else.
Under normal circumstances, Watson is obviously more talented than Brissett…but these aren't normal circumstances. Two+ years off of football. All the criticisms coming at him now and probably for forever. There's a lot of 'psyche' with QBs…when they lose confidence it can crash and burn -- crash and burn is on the table here.
We don't know who Watson will favor or if his first game will be a disaster as it takes him a few weeks to get up to game speed. I mean, first game at Houston with a 3+ hour radical boo-fest…will Watson wilt or defy it?
So many unknowns/changes to be introduced here at the very worst time for our FF purposes. If you have David Njoku as a key thing for your FF team, you better have a plan B just in case for the stretch run. Njoku might be even better with Watson…who knows.
Amari should be OK, if Watson is OK…and DPJ will be a wild card.
 -- Dawson Knox (7-70-0/7) is starting to tick up in targets the last two weeks, but I'm wary of it. 9-10 weeks of low-level targeting this season prior, and it's not like Knox was an unknown to Allen…it's a purposeful go-away-from all season and then this nice game out of the blue. I'd say the risk is it's just a one game blip…but may be a start of something -- a great schedule (for the TE) the next 3-4 weeks though.
 -- Also fading in all this Bills malaise and injuries…the Bills-DST. Weeks 1-6, the Bills-DST was the #1 FF scoring DST in the game. Weeks 8-11, post bye, they're #17.
A combination of key injuries, their patchwork secondary getting exposed, and getting out to nice leads and seeing teams throw their way back into games in semi-garbage time/against prevent-ish type defenses is starting to shrink their numbers.
Snap Counts of Interest:
47 = Singletary
16 = James Cook
10 = Hines
26 = McKenzie
16 = Shakir
55 = Bryant
28 = Njoku
41 = Chubb
32 = Hunt