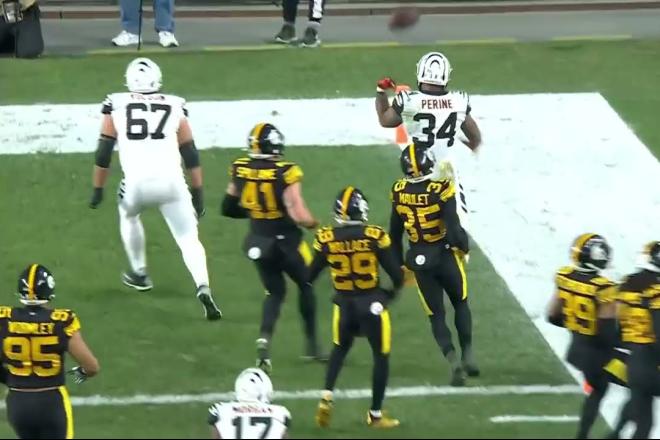 R.C. Fischer
Weekly Game Analysis
22 November 2022
2022 Week 11: Bengals 37, Steelers 30 (Dynasty/Fantasy Analysis Game Report)
What is typically a low scoring, chippy war of a game between the Steelers and Bengals turned into a high scoring offensive affair…despite very cold temperatures in Pittsburgh.
Why?
Well, for Cincy…Joe Burrow is the best pure QB in the NFL, so despite the cold and missing Ja'Marr Chase and Joe Mixon, the Bengals just moved the ball at will…and it was not because the Steelers defense is bad.
For the Steelers, it's because the new era of Steelers talent is starting to arrive PLUS this battered Bengals defense (especially the secondary) will be the playoff death of them.
This was a big step forward for the new era Steelers…with several steps to go. The Bengals came out rolling, but this Week 11 Steelers offense matched them at every turn…for a while. Cincy goes up 10-3, Pitt comes right back to tie it 10-10. Cincy then goes up 17-10, the Steelers immediately drive to make it 17-17. In fact, the Steelers actually stopped the Bengals before halftime and got the ball back to kick a field goal as the clock expired to the half for a 20-17 Steelers lead.
The Bengals took the lead back after the half, the Steelers stayed close until they could keep up in the 4th-quarter…Cincy went up by 14 points late, but credit the Steelers for a late drive for a TD to close the gap to one score with onside kick hopes, and well those hopes were quickly dashed. The Bengals escaped Pittsburgh with a win.
The Steelers scored 30 points in a game for the first time since mid-2020.
The Bengals scored 30+ points in a game for the third time in their last 4 games.
Cincinnati jumps to (6-4), staying in the AFC North race that their schedule, and all their secondary injuries, will not allow them to win. Cincy will have a hard time getting to 9 wins and a wild card…a dangerous wild card if they can make it. The Bengals have upcoming games with:  at TEN, KC, and BUF…basically the three main/only Super Bowl contenders from the AFC -- the Bengals have to face them in the next six weeks, then they wrap up Week 18 with the Ravens. The Bengals have an absolutely devastating finishing schedule.
The Steelers season is on the brink with this loss, now (3-7). The Steelers have five winnable games + two Ravens matchups remaining…they could catch some fire if they can take down heating up Indy on MNF Week 12, at Indy. This Steelers team is too young and inconsistent to make such a run to get to the playoffs, they will likely finish with 6-7 wins…but have 'hope' for the future.
*Note any fractional numbers in parentheses (4/2) or (2/3), etc., are a 'split' stat on our definition of a 'quality start' (or not) marker on a player -- using 14 PPR points in a game for RB-WR-TE and 21 for a QB…point levels that are good/productive/well above average starts for a Fantasy week. Trying to identify trends, consistency (or not) in players we might not normally realize.
A (3/2), for example, means: 3 times the player hit at/above the mark, and 2 times they did not.
Fantasy Player Notes…
 -- The biggest news/thing for me from this game…the next-step taken by Kenny Pickett (25-42 for 265 yards, 1 TD/0 INT, 2-14-0).
For several weeks, at the start of his starter reign, Pickett was not playing well. He wasn't frenzied or shaky, in fact he was calm and cool…but he could barely complete passes, NFL passes. His play was shaky/reaching/drifting. Everything he was doing was blind floaters to the sidelines or dump passes for safety. He couldn't land bombs or whistle throws between coverage or into tight windows. It was getting concerning.
But the last game or two there has been little blips of hope, but then a big step here…like going from first-to-second base in his development here. Now, Pickett is making some real NFL throws. He's still developing, so there's some bad throws too…but the future, legit NFL starter is starting to peak its way through the rookie clouds.
Leading into this game, Pickett had 2 TD passes in his 6 NFL games. Not good, but he had a TD pass in this game, but really should've had three TD tosses. The Bengals secondary is not good (due to injury), so that helped…but we need to see Pickett taking advantage of that, and he finally did here. Tough matchup with Indy's pass defense Week 12.
 -- I mentioned Pickett should've had three TD passes in this game…all three should've gone to George Pickens (4-83-1/6).
Pickens is so clearly the Steelers #1 WR/Pickett's desired throw it's not worth debating anymore. It took about 7-8 games for a rookie to walk in and get Chase Claypool traded and reduce highly paid Diontae Johnson (4-21-0/5) to a nobody…that's how good Pickens is, and he's got way more to go in his development.
We haven't seen Jameson Williams yet, but right now I'd say Pickens is the best all-around WR from this 2022 rookie class…of the guys who have played a half-a-season to show us where they are at. There's a lot of WR talent from the 2022 class, but Pickens is the best all-around talent…the true #1 WR/Alpha WR of the group…and he still is just learning the position -- he's getting by on raw talent right now. He's got bigger/better/faster DeAndre Hopkins vibes, to me. And he's gonna grow right along with Pickett for the next few years…then he'll get paid a big contract and turn into a diva, but let's enjoy the next 2-3 years at least.
 -- Pat Freiermuth (8-79-0/12) is Pickett's favorite non-Pickens throw…in fact, it's probably his favorite throw. It's a simple safety blanket throw and Freiermuth is very reliable. But, in this game, we saw several Pickett whistling passes down the middle, between coverage, pinpointing Freiermuth as a weapon, not just a security blanket short dump pass.
Pickens and Freiermuth are the future for the Steelers, and the future looks great…as Pickett begins to ascend.
Since Pickett took over, Freiermuth is a (3/3) for quality starts in PPR.
 -- As the pass game starts flashing upward trend signals…it's opening some things up for the running game, finally. Najee Harris (20-90-2, 4-26-0/6) had his best game as a Steeler here. Week 10, he showed a sign of life…but here in Week 11, he continued his upward move more.
Teams are no longer playing the Steelers to run, daring them to throw…and that is opening up some space for Najee. And the faster Pickett develops, the better this will get.
The Steelers offense is the proverbial giant ship turning around…it's slowly happening but when it happens this ship is going to start sailing straight at a rapid pace. We're still in the midst of the turning, but when it turns…this offense will be one of the better ones in the NFL for the next few years.
No more making fun of Najee. He's about to turn with the rest of them. If they ever get a real O-Line…
One of the great helper items to Najee having a good game against Cincy was Jaylen Warren (1-9-0/1) getting hurt and leaving the game early. Everything went to Najee…no more rotations and out for passing downs. Najee getting a heavy workload without the defense committing to stopping him at all costs = nice FF upside coming, finally.
 -- Joe Burrow (24-39 for 355 yards, 4 TDs/1 INT) is heating up again down the stretch in the NFL. Three 300+ yard passing games in his past 5 games. 13 TD passes in that 5 games stretch, 2.6 per game. He's completed 70%+ of passes in a game in four of his last 5 games. He's so unbelievably good, considering a terrible O-Line and missing Ja'Marr.
Ja'Marr could be back Week 12? I think Week 13 is more likely.  
Burrow is a (5/5) this season, and a (3/2) his last 5 games…the three quality starts all 30+ point events, which is amazing in 4pts pass TD leagues with him not running for numbers.
 -- Joe Mixon (7-20-0, 3-12-0/3) was evaluated for a concussion and was ruled out partway into this game…he looked like he was on his way to a 7+ catch game, but alas it was taken away.
Samaje Perine (11-30-0, 4-52-3/4) then took on the same role and caught 3 TD passes on little screen passes and run-after-catch for scores…some of which might have been Mixon's, to keep his TD growth going…but Perine cashed them in instead.
Mixon is questionable for Week 12…a MASSIVE game with Tennessee this week. If there's any way possible for Mixon to play, I bet he does. But it's not in his control. If Mixon is out, Perine is a fine fill-in…but the Titans are very stingy against RBs.
 -- A quick note on the Steelers-DST…
Not a great Week 11, but facing Burrow is a no-go anyway. Not a shock.
This defense, getting healthy, getting its group all together again…the next 4 weeks they face: Matt Ryan, Mariota, Lamar, P.J. Walker. Three decent opportunities in there. The Steelers-DST is not a top lockdown unit…just better than their perceptions in the mainstream, better than their yearly averages due to all their injuries and tough schedule prior.
 -- Evan McPherson (3/3 FGs, 4/4 XPs) had been scuffling his prior two games, but no signs of trouble here…kicking at the kicker's worst nightmare place to kick, McPherson had a great game…back to his old ways. He's back to an auto-start (unless bad weather hits).
Pittsburgh Dad game commentary: https://youtu.be/V2esu99Cu4s
Snap Counts of Interest:
46 = Perine
14 = Mixon
08 = Treylon Williams
46 = Irwin
10 = Trent Taylor
04 = Connor Heyward