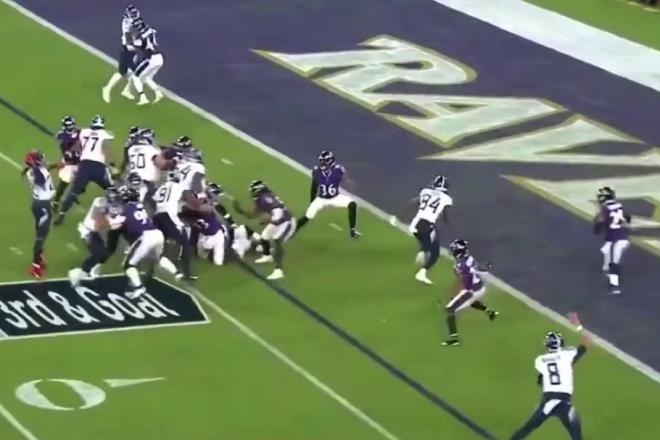 R.C. Fischer
Weekly Game Analysis
21 November 2022
2022 Week 11: Titans 27, Packers 17 (Dynasty/Fantasy Analysis Game Report)
The Titans are the most underappreciated team in the NFL…they have covered the spread for eight straight games in a row, and they've been a dog half of those 8 games…and (3-1) outright winning their game as a dog, their only loss that OT game with KC. The Titans are one of a handful of NFL teams that can legitimately win the Super Bowl because of their superior coaching -- it's maybe the only NFL team you can say that about…possibly better than the old Belichick days, because Mike Vrabel doesn't have Tom Brady.
Tennessee/Vrabel is doing all this with massive injury issues all season…he just grabs stuff off the waiver wire and 'boom', it works.
When I saw the Titans were 3.0 underdogs for this TNF game against the Packers midweek, I jumped on it -- because they are so superior a team, with an incredible edge in the coaching department over empty suit Matt LaFleur…and there was a little more offense from Tennessee than I expected, but otherwise this game played out close to my TNF preview.
Tennessee took a quick 7-0 lead on the first series of the game, and they never trailed from there. The Packers hung around for a bit, but Tennessee put them away by 10 at the start of the 4th-quarter…and then just shut them out in front of their home crowd from there. Another classic Vrabel masterpiece and another 2022 Packers wilt. No luck involved, just a straight up stranglehold win by the Titans.
Tennessee is now (7-3), winners of seven of their last 8 games. They should go on to win 12 +/- games, challenge for the #1 seed again, and win the AFC South going away. They are a very legit NFL Super Bowl contender, not to be taken lightly because we all downgrade them mentally because we aren't 'turned on' by Ryan Tannehill. This is the one NFL team that defies the 'QB is everything' motif…their superpower is that they are the most well coached/planned team in the NFL and have been for over two seasons now…we (me) all just didn't see it. I saw the light earlier this season and I've been picking it/betting it to victory for weeks on end.
Green Bay falls to (4-7)…and goes to Philly next week. Their season is nearly dead. They'd have to win five of their final 6 games to even have a wild card chance, but this team is not a .500 team (as I've pushed for the past several weeks), so there's no way they'll close strong when they were fading to start but then huge/key defensive injuries killed them off a couple weeks ago. They'll finish with 6-7 wins and have a big power struggle decision in the offseason…fire LaFleur (not happening) or move on from Rodgers (and he might go to San Francisco, unless Brady beats him to it) and Green Bay will then fall into a 5-10+ year pit of despair as a franchise no one wants to play for, geography-wise.
*Note any fractional numbers in parentheses (4/2) or (2/3), etc., are a 'split' stat on our definition of a 'quality start' (or not) marker on a player -- using 14 PPR points in a game for RB-WR-TE and 21 for a QB…point levels that are good/productive/well above average starts for a Fantasy week. Trying to identify trends, consistency (or not) in players we might not normally realize.
A (3/2), for example, means: 3 times the player hit at/above the mark, and 2 times they did not.
Fantasy Player Notes…
 -- The biggest issue/question from this game…did we lose Allen Lazard (5-57-0/11) as a solid WR1-1.5? Yes and no.
No…Lazard has not fallen from grace, and he is still Aaron Rodgers' #1 WR. Just because he didn't get the TDs (Watson did), doesn't mean he's not the #1. Lazard got 11 targets here…nearly double the next WR (Watson and Cobb with 6 each). Sure, Lazard had a 'meh' 12pt PPR event…but that's not bad and Rodgers uncharacteristically miss-threw two passes to a wide-open Lazard in this game, that left two catches for likely 50+ yards. Had Lazard gone 7-107-0/11…would you be more content with Lazard today? You should…it shoulda happened, and Rodgers admitted as much…that it was his fault.
Yes…we're losing Lazard the WR1 hope, but he's still a WR1-2 hope in PPR. Christian Watson (4-48-2/6) helped Lazard here, as I predicted…I did not predict that highly accurate Rodgers would miss-throw two passes to a wide-open Lazard in key spots. Teams are not having to pay attention to Watson, and not trying to crush Lazard…so Lazard is getting open more/not double teamed. Tennessee's ace CB didn't travel with Lazard much, and that CB was on Watson at times.
Randall Cobb's (6-73-0/6) return also pulls away from Lazard as a WR1…to a WR1-2. Cobb is Rodgers' BFF…and you saw it on display here. The Packers don't run a high enough volume passing game to support Lazard and Watson and Cobb as WR1-2s, so it will likely be Lazard as the primary catch count/target option but plenty of Watson and Cobb opportunities to take key touches.
We've gone from Lazard and the two nobodies at WR that defenses didn't care about -- to three very good WR options now for Rodgers and his 200-250 yards passing per game. Maybe this will trigger LaFleur to let Rodgers throw more?
Watson 'arrived' this game. Not just the deep ball speedster threat but using his speed to get open on short and medium routes, especially into the end zone. This game was a building block on top of Watson's nice Week 10, 3 TD event. I could not argue that Watson is the best GB WR to own for FF purposes because of his big play ability. I am happy for Watson…he has become a legit weapon in the NFL. It took about half-a-season…where he missed most of training camp and half the NFL regular season. Practice is really important…
 -- Very quietly, under-the-radar a bit…because of Watson's 2 TDs on top of his 3 TDs the week prior…Treylon Burks (7-111-0/8) 'arrived' this game as well. By far his best game, and not just because of the nice output…but just the way he looked/ran his routes/ran after the catch, etc. He's been building towards this, but got delayed with injury, and then 'pow'…arrival Week 11.
Burks is very good and can be the Titans easy #1 target, but this passing game is usually lower volume than the Packers…so, I think I'd rather have Watson-Lazard in a given week over Burks. I'd have to see a follow up event to this to believe we're going to get a high functioning #1 WR. I think the Titans offense will push him to WR2-3 over WR1-2. Not his fault…and he can get to WR1-2-land, but probably more so in 2023, but he has arrived as a legit NFL WR…like Watson…like Pickens.
Our grade 8+ (out of 10+) WR grades for the 2022 class were (in order):
Pickens
Watson
London
Philips (on IR)
Burks
Alec Pierce
Metchie (leukemia)
Olave-G.Wilson, among others were in the mid-7s.
And they've all splashed at certain points…and will ebb & flow with their QB play/surrounding WRs, but we've seen them all 'make it' (except Metchie).
We're running a pretty good batting average of having them in the right order over where the NFL took them. So, if we had a good 'feel' for this 2022 WR draft class…you know who the top WR we had rated (I purposefully left his name off)…Jameson Williams. How good might he be when he arrives?
 -- Aaron Rodgers (24-39 for 227 yards, 2 TDs/0 INT) had a decent night vs. a very solid/very good Titans defense…but Rodgers had a couple throws that were just off, which cost him another 50+ yards passing. Rodgers has been solid all season but not good enough. I blame the O-C/too much run play calling and not enough letting Rodgers loose and getting in sync with these WRs faster. My opinion.
What we have to watch out for now is something that could take our Lazard or Watson stock from WR1-2s to WR2-3-4s… If the Packers lose their next 2 games, or when they lose 2 more games and fall out of the playoff picture -- I suspect they will go to Jordan Love for a few games and see what they have, and that will FF-wreck Lazard and Watson, most likely. We need Green Bay to catch a win streak and stay in this thing, if you're a Lazard (the #1 most owned player across all formats by FFMers in 2022) owner and/or a Watson owner.
 -- Ryan Tannehill (22-27 for 333 yards, 2 TDs/1 INT) actually out-duled Rodgers through the air! Green Bay sold out to the run and Tannehill just carved them up through the air in response/to his advantage. Tannehill gets his first quality start of the 2022 season, a (1/7) in 2022.
Two games in a row with 250+ passing yards and 2 TD passes…after mostly sub-200 yard passing games this season. Teams are gonna overplay Derrick Henry and give Tannehill easy opportunities…it makes him a viable QB2 bye week fill-in threat in a decent matchup, I guess, now.
 -- Austin Hooper (4-36-2/4) was starting to build towards this event happening the past few weeks, with more targets and snaps, but not a great amount…just better than the nothing he had prior. This game's 2 TDs on 4 targets is not anything we can/should all rush into for FF. Tennessee does not commit to their TEs as deadly weapons for long. But we now have to take Hooper a bit more seriously.
 -- I'm kinda done with A.J. Dillon (6-13-0, 1-10-0/1).
I've been redraft done with him for several weeks, as I knew Aaron Jones was this staff's heart's desire before the season started, but I hoped against hope…and hoped Jones would go down with injury to spring AJD -- but now I think I'm kinda done with Dillon long-term/Dynasty as well. This game showed me 'the facts'.
I've always thought Dillon could be a Derrick Henry-like physical specimen runner…a next Earl Campbell. I've seen minor flashes of it, but I haven't seen one flash of it in 2022. Along with my complaining about Dillon not getting more work, I overlooked the fact that Dillon hasn't done $#!& with any of his touches or series of work that he does get. All the players I complain about getting overlooked in 2022, I've seen the 'wow' moments from in most cases…but I have been so sold on my 'next Earl Campbell' narrative that I overlooked the obvious -- Dillon has really done nothing in 2022…and watching him and Henry in the same game here, Dillon isn't there yet…and we're 3 years into the NFL with AJD. You'd think we'd see like Tony Pollard flashes and we'd all complain weekly that the #2 RB is better than the #1. Not with Dillon…not yet…and the clock is ticking…he's not a rookie anymore…far from it.
Downgrades coming in the Dynasty Stash rankings.
 -- Quick note on these DSTs…
Now seven straight games for the Titans-DST holding opponents to 17 points or fewer in regulation. It's a top NFL defense despite dealing with a ton of injuries. If they ever get everyone healthy, they may be the single best defense in the NFL. Tough schedule ahead, however -- Cincy and Philly the next two weeks.
The Packers defense getting torched by Ryan Tannehill and friends through the air…more confirmation this defense is dead from all the injuries and is now one of the worst in the league/best to target with your opposing offensive weapons.
Snap Counts of Interest:
56 = Lazard
49 = Watson
34 = Cobb
22 = Watkins
40 = Jones
29 = Dillon
52 = Westbrook-Ikhine
50 =- Woods
33 = Burks
47 = Swaim
30 = Okonkwo
30 = Hooper
12 = Hilliard
07 = Haskins