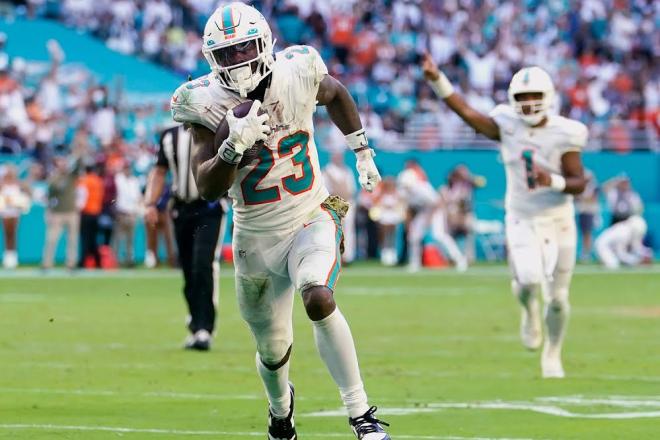 R.C. Fischer
Weekly Game Analysis
18 November 2022
2022 Week 10: Dolphins 39, Browns 17 (Dynasty/Fantasy Analysis Game Report)
Not a lot to report out on here. Cleveland took a quick 7-0 lead, then Miami punched them in the face repeatedly for the final 57 minutes, scoring 39 points to the Browns 10 points the rest of the game. Miami is a top 10 NFL team…a sleeper Super Bowl team, and Cleveland is none of those things.
Miami is now (7-3) and in 1st-place in the AFC East with 11 +/- wins and their Week 15 game at Buffalo be for most/all the marbles in the AFC East. Miami's destiny is in their own hands.
The Browns are now (3-6), and their season is essentially over. They aren't a bad team, but the schedule really turned on them midseason and it stays tough playing BUF this week. Deshaun Watson will return Week 12, but the team will be (3-7) when he arrives and would need to win out to even have a shot at the playoffs and their schedule just won't allow it…plus, we have no idea if Watson is going to be a massive failure or not.
Miami did what they do…roll their stout offense over their hapless opponents, while Cleveland tried to run heavy to stay in it but couldn't -- not a lot of new revelations from this game.
*Note any fractional numbers in parentheses (4/2) or (2/3), etc., are a 'split' stat on our definition of a 'quality start' (or not) marker on a player -- using 14 PPR points in a game for RB-WR-TE and 21 for a QB…point levels that are good/productive/well above average starts for a Fantasy week. Trying to identify trends, consistency (or not) in players we might not normally realize.
A (3/2), for example, means: 3 times the player hit at/above the mark, and 2 times they did not.
Fantasy Player Notes…
 -- This game was confirmation of Jeff Wilson (17-119-1, 2-24-0/5) as the clear/desired lead RB for this Miami offense. I was running around proclaiming the Raheem Mostert (8-65-1, 4-22-0/4) RB1 possibilities/hopes before Wilson was traded for…now, I'm even more sure Wilson will be an RB1. The main RB on arguably the best, fastest pace offense? You gotta love it.
Wilson is the respected lead RB and locker room leader. Mostert can be an RB3/Flex hope with the relief work. But this is absolutely Wilson's backfield, and he is an RB1 threat…he's not a temp hot guy to try and sell high/hot…he's legit. Mostert is the cuff to own because if Wilson went down, Mostert would be back to RB1/2 hopes.
 -- FYI, Donovan Peoples-Jones (5-99-0/9) looks really good. His last six weeks: 4.7 rec. (6.7 targets), 74.3 yards per game…but no TDs. Five double-digit PPR games in his last 6 games. He's really becoming a legit NFL WR….and a legit WR2 in PPR. He is making great catches of all kinds of varieties. He's really coming into his own.
The upside is…what if he's Deshaun's favorite WR? We don't know who Watson likes yet.
The downside, what if Deshaun doesn't like working with DPJ?
 -- Harrison Bryant (3-15-1/3) is the lead TE with David Njoku out…but Bryant is no Njoku in the passing game. Bryant got a short TD here, but nothing really exciting otherwise. Bryant has started two games with Njoku out…this mild performance and the prior game (Wk8) where he played 74% of the snaps and saw zero targets.
Njoku is probably 50-50 to play Week 11, but very likely ready to go Week 12. Bryant is a very weak fill-in TE 1/2 hope for FF with Njoku out.
 -- Tua Tagovailoa's (25-32 for 285 yards, 3 TDs/0 INT) last three games: over 75% Comp. Pct., 333.0 passing yards and 3.0 TDs/0.0 INTs per game. His output has finally matched his play of late…he was so close to racking these numbers earlier this season, but now he is popping them.
In games that Tua has started/finished, the Dolphins are (7-0).
 -- Quick DST note…
The Dolphins-DST hasn't been great this season but note Week 12 v. HOU is a potential opportunity for the DST streamers.
Snap Counts of Interest:
42 = Wilson
19 = Mostert
37 = Smythe
32 = Gesicki
32 = Chubb
24 = Hunt
51 = H Bryant
28 = Ph Brown