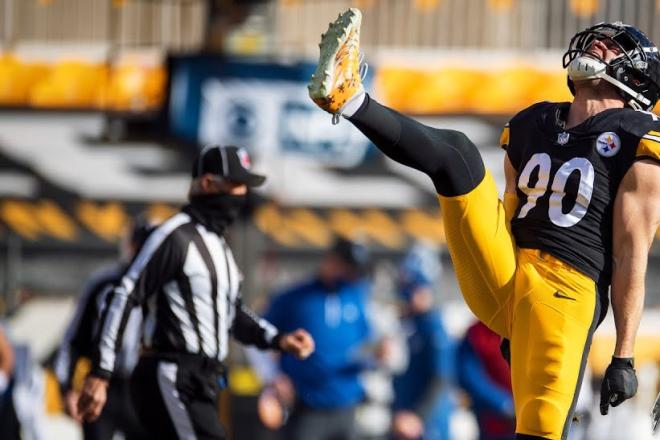 R.C. Fischer
Weekly Game Analysis
16 November 2022
2022 Week 10: Steelers 20, Saints 10 (Dynasty/Fantasy Analysis Game Report)
This could be the best played or maybe I should say the 'hardest fought' game of Week 10. I expected this to be a dull contest between two weak teams that 'someone had to win'. In reality, this was a high energy, aggressive, smashmouth game between two 'decent' (not great) teams.
I watched/studied the GB-DAL game before going into this game…the Packers-Cowboys was a sloppy affair/mess that I would say this Week 10 Steelers or Saints team are as good/better than the vaunted Boys or Pack.
The Steelers took an early lead and just kinda defended the castle from being stormed by the Saints for the rest of the game. The Saints tried to push back into it but the Steelers wouldn't let them. A terrific defensive showing from the Steelers, as I had been projecting would come in this very game a few weeks ago…when I proclaimed I was betting ahead on the Steelers +points for Week 10 as a 'best bet of the year candidate'…and 'bingo'. This Steelers defense, at full strength, is a top 10 NFL defense...and this game they didn't have Minkah Fitzpatrick either.
The spread could've been larger for Pittsburgh, but their new, big kicker acquisition (Boswell went on IR) this week (Matthew Wright) missed two field goals.
The Saints played with intensity to match the Steelers, but Pittsburgh is just the better team right now…with the Steelers D at close to full strength, and the Saints all banged up missing several key players on both sides of the ball.
New Orleans falls to (3-7) but given the sad state of affairs in the NFC South…I wouldn't count them out yet. I bet they wallop the Rams this week to get to (4-7), then lose at SF Week 12 to fall to (4-8) and then play for their season Week 13 at TB, which if they win gets the Saints to (5-8) with Tampa potentially sitting at (5-7)…so if NO beats TB Week 13…it leaves the Saints a half game off 1st-place. Then the Saints have three winnable games in their final 4 contests to get to (8-9) and that might win the NFC South. There's still hope with the Saints, but they gotta beat the Rams this week and then take down TB Week 13 on MNF at TB.
The Steelers are not done either, now (3-6) with two Ravens contests ahead. If the Steelers beat the Bengals this week, a big 'if', then they are (4-6) with a path to 9 wins and back in the wild card chase. Their season kinda hangs in the balance this week vs. Cincy…which should be a war in the cold.
In the end, both the Saints and Steelers have probably dug themselves too deep a hole…too many injuries the 1st-half of the season -- but if injuries hit their division leaders ahead, and they stay healthy…perhaps, they can climb back into things. Neither team is great, but they aren't bad. 
*Note any fractional numbers in parentheses (4/2) or (2/3), etc., are a 'split' stat on our definition of a 'quality start' (or not) marker on a player -- using 14 PPR points in a game for RB-WR-TE and 21 for a QB…point levels that are good/productive/well above average starts for a Fantasy week. Trying to identify trends, consistency (or not) in players we might not normally realize.
A (3/2), for example, means: 3 times the player hit at/above the mark, and 2 times they did not.
Fantasy Player Notes…
   -- This was a weird/unusual run game event for the Steelers…because they actually ran the ball successfully: 43 carries, 217 yards, 2 TDs combined.
Najee Harris (20-99-0, 0-0-0/1) had his best game of 2022…and it was weird. All week, the talk was Jaylen Warren (9-37-0, 3-40-0/3) getting involved more with/over Najee. All the talk must have fired Najee up because he had some of his best-looking run plays of the season…but also several gaffes -- miss-reads on holes, a fumble, missed blocking assignments.
But the Steelers are absolutely committed to proving to the world that this was a smart draft pick, so I'm sure when they saw the couple good Najee runs (basic stuff for most RBs, but a revelation for failing Najee) happen they were elated and just went with it. Najee had one wide open 36 yards run…it was a good cutback run (the first successful cutback of maybe his NFL career)…and then a typical nothing-Najee of 19 carries for 63 yards (3.3 ypc) otherwise.
Jaylen Warren had little room to run either but was an ace in the passing game flaring out of the backfield and then had a killer 21-yard run on 3rd & 8 late, to help put the game away. The run was so good, so clutch they had to rush Najee back out there to take the final carries to end it.
The Steelers are never going to push Warren over Najee, to their own demise…but they will never give the world the satisfaction of admitting their Najee error. They're going to make him viable no matter what they have to do.
Credit the Buccaneers for no longer putting up with the crap of the ineffective, malcontent RB and pushing the better rookie in their midst to try and change the offensive decline. The Steelers would never…just like Jerry Jones would never push Pollard over Zeke, he won't allow it. You think these coaches, GMs, owners are geniuses…but they're just the same flawed, corporate CYA hacks you see in your company every day.
 -- Speaking of failing things…Taysom Hill (3-1-0, 0-1 passing).
I've spoken plenty on the case for Taysom, but all my talking points have been reversed the last few weeks as Dennis Allen walks away from Taysom and decides to take on more losses and stunted offensive output. It's his choice, but I don't want to be FF-trapped in it anymore. Chalk it up to another case where head coaches walk away from successful things to lean on unsuccessful things.
Taysom need not be held onto anymore unless deep roster situations -- there's still hope he re-turns around or becomes a QB in crisis. At the same time, Juwan Johnson (5-44-1/7) is rising…3.7 rec. (4.5 targets), 33.0 yards, 1.0 TDs per game his last 4 games, but this game more than any we saw Andy Dalton forcing work his way. Great to see…and Dalton is starting Week 11, but Jameis Winston is lurking, and Jameis was better with Juwan anyway. With Michael Thomas gone, Juwan is rising into filling some of those shoes as the big body target.
 -- The Steelers defense was really good here. T.J. Watt was back and that instantly lifted the entire defense. They shut off the Saints run big time…15 carries for 29 yards for the Saints in this game. They shut-off the previously hot Chris Olave (3-40-0/5) They picked Andy Dalton twice, sacked him twice, forced him to fumble twice (but both recovered by NO), throwing for just 174 yards. It was a great comeback for the Steelers defense, which was without Minkah Fitzpatrick.
After the Steelers face Joe Burrow this week, they then have manageable matchups with IND-ATL then their usual war with Baltimore, followed by CAR-LV and another Ravens war Week 17. This defense has some legs after this week against Burrow, but the squashed Burrow earlier this season…maybe they do it again -- and then they will be the DST everyone will chase off free agency going into Week 12.
 -- The Saints-DST was pretty solid here too, especially in pass coverage. If they weren't missing Lattimore-Werner-Davenport among others, this might have been a closer game/Saints win.
Rookie CB Alontae Taylor (6 tackles) always shows up on tape when I watch Saints games back…as does veteran Chris Harris (1 tackles, 1 sack, 1 PD). The Saints D has some juice…they just need to get healthy. If they get some of their injured defenders back, it's a terrific matchup with the Rams this week. A really tough pass defense that could be a super-tough matchup for any QB if Marshon Lattimore returns.
 -- Kenny Pickett (18-30 for 199 yards, 0 TD/0 INT, 8-51-1) just seems very bizarre to me, watching his games…
He looks totally in control and not overwhelmed by anything, but he can barely complete a pass over 5+ yards. Every once in a while he strikes one medium range in a tight window, and then I'm encouraged…but that's usually followed by more errant throws, dump passes, but mostly tuck it and run plays. Overall, he's been terrible as a passer…2 TDs/8 INTs on the season, but he's completing 66.7% of his passes at the same time. His passer problems are killing the Steelers receivers for FF.
Diontae Johnson (4-63-0/5) is visibly pouting on the field about his targets…he's going to be a problem for the Steelers from now until they ditch him. Diontae still hasn't caught a TD pass this season and hasn't been over 65 yards in a game but once in the 2022 season. That's a QB issue, not a DJ issue. Diontae is a (1/9) so far this season.
George Pickens (3-32-0/4, 2-23-1) still looks so promising…like a dominant, alpha #1 WR…but Pickett is so taxed to even complete a pass, it leaves Pickens high and dry too often, and leaves Pickens having to make circus catches on basic passes just to get any numbers. They did let him run the ball twice here, one for a short TD, the other for a 20+ yard gain. Expect to see more carries next week.
Pickens is a (4/5) this season…a (4/2) since Pickett started playing. And his non-Q-start games were filled with close calls and pushed attempts at big plays. Pickett is more of a start than not week-to-week…above all the receivers, they are trying to push the action to Pickens. It's just pained/strained and unsuccessful at times.
Pat Freiermuth (4-36-0/7) had a down game for FF, but he's an option Pickett relies on for safety/easy throws. It's just the odds of a TD for any of the receivers are low because Pickett is struggling -- but a few near-miss TD passes in this game, and one of them to Freiermuth.
Bonus analysis:  https://youtu.be/AuGR6iT1Qr0
Snap Counts of Interest:
77 = Diontae
63 = Pickens
32 = Sims
22 = Olszewski
14 = Boykin
50 = Harris
36 = Warren
31 = Juwan Johnson
19 = Taysom
19 = Trautman
37 = Landry
36 = Olave
31 = Kevin White
07 = TreQuan
06 = Shaheed