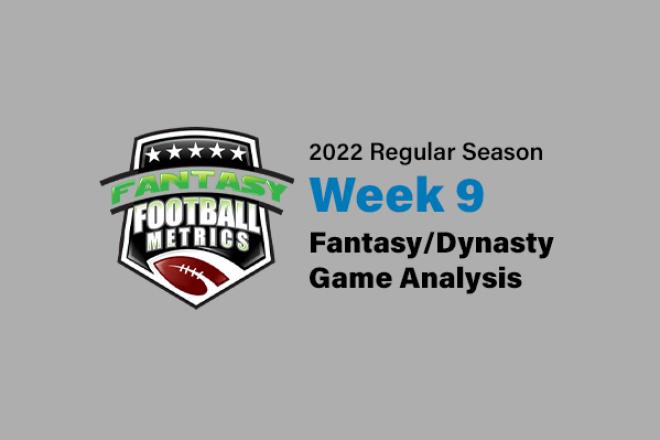 Ross Jacobs
Weekly Game Analysis
12 November 2022
2022 Week 9 Recap: Ravens 27, Saints 13 (by Ross Jacobs)
Not much to say about this one. The Ravens are a decently strong team and they just slowly and methodically crushed the life out of the Saints.
Baltimore started the season off strangely, several higher scoring outputs for the offense and getting rolled by Tua in the 2nd half of one game, but since then things have settled down and they are back to playing a lot of close games and relying on Lamar and their defense to pull it out. From week 4-9 every single game was decided by 5 points or less until this one. Baltimore has averaged 22.7 ppg over that time frame and given up 19.8. It's been a relatively weak schedule over that time frame but no bottom of the barrel teams either and they seem to be getting stronger by the week. The remaining schedule looks quite soft and they should waltz their way to a division title over the Bengals who are struggling with injuries. They'll be a dangerous team in the playoffs but probably not one of the outright favorites...the lack of a real passing game will make it difficult to win 3 games in a row.
I should mention that the Baltimore defense is not to be targeted anymore. RC has been talking about it for weeks after everyone latched onto the Tua game, but this defense is no joke now and they just got a huge infusion of talent when they traded for Roquan Smith. He was an instant game-changer here and I expect him to get better every week as he gets more familiar with the defense. The defense is the reason why I think this team is rising and could be very dangerous come the playoffs.
New Orleans really isn't a bad team, but they aren't going anywhere with Andy Dalton either. He's had a good run and is playing ok ball all things considered. They just don't have the firepower necessary to do much damage and somehow this defense, which looks good when I watch them, is 29th in points allowed per game. They've given up 27+ points in every one of their last 6 games except last week where they dropped a 0 on the Raiders out of nowhere. The pass defense is pretty good actually, but it's a bad run defense...something to watch for if Jaylen Warren gets a heavy push over Najee this week.
If the Saints can keep things together they should finish with 6-8 wins, not the worst but not making the playoffs either. They'll have questions to answer this off-season. Do they stick with Dennis Allen? Who is the QB moving forward? What's going to happen with Kamara? Between Sean Payton leaving, Brees retiring, all the draft capital they traded away, and the salary cap mess they are facing...I think this team is about to fall on dark times.
Fantasy Player Notes:
 – Through the first 3 weeks of the season Lamar Jackson looked like an MVP candidate both in real life and fantasy. He had 10 passing TDs, 2 rushing TDs, and ran for over 100 yards in 2 of the 3 games. Since that time he has 6 passing TDs total, 0 rushing TDs, and hasn't thrown for 300 yards or rushed for 100 yards even a single time. Heck, he's only thrown for more than 200 yards twice! Over this time frame he is only QB17 in ppg behind Heinicke, Daniel Jones, Matt Ryan, and Russell Wilson...
I've tried and tried and tried to warn people about Lamar, but every time he has a moment or two putting up monster numbers or winning a shootout the sheep flock right back into his corner and ignore the vast majority of the time that he's underperformed lately. I know he's a good player and deserves to get paid, but the reality is he is limited in certain ways and the team has to be cognizant of that. If he was really Superman they would have already paid him the way the Chiefs paid Mahomes...I'm telling you, the Ravens are being smart about this, they are right to be cautious. And if he walks because they don't offer enough money, the football intelligentsia are going to lose their minds and crush Baltimore...but let's not forget what just happened with Seattle and Russ. This situation is really not as clear as many people would have you believe.
 – With the passing game in such shambles right now there's just nothing to go around to make any of his receivers viable. Isaiah Likely is the only thing worth playing right now while Mark Andrews is out. Devin Duvernay looks good when I watch him, he's the "top" option at receiver, but there's no effort to force him the ball. It's just a committee approach now. I'd just avoid this mess for now.
 – The Baltimore backfield is not in question at the moment. It's all Kenyan Drake and this was the best he's looked all year but that was largely because the Saints run defense is so weak. Unfortunately for him it looks like Gus Edwards will be back after their bye week, and I expect most of the work to go to Edwards with Drake spelling him at times.
 – Nothing has changed with the Saints offense and I don't expect it to. Kamara is fine, he just got bottled up against a rising Baltimore defense. Chris Olave continues to impress me with his route running savvy. He really is a quality young receiver and I'm excited to see what he can do if he ever gets a high level QB. He's a WR2 for the moment.
 – If the Saints were smart they'd just stick Taysom Hill at QB and let him be baby Lamar again, but they are still trying to use him as a gadget player only. Every time he takes a snap good things happen and the offense gets a jolt, but I guess Dennis Allen is allergic to success. The fact that he's playing less snaps than Adam Trautman is ridiculous.
Juwan Johnson salvaged a nice fantasy day with a 40 yard TD late in the game. He caught a ball on the right sideline and the defender bumped him but not hard enough and Johnson somehow kept his feet in-bounds and tightrope-walked down the sideline for a score. It was a fluky event, not the start of anything for him. He's still an afterthought in this offense no matter how smooth and athletic he looks.
Snap Counts of Interest:
52 = Likely
44 = Oliver
50 = Duvernay
34 = Robinson
46 = Drake
46 = Olave
36 = Tre'Quan
29 = Callaway
45 = Kamara
38 = Juwan
18 = Trautman
17 = Taysom