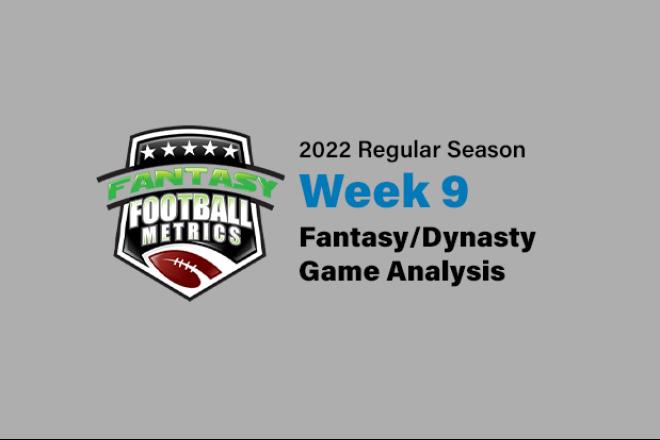 Ross Jacobs
Weekly Game Analysis
09 November 2022
2022 Week 9 Recap: Buccaneers 16, Rams 13 (by Ross Jacobs)
It's sad watching these two teams in 2022. It's also a stark reminder how fast the NFL changes. We can never get complacent in our beliefs about who is good and who is not because it changes so much year to year and even game to game. Until last year Cooper Kupp was just another "good" receiver. Until this year Geno Smith was just another failed early round QB. Sometimes all it takes is the right set of circumstances to change things and good luck guessing what those perfect circumstances might be. This is why we have to constantly be reevaluating our previously held positions and be ready to pivot at a moment's notice.
But back to the Bucs and Rams...this was exactly what you would expect from two dying teams. It's become painful to watch how inept both of these offenses are. Neither team can throw the ball well, but at least they can complete passes...the running games border on nonexistent.
The Rams led most of this game after Kupp hit a long TD on a broken coverage, but Tom Brady had to do Tom Brady things and will his team to a go-ahead TD with seconds remaining. Brady was the difference here because he's just a little bit better than Stafford. Other than that these are very similar teams, top 10ish defenses and bottom 10 offenses...for the moment.
Of the two I give the Bucs the better chance to turn things around and get back to previous form. It's hard to say what is ailing them now that all the receivers are healthy again, but something clearly isn't clicking. I have a theory which I'll discuss below. I do think they have a good shot at coming back to win the NFC South. I just have a hard time seeing Atlanta hold onto their lead, as impressive as it's been.
The Rams I don't think can fix their problems in time, and even if they did they are still a much worse team than SF and possibly even Seattle somehow. It looks like they are going to limp to a .500 finish and hope to regroup for next year. Their off-season focus has got to be 100% on the offensive line but I'm sure sailboat-scouting Les Snead will stupidly draft another RB in the 3rd round with their top pick.
Fantasy Player Notes:
 – Matt Stafford hasn't been very good all year, but at least he's been getting numbers for Cooper Kupp. Unfortunately, news came out today that Stafford is in concussion protocol and could miss the week. John Wolford is the backup and if he starts that's obviously not a good thing. He's not the worst backup ever, but it's safe to say you have to slash your projections for Kupp regardless. The Arizona defense is a fantastic streaming defense if Wolford plays.
Nobody else exists in this passing game really. It's Kupp or nothing. Van Jefferson was back and promptly got open on a fantastic deep ball...which he dropped. I expect he'll be incorporated more as the year goes on, at least once Stafford is back. It won't mean much really but he might get the occasional bomb.
 – Darrell Henderson got the "starter's" treatment again, but it's the same story as always...nowhere to run, no holes, no scoring opportunities. He's just another random RB3. Cam Akers was somehow back playing after all his drama and whatever was said to him behind closed doors clearly had no effect. He looks absolutely terrible.
 – I'm with RC on Tom Brady...I don't see any obvious issue with him, but for some reason the offense isn't clicking. My best guess is that teams aren't afraid of the run game at all, and for some idiotic reason Byron Leftwich isn't calling playaction passes...I assume because he was told his entire career that you have to run the ball effectively for playaction to work...which is completely untrue and has been debunked by tons of studies. If the team would just start calling more playaction and at least threaten to run, it might open up a little more space for Brady to operate in.
 – One thing that did happen in game to try and provide a spark was the team using rookie Rachaad White more, and Leonard Fournette was pissed off about it after the game which means we'll probably see nothing but Fournette next week as the coaches cave to the veteran player. White wasn't great, there's still nothing open in the run game, but he was clearly better and more explosive than Fournette. This really should be a split and it will be at some point, but I'm going to assume Fournette gets a heavy workload this week to shut him up.
 – The entire passing game is being held down right now, but I still believe a turn is possible. Mike Evans is still a WR1 because he's the obvious first look for Brady and gets most of the redzone opportunities, but he hasn't helped himself with several big drops the past two weeks. It seems to be just a bad luck streak, he's not known for dropping passes. 
After him Chris Godwin is a strong WR1.5 if the turn comes. He's a WR2-2.5 right now but should be a strong buy low candidate IF you think the Bucs can turn it around. Unfortunately you probably won't get him cheap despite the lackluster results because everyone else believes Brady will figure it out too.
Julio Jones is back but not being featured. He's more of a decoy than anything right now. Scotty Miller had a decent game but I wouldn't count on that sustaining every week. Brady attempted 58 passes here which pushed everyone's target numbers. Miller isn't going to supplant Julio even if he is the better player at this point.
 – Rookie TE Cade Otton continues to impress. He's been a solid option when available. I don't see any particular push to use him either, most of his numbers came very late in Tampa's frantic last drive, but he's just a great safety valve when Brady is feeling the heat. He's as good an option at TE as anyone right now and has a little more upside, again if the offense can improve overall.
Snap Counts of Interest:
77 = Godwin
74 = Evans
35 = Miller
30 = Jones
71 = Otton
52 = Fournette
29 = White
57 = Kupp
51 = Robinson
37 = Skowronek
45 = Higbee
28 = Henderson
16 = Brown