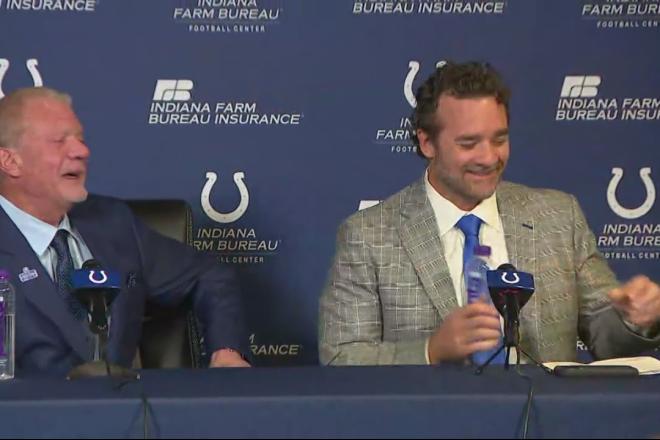 R.C. Fischer
Weekly Game Analysis
08 November 2022
2022 Week 9: Patriots 26, Colts 3 (Dynasty/Fantasy Analysis Game Report)
No sense in diving too deep into this game outcome because the big news was the day after -- Frank Reich got fired, finally. He should've been fired weeks ago, so this is no shock except how long it took…they fired everything else BUT the problem (QB, O-C, etc.). Now, the problem is gone. So what happened in this game…is out the window going forward without the Reich regime influence happening next week.
The real shock to the system is what the Colts bat$#!& crazy owner did to replace Reich…and that's to hire a TV analyst/long time respected player, Jeff Saturday, to be the interim coach. We'll get into that in a few moments.
As far as this game goes -- the Colts were in a big spot, where a win really got them back in the playoff picture…which, in true Reich fashion, meant the Colts would play a horrible game and lose in embarrassing fashion…and they did. The Patriots weren't/aren't great, but they were smart enough to just let Reich & Friends fall flat on their faces to pick up the win…and that's what happened.
The Patriots are now (5-4), winners of four of their last 5 games. I still believe they'll end up (8-9) and out of the playoff scene…but (9-8) and wild card hopes are very possible. They still have 2 games with Buffalo, plus games Miami and NYJ…and Cincy and Minnesota. Not an easy road ahead.
Now, let's get into the Jeff Saturday thing…
The NFL establishment went bonkers clutching their pearls at the hiring of an interim head coach with no NFL coaching experience. I think it's brilliant, in its desperation. Like Gus Bradley would've been something wonderful to put in charge? How worse could it get for the Colts with Jeff Saturday? The only thing worse than hiring a coach with no experience is hiring one who has experience…experience in failure…which describes most all of them.
The future of NFL coaching is turning to former players…former players who have the background and leadership qualities to be a head coach/CEO of an organization, because they get what it is like to be a player and the players respect that, usually. Jeff Saturday has that…he's been preparing to be a head coach for years. He admitted to keeping lists and contacts of people he thought would make great assistants and coordinators at his intro press conference. The Colts admitted they've been trying to hire him to be a coach for years.
I watched the Monday night Colts'/Saturday intro press conference to try and get clues on the whole situation…and everything wrong with the Colts was on display…
First and foremost, the Colts' problem is owner Jim Irsay…who is wholly unqualified to be in charge of anything, much less a billion+ dollar NFL franchise. Irsay is a silver spoon inheritance guy, and that's rarely good for business. Much less all the past (and maybe present?) addiction issues Irsay has struggled with. He's making the Colts' organization a laughingstock…a place where quality coaching candidates do not want to be a part of.
So, I'm watching this roughly hour-long press conference…and I'd say Jim Irsay talked for 40-45 minutes of it. Rambling. Making excuses. If I had to sum up the Jeff Saturday intro press conference, I'd say this: Jim Irsay (told us 2-3x) that he hired Bruce Arians as an interim head coach once, so obviously Irsay should not be questioned about anything ever…oh, and Reich did a great job for Indy -- but it was just some bad luck that caused the firing this day…but he was a great hire by Irsay too, you just aren't looking at it properly. 45 minutes of how smart Jim Irsay is…got it!?!?
At the same time, failure GM (that the media loves and defends incessantly for some reason) Chris Ballard sat to Irsay's right and looked like/had the body language of a guy who just caught his wife in bed with one of the Colts' players an hour earlier. When Ballard spoke for his 3-5 minutes, he had his usual spin targeted at making excuses (like Irsay did), so that he could keep his boss (and the fans) shined on…only the fans aren't buying it, but the boss and the media constantly do. Kudos to Ballard's corporate suck-up-ary. Many of us have been there, so I'm not judging. He keeps drawing a seven-figure salary despite all this awfulness, so I tip my cap.
Jeff Saturday got to speak for like 10 or so minutes total via on and off questions from the media. It was weird. Irsay did like a forever opening preamble…the media then targeted questions at him…then they tried to get to Saturday or Ballard, but they'd keep their answers short/direct…and Irsay would jump in on their question/item as well. Saturday was smart -- he kept his answers short and sweet; he has media experience…and also experience handling/manipulating the nutty owner (obviously so, because he just got named the interim head coach).
Saturday really answered nothing in detail except when asked who his QB would be, he sheepishly answered 'Sam is our QB'…almost looking at Irsay out of the corner of his eye. Irsay is paying for these people to do his bidding, so it must have been that Irsay gave Saturday a ton of money but placed the condition that Sam Ehlinger would be the QB, because Irsay is like Fantasy owners -- quickly punishing bad performance (Wentz gone, Ryan gone…) and daydreaming that the young, unknown thing might be the greatest. Eventually, Irsay will tire of his new play toy (Ehlinger)…but probably not until the offseason.
Irsay will not turn to Nick Foles, despite the fact that with a win in Week 10…the Colts are in the playoff picture. Foles is a Reich guy, so he might as well not even exist…and Foles is not a magical unicorn rookie/2nd-year thing that might be the greatest, you don't know. If Saturday had any real, full stroke he'd probably install Foles as starter Week 10 and work with Ehlinger to help him improve the next few weeks and put Sam back in when the playoff possibilities were over. But Irsay is addicted to Ehlinger like 'cowbell', so Saturday is stuck.
I like the hiring of Jeff Saturday, in general. He'll likely get the job officially because the Colts are a joke among the football community and Saturday will be an Irsay loyalist and buddy, for a while…then Saturday will be sick of being hamstrung by Irsay down the road…but that will be millions of dollars in pay from now.
How will Saturday affect the FF outputs? (a) no one could possibly know, but (b) I'll give my theories below and take a shot at reading the tea leaves.
*Note any fractional numbers in parentheses (4/2) or (2/3), etc., are a 'quality start' (or not) marker on a player -- using 14 PPR points in a game for RB-WR-TE and 21 for a QB…point levels that are good/productive/well above average starts for a Fantasy week. Trying to identify trends, consistency (or not) in players we might not normally realize.
A (3/2), for example, means: 3 times the player hit at/above the mark, and 2 times they did not.
Fantasy Player Notes…
   -- Sam Ehlinger (15-29 for 103 yards, 0 TD/1 INT, 5-39-0) is the stated starter and he's not so good that Jeff Saturday just comes in and pushes some magical button or has some radical play calling that makes Ehlinger suddenly 'good'. Ehlinger is a young, backup QB talent level QB who needs more experience/bumps and bruises to be FF-reliable/hopeful.
Ehlinger's best case, perfect opportunity is with Jonathan Taylor back so the defenses will stack 8-9-10 in the box and open things up for Ehlinger to game manage better. No Jon Taylor = problems for Ehlinger and the whole passing game outputs. And I'm not sure when Taylor will return.
 -- Because Ehlinger is not ready to thrive behind a bad O-Line and no run game, and poor coaching for two years…all the receivers will suffer.
Michael Pittman (3-22-0/6) is a terrific talent but he's going to total waste in this environment. He's a WR3/flex option now. Pittman is a (3/5) this season, but a (1/5) in his last 6 games…and an (0/2) with Ehlinger.
Alex Pierce (1-23-0/2) is dead…aside from a random deep ball shot landing via miracle, Pierce is not the type of style/talent that works with noodle armed, ill-prepared Ehlinger. A play action fake to Jon Taylor then float a balloon deep landing to Pierce is his FF-hope week-to-week.
Parris Campbell (2-15-0/5) could be OK in all this as the easy slot throw short for Sam, but that has been a big nothing for their first 2 games together. I'm not sure how it will change with Jeff Saturday here…Saturday can't hand deliver passes to the simple slot. It's a shame because Campbell looks better than ever but is going to waste. I want to hold Parris where I can, to see one more week before giving up…but the odds are this isn't going to be great with Ehlinger.
The tight ends? Don't make me laugh. Although, I bet Saturday takes one look at Jelani Woods (1-2-0/3) up close and makes him the full starter in short order…but that doesn't mean anything imminent for FF results.
 -- Jonathan Taylor (DNP) could get talked into returning Week 10 by Jeff Saturday. For the Colts having any hope of getting back into the playoff picture, for any hope of Saturday not looking like a fool as a head coach…he needs Taylor to hide the offense behind.
I think Taylor could play if he wanted to, pushing through the pain…but he's smartly taking care of himself and not ruining his career for Frank Reich -- but with Reich gone, and Saturday's communication ability, and this being a do-or-die game for Indy…we'll find out a lot about Taylor's true availability whether he plays or not this week. He may really be down…and out, for a while. We'll see if he's practicing this week.
Deon Jackson (11-23-0, 2-13-0/2) is the assumed starter in lieu of Taylor being out, but we don't know that for sure with the new coach…or Deon's injury sustained in-game. He hurt his knee, it appeared, but he was back in the game after coming out with the issue…but then was out as the blowout extended. He should be OK to play this week, but we'll see…and we'll see about Taylor playing this week. It's an unknown as to either guy's health or availability this week.
Jordan Wilkins (3-13-0, 4-15-0/4) got a push with DJax out, but Wilkins was Reich's guy…otherwise, not that talented. I suspect Saturday would look to Philip Lindsay (1-2-0, 0-0-0/1) ahead of Wilkins, if it came down to it, but that's just speculation on my part.
Zack Moss, recently acquired, is in the mix too…further complicating the scene.
If Taylor is not back this week…no one knows what Saturday will really do for a backfield, and touches.
 -- Let's round if out by hitting the Colts-DST. I assume Saturday will just leave that to Gus Bradley, as the defense is the one thing that has been working decently. This was really the third game in a row the Colts D held their opponent to under 20 points…7 points came from a defensive score late.
Four out of their last 5 games holding opponents under 20 points of offense.
Five out of their last 7 games holding opponents under 20 points of offense.
It's not a bad defense but the schedule ahead is mostly DST unfavorable.
 -- Mac Jones (20-30 for 147 yards, 1 TD/0 INT) had a game managing effort here…he's still one of the worst starting QBs in the league, but a hair better than Ehlinger right now. I really think if the Patriots had lost here, they would've used the bye week to go to Bailey Zappe for the rest of the season. This win might have been a big loss for NE in the end. Zappe is their future over Mac, but now they're kinda stuck with Mac.
 -- Damien Harris (DNP) missed this game with illness. When he's back, he'll be splitting carries with Rhamondre Stevenson (15-60-0, 3-10-1/7), but Stevenson getting more pass game work. People are giving up on Harris because he's not done anything since Week 4. But it's not a 'he's failing' issue…it's stuff somewhat out of his control.
Week 5, the drop off began, when he got hurt 6 snaps into the game and was gone. High ankle sprain.
Week 6, missed with the injury.
Week 7, return faster than expected but only played 9 snaps
Week 8, 41% of the snaps….11 carries, 2 targets, which is more normal.
Week 9, missed with illness.
Five weeks of nothing…but none of it was his real issue/fault. Harris was a (2/2) his first four normal/healthy games and a (0/3) since + two missed games.
People are dropping him, but they shouldn't necessarily.
 -- My 'Hunter Henry (4-50-0/4) is gonna rule' theory based on the super easy schedule ahead and his spike output Weeks 5-6…it's dying on the vine. Not bad here, but two problems are arising…
1) Mac Jones sucks, so nothing is really predictably working and he cannot take advantage of gimme situations.
2) Suddenly, the Patriots remembered they have Jonnu Smith (3-21-0/4).
The two TEs together combined for a (7-71-0/8) line, which is where I thought Henry could do with the schedule…but it's not working according to plan. Moving on.
 -- Tyquan Thornton (1-5-0/4) had that TD catch and TD run game Week 6, and we all got excited…because he was a possible magical unicorn rookie. He's caught exactly 1 pass in each game since…3 catches in 11 targets. Yikes.
The established players/things people bypassed Week 7 waivers to take a shot on the rookie Tyquan…a lost opportunity for some. Someday we'll learn…maybe. I hoped TT would have a follow up effort to be traded off from Week 6, but that died on arrival.
 -- The Patriots-DST is on fire, but it's been pretty fortuitous on opponents/QB faced. As long as the Pats are facing a weak QB, they are hot for FF scoring. Facing a good QB, different story.
After a Week 10 bye, they face NYJ Week 11…a good 'start'. Then Weeks 12-18 they will be crushed by schedule: MIN-BUF-ARI-LV-CIN-MIA-BUF. Do you really wanna hold them over through the Week 10 bye for Week 11 use, one last time?
 -- It was bound to happen. It's been weeks too long to happen. Frank Reich was fired as Colts head coach. Indy is one of the worst run organizations that is like a college program that is constantly trying to re-live, recreate its golden years…a stretch of total luck…that they got the random chance to draft Peyton Manning.
The Indianapolis Colts story in 7 small pieces…
1) https://youtu.be/57mSSV5ccKA
2) https://youtu.be/OY3zqn0yRD8
3) https://youtu.be/riN6V3oSQXU
4) https://youtu.be/wWPECRxsIVQ
5) https://youtu.be/bA0xF84vOzM
6) https://youtu.be/Wsp8VeoXxQY
7) https://youtu.be/NK3Jx2yvtVE
Snap Counts of Interest:
42 = H Henry
34 = Jonnu Sm
56 = Pittman
51 = Parris
44 = Pierce
34 = Alie-Cox
26 = Granson
18 = Woods
37 = Gibson
28 = Robinson