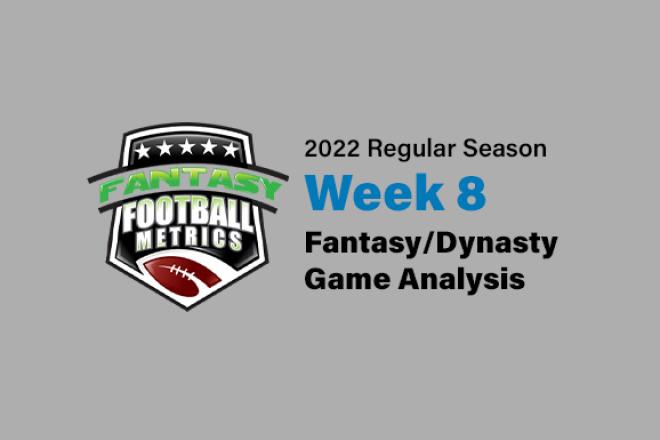 Ross Jacobs
Weekly Game Analysis
03 November 2022
2022 Week 8 Recap: Browns 32, Bengals 13 (by Ross Jacobs)
Obviously the Bengals got trounced here and there's no mystery why. They lost Ja'Marr Chase this past week to an injury that's going to keep him out for a while, at least the majority of the season if not all of it and they lost star CB Chidobe Awuzie in game (likely ACL tear), a massive blow to their defense.
In the modern NFL there are three positions that matter above all else: QB, WR, and CB. The entire game revolves around what teams can throw the ball efficiently and which teams can stop the opponent from throwing efficiently. It's the best strategy and the easiest path to success. That doesn't mean you can't occasionally win other ways, but there's no debate that the passing game is the core of football now. So when Cincy lost their best WR and their best CB...that all falls to pieces. They are a significantly worse team without those two guys because it creates a domino effect of much lesser players trying to step up.
I have a very hard time seeing how can recover from this. They are only a game behind Baltimore but the Ravens have a much easier remaining schedule. I think this week was the breaking point for Cincy. It's Baltimore's division to lose now.
You'll notice that I'm ignoring the Browns in this equation, and maybe that's not totally fair. They have a rough patch coming up and are likely to fall to 3-8 before Watson is eligible to return against the Texans. And I know Browns fans want him to come in as a savior but that's not likely to happen considering he hasn't played football in several years now. At best Cleveland gets to maybe 8 wins by the end of the year...at best. More likely they finish with 6 or 7. This simply isn't a good team, not bad but not really good either.
Fantasy Player Notes:
 – With no Chase to threaten teams deep, the offense resorted back to checkdown ball...Joe Mixon was by far the heaviest target for Burrow and it was because of the same two issues they dealt with early on: no time to throw and nobody separating. This kind of game plan favors Tyler Boyd but he was well covered in the slot here. Cleveland's defense obviously knew exactly how the Bengals planned to attack them and they countered it perfectly. Cincy will have to come up with something new, some way to protect Burrow and give him just a little more time or they are going to look like this every week.
You would expect Tee Higgins to step up here with Chase out but he didn't, not really. He had an ok fantasy day that was saved by a 41 yard TD that he took away from Greedy Williams. Other than that one catch he had 2 catches for 8 yards. Maybe he's still recovering from his own injury because he was not separating at all. He doesn't look like himself so he's clearly not at 100%. The Bengals need him to return to form if they want to have any chance of taking down this division.
 – The Browns rolled with their usual plan and it worked of course. Nick Chubb is just so good. The Bengals had him bottled up early but eventually he found a few creases and just beat them into submission.
 – Honestly the Bengals were keeping this game close until the Awuzie injury happened and Amari Cooper started roasting the backups. That was the event that broke this game open for Cleveland in the 3rd quarter. Amari has been one of the most underrated players in fantasy this year...maybe this game will change that.
 – With Njoku out many people expected Harrison Bryant to have a big game but he was barely even looked at. Maybe he'll have a moment but the game plan here was simple and obvious. Chubb, Chubb, and more Chubb with the occasional shot play to Cooper and DPJ. There are better waiver wire TE's to stream than hoping for a Bryant day.
Snap Counts of Interest:
69 = Peoples-Jones
57 = Cooper
34 = Bell
53 = Bryant
37 = Chubb
33 = Hunt
52 = Higgins
51 = Boyd
24 = Thomas
38 = Hurst
38 = Mixon