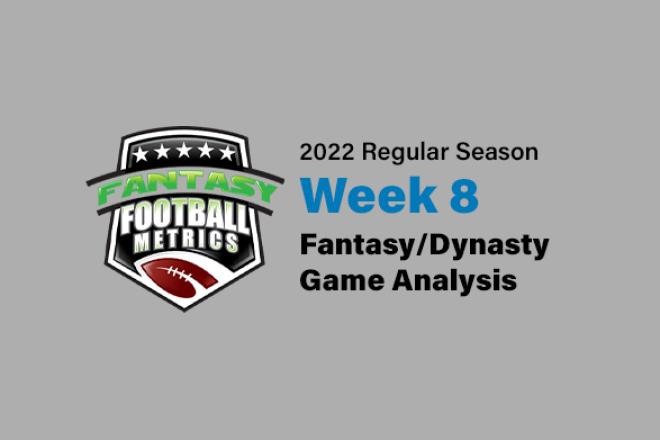 Ross Jacobs
Weekly Game Analysis
01 November 2022
2022 Week 8 Recap: Saints 24, Raiders 0 (by Ross Jacobs)
I've got nothing wild to tell you about this one. It was a straight ass-kicking. The Saints just bodied the Raiders from the opening kickoff and never let up. The defense especially was downright suffocating even without Marshon Lattimore and the offense was good enough.
I'm still trying to figure out what the heck happened here. The Saints have given up 28 or more points in each of their last 4 games and suddenly they look like a top 5 defense again? And against a Raiders offense that's scored 29 or more points in each of their last 3 games. Go figure. Just when you think you've got things figured out, the NFL will go and surprise you.
Somehow the Saints have pulled within a game of the lead in the NFC South (the Falcons!) so the rumors about Kamara getting traded are out the window. They aren't going to change a thing so long as they are still in the race. Maybe if they had lost this game but not now. Now they feel emboldened. That also means they'll stick with Dalton at QB. He's playing efficiently right now, much less erratic than Jameis so he'll stay the starter. The schedule ahead doesn't look particularly difficult either with the Bucs and Rams reeling so maybe they can get back into it. I still think they finish with 7-9 wins or so. Maybe that's good enough to win the division if Tampa can't get things right?
Just when it looked like Vegas was starting to right their ship after a bumpy start, they allowed this to happen. RC and I thought they might be able to fight their way back into a 2nd place AFC West finish but that dream just took a massive hit. I mean, there's talk the Broncos could fire Hackett soon, halfway into his first season due to how disastrous they look, but Hackett has a better record than McDaniels at this point and reports have come out that Mark Davis had another long meeting with McDaniels last night. I had already heard rumors two or three weeks ago that Raiders owner Mark Davis regretted letting Gruden and then Bisaccia walk away so this thing is on the edge of blowing up already.
Luckily for McDaniels he gets the Jaguars, Colts, and Broncos the next three weeks, three of the only teams that look worse than the Raiders. He needs to come out of that stretch with at least two wins including beating the Jaguars next week. If that doesn't happen I think he's gone.
Fantasy Player Notes:
 – Think Davante Adams is regretting his choice to leave Aaron Rodgers for Derek Carr yet? I know Adams is still having a top 10 WR season so far, it's not like things have completely cratered, but the ups and downs have got to be incredibly frustrating. Obviously Adams came into this game not at 100% due to a nasty case of flu he suffered through the week before, but he was getting swallowed up by every Saints corner covering him. I think the issue is more Carr/McDaniels/the o-line than Adams but whatever the reason it's dragging down his stats in fantasy. There's not much you can do but ride it out at this point.
 – Speaking of Carr, he looks like crap right now. I'm always the first to say "don't just blame everything on the QB" but he seriously looks bad. There are a lot of factors at work here but it doesn't seem like he's reading the field at all, like all the reads are just to one side of the field and he's predetermining which side to go to and when everything is covered he either takes a sack or dumps it short but far too late for it to be effective. If McDaniels gets fired this year I'm not sure Carr will be back either. The dead cap hit on his contract is only $5 million next year so the Raiders can move off of him without an issue. They certainly aren't going to want to pay him $35 million next year, much less over $40 million in 2024 and 2025.
Ironically Saints head coach Dennis Allen was HC in Oakland when they drafted Carr and if he's still coach of the Saints next year they are likely going to be looking for a QB. That would be a logical landing spot for Carr if the Raiders choose to move on.
 – I warned this week about getting too high on Josh Jacobs because of his recent streak and look what happened. He had those three monster games but his first three games were all under 70 yards with no scores and that's what happened here as well. Jacobs has one more three game stretch against the Broncos, Seahawks, and Chargers where he should do well but the rest of the schedule is much tougher.
 – Mack Hollins managed a nice ppr day on the final drive. More than half his production came on that garbage time drive with Stidham at QB. He still looks like he's supplanted Renfrow as the second option in the passing game (for what that's worth). That guarantees that Renfrow will have a monster week against the Jaguars...
 – Foster Moreau caught 6 passes on 9 attempts but there was no purposeful attempt to get him the ball. It was almost all Carr dumping at to him while being sacked after Moreau was left in to pass block. Nothing worth getting excited about.
 – The Saints offense right now is quite simple...Kamara, Kamara, Kamara, Taysom, Olave, Kamara, Kamara, Taysom, Taysom, Kamara, Kamara, Kamara, Olave...repeat...
Alvin Kamara is the centerpiece and engine. They are getting the ball to him on something close to half of their plays and nobody can seem to stop it. He was especially effective when matched up with the Vegas linebackers in coverage thus 9 catches on 10 targets for 96 yards and 2 TDs. Since coming back from his injury he's averaged 27.5 ppg in ppr and the only three TDs he's scored over that time frame all came in this game. Even with no TDs he's averaging about 22 ppg. The only thing that can stop him is another injury or a surprise suspension in the middle of the season but that seems less likely by the day. Kamara is one of four elite backs this year along with Henry, CMC, and Barkley.
 – If Kamara is Batman then Taysom Hill is his Robin. When Kamara needs a play off that's where they go and it's still very effective even though the defense knows it's going to be a run 90% of the time. Hill averaged over 6 ypc here and came up just a few yards short of a rushing TD. If Kamara hadn't scored from so far out each time Hill likely would have gotten one of two. He's the guy whenever they get inside the 5 yard line. While all your leaguemates are struggling at TE pray for a couple of targets and a random TD to give them a decent week, you basically have a RB that throws an occasional pass which means a much higher floor and a higher ceiling because of the high value touches around the goal line. Outside of Kelce and Andrews there's not another TE as valuable as Hill.
 – Completely the trifecta of the Saints offense is rookie Chris Olave. Keeping the Batman analogy going, he's Alfred the butler. He only shows up every now and then, does the dirty work to take pressure off of Batman and Robin, and only gets appreciated by nerds. He's honestly a really solid player already. I didn't think much of him coming out of Ohio St but he's proven he definitely belongs.
The question of his fantasy ceiling in the future will come down to who his QB is...if it's Dalton or Jameis or Carr then he'll do about what he's doing now, a lot of 5-50-0/7 WR3 type games mixed with an occasional splash WR1 game where he catches a bomb TD. If he somehow gets an elite QB at some point then he could be the next Stefon Diggs.
IDP Notes:
 – Last week I highlighted Divine Deablo and he came through again, 14 tackles including 9 solo. He's one of the most overlooked defenders in the league right now for IDP purposes.
On the other side, Pete Werner is also putting together a fantastic statistical season averaging just short of 9 tackles per game. He's finally starting to get some attention as well. Of the two I think Werner is the better real life player but neither one is doing anything at an elite level. They are just cleanup guys in the middle, not making game-changing plays or anything. Still, defenses need solid players like these two.
My final note is on rookie CB Alontae Taylor, a guy that many draft analysts were very high on, and a guy I just didn't get. Well he impressed me here. The Raiders clearly had a game plan to attack him, mostly with Adams...and it didn't go well. He completely smothered Adams and was also impressive coming up to make tackles on Jacobs off the edge. Looks like the Saints found themselves yet another high level corner in the middle rounds of the draft. They have been the class of the NFL for several years when it comes to scouting DBs.
Snap Counts of Interest:
58 = Moreau
53 = Hollins
46 = Renfrow
42 = Adams (sat the final drive while Hollins and Renfrow played)
32 = Jacobs
20 = Abdullah
46 = Kamara
38 = Tre'Quan
37 = Olave
30 = White
21 = Callaway
47 = Juwan
37 = Vannett
23 = Taysom