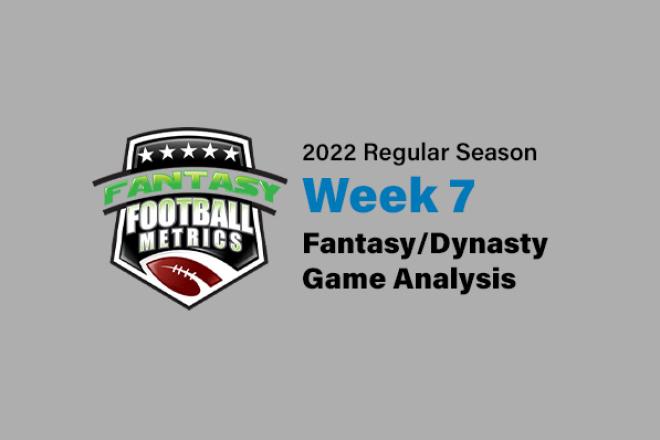 R.C. Fischer
Weekly Game Analysis
26 October 2022
2022 Week 7: Commanders 23, Packers 20 (Dynasty/Fantasy Analysis Game Report)
What a game. Very interesting.
Green Bay let a 1st-series pick-six go through their hands on the second play of the game. The next play, they dropped a downfield interception. Later they would nail Taylor Heinicke running for a 1st-down, causing a fumble from the massive blow that was then scooped and scored…but was called back for some minor defensive hold in pass coverage way away from the play. It was that kind of game for Green Bay…it's been that kind of season, a ton of near misses on defense and offense for Green Bay.
Despite all that, Washington was the better team this game. No doubt. You know how the NFC East has Philly undefeated and Dallas might be a top 5 or so team and how the Giants keep winning? Well, rewire your brains for = Washington is not bad at all…actually, they are pretty solid. They are now (3-4) and should be (4-3). They have understandable, quality losses to Philly and Dallas among their defeats.
Washington has a better-than-we-think offense, made better by Heinicke over Wentz…or about the same…'OK' QBs. Not terrible. And their defense is a lot better than anyone is thinking…and we'll get into that in a moment, for FF-purposes.
Washington is (3-4) and in the playoff hunt, so Antonio Gibson to the Rams is all but shut off. There's a path to 9+ wins with them, but it seems inconceivable. We see 7-8 wins but 9 wins possible…also 6 possible.
Green Bay (3-4) is better than their record, but also worse. Talent-wise they should be a solid (4-3) team, but effort-wise and coaching plan-wise they deserve to be (3-4) if not (1-6). Lucky to not be (1-6) right now. They've been outplayed in most every game, quarter by quarter, that they've played this year. Their Tampa Bay win earlier this year, that 14-12 drudgery win doesn't look so impressive anymore.
The Packers could rise from here, but I think they have too many issues and the collapse is underway. They won't fall too far because they have a good defense and Aaron Rodgers is a top 10 NFL QB, but they are so poorly coached, and there is no life in this team, and their O-Line is still bad, and they are losing WRs left and right. We very well could see a sub-.500 Packers team this year…all (incorrectly) blamed on Rodgers by the media.
GB will lose to Buffalo this week and fall to (3-5) and then probably lose three of the next 4 after that to fall to (4-8) and fall right out of the playoffs. We project Green Bay to 7-8 wins…but they could catch a wave and get to 9-10 wins. The Pack has some hope ahead, but seven games of sloppy, wandering play so far…outplayed by opponents -- I throw in the towel on the Packers. I don't know how they will get any better than where they are now…when they're actually getting worse/more injured. Four of their next 6 games on the road is not going to help either.
*Note any fractional numbers in parentheses (4/2) or (2/3), etc., are a 'quality start' or not marker on a player using 14 PPR points in a game for RB-WR-TE and 21 for a QB…point levels that are good/productive/well above average starts for a Fantasy week. Trying to identify trends, consistency (or not) in players we might not normally realize.
A (3/2), for example, means: 3 times the player hit at/above the mark, and 2 times they did not.
Fantasy Player Notes…
   -- Allen Lazard (6-55-0/7) definitely took a couple shots to his shoulder this game. He's wearing a sling this week. He could be out 1-2 weeks…it might be worse. Unknown severity right now. And this kills a lot of our FF teams this week and hurt Week 7…as Lazard got his good numbers basically in a half of play. All the juicy late passing situations he was out of the game for. He was headed to 10+ catches and 100+ yards EASY, but it's Fantasy 2022 and we can't have nice things because every player gets hurt every other play.
Is there an option off Green Bay who can be Lazard like while he's out?
No…especially Week 8 at Buffalo, are you kidding me?
Sammy Watkins (2-36-0/4) had one catch for 8 yards the whole game until the game's very last play, one of those deep throws and start lateral-ing around nonsense plays.
Romeo Doubs (0-0-0/4)? I'm sure they'll try it on short passes with him…because he's not getting open downfield.
Amari Rodgers (2-14-0/3) should get more run, but everyone in GB hates him…including the coaching staff.
Robert Tonyan (3-32-0/4) may be in-line for a big target surge out of pure necessity.
I don't trust any of these non-Lazard WRs against Buffalo…and there's been no reason to with the way the offense is dragging along yardage-wise. Tonyan is something but there are several other waiver-ish TEs who have way better matchups to mess with.
 -- Onto the Washington WRs…
Terry McLaurin (5-73-1/8) is not saved by Heinicke/no-Wentz. This happened last year…McLaurin was operating as his same WR2-3 self in this game with a couple catches for 40 yards but then Heinicke flings up a deep ball prayer to TML later in the game…and it landed, and a big week was had. There's no consistency with McLaurin…you're hoping for a big play TD…but you could say that about Mooney or Claypool or Mack Hollins or a bunch of other good WRs week-to-week.
I'm not saying McLaurin is bad or bench-worthy, just he's not fixed or someone to go get because he got a perfectly thrown bomb tightly covered and it landed in just the absolute right spot late. It happened this way every 3-4 games with Heinicke-McLaurin in 2021. Last year, McLaurin was (4/13) with Heinicke and other random-start WSH QBs. This season, (2/5)…a similar pace. Most weeks he's a WR2-3 start…but people think he's a WR1, mentally.
Washington's best WR, of course, is Curtis Samuel (5-53-0/8, 5-26-0). Samuel is outscoring McLaurin 13.0 (PPR) to 12.1 in PPG so far this season, but McLaurin is seen as a WR1 hope and CSam just started hitting some league's waivers.
I don't have time to write glowingly about how good Samuel was in this game…the money catches and savvy runs, but you already know how I feel about Curtis. A solid game despite being covered by a top slot cover CB in Rasul Douglas (10 tackles, 3 PDs), who did an excellent job against Samuel…but Samuel did an excellent job right back at him.
Curtis Samuel is a buy low, a very stable/solid WR2-2.5 with WR1.5 upside. He's basically being given away or dropped.
 -- Quick QB notes…
Two more TD passes for Aaron Rodgers (23-35 for 199 yards, 2 TDs/0 INT)…he's just not getting any yardage to make good FF scoring.
Rodgers has 2 TDs passes in a game in five of his last 6 games…but in all 6 of those games he's thrown for less than 260 yards in each. He's averaging a career low 228.1 yards passing per game while he's 7th overall in TD passes. Since Week 2, he's 4th in TD passes behind only Mahomes-Allen-Burrow.
Rodgers hasn't 'lost it'…it's the play calling (they think they're a run team), and lack of weapons outside of Lazard.
On the other side, Taylor Heinicke (20-33 for 2021, 2 TDs/1 INT) had his typical game -- scrappy and mostly efficient game manager and made a few low probability throws that landed. He's a very solid low-end NFL/FF starting QB.
 -- Antonio Gibson (10-59-0, 3-18-1/4) is playing with a little more fire now that he's watching Brian Robinson (20-73-0, 2-13-0/2) take the lead. BRob looked good, but so did Gibson. Washington is going to ride this duo past the trade deadline and into December.
 -- I can't make a case for A.J. Dillon (4-15-0) to be kept on your roster at all. The more Green Bay falls, the more they turn to Aaron Jones (8-23-0, 9-53-2/10)…and I've said it a hundred times this year, but hoping it would somehow turn differently -- Green Bay's coaches/plan/QB only cares about Jones they don't care about Dillon.
First Green Bay TD… Allen Lazard makes a nifty catch and run down to the 3-yard line for a 1st-down. Aaron Jones then gets two cracks at the goal line runs; he scores on the 2nd try. The 240+ pound RB watched the goal line carries for the 205-pound guy from the sidelines, like usual.
Dillon has two values…
1) The same value Jaylen Warren or Samaje Perine, etc., has -- if the known, clear starter goes down the direct backup can go in and be close to or exceed the starter. So, there's 'hold and hope' value. Dillon is near valueless to use this week, but if Aaron Jones breaks his leg -- Dillon is an instant RB1. There's that value.
2) Half the Aaron Jones owners understand the above and thus desire Dillon protection insurance…you can make deals with the Jones owner where you can't really (for as much) with anyone else.
 -- Important DST note…
First, an aside from the DST that I want to discuss – the GB-DST failed us, mostly. Not terrible but not great for FF…good NFL numbers, weak FF numbers but had a decent game or two and a few mediocre ones. But for expectations, they busted. We all mostly left them weeks ago, but just note Week 7 was the line of demarcation…the schedule gets bad from here. So, no reason to hold the Packers going forward.
But what I really want to talk about is the Commanders-DST…as deeper sleeper.
Some random NFL metrics that are surprising on the WSH-DST:
#5 in Comp. Pct. allowed (59.1%)…that's pretty salty for a defense to hold 7 weeks of QBs to under 60%.
#7 in sacks…tied with Buffalo…good for FF purposes!
#5 in Pressure%...QB pressure per defensive snap.
#5 (best) in least missed tackles per game
#2 in 3rd-down conversion% allowed…a huge statistic/marker of a good defense (Green Bay is #3). A good marker for teams always in games. Teams that blowout opponents might give up a lot of 3rd-downs in prevent, etc.
Most other mainstream metrics not notes, Washington is middle of the pack in…yards, points allowed, etc.
The Commanders problem has been…
Dead last in Turnover% per defensive play...they are not forcing turnovers, bad for FF scoring. They are last in this category with a bullet. #31 isn't even close. It's very bizarre. This number along with being #31 in passing TDs allowed means the quality of the secondary is an issue…and probably why William Jackson got benched quickly.
Since getting back SAF Kameron Curl and benching William Jackson…3 games, (2-1) record, and should've been 3-0 but Wentz threw an INT in the end zone at game's end on goal-to-go to blow it versus Tennessee. They've only allowed 4 TD passes those last 3 games and held opponents to 21-7-21 for points, but GB scored a defensive TD, so really it's 21-7-14 points allowed the last three games.
Chase Young could be back to help soon?
They face Sam Ehlinger's debut this week…that could be good?
Then MIN-PHI Weeks 9-10, not great, but then Mills-Dan Jones-BYE-Dan Jones-Jimmy G.-Deshaun to finish the FF season.
Might be something for desperate/seeking? The FF analysts don't see it right now…despite facing Ehlinger in his debut this week, the WSH-DST is a consensus #16-18 in the places I look for the week.
Snap Counts of Interest:
35 = BRob
29 = Gibson
38 = Armani Rogers
27 = Cole Turner
23 = John Bates
48 = Doubs
32 = Lazard
30 = Tonyan
28 = Watkins
19 = Toure
16 = Rodgers
40 = Aaron Jones
16 = Dillon