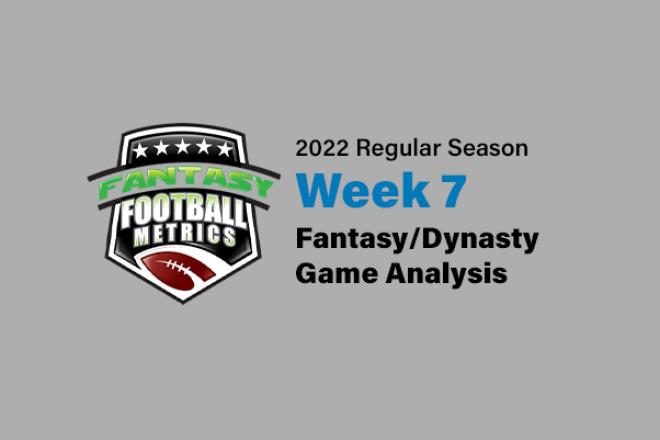 Ross Jacobs
Weekly Game Analysis
26 October 2022
2022 Week 7 Recap: Bengals 35, Falcons 17 (by Ross Jacobs)
This one was never close. The Bengals came out firing, the Falcons lost a few defenders in an already bad secondary, and Burrow just pulled away with ease. Atlanta tried to hang in it for a while, but they were clearly outclassed.
Early in the season, and going back to last year, I've been very much against Arthur Smith but I'm gaining an appreciation for him every week. What he's done with a very untalented team is actually impressive. It's easy to look at the usage of Pitts and think that Smith is holding him back, but that's not the core issue. Mariota has just become painful to watch at this point. He's the worst starting QB in the league and it's not really close. And obviously Matt Ryan is just completely done at this point. RC was right about that even last year. Let's reserve judgment on Arthur until after he gets a decent QB...if he gets one.
Also, credit to Pees and the defensive coaching staff for Atlanta as well. They are playing guys off the street in the secondary and getting by. They got clobbered in the first half here but made some good adjustments in the second half and kept the Bengals from going crazy. Atlanta, much like Detroit, just needs to bring in some more talent and they could be playoff contenders in a year or two. The Lions probably need one more year of acquisitions and Atlanta needs two more, but they are both on the right track.
Cincinnati finally made some adjustments to their game plan and started doing what they should have been this whole year. They had been trying to do the Rams play action offense but it wasn't working because the offensive line is corrupt. The past two weeks they abandoned that idea, put Burrow in the shotgun, and just let him run a spread passing offense...the same offense he destroyed college with. It's amazing that these coaches still try to force dumb schemes onto rosters that aren't built for it. Play to your players strengths and things will go much better for you.
Anyways, it seems the Bengals have finally learned that and things should be much better for them moving forward. Of course, I don't want to say it will be all sunshine and rainbows from now on for two reasons. One, the offensive line is still bad and Burrow was sacked 3 times even here. The Falcons barely have a pass rush and couldn't really take advantage. Cincy will continue to struggle in this aspect against better teams. But they are on the right track letting Burrow get the ball out of his hands quickly. Two, obviously the Falcons have a terrible secondary and it got worse here due to the injuries. Most teams aren't going to be this bad, so don't expect Burrow to throw for 450 yards every week. The offense is clicking better now, all I'm saying is temper expectations a little.
Fantasy Player Notes:
 – Yes, Joe Burrow is one of the best 5 QBs in the league. It's not a debate anymore and I'm not saying this because he lit up a ravaged Atlanta secondary. It's the way he is doing it. As RC and I have been saying since we saw him at LSU, he's the modern day Tom Brady, not the best arm ever but good enough, but just incredibly cerebral, always knows where every player is, what the defense is doing, where and when to checkdown...he's an assassin. If they could ever get him a real offensive line he will set records and I mean really breaking records, better than 2007 Brady, 2013 Manning, and 2018 Mahomes. Burrow could legitimately be the first QB to throw for 6000 yards or 60 TDs someday.
The schedule ahead is very friendly and I expect Burrow to finish as a top 3-4 QB this year easily.
 – As Burrow continues to ascend he's taking all his receivers with him. This week he carried Tyler Boyd to a monster game. Most weeks it's going to be Tee Higgins instead. Boyd is very good but he's definitely still the #3 option most of the time. With the right matchup though he can go off. He's flex worthy the rest of the year.
 – With the passing game going to new heights it's going to drag Joe Mixon down a bit. They can't block for him anyways so his numbers are going to come from TDs and a bit of yardage grinding out games late. He's a back end RB1 or RB1.5 which is better than nothing right now.
 – The Atlanta offense is trending the complete opposite of the Cincy offense. Marcus Mariota is holding this team back so badly right now. I get why they don't want to try Ridder (he's not very good either and they are scared to go to the rookie while they are still in the playoff race) but it's past time to at least try it out. Even if Ridder isn't great he's got to be better than this...
 – Until a change at QB happens you can't use any receiver on this team. Not Pitts, not London, and definitely not Damiere Byrd...that was a freak broken play on Cincy's best cornerback and Superbowl hero Eli Apple...wait that's not right...
Pitts missed a near TD twice, once on a PI call and again getting stopped at the 1 yard line. It doesn't matter though, there's just not enough volume right now to matter. You can't play him right now, better to just stream TEs.
 – One positive change though is that Tyler Allgeier seems to have grabbed a solid lead in this backfield over Caleb Huntley. I like Huntley. I've been impressed with him going back to the preseason. He's turned into an explosive runner but he just doesn't have the instincts that Allgeier does and it costs him yardage at times. Huntley is good but Allgeier is the future, at least until Atlanta picks Bijan Robinson in the 2023 draft.
Allgeier looks to be the lead until Patterson is ready to go, which will be a juicy matchup with the Chargers in week 9 at the earliest. There's been no update on Patterson yet, so we'll continue to monitor and see if he's back at practice next week. When he does come back I expect them to ease him into a rotation with Allgeier. They can't afford to get him hurt again so his days of seeing 20+ carries are likely over.
IDP Notes:
 – Don't look now but Rashaan Evans has 10+ tackles in 4 of his last 5 games, granted against a lot of run heavy teams. Don't see why he can't continue that streak even with Mykal Walker on the field again.
As expected Walker returned from his injury and sent Troy Anderson back to part-time. Anderson still had 6 tackles playing just 40% of the snaps though, so it's only a matter of time until he takes over, probably not until 2023 though. It looks like Evans and Walker can coexist for tackles
With Logan Wilson out it was Akeem Davis-Gaither that stepped up and he played really well. 9 tackles on about 70% of the defensive snaps and the only other time he's played that much this year he logged 13 tackles. If Wilson is out Davis-Gaither looks like a fine spot starter, but the early reports are that Wilson is going to try to play against the Browns on Monday night.
Snap Counts of Interest:
63 = Chase
57 = Higgins
51 = Boyd
42 = Hurst
49 = Mixon
40 = London
29 = Zaccheaus
16 = Byrd
37 = Pitts
32 = Hesse
29 = Allgeier
11 = Huntley