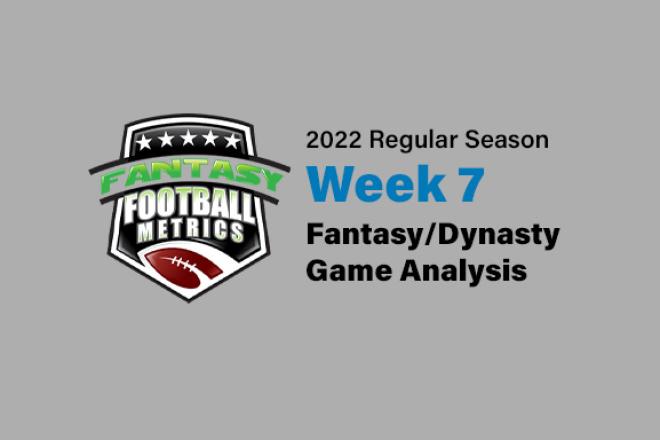 R.C. Fischer
Weekly Game Analysis
26 October 2022
2022 Week 7: Ravens 23, Browns 20 (Dynasty/Fantasy Analysis Game Report)
What a shame the Browns lost the game…they were, arguably, the better team but just a few little things/just missed/near-miss things or bounces went against them at just the wrong time and the Ravens held on for the win.
The Browns hit a 40+ yard TD pass with 2+ minutes remaining, for what would have been a 27-23 lead…but Amari Cooper got called for offensive P.I. (and it was legit) on his TD catch. The Browns attempted to kick a late game tying field goal and it got blocked. It was just one of those games. Both teams fought and played well enough to win…Baltimore won it in the end.
The Ravens jump to (4-3) with a pretty favorable schedule ahead. They are going to the playoffs with a shot to win the division. We project the Ravens to 10 wins and a wild card right now.
The Browns REALLY needed this game because they have the opposite issue of the Ravens…they have a rough schedule ahead. They've lost four in-a-row…in a stretch where I wondered if they would lose 6-7-8 in-a-row…their next 4 games they will be underdogs to CIN, bye, at MIA, at BUF, TB. If the Browns can beat Cincy to get to (3-5) and then win just one of the next 3 games somehow to get to (4-7)…they will then get Deshaun Watson back for the final kick to try and get to (9-8). It's too long of odds, but with the way injuries are hitting the league, almost no decent team is ever out of anything. What if Joe Burrow tears his ACL at practice tomorrow? Still, we project the Browns to finish with 5-6 wins tops.
*Note any fractional numbers in parentheses (4/2) or (2/3), etc., are a 'quality start' or not marker on a player using 14 PPR points in a game for RB-WR-TE and 21 for a QB…point levels that are good/productive/well above average starts for a Fantasy week. Trying to identify trends, consistency (or not) in players we might not normally realize.
A (3/2), for example, means: 3 times the player hit at/above the mark, and 2 times they did not.
Fantasy Player Notes…
   -- Well, I guess Gus Edwards (16-66-2, 0-0-0/1) was the resounding winner of the Ravens backfield wars, post-Dobbins. He was. The Ravens basically slowed their entire offense to a crawl to feature lots of Gus.
But look at that stat line. Against one of the worst run defenses (#24) in the league, Gus went 16 carries for 66 yards. Not that great…BUT he scored 2 short TDs, so he's a god among men/FF RBs. He looked fine, but he wasn't amazing or an RB an offense should work around…but the Ravens did…and they will going forward, until Dobbins is back -- then it will be a 50/50-ish type duo with Gus-JK.
Many thought that Kenyan Drake (11-5-0, 0-0-0/1) would be the Week 7 winner…coming off the Week 6 game with 100+ yards rushing. Nope. As I suspected…he fell to earth. Now, he has no real FF-value. Congrats to those who sold this hot prior to Sunday.
Secretly, the Ravens best RB, and it isn't even close (to me) -- is Justice Hill (5-26-0, 0-0-0/0). That guy is making 2023 money every time he touches the ball this year. Hill was kinda leading, co-leading the final put-the-Browns-away late drive to work the clock but on another slick interior run, Hill made yards -- but fumbled on his way to the ground…a lost fumble with 3+ minutes left up by 3 points…giving the Browns a new lease on life.
The great news is -- when Baltimore got the ball back trying to run the clock back out…Hill was back in the game, 2nd play of the series…no punishment. Nice to see.
I believe Gus is going to lead the way without Dobbins with support from Hill, then some minor support from Drake…if Drake is even active in games (like a few weeks ago when Drake went inactive for two games, yielding to Hill).
 -- Tight end notes from this game, injury-based…
David Njoku (7-71-0/7) has been straight PPR fire for several weeks now but sprained his foot in-game and is projected to miss 2-5 weeks…probably 3-4 weeks out. Njoku is (3/4) this season…and (3/2) his last 5 weeks…a stretch where he's averaged 6.0 rec. (7.2 targets) for 75.8 yards and 0.17 TDs per game. The 3rd-best TE in PPR for FF…now lost for a few weeks.
Will Harrison Bryant (2-15-0/2) assume the Njoku role? Yes, probably to some degree…but he's not likely to match that hot streak Njoku was on. Njoku became a desired weapon…Bryant will likely just be 'an option', but on the field more in the receiving role…and he's a decent TE.
Mark Andrews (1-4-0, 0-0-0/2) got halted in this game. Some people say it was because he's hurt because he missed some practices during the week -- but he looked fine here and played 88% of the snaps. He even lined up in the backfield for a carry and lined up at QB and handed-off! I think his missed practices are minor issues and just keeping him safe/healthy/fresh. Cleveland planned to take him out, and they did with double teams. It worked.
 -- First three games of 2022, Lamar Jackson (9-16 for 120 yards, 0 TD/0 INT, 10-59-0) threw 10 TD passes with 2 INTs and had two 100+ yard rushing games and 2 rushing TDs and was the hottest thing in FF. In his four games since, Lamar has 3 TD passes/4 INTs and under 200 yards a game passing with no 100+ yard rushing games and no rushing TDs.
The more 'normal' Lamar is 0-1 TD passes, less than 100 yards rushing and not a TD run. Lamar is swirling down the drain again, like last season. The first three weeks of 2022 appears to be a head fake. Lamar is a (3/4)…with 4 straight non-quality starts in a row.
As Lamar dies, so does Rashod Bateman (4-42-0/5) for FF. Bateman is a (1/4) this season…averaging 3.0 catches per game and four of 5 games under 60 yards.
Devin Duvernay (2-42-0/3) was supposed to get so much extra work this week…but he didn't, as usual…despite making a tremendous long-ball, diving catch on the first series. Nothing this guy does impresses the staff.
With Lamar, all you can do is pray for a turn…that he jump starts his free agency push. However, he does have a respected name…it's worth more than his reality…he is tradable.
 -- I don't think Kareem Hunt (5-4-1, 1-4-0/2), but if the Browns lose to the Bengals to fall to (2-6) with that schedule ahead, then maybe they cash out. But that's the thing…what are they going to get for him? They are set up for a 3rd-round compensatory pick for him in free agency next season. Are they going to get better than a late 3rd round pick for him? He's a rental…not a savior.
We'll see IF the Browns lose this week and IF they get a decent offer for Hunt. The Rams make sense in the matchmaking sense -- but are the Rams willing to spend on a mild upgrade from Darrell Henderson? What other team would? Today, there really isn't one. If the Browns and Rams both lose…maybe this happens next Monday.
Cleveland really doesn't have to do anything unless they are blown away by an offer.
 -- Donovan Peoples-Jones (6-71-0/6) has been playing very good football/WR this season…and has been racking numbers the last 4 weeks: 5.0 rec. (6.7 targets) for 66.7 yard and 0.0 TDs per game. His catch/yards count puts him as a strong WR2…the lack of TDs throws him (0 this season) pushes him to more WR3. But he's getting the work of a strong WR2…you could use him in a pinch and hope for a TD to launch a WR1 week. He is due.
He's an (0/7) this season but double-digit PPR games in three of his last 4 games.
And his running mate, Amari Cooper (3-74-0/3) really looks good…looks like a WR1. He's a (4/3) this season and TD called back in this game from a (5/2) with the five coming in his last 6 games. Might he go higher with Deshaun in a few weeks?
 -- Browns rookie DE Alex Wright (2 tackles, 1 TFL) has drawn a buzz in Cleveland since the preseason seemed like he was all over the backfield several snaps this game…then when I look at the numbers…no sacks, no QB hits this game…and no sacks or QB hits this season either. But I always see him near disruption on tape. It's weird. I've got my IDP eye on him in big/deep IDP dynasty roster situations.
Snap Counts of Interest:
23 = Gus Edwards
20 = Justice Hill
17 = Kenyan Drake
42 = Duvernay
36 = Bateman
15 = Demarcus Rob
56 = Andrews
07 = Likely
37 = Njoku
34 = H Bryant
11 = Ph Brown
34 = Chubb
28 = Hunt