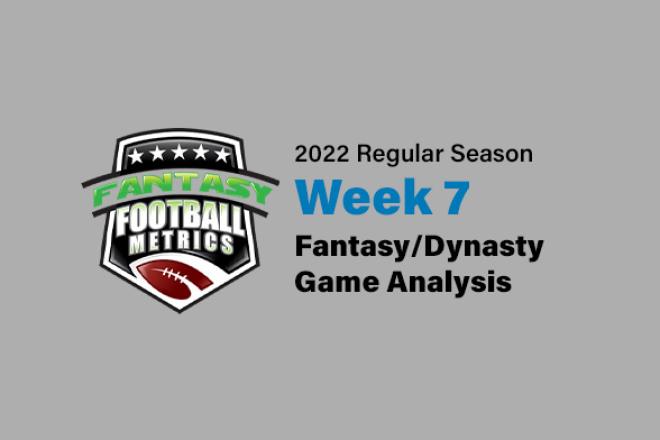 R.C. Fischer
Weekly Game Analysis
25 October 2022
2022 Week 7: Panthers 21, Bucs 3 (Dynasty/Fantasy Analysis Game Report)
I wasn't sure what I would see on the rewatch here. Did the Panthers really just manhandle the Buccaneers? Was it lucky/fluky? Is Brady 'done'…or distracted?
My summary of this contest would be:
*Carolina outplayed the Bucs, for sure. Carolina was energized from the opening bell…and the Bucs sleep walked through another game.
The Bucs are in trouble. This is a wildly overrated coaching staff, and O-C Byron Leftwich has zero answers for anything, per usual. This team is all about Brady -- keeping him protected, supporting run game (or not), receivers getting open/catching the ball. The coaching staff is there to lead calisthenics and manage personnel, while Brady does everything else…this coaching staff adds nothing else to this team -- as witnessed by the abomination of their last two games/losses, and their whole season so far.
*Brady looks mostly fine...it's just his surrounding team is dead and/or letting him down. This game should've been 7-0 TB in a blink, but Mike Evans dropped a wide-open (by 10 yards) 65-yard bomb put right on the money by Brady. I wonder how this game would have changed had Tampa took a 7-0 lead off a 65-yard bomb to start. We'll never know.
Carolina is now (2-5)…a game out of 1st-place in the NFC South. Apparently, they just needed to get rid of Christian McCaffrey to get going? They have a pretty manageable schedule ahead…this team could win 4-5-6 games, but I'll guess this game was as much about how bad the Bucs are than any Carolina 'revival' or Cinderella story to come.
Tampa Bay is now (3-4) and tied with Atlanta for 1st-place in the NFC South. I'm guessing TB will still find a way to win this division but that's in serious doubt now…but what's the alternative? The Falcons? These Panthers? The Saints? Honestly, in this bizarro NFL 2022…any of these teams winning the NFC South would surprise me. Nothing should surprise me anymore after a -13.0 favorite Tampa gets walloped by P.J. Walker in an 18-point smackdown.
*Note any fractional numbers in parentheses (4/2) or (2/3), etc., are a 'quality start' or not marker on a player using 14 PPR points in a game for RB-WR-TE and 21 for a QB…point levels that are good/productive/well above average starts for a Fantasy week. Trying to identify trends, consistency (or not) in players we might not normally realize.
A (3/2), for example, means: 3 times the player hit at/above the mark, and 2 times they did not.
Fantasy Player Notes…
   -- The biggest FF news from this game was the big-time Panthers run game, post-CMC…out of nowhere.
Chuba Hubbard (9-63-1, 2-10-0/3) started but the second snap of the game, D'Onta Foreman (15-118-0, 2-27-0/2) was in the game. They were definitely rotating in and out by plan…but by the looks of things, Hubbard was the one getting the bigger push early…and then Foreman got touches in the 2nd-half and was so much more effective a runner that they just stayed with Foreman to run down the battered Bucs to the end.
I think they leaned Hubbard as their guy as a plan going in but with heavy rotation, but then Foreman's efforts down the stretch probably have them rethinking that ahead. Foreman is the much better runner and he's fine in the passing game too. Hubbard has some pull on the Panthers for some reason, so he'll have his nose in there on touches as well as we go.
Raheem Blackshear (2-0-0) was a non-factor.
My projection from here on this backfield is: 50/50 split, hot hand, lean Foreman on talent and scheme fit but Hubbard is right in there as more the passing game desire. Assuming the Panthers aren't leading most games by two+ scores in the 2nd-half of games…assuming they're behind more than not, Hubbard will get good, easy pass game work at a minimum.
There's value in both for FF purposes…but also fear/risk that their tougher run defense matchups ahead will stunt both, plus this isn't usually a high functioning offense.
 -- QB notes from this game…
I was looking hard at it again…watching to see if there is any fall off in Tom Brady (32-49 for 290 yards, 0 TD/0 INT) happening. I don't see any issues. Again, Brady should've started this day with a 65-yard layup TD to Mike Evans…but he didn't and things went downhill from there.
What I see: receivers aren't getting open…terrible routes being run right into coverage, so Brady is having to force passes he otherwise wouldn't. He is connecting on some great throws still…but throwing into trouble other times. He's not taking the easy way out with dump passes -- he keeps gunning downfield, which is odd…impatient of him. But as far as his skill, etc., goes…this is not on him.
If he's your main Fantasy QB in a QB-friendly scoring…and you're FF-dying with him…you're pretty much stuck -- you either get a Brady turn ahead, that he is capable of, or it doesn't happen for whatever reasons and you're going to lose out this season catching Brady in a Tampa Bay O-Line, WR. Coaching staff downfall.
With Tampa's defense falling apart and the Bucs have NO run game at all…Brady is going to have to throw 40-50+ times a game, and that should lead to some decent passer tallies…or hopes of it anyway.
Brady is a (2/5) this season, so far.
P.J. Walker (16-22 for 177 yards, 2 TDs/0 INT) looked like the more calm QB here…he was very safe/sound leading this offense. His low probability throws all seemed to land/get caught brilliantly…while Brady's seemed to get dropped.
There is no big upside in Walker from this game…just a solid day against a wounded defense/team.
 -- Leonard Fournette (8-19-0, 2-7-0/3) is less and less effective as we go…he's a plodder RB running behind the worst run blocking unit in the league. Fournette is averaging 3.5 yards per carry this season. Given the O-Line/blocking issues…he's suddenly a trusted-by-Brady RB in a bad spot and is surviving off pass catching in PPR (4.9 rec., 34.1 yards per game with 3 rec. TDs) -- and he's not the most ideal pass catching weapon.
The Bucs best RB pass catching weapon is Rachaad White (6-24-0, 1-8-0/2), who is playing more and more snaps and getting more touches as we go on with the season. But he's averaging 2.7 yards per carry behind this bad O-line…but he looks like the Bucs best hope, over Fournette, any time he touches the ball. Fournette is a (4/3) PPR so far this season.
A few more losses with a struggling offensive output -- we might see Tampa pull the trigger and make changes across the board, including a switch to Rachaad White as the lead.
White has played 100 snaps his past 4 games…that's not bad for a backup RB. Something to watch developing here…if TB continues to struggle.
 -- Two TB receiver notes…
1) Brady is looking to Mike Evans (9-96-0/15) like Evans is his only hope. If Brady goes ultra-high volume ahead…Evans is going to be a great WR1 going with.
Later, in-game, Evans came up hobbling like he had a calf issue or something like it…he played through it. Let's watch the injury reports on this one this week.
2) The Brady to Cade Otton (4-64-0/5) connection looks pretty smooth. While Cam Brate is out, Otton has fringe TE1 hopes in a given week. And Brate may not be back for a while/ever, so Otton might have some hope for consistency ahead.
 -- D.J. Moore (7-69-1/10) had a nice game here. He's all that's left to throw to, and Tampa Bay was missing several secondary starters. Another terrific matchup for DJM this week vs. ATL…if A.J. Terrell is out.
Terrace Marshall (2-31-0/3) started with Robbie Anderson gone…and played 86% of the snaps. Great matchup vs. ATL Week 8 for him if D.J. Moore has to deal with A.J. Terrell…and even if not he's a sleeper for the week.
 -- For what it is worth, this Carolina-DST, under Steve Wilks, has allowed 24 points to the Rams (Wk6) and then held Tampa to 3 points here. That Rams game was Carolina holding LAR to just 7 points in the 1st-half. All this solid performance without Jaycee Horn, their ace CB.
They might get Horn back this week. The team is now IN the playoff race, shockingly…and they have Atlanta two times in the next 3 games…their easiest matchups in the Wilks era. They might be something for the DST needy this week.
 -- Carlton Davis, the TB ace CB was out this game…and rookie CB Zyon McCollum (3 tackles), who I really like as a prospect, started for TB this game -- he was playing a zone coverage a lot and kept picking the wrong receiver to chase after and also had a blown assignment in the run game -- McCollum was probably the greatest single-issue TB had this week. If Davis is out again, they may have to start McCollum again Week 8 -- good news for Lamar Jackson.
Snap Counts of Interest…
50 = DJ Moore
43 = Terrace Marshall
25 = Shi Smith
27 = Foreman
23 = Hubbard
05 = Blackshear
54 = Otton
18 = Ko Kieft
08 = K Rudolph
40 = Fournette
29 = Rachaad White