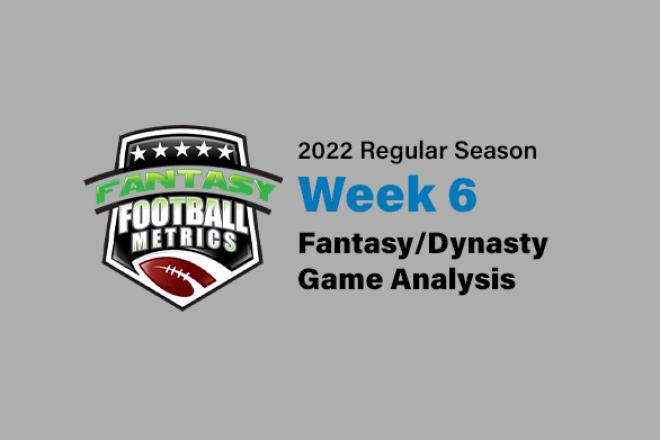 R.C. Fischer
Weekly Game Analysis
21 October 2022
2022 Week 6: Vikings 24, Dolphins 16 (Dynasty/Fantasy Analysis Game Report)
This was a really interesting battle of two of the best teams in football…two of the teams no one is really thinking are Super Bowl contenders, but they are…not the favorites, just they're top 10 teams…win a playoff game type of teams.
Miami lost their 2nd-string QB in-game here and was down to their 3rd-string QB, also missing its best offensive lineman, and lost a nice starting slot CB (Needham) in-game…yet they hung in with Minnesota all game.
Two good boxers exchanging punches all game. Miami down 16-10 with 4+ minutes left and driving down the field into Vikings' territory, and Jaylen Waddle caught a 1st-down pass and was taking off towards the red zone when he got hit and lost the ball -- turnover to Minnesota, and an epic change of fortunes. Minnesota scored on a broken play/long Dalvin TD run and pretty much sealed the deal. Miami raced down to cut it to one score late but couldn't get the onside kick…ballgame.
I am WAY impressed every time I watch Miami play. I think Miami is more a top 5 team in the NFL right now, then a fringe top 10 team -- top 5 when they're at full strength, which they haven't been for three weeks, and thus three-straight losses (against really good opponents).
Miami (3-3) has played six games…and all six against playoff teams for 2022. They face four non-playoff teams the next 4 games: PIT-DET-CHI-CLE…then a BYE, then another non-playoff team HOU. That's five winnable games Miami could book. I believe Miami, if they keep Tua and Terron Armstead and their other stars healthy, will win 10+ games and be a playoff team.
Minnesota is quietly (5-1). They're not flashy…they're just good at football. Sound, well-coached, and getting better on defense as they go. They should easily book 10+ wins, probably 11+ and likely an NFC North title at the rate Green Bay is going.
These two teams are arguably the two most well-coached teams in the NFL…up there with New England and Tennessee. And I think all four will find their way to the playoffs…maybe the Pats have a winning record but can't get over the hump/to the playoffs.  
*Note any fractional numbers in parentheses (4/2) or (2/3), etc., are a 'quality start' or not marker on a player using 14 PPR points in a game for RB-WR-TE and 21 for a QB…point levels that are good/productive/well above average starts for a Fantasy week. Trying to identify trends, consistency (or not) in players we might not normally realize.
A (3/2), for example, means: 3 times the player hit at/above the mark, and 2 times they did not.
Fantasy Player Notes…
   -- A fact/event that sailed under some radars…
Skylar Thompson (7-13 for 89 yards, 0 TD/0 INT) started this game, despite Teddy Bridgewater (23-34 for 329 yards, 2 TDs/2 INTs) getting cleared late in the week.
They can say: 'Well, Skylar practiced with the 1s all week and Teddy didn't get cleared until late in the week.' Yeah, but Teddy was able to practice. And you're telling me the experienced highly paid 2nd-string QB (Teddy) could go right in and replace the 3rd-string rookie (Skylar) on short notice leading up to game day?
If it was: 'Well, Teddy was still coming off concussion.' Well, then don't activate him for the game…but they did. This, to me, was a message that Miami sees Skylar right there or better than Teddy. Skylar could be the real plan if Tua goes down again. And whomever the Miami QB is, with those weapons to work with, is a QB1 hopeful any given week. Maybe I'm just seeing things that aren't there -- but this was odd happenings for the typical way an NFL team would operate.
Skylar got hurt in-game and Teddy came in and was fine. The two QBs combined for 418 yards passing and 2 TD passes.
Tyreek and Waddle work fine with any of them but best with Tua…and Tua is a serious QB1 threat ahead if he stays healthy. Like a top 5-8 QB in 6pts pass TD leagues type QB…if he doesn't have the yips from the last time he played/the big concussion event.
 -- Raheem Mostert (14-49-0, 1-0-0/2) had a dud game, and he's an old name, so no one cares -- but I think he's got RB1 potential. He's getting the touches…15-18-14 carry counts in his last 3 games. He's also returning kicks.
Losing Tua didn't help, but really it's been Terron Armstead not playing or playing hurt and leaving games in-game hurting some of this run game. When Miami gets Tua and Terron and then Austin Jackson off IR (soon)…then this offense is back at full strength.
Mostert is a (1/5) this season, but a (1/2) since taking over as the full lead the last three games.
Chase Edmonds (2-3-0, 2-28-0/2) is just a hurry up offense/passing game back and probable handcuff. Myles Gaskin disappeared from his minor backup spurt a few games ago.
 -- I have no idea why Miami would be compelled to trade Mike Gesicki (6-69-2/7), but the media seems convinced on the idea. The Dolphins have sunk costs into him…this new regime extended/brought him back for 2022 -- they could've let him walk or moved him months ago if they so desired.
Gesicki is a free agent at the end of the season. What are they going to get for him…a day 3 draft pick? They'll get that in free agent compensation after he ends the season and leaves. Why not just use him for the asset he is and then be done?
The trade rumors on him are totally illogical. Some team would have to offer something crazy to take him on…why would they? Maybe if they offered an equal starter at another position Miami needs, but when do trades like that ever happen in-season…starter-for-starter, close in payroll situations?
Gesicki had a nice game here…a season high in snaps, catches, targets, yards, TDs. He can be a weapon of some use for them. He's a random back-end TE1 hopeful any given week on the hopes he gets a TD. He could be a back-end TE1 consistently ahead…getting TDs when so much coverage attention goes to Tyreek-Waddle.
 -- Just a quick note on Jaylen Waddle…he made a big catch & run play at the end of this game, and when he got tackled, he landed sideways with full body weight of the tackler crunching him -- he really hurt his shoulder area pretty good.
He's questionable for Week 7 as of this writing, and he might play…but I bet that shoulder keeps him more as an outside receiver and less getting bubble screens, etc., to keep him out of dog piles/big hits. Just speculation on my part if you see him limited all week of practice.
Waddle is a (4/2) so far this season.
 -- A quick note on Adam Thielen (4-36-1/8) because I've been watching him closer the past few weeks as maybe a veteran/'old' player we all might wanna add for a stretch run…but Thielen definitely has lost some juice. He does not look like that top WR of days gone by. He's fine. He'll be a WR3 +/- with WR2 hopes, but that great TD maker and big game guy doesn't seem to exist anymore.  
However, Thielen is running as a (3/3) so far…that's useful…more WR than WR3. 
 -- It looks like Danielle Hunter (6 tackles, 1.0 sacks, 2 TFLs, 3 QB hits) is perking up. Kinda quiet the first 4 games, and then 6.0 tackles, 1.0 sacks, 2.0 TFLs, 2.0 QB hits per game the past two weeks.
 -- Couple notes on these DSTs…
Minnesota has an OK defense. It's getting a little bit better as we go, but still they just gave up 400+ passing yards to Skylar-Teddy. Useful in a favorable matchup is their lot in FF-life right now. Week 9 at WSH seems like the only use spot ahead for the ROS.
Miami's defense impresses me more…they just play with nice energy, and they have a good-looking front and cover nicely on the back end. Not perfect…not great, but really good. They held Minnesota to 234 total yards here. They've had a tougher schedule this season, but they get PIT-DET-CHI-CLE-bye-HOU then next 6 weeks/5 games…there is some DST usage in there.
Snap Counts of Interest:
54 = Teddy
24 = Skylar
48 = Mostert
31 = Edmonds
62 = Waddle
60 = Tyreek
52 = Sherfield
50 = Gesicki
21 = Hunter Long
33 = Irv Smith
29 = Mundt