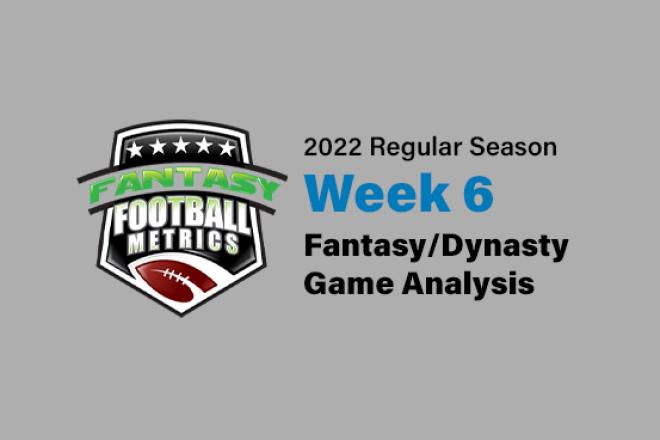 R.C. Fischer
Weekly Game Analysis
18 October 2022
2022 Week 6: Patriots 38, Browns 15 (Dynasty/Fantasy Analysis Game Report)
The Patriots were in control of this game pretty much throughout. It was closer than the score indicated. The Browns scored a TD with 6+ minutes left in the game to bring it to 24-15 NE. The Browns went for two and had they gotten it, they would've cut the lead to a TD/7 points. However, they didn't convert.
Cleveland then did an onside kick and looked to have retrieved the ball but it was booth reviewed (a really close call) over to the Patriots. The Browns held the Patriots to a quick three-and-out and punt, which Cleveland muffed over to New England and the Pats scored on the next play to put it out of reach.
New England deserved the win, but it wasn't as amazing/big as it looked. The Patriots are now (3-3), winners of two in-a-row under Bailey Zappe. Games with CHI-NYJ-IND-bye-NYJ ahead, could get the Pats rolling towards a winning record and a real fight for the playoffs. We project them to 8 wins right now…but 7 or 9 definitely in range.
The Browns slide is just beginning…a very rough schedule ahead. They are now (2-4) and losers of three in-a-row. They are very likely to lose their next five (or at least four of 5) to hand over the keys to Deshaun Watson with a (2-9) record. He deserves it…they deserve it.
My big reason for making this the first watch/study of the Sunday games is wanting to look at the Patriots rookie action with Bailey Zappe and Tyquan Thornton.
*Note any fractional numbers in parentheses (4/2) or (2/3), etc., are a 'quality start' or not marker on a player using 14 PPR points in a game for RB-WR-TE and 21 for a QB…point levels that are good/productive/well above average starts for a Fantasy week. Trying to identify trends, consistency (or not) in players we might not normally realize.
A (3/2), for example, means: 3 times the player hit at/above the mark, and 2 times they did not.
Fantasy Player Notes…
   -- I am going to say there is a QB controversy in New England, and I believe it is going to result in Bill Belichick siding with Bailey Zappe (24-34 for 309 yards, 2 TDs/0 INT)…and then you'll get 10,000 articles a week for the rest of the season from football websites putting deals together for Mac Jones to be traded (in the NFL) to ____.
I'm 75% sure Belichick is going to stick with Zappe.
The media wants this change because they love QB controversies…but they know nothing about Zappe, or anything for that matter. They are just fanning flames for drama to talk about.
I believed, pre-Draft, that Bailey Zappe was the 2nd best pocket passing QB in the 2022 NFL Draft. The best rookie QB mind/reading the field but below average tools/measurables. The Patriots took him way ahead of the scout's/expert's projections…there's a reason why. He's a real talent…but you worry if his height and average arm would hold him back.
His first two games, Weeks 4-5, Zappe was game managing and throwing safe, smart softballs…not too impressive…a full confidence was not evident his first start or two. Week 6, this game, I started to see the 'real' Bailey Zappe…the potential Drew Brees type QB. Zappe started stepping into his throws…started reading multiple progressions…started making plays mixed with several smart throws. Week 6, I think, was the turning point…it has been growing a little each week, but Week 6 was more of a surge.
I listen to the things Belichick says (lets slip) about Zappe…and it feels like he's found his kindred spirit.
Belichick let a little commentary slip a week ago, when asked about Zappe: "He does a good job of seeing the game and can come off and identify and articulate what he saw, what happened, and [he's] usually right," Belichick said. "Maybe he might not have done the right thing, but he saw the game."
Add on all the rumors of Mac Jones and issues with the coaching staff, which I don't know that they are real -- but the frustration may be the coaches with Mac, not the other way around. Zappe looks a lot more comfortable with this offense/in the NFL than Jones.
I am saying Zappe is going to hold the job because he's the better QB…you can see it on tape. And I know Zappe is a better QB mind/throwing talent than Jones, so I don't believe this is a flash in the pan. Mac Jones will then be traded in the offseason and NE will get a 1st-round pick for him and be out nothing in the end -- they are again one step ahead of the NFL…keep taking QBs and trying to improve, not just take one and see it through for 3-4 years before finally giving in. Accumulate the most prized assets in the game as much as you can.  
Or…
Mac Jones gets his job back, and then the pressure will be huge because the fans and media will be hounding him all the rest of his time, as they want Zappe. And then eventually Zappe will replace Jones, and set into motion all the trade activity.
 -- I'm unsure of who Zappe's favorite WR might be, but they sure ramped things up for his fellow rookie Tyquan Thornton (3-16-1, 4-37-1/5).
Week 5, Thornton debuted with 25 snaps, 2 catches for 7 yards and no carries. Suddenly, the next week, Thornton ran the ball on jet sweeps 3 times, one for a TD and he also caught a TD pass. Week 5 he was just a guy on the roster/field. The next week, Week 6, he's a real plan.
It wasn't like this was a magical Zappe-to-Thornton connection…it was more the Pats got Thornton good touches and he delivered. He's a 4.2+ runner…long and slender…he didn't look like he was overwhelmingly fast or dominant as a receiver but he was effective here…he's just fast and got good touches, as a summary.
Now, Thornton can build from here…he's just getting started with NFL work after missing most of training camp. He is the Patriots best speed weapon. I think he will work better with the talents of Zappe, rather than the stiffness of Mac Jones. I don't think Thornton will be an ace '#1' or anything but he's a big play waiting to happen.
I'm FF-intrigued but also a bit skeptical for the right now/2022. I'm willing to take a look but not confident to jam him into my starting lineup Week 7, most likely. If I get him off waivers, I'm not against selling the hot, magical unicorn rookie/2-TD sizzle either.
 -- Part of my hesitance on getting too over the moon with Thornton is that DeVante Parker (4-64-0/6), to me, looks like…and has looked like, their alpha #1 in waiting. He made some eye-catching plays here again…he's like a different WR has taken over his body in 2022.
What a #1 WR is worth off the Patriots, is another issue…another reason to worry about Thornton or Parker for FF. The Patriots don't lean on anything for long/consistently…they don't go by predictable script each week. Parker is a (1/5) so far this season.
Jakobi Meyers (4-60-0/4) has been the #1 look most of this season, but with Zappe…with the emergence of Parker-Thornton, Meyers will get squeezed for targets more…no longer the dominant target most weeks. Meyers is a (2/2) so far this season.
 -- Hunter Henry (4-61-1/7) is starting to perk up with Zappe. And there might be a real emerging FF opportunity here.
1.0 rec. (1.7 targets), 9.7 yards, and 0.0 TDs per game = Henry, Weeks 1-3 with Mac
3.3 rec. (5.3 targets), 42.7 yards, and 0.33 TDs per game = Henry, Weeks 4-6 with Zappe
Here's the possible FF play…the possible grab and sit on for a week to get to a hot schedule stretch coming up.
Week 7 is NE v. CHI…and the Bears have been tough on TEs, but then the flood gates open…
Week 8 = at NYJ…where Robert Tonyan went nuts against them last week, because they are so good covering the WRs.
Week 9 = v. IND…one of the worst defenses defending the pass for the past two seasons.
Week 10 = BYE
Week 11 = NYJ…a quick rematch
Week 12 = at MIN…a defense struggling v. the TE (in a dome)
Week 13 = v. BUF…this is not a good matchup, but then…
Week 14 = at ARI…the vaunted horrible against the TE Cardinals (in a dome)
Week 15 = at LV…another contender for worst defense against the TE this season (in a dome)
--three of 4 winter games in a dome!--
Week 16 = v. CIN…another below average against the TE defense
Week 17 = v. MIA… another below average against the TE defense
A great run of favorable matchups for the Patriots TE…which is mainly Henry, not Jonnu Smith.
Will it be with Zappe (you hope) or Mac Jones (which they worked well last year)? I don't think it matters too much, but I'd rather have Zappe. Mac and Henry were good together last season.
 -- Yes, Cleveland played in this game too…but I really don't have any notes here. It's the same offense as always for the Browns…heavy Nick Chubb spelled too much by Kareem Hunt and passes to Amari Cooper and David Njoku. The Patriots held the time of possession and squeezed on Jacoby Brissett and a down game for most all Browns' things.
Two notes from the Browns side…
1) D'Ernest Johnson (2-9-0/2) finally got a few touches, but it was him in the game late as the blowout unfolded. Nothing fresh here or emerging. And he will not be traded until the Browns lose 2-3-4 more games ahead…either him or Kareem Hunt will be dealt…IF they lose a bunch more in a row.
2) Nick Chubb (12-56-0, 1-14-0/1) doesn't get a good run when the Browns are getting beat…they push Kareem Hunt (4-12-0, 0-0-0/1) for the passing game.
The Browns are about to lose a bunch of games and they face tougher run defenses on top of it…
Week 7 at BAL, the #12 run defense (by yards allowed)
Week 8 v. CIN, #7
Week 9 bye
Week 10 at MIA, #13
Week 11 at BUF, #2
Week 12 v. TB, #18
This leads up to the Deshaun era.
Might you consider selling super-high on Nick Chubb in PPR before this happens? He just isn't a part of the passing game, and he may play a few less snaps and get fewer carries. Not a must sell…just an explore to see if you can make the deal of the year.
 -- Side note: Why the Patriots have not signed Jerreth Sterns, Zappe's BFF WR/college teammate for his entire record-setting career…I have no idea.
Sterns looked good for TB this preseason, and then was released and he is not showing on their practice squad or anywhere. He may be waiting for the Pats' call.
Those in DEEP Dynasty…you may want to preemptively consider Sterns as an add hoping he gets signed into the Zappe era. It's literally the first thing I would do if I took over as Patriots GM today. Sterns is a legit slot WR in this league…a possible future FF starter with Zappe someday, a PPR monster.
Sterns's one season (2021) with Zappe (they were years in FCS together prior) at the D1 level: 150 catches, 1,902 yards, 17 TDs in 14 games. When they faced Michigan State, Sterns put up: 17-186-1.
Snap Counts of Interest:
61 = DPJ
53 = A Cooper
44 = David Bell
31 = Chubb
30 = Hunt
09 = D'Ernest
68 = H Henry
57 = J Meyers
55 = DeVante Parker
40 = Tyquan Thornton
30 = Jonnu
04 = Bourne
60 = Rh Stevenson
12 = K Harris
04 = P Strong