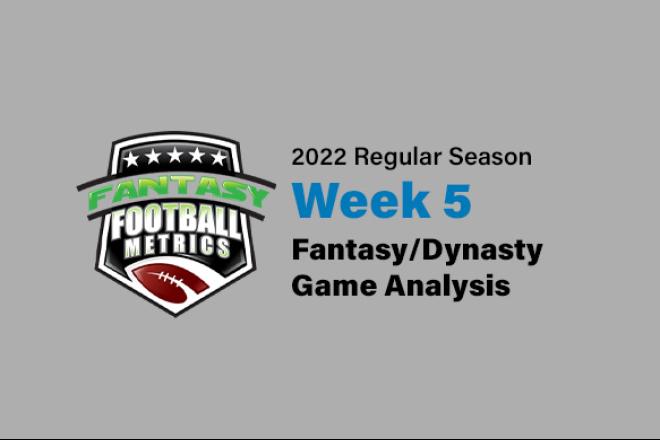 R.C. Fischer
Weekly Game Analysis
14 October 2022
2022 Week 5: Eagles 20, Cardinals 17 (Dynasty/Fantasy Analysis Game Report)
The Eagles 'won' the first 20 minutes of this game, racing out to a 14-0 lead…and it looked like another easy win for the best team in football.
The Cardinals then 'won' the final 40 minutes of this game, not only on the scoreboard (17-6) but I must emphasize -- the Cardinals 'won' this final 40 minutes. They went toe-to-toe with the NFL's top team. They had a chance to send this game to OT at the end, but their regular kicker was hurt this game…and the kicker they signed has failed everywhere/for multiple teams prior, so of course he failed here (as the Philly kicker was also out but they signed a smart backup who won them the game).
Of all the 'middle' teams/less than .500 teams people aren't talking much about or caring much about…I'm watching the Cardinals as a potentially very good team trying to break out. They could be the best team in the NFC West, but Kyler Murray is such a random marble-rolling-around of outcomes…I'm not sure they can be consistent enough to get by SF. The Cardinals just played even/tough with the NFL's top team…and it wasn't luck.
The Eagles scrape by to get to (5-0). They got tested more here than in any game so far this year…and they pulled through. If they take down Dallas Week 6, they really seize control of the NFC East and have a schedule ahead that could see them win 14 or more games.
Fantasy Player Notes…
   -- James Conner (9-55-0, 1-8-0/1) got hurt in this game. He's been hurt on and off for weeks. Now, he's out for Week 6 and maybe more weeks after.
Eno Benjamin (8-25-1, 3-28-0/4), who continues to look better and better…and better than Conner, will now start with Darrel Williams also out. A full start just in time for them to face the dreadful Seattle run defense -- a great shot for Eno to be an RB1 this week, and to seize a split role 1-2 punch with Conner ahead.
No Conner, no Darrel W. -- who is the next backup…up? Keaontay Ingram…remember him? Rookie 6th-round draft pick, who made the team but hasn't played. He will be active this week I'm guessing…and gets a chance to show if he's ready for action or not. In the preseason, it didn't look that way. I was shocked he made the team. But it's someone to keep in FF-mind…he's about to get his first chance to impress/get playing time ahead.
 -- Kyler Murray (28-42 for 250 yards, 1 TD/1 INT) makes me wanna rip the remainder of my hair out. He looks so bad sometimes, and then he looks so wonderful sometimes…usually when improvising. Taking on a top defense like Philly here…he was mostly calm and cool, and dumb/smart any given moment. He was not rattled…he's just so good when he gets into a groove and when he's running around. Unfortunately, he doesn't stay in grooves for long. His worst scenario is when he has time to think…or situationally has to think through it -- then your NFL team is in trouble.
I think Kyler is starting to enter a 'buy low' territory from owners who are getting frustrated by his QB2 numbers in 2022. The schedule is going to ease up ahead…and DeAndre Hopkins returns Week 7.
 -- When Kyler has everyone back (Week 7), where will the targets flow? None of us knows. We've not seen any evidence of what this offense looks like with Hopkins-Brown-Moore-Ertz in place, all the way back to the preseason…but it's a pretty darn good group, on paper.
My projection on what happens…
1) Kyler goes higher in output…he gets out of his QB2 ways and back into middle-of-pack QB1 ways. Not a guarantee, but he should be headed back to QB1 territory from his 2022 funk so far.
2) Marquise Brown (8-78-1/10) will be the #1 target and top WR for FF, for sure in PPR. He's Kyler's BFF…and is a perfect roaming around speedster WR for Kyler to work with. If Hollywood goes on sale for Hopkins returning fears…I buy Brown, at a discount, right into it.
3) DeAndre Hopkins will see less targets than Brown but be a TD threat. Hopkins numbers/effectiveness was already fading some and now there's Marquise. Hopkins might turn into Kyler's Adam Thielen…to Marquise's Justin Jefferson -- if I may be so bold to make that comparison.
4) Zach Ertz will win, or at least be fine, from all this too because the all-star team WRs will open things up more for Ertz. Going into Week 7, everyone will worry about Hopkins taking over everything…I'll buy your Brown and Ertz discounted/panic sale stock. I sell you my Hopkins stock.
5) Rondale Moore (7-68-0/8) will go from PPR WR1-2 hopes, like Greg Dortch was…to 3-5 targets, 0-2 carries per game…a WR3-4 you hate his 'too low' touch counts on.
Note: Week 6, with the run game under injury attack…look for Rondale to take 2-5 carries this week along with his elevated targets and push towards PPR WR1-2 output again.
 -- Isaiah Simmons (13 tackles) was back playing heavy snaps. The football question you might be asking yourself (because you're a savvy FFM student) -- if he was the key to Arizona going from 2020 awful against TEs to 2021 them being near the best shutting down TEs…and if in 2022 Simmons in-out of the lineup has led to the toggle switch going back and forth to allowing/not allowing TEs to prospect…then how did Simmons playing a season-high 92% of the snaps here lead to Dallas Goedert (8-95-0/9) as a weapon the Eagles attacked Arizona with, successfully?
Great question, I'm glad you asked. I know that was my first thought when I saw Simmons lead the Cardinals in tackles -- if he's back, how did Goedert go off?
Simple… The Cardinals used Simmons to cover the 3rd WR or slot-ish WR most of the game. Why? I have no idea. But he rarely was on the TE…and thus the Eagles had all kinds of TE screens designed for Goedert, who then made them pay.
TEs are wrecking the Cardinals again…it's a big green light to go after with your FF TEs. So, who is that for Week 6? It's Seattle…so, Will Dissly might be your first thought…but I think Noah Fant fits the profile more of how teams are attacking Arizona with the TE. Fant is athletic like Goedert…and Seattle can just copy that and set it up in the plan this week -- plus, Fant played a season-high snaps and got a season-high targets last week.
Fant is our 'out of nowhere TE of the week'. I feel great about this working out for Week 6…especially where I have garbage/random TEs otherwise.
 -- Just to reiterate, DeVonta Smith (10-87-0/11) is the Eagles #1 WR…not A.J. Brown (3-32-07). AJB is fading (but still fine) since that Week 1 explosion. I have been assuming for weeks that Brown is the guy and Smith was a good #2, but on a hot streak off the attention to AJB from defenses. No, DeVonta is just coming into his own.
If you could buy DeVonta as a fair priced WR2…as the world still sees Brown as 'the one to own from Philly' -- do it. Pittman for DeVonta…Mike Williams for DeVonta IN A HOT MINUTE…Gabe Davis for DeVonta...Sutton for DeVonta as some examples of the price range/marketplace, if you can find a deal with that as the base. Straight up 1-for-1 offers would likely freak the other person out…but mix it into a multiplayer deal and you might get it easier.
 -- The Eagles-DST didn't have their best FF-game, but they did hold a good offense to 17 points with two sacks and a pick. The Eagles-DST is still good…they just didn't have their 'A' effort here…and it's a sign of how promising Arizona can be on offense.
 -- I'm watching the Cardinals-DST like a hawk. Something is making my Spidey-senses tingle here…but it may just be my gallstone issue.
They held Philly to their lowest points tally of 2022…20 points…and that's after giving up 14 points pretty quickly, held them to just two FGs the final 40 minutes of play.
Week 4, they gave up 16 points to Carolina…but 7 of them on a defensive TD.
Week 3, they held the Rams to 20…giving up 10-13 points early then locking them down.
That Week 1 with KC, when they had mass defensive injuries going in, is what people remember.
With a promising tape the last 4 weeks and a fairly positive schedule from here on out…don't rule out a Cardinals-DST uprising to usefulness ahead.
Snap Counts of Interest:
64 = Ertz
17 = McBride
37 = Eno
24 = Conner
08 = D. Williams
72 = DeVonta
54 = AJB
43 = Quez
13 = Pascal
54 = Sanders
16 = Gainwell
03 = Sermon