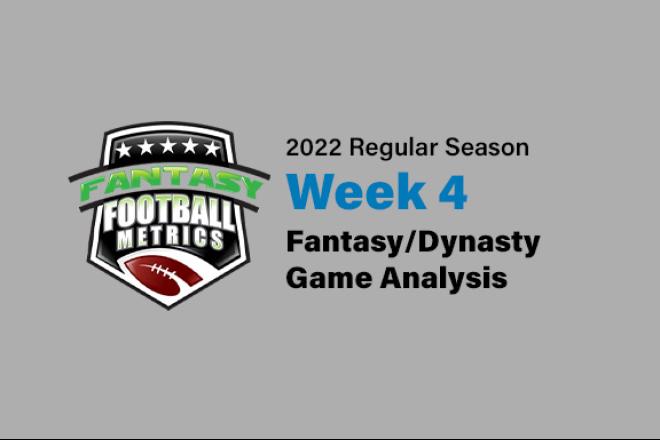 Ross Jacobs
Weekly Game Analysis
04 October 2022
2022 Week 4 Game Recap: Vikings 28, Saints 25 (by Ross Jacobs)
This was an exciting one. The Vikings would take a lead and look like they were about to pull away only for the Saints to come storming back to tie it up or take the lead. It happened 3-4 times and most of them were in the 4th quarter where it suddenly felt like a tight football game even though the Vikings had mostly controlled things for the previous three quarters. On the next to last drive, New Orleans nailed a 60 yard FG to tie it up and then attempted a 61 yard attempt on the final drive which banged off the crossbar, a heartbreaking end for the Saints in a hard-fought game.
The win brings the Vikings to 3-1, tied for the NFC North lead but with the tiebreak win over the Packers. Can they hang on to it and finally snatch the division from their rivals? Maybe. With the improvements this team has made and the struggles GB is dealing with, it certainly looks possible. I lean towards the Packers pulling away in the last games of the season but this one could be closer than anyone (except RC and Chris) anticipated. Seriously, you should probably listen to those guys. They are pretty smart about this stuff.
For the Saints this might be the game that broke the camel's back. They traded so many resources (mostly future draft picks) to trade up for two players in the 2022 draft with the idea that those two players could put them over the hump of making a deep playoff run. Those two players were Trevor Penning, who is currently on IR, and Chris Olave, who has already developed into the top receiving target for this team. Maybe Penning comes back and is effective, who knows, but he's not going to be enough to suddenly make this team into a winner and that is the core problem of what is going on.
Saints management naively assumed they were a championship caliber team and went all-in but they grossly miscalculated. This isn't a bad team really, they are solid enough in most respects, but they are being held back by injuries and the most important position on the field, QB. No, Jameis Winston didn't play here but it wouldn't have made a difference. He may have more upside than Andy Dalton but he's also far more erratic and will blow games entirely on his own. The team simply was not prepared for the retirement of Drew Brees and now they don't have Sean Payton to scheme them out of this hole.
Now with a poor 1-3 start and several challenging games coming up, how are the Saints in leadership positions going to respond? Mike Thomas, Jarvis Landry, Tyrann Mathieu, DeMario Davis, Cam Jordan, Marshon Lattimore, Jameis Winston...can they keep the team afloat? I have faith in the defensive leaders. They have all shown a lot of fight and resolve through the years. It's the offensive players I worry about, specifically the two receivers and Jameis. Thomas is just coming back from two years of injuries and is now dealing with another one. Landry's role on offense is nearly non-existent and he just came over from a disappointing time dealing with similar issues in Cleveland. And Jameis is Jameis. I'm not so much concerned about him quitting as I am him feeling the pressure and trying to do too much.
My gut feeling is they will be ok so long as they don't go on a long losing streak. Pepper a few wins in there and it will feel like they are accomplishing something, staying in the race. But if they lose 2-3-4 more in a row it could get ugly fast with some of the more vocal players causing problems (again mostly looking at the WRs if the offense continues to flounder). I'm assuming Jameis needs to rest for a few weeks considering he's nursing back fractures and an ankle injury of some kind. I don't expect Thomas to be out there unless Jameis is and maybe not at all. He's the most likely guy to shut it down (obviously). Everyone else should keep fighting but this whole situation has trouble written all over it.
Getting Kamara back should help mightily in the short term. This is a situation to monitor closely as there is a very real chance that the dysfunction starts soon and gets out of control very quickly. I'm not sure Dennis Allen is a strong enough leader to hold things together either...
Fantasy Player Notes:
 – Still worried about Justin Jefferson (10-147-0/13, 1-3-1)? You shouldn't be. He's the best receiver in the game and he's going to get fed. He almost had an even bigger day here but dropped a would-be touchdown. Note: a good chunk of his work here was working 1-on-1 against Marshon Lattimore and just roasting him. There will be down days. It happens to everyone except 2021 Cooper Kupp. Jefferson is a top 1-2 fantasy receiver without question this year.
 – For all Dalvin Cook's injury issues through the years, you have to give him credit for battling through several of them. Last week it sounded like there was no way he would play this game. It's yet another shoulder/AC joint issue, something that has plagued him for years. All it would take is one bad hit and his entire shoulder could get knocked out of socket and yet one week later he's out there taking a pounding and grinding out tough yards against a tough Saints front seven. So long as he can stay healthy (or fight through the injuries) he's going to be a RB1 but probably more in the 8-12 range this year than in the top 5 like he has in the past.
 – Adam Thielen showed he's still got gas left in the tank. He was working Paulson Adebo (a very underrated corner) like the savvy veteran he is. He's still going to be largely TD dependent but those should come about once every other game or so.
Chris Olave (4-67-1/7) is the best WR on this team, make no mistake. He's not the flashiest guy ever but he just knows how to get open. Unfortunately he's going to be held back by Jameis and/or Dalton this year. It's looking like an up and down year is in store for him.
 – The Saints signed Latavius Murray off the practice squad since Kamara was out and he performed solidly enough. He still looks old and slow but the line was opening some good holes for him. It's a positive sign for when Kamara is back.
Speaking of Kamara, we don't have any new information on him but I suspect he will be back for week 5, week 6 at the absolute latest. He was only ruled out the day before the game so he should be relatively close to returning. We'll have to monitor the practice reports this week. When he comes back I don't see why he won't immediately be a high ppr RB1. The team obviously wants to run the ball and could use his receiving skills as a checkdown as well.
 – Michael Thomas's injury is being called a toe injury but we haven't heard details on it yet. I wouldn't expect him back for a while. He has no incentive to play and he's certainly not going to be out there if Jameis is out.
 – As for Jameis, it's hard to say right now. He fought through the pain of a transverse fracture in his back, as well as an ankle injury, in week 3 but it was clearly too much for him this week. The injuries reportedly make it very difficult for him to move around and plant his back foot. My best guess is he takes another couple of weeks off to try and recuperate, but if it starts feeling like the season is slipping away, the team might try to rush him back out there.
IDP Notes:
 – Pete Werner had another 9 tackle game which puts him at 40 so far for the year (10/g). I like when he's attacking the line more than playing pass coverage. When he can keep his eyes in the backfield and hit the hole he's at his best playing fast and instinctively.
Snap Counts of Interest:
70 = Thielen
68 = Jefferson
61 = Osborn
46 = Irv Smith
45 = Cook
27 = Mattison
58 = Callaway
41 = Olave
38 = Landry
39 = Trautman
29 = Juwan
29 = Ingram
26 = Murray