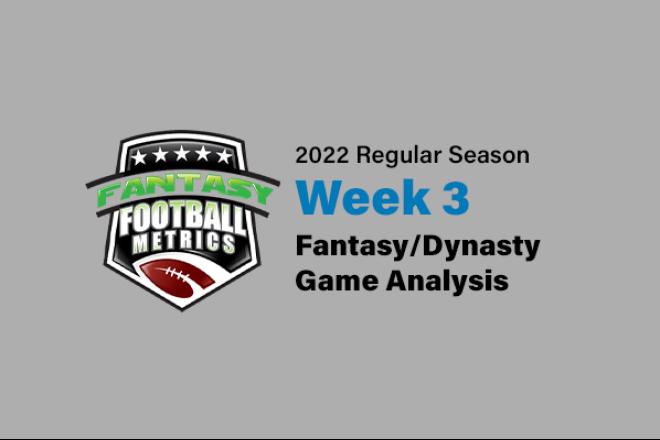 Ross Jacobs
Weekly Game Analysis
29 September 2022
2022 Week 3: Broncos 11, 49ers 10 (by Ross Jacobs)
This game is flying a little under the radar at the moment because it was a defensive, low scoring game (which everyone hates) and we are already predisposed to thinking that both teams are an offensive mess and not worth our time, but I have a sneaking suspicion we're going to look back at this one in a few weeks and kick ourselves for not seeing the clues sooner. Maybe I'm off base but my intuition is tingling...
I'm not going to bore you with the details of this game because it was a dull affair on the surface. SF had one good early drive to take the lead, the game got very defensive and neither team could move the ball for a while, Jimmy made a couple of mistakes (as he usually does) and Denver stole the game with a late TD drive aided by vintage Russ. Despite the seemingly benign nature of the game I think there are some real takeaways to be had.
Denver looked like complete garbage on offense the first two weeks of the season, so it's easy to write off this performance as just another bad job and further proof that Hackett is terrible and Russ has lost his mojo. But watching this game it seemed like more of a heavyweight title fight than anything else. These two teams are probably not top 5 teams overall but I'm beginning to think they are both top 10, warts and all.
Obviously both teams are led by their defenses but that's what makes the offensive performances so impressive despite the low scoring. SF was flying around blasting people, wrecking the offensive line like they usually do and Denver didn't fold like you'd expect. They were definitely not as good but they hung in and battled back, showing some grit and determination that we didn't see the first two weeks. They also went with a heavy dose of Courtland Sutton and Javonte Williams. It seems like they are still feeling things out, trying to see what works best, but maybe this was the first sign that things are starting to come together a little, they are figuring out their identity.
I'm not saying Denver is about to morph into an offensive juggernaut. That's off the table. But maybe they are about to get back to being respectable. Paired with their defense that would make them a possible 10 win team and a contender to lead the division. I know that sounds unthinkable considering their early struggles but think about it. Vegas is already 0-3 and dealing with questions of their own. The Chargers are dying to injuries. KC is the early favorite but are dealing with offensive issues of their own with this BTO (Baby Throw Offense). If Denver can match KC on offense and has the better defense then they could be considered the favorites, no? They do have a rough schedule this year with very few gimme games, so it's almost certainly going to be an up and down affair, but I think we need to start taking Denver more seriously.
For SF, they are pretty much the same team as Denver with one big difference. Jimmy is not a good QB and is going to blow a lot of these close games. Whatever your opinion of Russ, you have to admit he's still miles better than Jimmy. I'm still baffled how anybody ever thought Jimmy was a better option for this team than Trey Lance. It's like they've never watched him play.
SF has a solid team with a defense right up there with Philly but Jimmy is going to drag them down just enough that they won't be able to beat the toughest teams in the playoffs, which has been the story of Jimmy's career with the Niners. He's good enough to keep things afloat, manage the offense, but breaks down against better competition because his accuracy is terribly inconsistent and he routinely makes bad decisions. Stepping out of bounds in this game to give Denver a safety is just the kind of bonehead move I've come to expect from him.
And to make matters worse Jimmy was caught on camera after an incompletion yelling (in Shanahan's direction but not directly at him) "All your plays suck, man!" Kyle certainly has his share of issues but I cannot stress enough that Garoppolo is largely to blame for their offensive ineptitude. Beat the Rams and this will all blow over...but if they lose there could be big trouble in the Bay area.
Fantasy Players Notes:
 – I'm quite heavily invested in Javonte Williams, as are many FFM'ers, so I was dismayed to see the stat line on this game so heavily involving Melvin Gordon yet again. And then I watched the game...for the first 2.5 quarters of this game it's no understatement to say that it was all Javonte in there. I think I saw Gordon for a total of 4-5 snaps up until halfway through the 3rd Q. Javonte was taking all the carries. He was in on 3rd downs. They were leaning very heavily on him.
But as the game started to get later and later Gordon appeared more and more frequently. Most troubling is that Gordon is the one that came in when Denver finally drove inside the 5 yard line and got two goalline carries in a row for the score. I'm wondering if Javonte simply wore down over the course of a very physical game with an incredibly strong SF defense. It seems like to me Denver is finally starting to figure out that Javonte is much, much better than Gordon but they are still stuck in the old idea that he's some great player, like they can't just let go of the thought and think they still have to split the reps to some degree even though their eyes (and literally everyone else's) see that Javonte is the far superior back.
Maybe I'm seeing things but I think, maybe, possibly, the coaching staff is starting to get the message. It may take a few weeks or may not happen at all, but my interest is piqued that perhaps we might finally be moving towards our goal of Javonte 70-80% instead of 50-60%.
Helping our cause is the fact that Gordon fumbled twice in this game (unfortunately Denver recovered them both so the sin was forgiven) and he was yanked from the game both times in favor of Mike Boone. Of course, it only lasted a snap or two and Gordon was right back out there. Some backs can fumble once and get benched for a month and some guys like Gordon can have a fumbling issue their entire careers and never take flak for it. I'll never understand why that is. But this is 3 fumbles in 3 games for Gordon and he's averaging about 2 less ypc than Javonte in every game. Hopefully I'm right and the coaching staff will finally wake up and move away from this nonsense. They will if they want to win games.
 – Don't look now but Courtland Sutton is averaging 6 catches a game on 9 targets for 97 yards a game, 15.7 ppg in ppr, and he hasn't even scored a TD yet. The offense looks like crap on the whole but Sutton is getting it done. He is clearly the top look for Russ and it's not just jump ball 50/50 situations like Mike Williams is getting. Sutton looks like a real WR getting separation, working the deep passes but also shorter stuff. The offense is definitely simplified and his route tree isn't extensive but it's enough to work. Sutton is flying a little under the radar because he hasn't scored or had a monster game yet, so he's a decent buy candidate right now.
Jerry Jeudy really does look terrible. RC was right about this. He's going to get some decent receiving numbers because there's just nobody else to throw to but he looks and plays scared, drops passes at the slightest hint of contact, and consequently can't/won't work the middle of the field (but then neither does Russ). I thought it might work ok because Russ could get the ball to him in the flats and deep but Jeudy isn't showing any ability to even do that and as usual he's dealing with injuries.
You'd think the fall of Jeudy would be the perfect opportunity for Kendall Hinton to rise up but he wasn't getting any space either. Maybe things will be better against a non-SF defense. This is something to watch moving forward especially if Jeudy continues to struggle with injuries.
 – If you have Russell Wilson there's not much you can do except hold and pray. I do think he's going to make a turn soon for the better but I'm not sure how high it's going to take you. The offense still looks disjointed, all the WRs suck except for Sutton, and they are spending way too much time on Gordon still. The best thing for the offense as a whole would be getting Javonte going but that doesn't help Wilson's fantasy numbers much. Maybe Russ can get back to being a back end QB1 but the dream of him as a top 5 guy looks dead unless they randomly decide to start airing it out.
 – Your Albert O dreams are dead. He looks like every other generic TE and is the 4th guy in snaps just like he was during the preseason.
 – Another week of holding Jordan Mason, another week of Kyle keeping his head buried in the sand to the obvious issue. These coaches just never learn. Jeff Wilson wasn't bad here exactly. I mean he had a good average overall but it was pushed because of one long run where he wasn't touched until he was 10 yards downfield. Outside that one carry he went 11-38-0. Does that sound like a lead back, RB1 to you? Wilson isn't the answer. He looks like he's running in mud but he's tough and dependable and all that other stupid coach nonsense.
I'm dropping Mason this week (which guarantees that this is the week he'll take over the starting role) because I don't have time to wait around hoping for a turn. Kyle gave him 1 total carry after zero last week. At some point this is going to happen and hopefully we'll get a glimpse of it with a 5-7 carry game instead of a full breakout so we can snatch him back up, but who knows when that will happen.
 – Deebo, Aiyuk, and Kittle are all going to get about the same number of looks as long as they are healthy. It just depends on the matchups as to who has the big games. They are all being used exactly like last year. Deebo is getting receiving work and backfield usage which should result in more rushing TDs, Aiyuk is working the middle of the field and is hurt the most by having Jimmy over Trey, and Kittle is going to do his normal thing, lots of ok games followed by a couple of monster games where he gets loose for a few long plays. I'd consider Deebo a back end WR1, Aiyuk a random WR3, and Kittle a top 5 TE. Nothing out of the normal for this group.
IDP Notes:
 – Josey Jewell made his season debut and looked fantastic. He's been out most of the last two years with injuries after looking like a rising star in 2020. He looks faster than I remember but with all the same instincts and hitting ability. Could be a big year in line for him if he can stay healthy.
Snap Counts of Interest:
64 = Sutton
44 = Jeudy
32 = Kendall Hinton
19 = Hamler
14 = Washington
33 = Javonte
28 = Gordon
14 = Boone
35 = Saubert
35 = Tomlinson
27 = Beck
24 = Albert O
50 = Aiyuk
44 = Deebo
26 = Jennings
10 = McCloud
51 = Kittle
41 = Wilson
5 = Mason