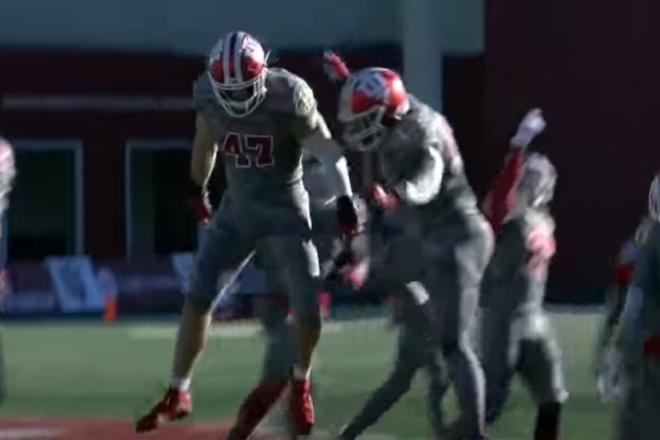 Ross Jacobs
Rookie Scouting Reports
03 February 2022
OLB Baylon Spector, Clemson (Pre-East/West Shrine Bowl scouting grade: C+)
Estimate = 6'2"/230
Good size, decent athlete. He drops into coverage a lot thus the lower tackle numbers. He does a good job of staying disciplined and keeping his eyes on the QB, even baiting him into poor throws at times. As a run defender he does a pretty good job sifting through traffic to get the ball carrier. Not a high impact player but he can play at the next level in some capacity.
NFL Comp? = TJ Edwards

OLB Tyree Johnson, Texas A&M (Pre-East/West Shrine Bowl scouting grade: C)
Estimate = 6'3"/235
3-4 edge rusher for A&M. Not sure he's strong enough to hold up in run defense at that position in the NFL. His rushing skills are average. I expected better from a guy with 9 sacks in the SEC. Most of his production comes from the rare moment where he gets a good jump off the line and can hit a slower tackle with a quick swim move to get around him. Unfortunately he's usually very slow off the line and gets completely engulfed easily.
The size and athletic ability are there to work with but I'm not sure he's got enough burst to make it as an edge rusher and trying to convert him to 4-3 OLB could be difficult.
NFL Comp? = Chris Rumph

OLB Ali Fayad, Western Michigan (Pre-East/West Shrine Bowl scouting grade: C-)
Estimate = 6'1"/245
College edge rusher that has to transition to LB. He's just too small to play end in the league. He's got the body of an inside backer though, not so much outside. Not sure he's fast enough to play on the outside either.
Plays with good leverage to help compensate for his underwhelming size. Good hand usage and ability to bend the edge when rushing the QB. Pretty quick feet for a guy his size. ILB seems like his best bet to me. I think he's a good enough athlete but transitioning to a whole new position and learning coverages/assignments will take some time, if he can learn it at all.
NFL Comp? = If Ray Maualuga played DE in college

OLB Carson Wells, Colorado (Pre-East/West Shrine Bowl scouting grade: C-)
Estimate = 6'4"/245
Miscast as an edge rusher at Colorado. Great size and decent athleticism. He's not explosive but he can move around a little. High effort, disciplined player. Hard to say how he'll handle the transition to traditional linebacker. I'd stick him in the middle at his size. He'd be a liability in coverage on the outside. Has all the ability to make the transition. Wouldn't surprise me if he ended up a decent pro.
NFL Comp? = Less athletic Derrek Tuszka

ILB Nate Landman, Colorado (Pre-East/West Shrine Bowl scouting grade: D+)
Estimate = 6'3"/235
Very productive as a sophomore and junior. Lost half of 2020 and 2021 to injuries.
Great size for an inside backer. Good instincts to diagnose quickly and react. Plays the run well and can cut through traffic to make the tackle. Just ok in coverage. Lot of floating around in the middle of the field. He's a solid enough player but rather stiff and unathletic.
NFL Comp? = Less athletic mix of Josey Jewell and Troy Reeder

OLB Zakoby McClain, Auburn (Pre-East/West Shrine Bowl scouting grade: D+)
Estimate = 5'11"/215
Way too small to play LB in the NFL. He's almost got to transition to safety. He plays like one anyways, a lot of drifting in coverage and chasing the play. He'd rather go around a guy than through him. He looks like he's got enough speed and movement ability to play a hybrid safety/linebacker in-the-box position but I don't see him impacting the play all that often. He's just ok in coverage and as a blitzer.
NFL Comp? = Jamien Sherwood

ILB Tre Walker, Idaho (Pre-East/West Shrine Bowl scouting grade: D+)
Estimate = 6'1"/230
Highly productive Div II player. Racked up 138 total tackles in 2019 and 105 in 2021.
Numbers like this can't be ignored but when I watched Walker against Div I Oregon St and Indiana I just don't see an impact player. In fact, he was a literal ghost against Oregon St tallying only 1 tackle. Decent athlete, decent player, but it seems like he feasts against weaker competition. We'll have to see if he can show anything more during the Shrine Game.
NFL Comp? = A lesser athlete/player Patrick Queen

ILB Darien Butler, Arizona St (Pre-East/West Shrine Bowl scouting grade: D)
Estimate = 6'0"/220
Not sure why he's listed as an inside backer because he was playing a hybrid OLB/S spot for Arizona St. I'd say he needs to move to safety but I don't think he's fast enough for that. We've seen more and more undersized OLB's lately since everyone is moving to these nickel defenses 70% of the time, so maybe he'll be ok. Pretty decent at sifting through trash to make the tackle but he doesn't do much in coverage, lot of drifting around with nobody near him. I don't see anything to get excited about.
NFL Comp? = Zaire Anderson

ILB Micah McFadden, Indiana (Pre-East/West Shrine Bowl scouting grade: D-)
Estimate = 6'1"/230
Undersized, unassuming college MLB. I don't see anything to suggest he'll be anything more than a special teamer. One of the worst prospects I've reviewed so far. Average athlete, not a great tackler, often out of position...hard pass.
NFL Comp? = Someone that won't make a roster