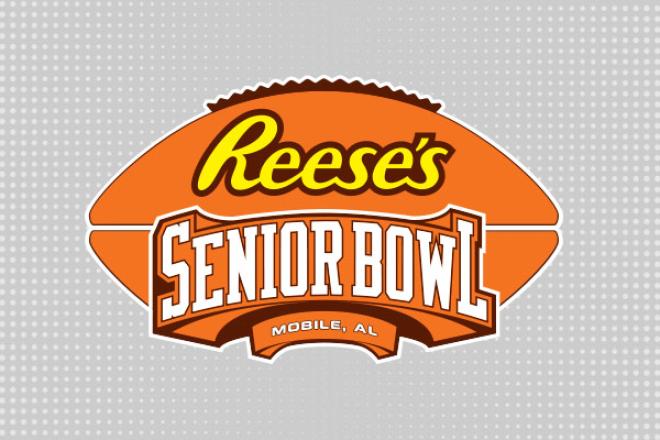 R.C. Fischer
Rookie Scouting Reports
02 February 2022
2022 Senior Bowl Practice Notes: Day 1
 -- Four things on Kenny Pickett…
1) Didn't do anything super-special to elevate himself or hurt himself day one, so in a sense it's 'a win'. He threw the ball well enough. No 'seize the day' moments nor anything to hurt his status. However, I feel the tide is already turning with scouts all lining up behind him as 'the best QB here'.
As I suspected they would…and it is because he 'looks' like a franchise QB in stature and in press conferences over all the other guys. My gut feel in conversations with observers in Mobile and listening to pundits give video reports – we're already down to Pickett and Malik Willis (2nd) in their hearts with some mild mentions of Carson Strong.
I didn't see a magic moment for Pickett, but the momentum is going his way regardless.
2) SB director Jim Nagy comparing Pickett to Joe Burrow helps push our bets of 35-to-1 on Pickett to wind up #1 overall. I wanted either a Burrow or Herbert comparison and we're getting more Burrow comps…not that he's as good as Burrow, but some similarities in style – he doesn't have Herbert's arm or feet, but has Burrow's smart, good enough arm with his smart, good enough feet. Also, the mediocre junior college season, then staying for a senior season and blowing up – both true of Burrow and Pickett.
3) NFL Network's Daniel Jeremiah's player of the day for him: Kenny Pickett. That will help push the Pickett as clear top guy narrative…and thus a potential march to #1 overall, in a 'QB is everything' league.
4) Pickett played with gloves on the entire time. He was asked about his hand size at a Monday presser, and he deflected it/shrugged it off. He fumbled a center exchange/snap in 11-on-11 and there was an audible gasp from the low-level scouts in the stands watching/not playing on their phones during the session.
He's going to be haunted by the hand size thing until the Combine…because he's a QB, and the media loves QB soap opera drama, and it's a legit issue to wanna know the truth on.
But here's some new news on Pickett's 'hand size'…and it's good for our 'bets':
-Pickett's double-jointed thumbs stick/point inward, so he can't get a normal hand measurement stretch (we're told). However, when he (or anyone) grips a football his inward thumb direction is an advantage/natural for gripping a football.
-Pickett worked out all summer throwing an NFL sized ball, seen by evaluators throwing it…and there were no concerns on his grip or velocity of throws by anyone observing.
-People studied the football's used at Pitt/the conference, because football sizes vary by conference apparently, and Pitt was found to have used one of the closest sized balls to the one they use in the NFL. What I'm told…
 -- The first time I saw CB Joshua Williams, Fayetteville State in coverage out there it was like 'who is THAT guy'? 6'2.4"/193 with a 78.2" wingspan, second longest of the CB group here. He and the #1 wingspan CB, Tariq Woolen, UTSA (6'3.3"/205, 79" wingspan) look so good.
The corner prospects look better than the WR prospects, as a whole. That's unusual for my experience with the Senior Bowl. If you need/want CBs from this draft…you got 'em in 2022 it looks like.
Mario Goodrich, Clemson…I should also mention…really covers well. Love this CB group in Mobile.
Oh, and Coby Bryant, Cincy was tough on WRs a lot in 1-on-1s as well.
 -- Speaking of the weak WR group, three guys stood out to me this day…
1) Ole Miss WR Dontario Drummond is clearly the top WR in Mobile. I had it preview scouted that way going into the week, and I'm more fortified on it now than before. He's A.J. Brown 2.0, a little lesser AJB potentially…but still very good.
2) Ole Miss WR Braylon Sanders catches everything deep…he did on tape in my scouting previews and was again here. If only he could stay healthy – a college career mired by injuries.
3) Cincy WR Alec Pierce is going to be overlooked here and in the draft, but he's got like some Adam Thielen potential to him. I'm getting more confident in my 'like' here from my previews…I may have sold him a bit short, and I'm higher on him than any scout, to start the process.
 -- You know, I mocked Nevada QB's Carson Strong's footwork/speed on tape…but I gotta say, he looked nimble enough on day one of the Senior Bowl…in low/non-threat situations.
I had lower opinions of Strong and Malik Willis, in general going in, so when I say they impressed me day one…it's in the context of the lower opinion I had.
Sam Howell was a 'loser' among the QBs, for me, because his public (NFL people in Mobile) luster is fading. He's being more ignored than anything. He's not done anything to make people take notice or discuss him. He's just OK/there.
I had a solid/high opinion of Pickett and left day one with that intact.
Poor Bailey Zappe, who I love…he can't get noticed here if he set himself on fire. He was fine in practice, but he doesn't have the height or major conference gravitas that has anyone captivated yet. He's an acquired, subtle taste that the scouts haven't caught on to yet…nor likely will they at all.
Rounding out the QB notes, Desmond Ridder…my only standout note = he looks like a malnourished child next Pickett. Ridder's smaller/slender frame is helping Pickett's rise to 'franchise QB' by helping Pickett 'look' like a franchise QB. It's odd, they are about the same height, but Ridder looks much smaller by comparison…to me, anyway.
 -- I wavered between thinking TE Trey McBride was 'too slow' and 'fast enough', watching him day one. He doesn't excite me like he does the mainstream, but I know he'll get opportunities because he's the football norm's kinda TE profile.
 -- There's always an O-Lineman that jumps out at me each Senior Bowl, and that one from day one is Central Michigan OT Bernhard Rainmann. He's a beast (or looked like it in my random noticings day one). I think he might be working his way from 2nd-4th-round to the 1st-round and then higher up the 1st-round chain from there.
He's so strong, such a sturdy, muscular frame. Good movement and just manhandled some big boys today.
 -- Two DT prospects kept catching my eye, one didn't surprise me…one did, and I've been behind on him and have to catch up.
1) DT UConn Travis Jones was just a bully today. A great bull rush all practice and in 1-on-1 drills. I was already a fan prior, so he might tick up a spot in my post-SB grades next week.
2) I was not on target in my preview of Georgia DT Devonte Wyatt. He's a 2nd-round projection for most scouts/rating services, and I would've said 3rd-4th for me based on previews, but now watching him work in different ways and in 1-on-1 drills – I think he might be a top 20-30 overall type pick the way he's tearing up the Senior Bowl. Lightning fast and the most dominant DT of the day. We'll see if it keeps up.
 -- Best pass rusher that I saw on day one? Our scouting preview #1 edge rusher…Boye Mafe, Minnesota. The explosion off the snap is the best here, and there are several interesting edge rushers in Mobile this week.
 -- Three closing notes from day one…
1) The Jets coaching staff looked way more into this than the Lions…more energy, a better practice, a quicker pace. The Lions staff, it seemed like they were lollygagging by comparison.
2) However, there were concerns that the Jets side was going too gung ho. A couple QBs had DLs rolling up into their legs/knees – not good. Some random speculation/talk that the QB's agents might consider pulling them if they see it again. No reason to risk life and limb here for the top guys.
3) Note: there's a big difference in the arm strength of the QBs in the 11-on-11s vs. when they casually took the 1-on-1 throws for WR v. DB drills. Many media outlets look at/show highlights of QB throws in 1-on-1s like it matters/like it ends all questions. It doesn't.