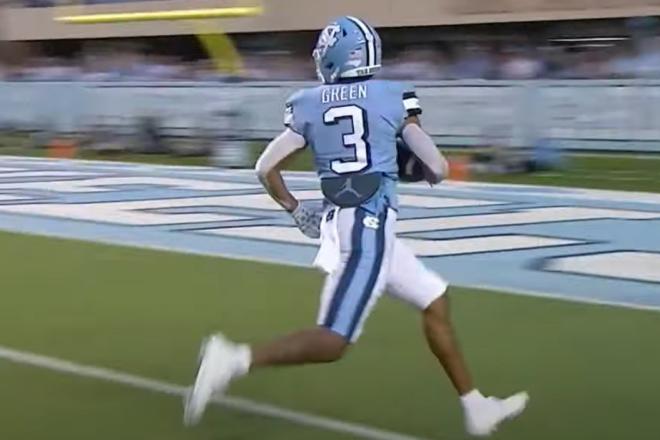 R.C. Fischer
Rookie Scouting Reports
30 March 2023
*WR grades can and will change as more information comes in from Pro Day workouts, Wonderlic test results leaked, etc. We will update ratings as new info becomes available.
*WR-B stands for "Big-WR," a classification we use to separate the more physical, downfield/over-the-top, heavy-red-zone-threat-type WRs. Our WR-S/"Small-WRs" are profiled by our computer more as slot and/or possession-type WRs who are typically less physical and rely more on speed/agility to operate underneath the defense and/or use big speed to get open deep...they are not used as weapons in the red zone as much. 
One of the prospect studies I've been most looking forward to since doing all the prospect preview work for the 2023 NFL Combine. I was smitten with what I saw on Antoine Green from my preview work -- but a brief/preview study can be a head fake, so I was ready to dig in deeper.
What captivated me about Green, in my intro to him in February, was that he has a real/legit current era NFL WR body…and smooth movements to go along with it. And let's run with that 'body' discussion for a moment, because it was true in my preview and true after a deeper study -- Green has a great body/frame/movement skill.
Think about the top WR prospects in this draft…many/most of them have 'body type' concerns (for scouts) in some small or big way.
Addison-Flowers-Downs-Scott-Dell-Mims are all under 6-foot and are between 165-182 pounds…mostly in the low 170s for weight and closer to 5'9" than not for the group.
Addison and Hyatt are all round 6'0" tall but are quite thin…both under 177 pounds.
Quentin Johnston is taller and gangly…a taller, deep ball WR.
Rashee Rice and Jaxon Smith-Njigba are the only WRs who are top 100 prospects and are at that preferred/normal height/weight range of a little over 6'0" tall and around 200 +/- pounds. The football world is more ruled by the WRs who are 6'0"+ (and not a big plus/tall, just +/- the 6-foot mark) and who are also over 190+ pounds. There are exceptions to that rule but most top producing WRs from 2022 fall into that bucket.
Using yardage totals from the 2022 season, among WRs, seven of the top 10 yardage WRs hit both 6'0" and 190+. DeVonta Smith missed by weight (170). Only two of the top 10 didn't hit either mark (below both marks)…teammates Tyreek Hill and Jaylen Waddle. There were no 6'3"+ WRs among the top 10 in yards…only one WR here was taller than 6'1"…CeeDee Lamb at 6'1.5".
6'0"-6'1" and 190-210 pounds is the range most top 2022 WR producers (by yards) are coming from.
The top 10 WRs in targets per game in 2022…nine of 10 fall in the 6'0"-6'2" and 190-215-pound range. Tyreek Hill the exception.
Tall guy WRs have their place…small/speedy WRs have their place but the heavily targeted, heavy output WRs are more in the 6'0"-6'1"/190-200+ range box. Which creates some kind of analytics concern for the value of Addison-Flowers-Downs-Scott-Dell-Mims. If you're looking for 2023 rookie WRs that fall in that 6'0" range, 190-200+ range…it's Rashee Rice and Jaxon Smith-Njigba hitting those marks among the top thought-of WRs from the 2023 class. Of the 47 WRs who went to the NFL Combine, the number of them that fall into the box of 6'0"+ and under 6'2" AND are 190+ pounds = 17 of them.
Of the 17 of those WRs who fit in that previous size box, the number of them that ran 4.50 or faster in the 40-time and a 1.55 or faster 10-yd split and a sub-7.00 three-cone = just one of them…6'1"+/199 pounds Antoine Green (Jon Mingo and Trey Palmer hit all the marks except three-cone, and they haven't done a three-cone yet, and Smith-Njigba ran a 4.52 at this Pro Day but hit all the other marks).
Just because Antoine Green fell in my cheap, imaginary, basic analytics box doesn't mean he's now a serious WR prospect. I'm just starting the journey there -- with a simple scouting claim, backed up by the Combine…Antoine Green just looks and moves like an NFL star WR.
Watch as much of this highlight reel as you want but just watch the first play they show and tell me if he doesn't have that 'look' of a top NFL WR: https://youtu.be/WTcs32kAl8M
OK, he might look the part…whatever that means…but can he really play WR at a high level…and why is he not even mentioned in the top 100…or 200 of WRs in this draft? Let's answer those questions…
The Antoine Green story, in a nutshell, is as follows:
2018 = Starts to play a little as a freshman but breaks his leg in their 3rd game and redshirts.
2019 = Rehabs back, ready for the season, stuck behind future (fringe) NFL WRs Dazz Newsome and Dyami Brown and the great Javonte-Carter run game…and he starts to show sparks/flashes of something (back-to-back games with long TDs), but a few games into the season he pulls his groin and misses the rest of the season.
2020 = Played in 11 games, barely used.  
It's at this point that Green decided to turn his life/career around. Self-admittedly, he did not take his conditioning or nutrition or craft in general seriously, relying on existing athleticism to get by. But he kept dealing with minor injuries and decided to dedicate himself to his craft and his school studies and his faith.
2021 = A decent breakout season, playing all 13 games with a 31-612-5 stat line.
2022 = His full breakout year…despite dealing with a shoulder injury in training camp, Green came back to the team ahead of schedule and played through the injury all year and had a 43-798-7 season in 9 games played. A pace for a 68 catch, 1,000+ yard, 10+ TD season. Had he played all their games…and he missed their 3 easier, high scoring games to start the year…but had he played all their games he might have led the ACC in receiving yards and TDs…but we'll never know. Instead, he's known as the guy who is always dealing with an injury…or just not-known at all in this process.
I think Green looks and moves like a star NFL WR…and his NFL Combine results backed me up that there is something here. Green is so smooth/efficient in motion/running/cutting and then smooth in his receiving of the ball (has good hands) -- he just looks like what you want your NFL WR to move and look like.
One of the knocks on Green is that he's 'just a deep ball guy'…and it's true he played on the outside a lot, but he was there (my opinion) because he excelled at working the outside AND UNC already had Josh Downs as the nice underneath worker. When Green was called on to run sharp routes, he has the gift…he has the feet for it. He's fine as a route runner, and is not just ' a deep ball guy'.
Another knock on Green is…'Well, he got to play with Drake Maye!' And that is a good thing, but also note that Green became a money receiver for Maye -- Green had a couple late game/last seconds TD catches to tie or win games. If Green had played the whole 2022 season, he might have led the ACC in several receiving categories…and playing with Maye would've helped that but if it had happened Green would have likely been a 1st-team all-ACC WR and a noted stat leader, which would have gotten him much more draft notice. Instead, he was a 3rd-team ACC and just a top 10 ACC receiver -- the missed early games were potentially the difference of better draft status and draft money ahead.
I'm a fan of what Green could translate to in the NFL. I see two downsides that prevent me from going too far out on a scouting limb here…
1) He has had the injury bug. Mostly hard luck and not debilitating, but still it can't be ignored that three of his 5 seasons had some kind of annoying injury issues.
2) My main knock against Green…he is not showing the full 'it' factor. He's not showing a full aggression or confidence of how good he really is/could be…like he believes his own lower draft rankings, if I could be so bold as to play psychotherapist.
At the East-West Shrine, he showed some real physical skills but didn't have a vibe or energy to really leave that week with heavier draft momentum. He had one of the best Combines among the WRs, and no one really thinks about him as having such. Watching him against Clemson, he was as/more gifted than his opposing cornerbacks but too often let them out-physical him in coverage.
I see some real potential in this prospect, if he can land with the right team that believes it/sees it and develops it…brings it out of him fully. And if he can stay healthy…
Green could be one of the ten best WRs in this draft…just flying below ALL the draft radars.
Antoine Green, Through the Lens of Our WR Scouting Algorithm:
 -- #2 in the ACC and #9 in all the NCAAs in 2021 with 19.7 yards per catch. Was #2 in the ACC again in 2022 with 18.6 yards per catch.
 -- Four toughest matchups in his career: Notre Dame 2021 and 2022, and bowl games vs. South Carolina (2021) and Clemson (2022). In those four games, he averaged: 4.3 rec., 89.8 yards, 0.75 TDs per game.
2023 NFL Combine Measurables:
6'1.6"/199
9" hands, 32 1/8th" arms
4.47 40-time (18th fastest WR of 40+ who ran, 10th fastest among the 190+ WRs)
2.58 20-yd, 1.54 10-yd
4.27 shuttle, 6.99 three-cone (9th fastest 3-cone among the 190+ pound WRs)
n/a = bench
33.5" vertical (4th lowest among all the Combine WRs of any size)
10'3" broad jump
The Historical WR Prospects to Whom Antoine Green Most Compares Within Our System:
Marvin Jones is the perfect upside comp for Green…I wish I would've thought of it first, but the computer wins. Marvin Jones came into the league unassuming and then went on to a really good NFL career, a much better career than people realize…because he's so quiet/unassuming and sound (with a boring name). That could be Antoine Green's journey in the NFL with a little more muscle/body work. 
| | | | | | | | | | | |
| --- | --- | --- | --- | --- | --- | --- | --- | --- | --- | --- |
| WR Score | Draft Yr | Last | First | College | H | H | W | Power Strngth Metric | Speed Agility Metric | Hands Metric |
| 6.854 | 2023 | Green | Antoine | UNC | 6 | 1.6 | 199 | 6.48 | 7.70 | 7.95 |
| 6.164 | 2012 | Jones | Marvin | California | 6 | 1.6 | 199 | 9.72 | 9.30 | 7.94 |
| 5.799 | 2020 | Jeudy | Jerry | Alabama | 6 | 1.0 | 193 | 6.16 | 7.47 | 7.08 |
| 3.325 | 2007 | Breaston | Steve | Michigan | 6 | 1.0 | 193 | 5.61 | 8.26 | 6.77 |
| 7.126 | 2020 | Lamb | CeeDee | Oklahoma | 6 | 1.5 | 198 | 5.82 | 7.85 | 9.10 |
| | | | | | | | | | | |
| | | | | | | | | | | |
*A score of 7.0+ is where we start to take a Big-WR prospect more seriously. A score of 8.50+ is where we see a stronger correlation of a Big-WR going on to become NFL good/great/elite. A score of 10.00+ is more rarefied air in our system and indicates a greater probability of becoming an elite NFL Big-WR.
All of the WR ratings are based on a 0–10 scale, but a player can score negative, or above a 10.0 in certain instances.
Overall WR score = A combination of several on-field performance measures, including refinement for strength of opponents faced, mixed with all the physical measurement metrics, and rated historically in our database.
"Power-Strength" = A combination of unique metrics surrounding physical size profiling, bench press strength, etc.  High scorers here project to be more physical, better blockers, and less injury-prone.
"Speed-Agility" = A combination of unique metrics surrounding speed, agility, physical size, mixed with some on-field performance metrics. High scorers here project to have a better YAC and show characteristics to be used as deep threats/to create separation.
"Hands" = A combination of unique metrics surrounding on-field performance in college, considering the strength of opponents played. Furthermore, this data considers some physical profiling for hand size, etc. High scorers here have a better track record of college statistical performance. Everything combining to project catch-abilities for the next level.
.
2023 NFL Draft Outlook:
Tracking as 5th-7th-round pick, and that's where he will wind up…probably 6th-round if I had to guess.
If I were an NFL GM, I'm very interested in Green as a top 100-150 talent potential available at a 200+ pick cost...but he's developmental, so I'm not chasing or overpaying.
NFL Outlook:  
Hopefully, he can stay healthy and come into his own and have a Marvin Jones-like career. There is a risk he just quietly fades into the background like a Darius Slayton -- a guy I see work and wonder why he isn't more prominent, but never really is…just flashes of goodness and his team trying to get other WRs to work ahead of/over him.