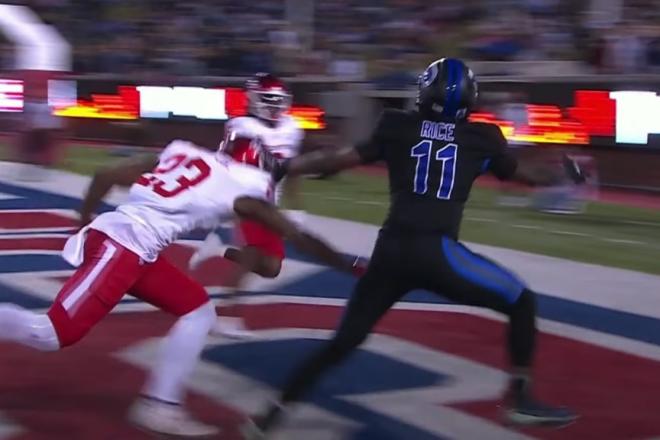 R.C. Fischer
Rookie Scouting Reports
29 March 2023
*WR grades can and will change as more information comes in from Pro Day workouts, Wonderlic test results leaked, etc. We will update ratings as new info becomes available.
*WR-B stands for "Big-WR," a classification we use to separate the more physical, downfield/over-the-top, heavy-red-zone-threat-type WRs. Our WR-S/"Small-WRs" are profiled by our computer more as slot and/or possession-type WRs who are typically less physical and rely more on speed/agility to operate underneath the defense and/or use big speed to get open deep...they are not used as weapons in the red zone as much. 
I didn't see a lot that tripped my trigger on Rashee (RA-shee) Rice in my pre-Senior Bowl preview, or during Senior Bowl week, or pre-Combine, or at the Combine…so, he wasn't high on my radar to dig deeper on. BUT there are so many people backing him, having him as a great sleeper prospect for the 2023 NFL Draft, that it's driving him to stay within the top 100 overall prospects (in the consensus)…in the #70-85 overall range. With so much persistent love, I thought I should do a deeper look to see if I'm missing something.
I went into the study with a 'C' grade, neutral feeling on Rice. He wasn't obviously bad, but he didn't do anything that drew my attention/excitement either. I knew people really liked him, so I kept him in a holding tank, per se…waiting for him to break one way or the other. After studying him deeper, I have moved him out of the neutral holding tank -- I have a worse scouting impression of him after the study.
The positives: He is an NFL-worthy athlete. Good size (6'0"+/205 pounds). Good speed (4.51 40-time). Very productive in college…posted a 96-1,335-10 season in 12 games with SMU in his senior year. His 1,335 receiving yards was 3rd-best in the NCAA in 2022. His 96 receptions were 5th-best in the NCAA. He runs very solid routes. He's not a bust.
The negatives: He's not a very good NFL impact WR prospect. Very unnatural, not smooth hands. A lot of bad drops and double catches. Now, he's not dysfunctional…he can catch a football, and he did make some great 'jump ball' catches all season, and that's what highlight reel scouts will see/base his scouting on -- but within all that are basic drops and double catches…and just a general not smooth way Rice catches the ball (when I compare his to the other top WR prospects).  It's like with Romeo Doubs -- good college WR and makes some great-looking catches, and we see those on college scouting highlight tape…but looking at the highlights only, you won't see all the struggles to catch balls or get open otherwise. Rice's trajectory reminds me a little of Doubs' -- great college WRs who just don't have enough 'it' to star in the NFL, but enough 'it' to hang around in the NFL.
When I watched Rice work against Maryland 2022, I was surprised to not see Deonte Banks covering him. Maryland used some lesser corner to cover Rice most of the game -- and Rice had a good game. But within that, when Banks did switch over to Rice…the party was halted for a bit. When I watched Ahmad 'Sauce' Gardner take on Rice in 2021…it was no contest. But these teams with big time corners…they saw SMU tape ahead, obviously, and they didn't think putting their #1 corner on him was warranted/a priority. Telling.  
Rice is a really neat/nice college WR who is gonna struggle with the transition to the pros and with pro coverage. He's not overly fast. He's not overly agile. He's not super-long/tall. He doesn't have NFL-level reliable hands. Rice can catch an easy timing pass or deep ball, and occasional contested ball, but there lies a problem on the tape with his catch technique/naturalness. And he has a tough time getting off the snap and getting open in tight coverage because he's not a smooth runner/accelerator off the jump if contested. He gets up to speed well 10-20+ yards downfield and has nice open field legs, but not high-end by comparison to the other WRs in this draft or already in the NFL. Rice just looks like a bit shy in all the key attributes -- good enough to make it in the league, and make a highlight catch or two, or have a decent game that gets some attention…but over time he's just not NFL-good enough to be anything more than a #4-5 WR who can fill in OK if a starter gets hurt.
SMU threw Rice a ton of passes in 2022, so he had a ton of output…but he's not going to be a 10+ target a game #1 WR in the NFL. He shouldn't be a top 100 overall player in this draft…and not a top 10 among the WR class either. But he's NFL-worthy.
Rashee Rice, Through the Lens of Our WR Scouting Algorithm:
 -- Rice worked in an up-tempo, high volume offense at SMU and put up good numbers the past two years, but by percentage/share of the passing game he was just good/fine.
 -- Rice put up some nice totals over the past two years, but when facing conference power Cincinnati or a top 20 defense in Houston/2021 or FCS runner up TCU in 2021 and 2022, his five game averages against them were down off his normal big tallies:
5.4 rec., 41.4 yards, 0.80 TDs per game = Rice versus Cincinnati and TCU 2021 and 2022, plus Houston 2021.
7.0 rec., 95.7 yards, 0.79 TDs per game in all his other games in 2021 + 2022
2023 NFL Combine Measurables:
6'0.5"/205
9.5" hands, 32.75" arms
4.51 40-time (23rd fastest of 32 WR runners)
1.49 10-yd split (5th-best of 32 runners, which blows my eyeball scouting that says he looks poor in acceleration -- I think he is stiff to get going from 0-2 yards/right off the snap or when pressed by a cornerback). Free sprint…I guess he's faster than I think. Where he could work OK in the NFL is sprinting against soft CB coverage but stopping and turning around to make a timing catch…he did that really well at SMU.)
41" vertical (tied for best of 36 jumpers)
10'8" broad jump
.
The Historical WR Prospects to Whom Rashee Rice Most Compares Within Our System:
The computer sees some really good college WRs who didn't really breakthrough in the pros, but a guy like Damian Williams had a moment or two of promise but never fully broke through to prominence. Ryan Whalen was always good/scrappy, but a perpetual backup…that's my fear for Rice -- college good, NFL forgettable. 
| | | | | | | | | | | |
| --- | --- | --- | --- | --- | --- | --- | --- | --- | --- | --- |
| WR Score | Draft Yr | Last | First | College | H | H | W | Power Strngth Metric | Speed Agility Metric | Hands Metric |
| 6.049 | 2023 | Rice | Rashee | SMU | 6 | 0.5 | 205 | 8.07 | 6.40 | 6.51 |
| 7.862 | 2010 | Williams | Damian | USC | 6 | 0.6 | 197 | 7.92 | 7.44 | 8.36 |
| 7.714 | 2011 | Whalen | Ryan | Stanford | 6 | 1.1 | 202 | 10.53 | 8.03 | 5.31 |
| 4.833 | 2017 | Noil | Speedy | Texas A&M | 5 | 11.1 | 199 | 9.49 | 5.18 | 5.02 |
| 2.402 | 2022 | Fryfogle | Ty | Indiana | 6 | 1.1 | 204 | 7.09 | 2.31 | 5.88 |
*A score of 7.0+ is where we start to take a Small-WR prospect more seriously. A score of 8.50+ is where we see a stronger correlation of a Small-WR going on to become NFL good/great/elite. A score of 10.00+ is more rarefied air in our system and indicates a greater probability of becoming an elite NFL Small-WR.
All of the WR ratings are based on a 0–10 scale, but a player can score negative, or above a 10.0 in certain instances.
Overall WR score = A combination of several on-field performance measures, including refinement for strength of opponents faced. Mixed with all the physical measurement metrics, rated historically in our database.
"Power-Strength" = A combination of unique metrics surrounding physical-size profiling, bench press strength, etc.  High scorers here project to be more physical, better blockers, and less injury-prone.
"Speed-Agility" = A combination of unique metrics surrounding speed, agility, physical size, mixed with some on-field performance metrics. High scorers here project to have a better YAC and show characteristics to be used as deep threats/create separation.
"Hands" = A combination of unique metrics surrounding on-field performance in college, considering the strength of opponents played. Furthermore, this data considers some physical profiling for hand size, etc. High scorers here have a better track record of college statistical performance, and overall this projects the combination of performance and physical data for the next level.
2023 NFL Draft Outlook:
Tracking as a top 100 overall pick all draft season, and I can see it happening in reality -- he has decent size/decent speed with a big vertical and nice receiving tallies, and is a good route runner and team captain/hard worker. I just think he's a #4-5 WR talent in today's game, and you can't draft that top 100…not with all the other better talents at WR who will be available later…much less all the non-WRs who could be instant starters to take over a #4-5 WR.
If I were an NFL GM, I might be missing something on him perhaps -- but I don't love what I see on tape. Not an elite WR hope, and I see so many other more gifted WRs that will be available later/cheaper. UNC's Antoine Green is a smoother, better version of Rice with better hands.
NFL Outlook:  
Rice belongs in the NFL, but I think he'll be a forgettable version of like Romeo Doubs or Danny Gray (SMU teammate) -- guys people get pumped on during draft hysteria season but then are long forgotten in the ever-increasingly talent rich NFL.
Rice will be a fringe starter…capable-ish hand, but never a star and is forgettable -- he's the kinda WR that could get lost in the NFL and be a perpetual backup…or go to the USFL or XFL or CFL and lead the league in receiving.