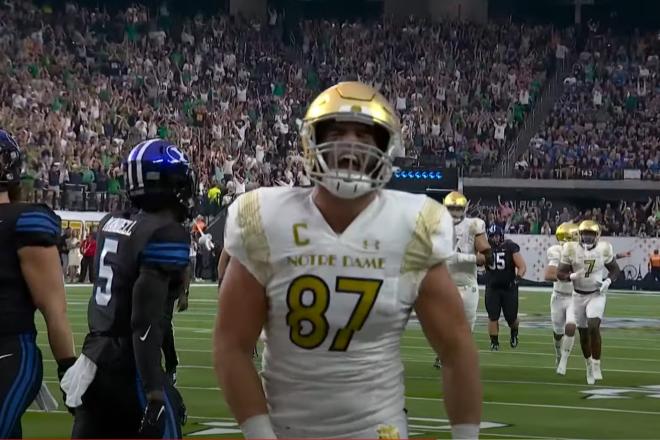 R.C. Fischer
Rookie Scouting Reports
16 March 2023
*Our TE grades can and will change as more information comes in from Pro Day workouts, leaked Wonderlic test results, etc. We will update ratings as new info becomes available.
**Our TE formulas had some slight changes in the 2018 offseason—an adjustment to better identify and value TE prospects that are smaller physically and are primed for the era ahead...the era of Jordan Reed and Delanie Walker-type TEs. Our historical grades will have changed some on various prospects as well, to show their grades by comparison. 
Michael Mayer is a totally acceptable, mediocre NFL Draft prospect at tight end. He's fine/solid enough…but, in my view, he's a tight end of the past.
In the 1980s and 1990s and most of the 2000s, Mayer would be a legit top NFL tight end. In the past, he'd be an above average athlete with a frame/build the NFL likes…he has the look of a 1980s tight end for the Steelers or Ravens. The kinda guy the fans howl his name after a catch, like they still do in Pittsburgh.
But for the new era/not the Steelers mentality, Mayer is a below-average athlete with that 1980s frame…a little too bulky, a little too stiff player by comparison to the sleek and unique athletes pouring out of the college ranks now. Mayer has that 1980's style usefulness in the passing game, the kind 50+ other TEs could give to an NFL team -- tight ends who can block OK/take up space well and occasionally slip off of blocks and roam into the short space/flat and catch a pass and turn up field for 1-5 yards…or slip off the fake block for a goal-to-go, wide open short toss TD. These type TEs are role fillers…not playmakers.
The good news for Mayer is: most NFL head coaches are still stuck in the 1980-2000s when they think about tight ends, when they look at when their playbooks were created/taught to them…Mayer is the type TE that fills the role that NFL coaches dream about.
What I see in Mayer's tape, specifically…
He looks like a 1980's tight end, but he moves a little better than that…he's got a bit more spring to his step, but not by much. Used to be these cookie cutter, 1980's styled, 250-pound TEs would run a 4.8-range 40-time and that was top 50 overall draft material at tight end. Now, I don't even want to consider you for the first two days of the draft at tight end unless you're running in the low 4.6s, and I really want 4.5s or better. Mayer is in-between those parameters/eras -- he's a 4.70 runner, and if you think that's slicing it too thin on judging 40-times…it isn't. The difference between 4.7s and 4.6s or 4.5s for a 40-time is a big deal among tight ends. Consider what happens to running backs who run a 4.50 versus a 4.70…one of them doesn't get drafted. You know which one.
With all my scouting experience, I thought Mayer looked like a mid-4.7s runner scouting him ahead of the Combine, and he ran in that range…he just looks like a 4.7s runner on tape, all day long. I kept saying, about Mayer, "He's Cole Kmet fast." Kmet also ran a 4.70…but did so at 262 pounds…+13 pounds thicker than Mayer's 4.70. While they have similar speed, you like/take the guy who ran his 13 pounds heavier. That's the thing too… I think Mayer cut weight for the Combine to run faster…and then he wasn't that fast. If he plays at 255-260 pounds, he might be more of a 4.75-4.80 runner, which is what my eyes tell me…and it means he CANNOT be the top TE prospect in this draft.
18 tight ends got measured for the Combine, Mayer was 12th tallest and 10th heaviest/thickest…both below the half way mark of the group. Not only was his size bottom half…so was his 40-time (bottom three of 13 runners), and his 10-yd split was the single worst of the TE group, and his vertical 3rd lowest. He skipped the bench press, which makes me worry he would have been bottom three in that as well.
Michael Mayer is just not that great of a draft profile for the NFL…or he shouldn't be. The analytics scouting teams won't even consider Mayer…they'll laugh at the team that drafts him. But there are more 'old ball coach' type head coaches and scouts, like a Mike McCarthy, who wont know what any of the analytics means, nor will they care, and the 'old ball coach' will like the 'cut of his jib' on Mayer…and a guy like Mike McCarthy will give old-timer GM Jerry Jones a big thumb's up on a desire to take Mayer (as one example, I could go through 20+ other teams that would do the same).
Ohhhh, and what I also see on tape…further damning…Mayer is not only not a great/fluid athlete, but he's not a great catcher of the ball either. His tape shoes a lot of body catches…and too many double catches. Once I saw it on his tapes, then I couldn't unsee it. Scouts should've caught this long ago, but they aren't really looking at things beyond where the football community buzz is at, then creating a scouting tale, a 'Baby Gronk' tale around that…there's always a 'Baby Gronk' mainstream prospect the media coos over…and there's something about a Notre Dame tight end for football people…I don't get it. I know this, his troubling catch-ability -- it's not gonna fly in the NFL reality. I think Mayer has a hidden NFL liability with his hands.
The profile of average/slower foot speed, not a natural athlete who doesn't catch the ball fluidly -- how is this the ENTIRETY of the NFL's top TE prospect for 2023? He's solid, but not the best TE in this class…not a 1st-round pick…not even close.
Michael Mayer, Through the Lens of Our TE Scouting Algorithm:
Solid seasons throughout his career…16 TDs in 24 games/his last two seasons. He's been a solid receiver for a Notre Dame team that doesn't have a lot of other options -- Mayer's good numbers come, somewhat, from him being an over-targeted option. He won't be the offensive focus in the NFL, not even close.
2023 Combine/measurables (and comparison)
6'4.4"/249, 31.6" arms, 9.5" hands, 4.70 40-time, 1.66 10-yd, 32.5" vertical, 9'10" broad = Mayer/2023
6'5.6"/262, 33" arms, 10.5" hands, 4.70 40-time, 1.65 10-yd, 37" vertical, 10'3" broad = Cole Kmet/2020
Kmet ran a 7.44 three-cone, which is not good…and I bet Mayer is in that same range (which is why he skipped it).
How does a smaller, lesser Cole Kmet feel for a scouting analysis? How do you value that for the Draft? Like Kmet, Mayer was pushed as the top TE for their drafts…but Kmet ultimately went mid-2nd-round. I think that's where Mayer is headed as well…but you never know about what the NFL will ultimately do when they have a pre-love affair with a Notre Dame prospect.
The Historical TE Prospects to Whom Michael Mayer Most Compares Within Our System:
I added Kmet to the bottom of the list, but he was out of size range for the computer to make him a super-strong comp to Mayer. I like the John Carlson comp. I don't love the Freiermuth one because Freiermuth has WAY better hands.
| | | | | | | | | | | | |
| --- | --- | --- | --- | --- | --- | --- | --- | --- | --- | --- | --- |
| TE Grade | TE-Reed | Last | First | Yr | College | H | H | W | Spd-Agil Metric | Strgth Blxing Metric | Hands Metric |
| 6.607 | 5.67 | Mayer | Michael | 2023 | Notre Dame | 6 | 4.4 | 249 | 3.88 | 5.78 | 7.01 |
| 5.875 | 2.02 | Carlson | John | 2008 | Notre Dame | 6 | 5.1 | 251 | 4.37 | 6.29 | 7.62 |
| 7.236 | 5.35 | Freiermuth | Pat | 2021 | Penn State | 6 | 4.5 | 251 | 5.12 | 6.18 | 8.62 |
| 6.884 | 6.05 | Oliver | Josh | 2019 | San Jose St. | 6 | 4.5 | 249 | 5.74 | 7.00 | 7.56 |
| 4.881 | 6.55 | Herndon | Chris | 2018 | Miami | 6 | 3.6 | 253 | 2.73 | 7.96 | 6.12 |
| 6.788 | 4.33 | Kmet | Cole | 2020 | Notre Dame | 6 | 5.6 | 262 | 1.58 | 8.09 | 7.03 |
*A score of 7.0+ is where we start to take a TE prospect more seriously. A score of 8.50+ is where we see a stronger correlation of TEs going on to become NFL good/great/elite. A score of 10.00+ is more rarefied air in our system and indicates a greater probability of becoming an elite NFL TE.
All of the TE ratings are based on a 0–10 scale, but a player can score negative, or above a 10.0 in certain instances.
**The 'TE-Reed' score is in honor of Jordan Reed's 2015 season…looking at TEs in a different manner—the smaller, speedy receiving threats.
"Speed-Agility Metric" = A combination of unique metrics surrounding speed, agility, physical size, mixed with some on-field performance metrics. High scorers here project to have a better YAC and show characteristics to be used as deep threats/create separation.
"Power-Strength Metric" = A combination of unique metrics surrounding physical size profiling, bench press strength, etc.  High scorers here project to be more physical, better blockers, and less injury-prone.
"Hands Metric" = A combination of unique metrics surrounding on-field performance in college, considering the strength of opponents played. Furthermore, this data considers some physical profiling for hand size, etc. High scorers here have a better track record of college statistical performance and project the combination of data for receiving success at the next level.
2023 NFL Draft Outlook:
Mayer continues, as of this writing, to be the first TE taken in mock drafts and always a 1st-rounder. I cannot believe he's ranked this highly, but I know there's a good chance the NFL will follow the media right off a cliff with this type of tight end. But I'll plunk down a nickel that says Mayer falls out of the 1st-round and is NOT the first TE taken…but I'll probably lose that nickel.
If I were an NFL GM, I have no interest in taking Mayer in the draft at all.
NFL Outlook:  
Will be drafted to start right away, and I'm sure he will…and like Cole Kmet, we'll forget all about him within a year or two. Will be a forgettable, lesser Cole Kmet TE in the NFL.