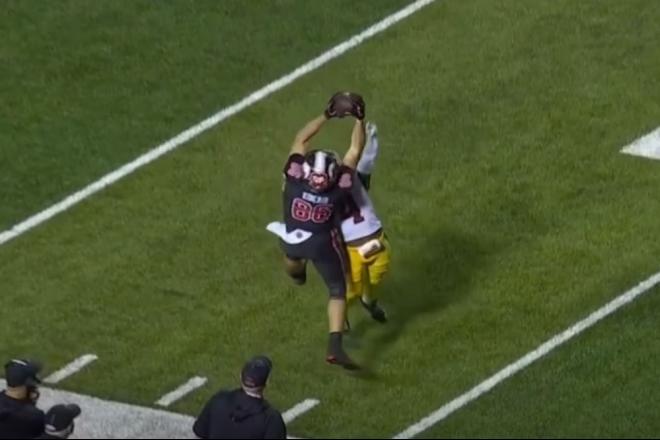 R.C. Fischer
Rookie Scouting Reports
14 March 2023
*Our TE grades can and will change as more information comes in from Pro Day workouts, leaked Wonderlic test results, etc. We will update ratings as new info becomes available.
**Our TE formulas had some slight changes in the 2018 offseason—an adjustment to better identify and value TE prospects that are smaller physically and are primed for the era ahead...the era of Jordan Reed and Delanie Walker-type TEs. Our historical grades will have changed some on various prospects as well, to show their grades by comparison. 
Every time that I spend any scouting time with Dalton Kincaid, I walk away more and more impressed. I liked him immediately last July (2022) in our summer preview series of the top prospects for the upcoming/ next year's NFL Draft. Then, I was just as pleased watching some of his 2022 season tape in my 2023 Senior Bowl preview. Now, spending an extended time watching tape on him -- he's even better than I thought going in…and I already liked/loved him as it was.
I've not seen a tight end with feet/route running ability like Kincaid in a long time…maybe ever. I've seen super-fast TEs and super-beast mode TEs, but I don't think I've ever seen a TE move as quickly in every facet of the route tree as I have with Kincaid -- and that is going to matter, a lot, because it makes him an elite/dangerous weapon at tight end in the new era of passing game in the NFL.
Kyle Pitts is the only other TE prospect that I can recall who has as good/swift footwork as Kincaid…and I think I give the slight edge to Kincaid. Worse case…it's a draw/they're both great. They are also both the same weight (246 pounds) coming into their NFL Drafts (Pitts two inches taller).
If I'm right, and Pitts and Kincaid are comparable elites/weapons in the passing game (but Pitts having some height/reach advantage) -- then there's gonna be value in the fact that Pitts went #4 overall in his draft, but Kincaid may be available in the 2nd-round of this year's draft.
No matter what tape I watch of Kincaid, I see the same guy -- super-fast feet off the snap or in a cut/route downfield, with straight line speed to burn, and really good hands. He legit looks/moves like an NFL WR…only he's a 246-pound tight end.
Mainstream football analysts agree he's like a WR playing TE, but they say that as a negative. They always see the negative in a receiving TE, because they just assume these weapons cannot block…because they're not always blocking, which is silly because: BECAUSE THEY ARE GREAT RECEIVERS, SO WHY SHOULD THEY STAY IN TO BLOCK!! But the thing is…Kincaid is a good enough, willing blocker. He's not the best blocker at TE that I've ever seen…but he's not 'bad'. You get an OK blocking tight end along with an 'A+' receiving tight end in one package -- it's a real opportunity for an NFL team…if they don't butcher it like Arthur Smith has with Kyle Pitts.
I see no flaws or inconsistencies in Kincaid's game, when I focus on what he's gifted at -- as a receiving TE weapon. He's a former high school basketball star who went out for football in his final year of high school and the offers to play football poured in. Kincaid has that basketball movement skill…he's very quick twitched in every way…a great athlete at tight end, who looks/plays like a tight end but is just better/faster than most all TEs in the receiving game -- like historically better.
Kincaid broke/fractured something his back in late season 2022, so he couldn't do the NFL Combine…but he's expected to have a full recovery (possibly doing his Pro Day) and it not be any issue ahead (as bad as 'broken back' always sounds, he's got the good kind…I guess?).
Off the field, I perceive that Kincaid is a bit immature/young -- but not in any dangerous/reckless way, just more on the silly/youthful side. He's well-liked by coaches and teammates, but he may come off as not-as-serious in interviews -- it shouldn't matter, dude can play. People said those types of things (and worse) about Travis Kelce back in the day as well. Kincaid reminds me of Kelce…only Kincaid much better than him coming out of college. There's no TE praise higher than that.
Dalton Kincaid, Through the Lens of Our TE Scouting Algorithm:
 -- 8 TDs in each of his final two seasons in college…16 TDs in 25 games, that's really high-end-productive for a college TE…and one who is still learning the position after not playing football much prior to college.
 -- 2022 vs. USC, Kincaid had a 16 catch, 234 yards, and 1 TD game for the ages. If you watch this 4+ minute video of his USC game, if you really focus on his feet and the type catches he made here…you'll see, arguably, the best receiving TE prospect I've ever laid eyes on: https://youtu.be/G0EUKC1_AHo
2023 Measurables Projections:
6'3.5"/246, 10.25" hands, 32 5/8" arms (NFL Combine)
40-time: 4.5+…possible 4.4s
Three-cone: 6.75+
Vertical: 37"+
.
The Historical TE Prospects to Whom Dalton Kincaid Most Compares Within Our System:
I see Travis Kelce + Kyle Pitts had a baby that's about two inches shorter…and it's Dalton Kincaid. The computer didn't have those two TEs as top matches for Kincaid due to their height being out of comp range for Kincaid, who is a decent/safe NFL height at 6'3.5"…Pitts and Kelce were a little above 6'5". Take height out of it, then you should speak of Kelce and Pitts as his comps.
Antonio Gates was ahead of his time…and a star basketball player as well, and way ahead of his time for basketball athleticism translating to the NFL. Gates was bigger than Kincaid but the only TE prospect in Kincaid's height range who was so amazingly quick/athletic. I, personally, like Kelce-Pitts as comps better than Gates. 
| | | | | | | | | | | | |
| --- | --- | --- | --- | --- | --- | --- | --- | --- | --- | --- | --- |
| TE Grade | TE-Reed | Last | First | Yr | College | H | H | W | Spd-Aglty Metric | Strgth Blxing Metric | Hands Metric |
| 10.163 | 11.93 | Kincaid | Dalton | 2023 | Utah | 6 | 3.5 | 246 | 12.44 | 6.98 | 9.12 |
| 10.665 | 7.91 | Gates | Antonio | 2003 | Kent State | 6 | 4.0 | 258 | 11.07 | 8.29 | 9.10 |
| 7.614 | 10.05 | Engram | Evan | 2017 | Ole Miss | 6 | 3.3 | 234 | 14.59 | 3.35 | 8.38 |
| 7.652 | 10.79 | Carrier | Derek | 2012 | Beloit | 6 | 3.3 | 238 | 13.23 | 5.05 | 10.01 |
| 9.003 | 11.87 | Winslow Jr. | Kellen | 2004 | Miami, Fla | 6 | 3.7 | 247 | 13.06 | 7.93 | 8.15 |
*A score of 7.0+ is where we start to take a TE prospect more seriously. A score of 8.50+ is where we see a stronger correlation of TEs going on to become NFL good/great/elite. A score of 10.00+ is more rarefied air in our system and indicates a greater probability of becoming an elite NFL TE.
All of the TE ratings are based on a 0–10 scale, but a player can score negative, or above a 10.0 in certain instances.
**The 'TE-Reed' score is in honor of Jordan Reed's 2015 season…looking at TEs in a different manner—the smaller, speedy receiving threats.
"Speed-Agility Metric" = A combination of unique metrics surrounding speed, agility, physical size, mixed with some on-field performance metrics. High scorers here project to have a better YAC and show characteristics to be used as deep threats/create separation.
"Power-Strength Metric" = A combination of unique metrics surrounding physical size profiling, bench press strength, etc.  High scorers here project to be more physical, better blockers, and less injury-prone.
"Hands Metric" = A combination of unique metrics surrounding on-field performance in college, considering the strength of opponents played. Furthermore, this data considers some physical profiling for hand size, etc. High scorers here have a better track record of college statistical performance and project the combination of data for receiving success at the next level.
2023 NFL Draft Outlook:
You will know that NFL scouts and GMs have no idea what they are doing when you see Michael Mayer get drafted ahead of Dalton Kincaid (or Darnell Washington…among others). I think Kincaid will go late 1st-round…but he should be contending with Washington as top 15 overall picks, and both way ahead of Mayer.
If I were an NFL GM, I could see/sense a world where Darnell Washington goes top 15 because he's such a physically big freak/power TE…as Kincaid just quietly slips to later 1st-round and possibly into the 2nd-round. If I know that Kincaid is going #20+ on -- I would consider making a move to the top 20-25 to land Kincaid ahead of anyone else…he's that unique a player/weapon.
NFL Outlook:   
I pray he lands with an offensive minded coaching staff, with a good/great QB, that runs/designs an offense to take advantage of his gifts…and pray that he doesn't wind up with Arthur Smith or Mike Vrabel, et. al. Kincaid could be one of the greats as a receiving TE, but he could also get totally wasted by a majority of the NFL coaches who think Michael Mayer is their ideal TE prospect get but will try to stick Kincaid into that stiff/blocking/occasional route running TE role…and waste him for years (a la Dallas Goedert and Noah Fant, among others).
If the Chiefs take Kincaid to be their bridge to post-Kelce, I'll lose my mind.