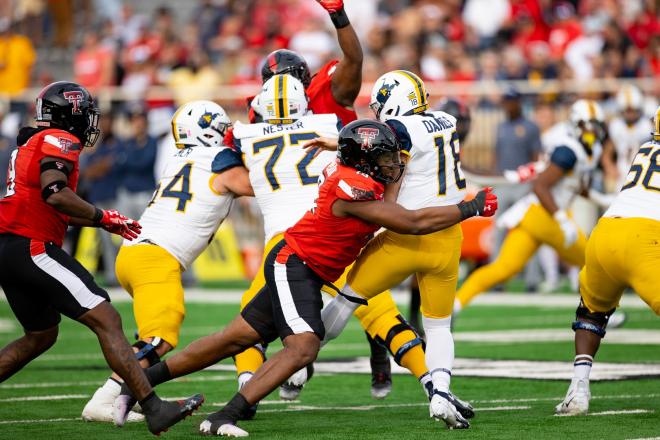 R.C. Fischer
Rookie Scouting Reports
13 March 2023
*Our DL grades can and will change as more information comes in from Pro Day workouts, leaked Wonderlic test results, etc. We will update ratings as new info becomes available.
OK, I get it a little more now than I did prior…after watching a lot of 2021 and 2022 tape on Tyree Wilson. In my preview scouting, I didn't see what the big deal was…tall, rangy guy with size looks pleasing to the eye off the edge -- but he wasn't really dominating on tape or putting up top 5 overall pick numbers in college. A definite NFL prospect, but not this talk of top 3-5-10 pick…didn't make sense to what I saw.
Spending a day watching his tape from 2021 up to 2022, watching the progression -- I am starting to see some of the raw talent, but not like a #1-3-5-10 overall pick…just a legit NFL prospect. If you want to debate whether he's top 10-20-30-40-50, you can. If you can get a 6'6"/270+ guy off the edge who can move pretty well (didn't get timed at the Combine, so who really knows yet?)…it has a value in the NFL. I don't think it's 1st-round value, but the NFL/football media loves EDGE rushers over just about anything in the NFL Draft, so top 10 overall it will be for Wilson, I'm sure.
I don't want to re-debate the value of an EDGE rusher here, per se (I'm not a fan of the constant EDGE extreme valuations, as an NFL analyst). I just want to try and understand (and grade) as best I can just how good (or not) Wilson is as an NFL prospect, among the EDGE options available.
I was more impressed with my deeper study of Wilson by going through his 2021 work and taking it in chronological order to his 2022 tape. I saw a progression of a pass rusher…he was much better/sharper/more dangerous getting from 2021 to 2022. He broke his foot in Texas Tech's 10th game in 2022 and had to miss the rest of the season, so we lost how he was gonna finish out against Oklahoma and facing an SEC team (Ole Miss) in a bowl game…key events I would've liked to see from Wilson.
Wilson has good movement skills and an improved surge to push his blockers back a good amount of the time. It takes him a second to get up off the snap and get his body going to make any moves…and I'm not sure if that flaw is going to hurt him at the next level, or if it just looks funny. You can bully NC State or Baylor with great size and good speed even with a slight slow start, but when he faced SEC Mississippi State in a 2021 season bowl game…he was beat/blocked out most of the game.
Wilson has a big reach/wingspan so he can get to sacks and bother the QB if he can get close, and that's an advantage, but just purely as a pass rusher needing to beat his opposing blocker -- I'm not sure he's any better than 10-20 other EDGE rushers in this class or better than 5 or so guys available in free agency.
To put it another way, to try to describe what I'm sensing… When I watch Myles Murphy or YaYa Diaby or Lukas Van Ness or Tuli Tuipulotu or Adetomiwa Adebawore (all pass rushers near as thick and/or big as Wilson), I see them moving and pass rushing and I'm like 'wow' they can move…I can see how well they get to the backfield and the speed + moves they can deploy…I get a little excited. When I watch Wilson, there's no real 'wow'…he's just tall with great reach. I'm never thrilled with watching Wilson…I just see the size and solid movement skills and just quietly assume 'you know the NFL will love him'.
How excited are you, today, about 6'6" young EDGE Gregory Rousseau? 6'6" Marcus Davenport was a #14 pick in the 2018 draft…now, his rookie deal is over and the Saints are fine to just let him go to free agency. 'Long' (reach) is overrated among edge EDGE rushers…as are pass rushers in general overrated, but don't get me started. "6'6" used to be 'freakish', but there's five EDGE prospects 6'5"+ in this draft alone. The NFL is littered with 6'5"+ EDGE guys.
I need to focus on Wilson…and determining -- how good is he? He's fine. He's big. He's got the reach everyone loves. He's not dominant or 'wow', but he is good/NFL-worthy. There are several EDGE rushers in his size range who have more pop…it's a bad year to be a 'good' EDGE because there's so many of them out there now. Why Wilson is getting the special treatment above them all, I have no idea.
When Tyree Wilson does his Pro Day, I bet his speed-agility will be nearly identical to Iowa's Lukas Van Ness. They're already about the same size…and they had almost the same exact number of sacks the past two seasons -- why is Wilson getting a push to the top #1-5, while people think they're so slick projecting Van Ness as a #15-30 guy…like he's some deep sleeper they discovered for the 1st-round? Wilson hopes his 40-time and agility times are like Van Ness's.
I'm not saying Wilson isn't a good prospect, or not a 1st-round prospect (for the NFL, not for me…and definitely not with the depth of EDGE in this draft)…I just don't get how he's been made a pass rush god over all the other similar EDGE options.
I could sum this all up by saying…all the people who are mocking or pitching Wilson as a top 5-10 pick this year, will probably be right, he will go top 10 -- but I predict that these same people won't care a wit about him two years from now…but today (because it's draft season) are writing poems of deep love and admiration of his work/tape/prospects. He's just not that special…in a class loaded with EDGE potential just like Wilson. People falling in love with 'tall' in the NFL Draft…it's a tale as old as (scouting) time.
I see not one reason why Wilson would be highlighted as the 'best in class' of the 2023 EDGE guys. But people love tall EDGE rushers. You can't talk them out of it. And you definitely won't talk the NFL out of it -- they took three EDGE guys in the top 6 picks of the NFL Draft last year.
Tyree Wilson, Through the Lens of Our DE Scouting Algorithm:
 -- Never finished in the top 3 in the Big 12 in sacks in his career (…but he's SPECIAL!). And the lower number/output issue was not that he played as a 3-4 DE and it's tougher to get sacks that way. Texas Tech mixed up their defensive fronts a lot and I'd say Wilson played much more 4-3 EDGE than 3-4.
He did get a good amount of pressures (per 'favorable' statistical judging…in my opinion), but shouldn't he, if he's so amazing, be dominating sacks and TFL counts?
 -- For his 6'6" size and great reach…credited with one pass defenses (PD) in his 35-game college career. And forced just one fumble in his career. What are those long arms supposed to do again…facing a Big 12 schedule, a weak non-conference schedule, and playing in lesser bowl games?
Adetomiwa Adebawore is a 6'2"/282 EDGE who is a way better athlete across the board than Wilson, but doesn't have Wilson's long arms/reach, and he played the same amount of games in his college career as Wilson did, but forced 4 career fumbles and had 6 passes defended.
What is the value of long arms supposed to be…if you're not batting down passes and stripping ballcarriers of the ball? I'm just saying…if the Wilson scouting case is 'he's so long', then why is 'long' so amazing if all he's going to do is put his head down and keep his arms down to hand fight with his blocker to try and get by him?
2023 Combine Measurables:
6'6"/271
9 5/8" hands, 35 5/8" arms
23 bench reps
That's all he did at the Combine. Our projections on his Pro Day speed-agility times…
40-time: 4.6-4.7 range
Three-cone: 7.2+
Other EDGE rushers at the Combine who are 6'5"+, 265+, and ran 4.6+…Isaiah Foskey, Lukas Van Ness.
Likely to run a 4.6+ at 6'5"+/265+ = Myles Murphy, Tuli Tuipulotu, Keion White.
There are five other EDGE rushers in Wilson's size/athleticism range…I don't see where Wilson is clearly better than all of them. He's closer to the bottom of the list than the top, via the tape, I think.
The Historical DE Prospects to Whom Tyree Wilson Most Compares Within Our System:
I don't love any of the direct comps the computer is pointing out…I see some attributes of the comps in Wilson, but there's not one guy who really embodies what I see in Wilson…but I guess Payton Turner is close-ish when I think about it more. Turner was a #28 pick in the draft…and I thought Turner was an interesting prospect in 2021…and he's been a ghost in the NFL so far.
Turner's physical size and Combine attributes were more impressive in 2021…but not the NFL is being flooded with these types of bigger, faster EDGEs…it's not as unique/special as it was 2-3-5-10 years ago. The NFL is changing fast…but the media's and scout's love for 'tall' EDGE guys remains a constant.
| | | | | | | | | | | | |
| --- | --- | --- | --- | --- | --- | --- | --- | --- | --- | --- | --- |
| DE Score | Last | First | Yr | College | H | H | W | Bull Rush | Speed Rush | Pass Rush Metric | Tackle Metric |
| 7.639 | Wilson | Tyree | 2023 | Texas Tech | 6 | 6.0 | 271 | 8.56 | 6.19 | 8.65 | 6.76 |
| 7.343 | Turner | Payton | 2021 | Houston | 6 | 5.4 | 268 | 8.01 | 8.71 | 7.92 | 5.73 |
| 7.481 | Phillips | Jaelan | 2021 | Miami, Fla | 6 | 5.4 | 260 | 8.65 | 6.49 | 7.68 | 5.07 |
| 6.982 | Bosa | Joey | 2016 | Ohio State | 6 | 5.2 | 269 | 7.22 | 7.29 | 8.39 | 6.56 |
| 4.417 | Smith | Preston | 2015 | Miss State | 6 | 4.7 | 271 | 8.54 | 4.72 | 6.35 | 4.91 |
*A score of 8.00+ is where we see a stronger correlation of DEs going on to become NFL good/great/elite. A score of 10.00+ is more rarefied air in our system and indicates a greater probability of becoming an elite NFL DE.
All of the DE ratings are based on a 0–10 scale, but a player can score negative, or above a 10.0 in certain instances.
Power-Strength Metrics = A combination of several measurements. An attempt to classify the DE prospect as more of a battle-in-the-trenches type of DE, a 'bull-rusher', and/or a DE prospect who has some DT capabilities.
Speed-Agility Metrics = A combination of several speed, agility, size measurements. A unique measuring system to look for DEs who profile more as speed-rush, stand-up DEs, and/or possible OLBs.
Pass-Rusher Rating = A combination of physical measurables, and college performance, graded historically for future NFL profiling. In the simplest of terms, this is an attempt to classify whether a particular DE is likely to achieve high sack totals in the NFL. We know the 'system'/scheme the DE goes on to play in has a part in future success...but so do the player's skills and performance history. "You can't keep a good man/DE down," we'd like to think.
Tackling Rating = A combination of physical measurables, and college performance, graded historically for future NFL profiling. In the simplest of terms, this is an attempt to classify the DE as one more likely to be involved in a heavy amount of tackles, tackles for a loss, and forced fumbles. Lower-scoring DEs in this subcategory tend to be more pure pass-rushers/specialists. This is also our attempt to quantify, if it's possible, the 'toughness' of a player.
2023 NFL Draft Outlook:
95%+ of the mock drafts that I peaked at ahead of writing this, had Tyree in the single digits being taken. He's getting talked into the top 10 still. There's plenty of time for him to fall -- Greg Rousseau was the big top 10/top EDGE two years ago, and he fell in reality…as did that whole EDGE class in 2021. I have a suspicion the same will happen to Wilson -- because he's not unique. Even if you like him a lot…there's so many guys just like him to choose from. I'll guess Wilson goes between #15-25 on draft day…not top 10…but betting against the NFL's pre-loved guys is dangerous. I wouldn't bet money he falls past the top 10.
If I were an NFL GM, I am not taking Wilson in the 1st-round. (a) there are too many other neat EDGE options to pick from, so no need to pay up for any one of them. (b) If I wanted/needed to chase an EDGE rusher higher in the draft/1st-round, Wilson would not be on my short list of all the nice top tier options. I'm not against Wilson for the NFL, I just see better options in this draft.
NFL Outlook:   
Will be drafted highly. He will either start slowly or start out OK in the NFL, depending upon where he lands. Two years from now, no one will hardly remember the fervor happening for him right now…whether it's just because he was just OK/good…or remembered as a wasted fervor of the 2023 EDGE class.