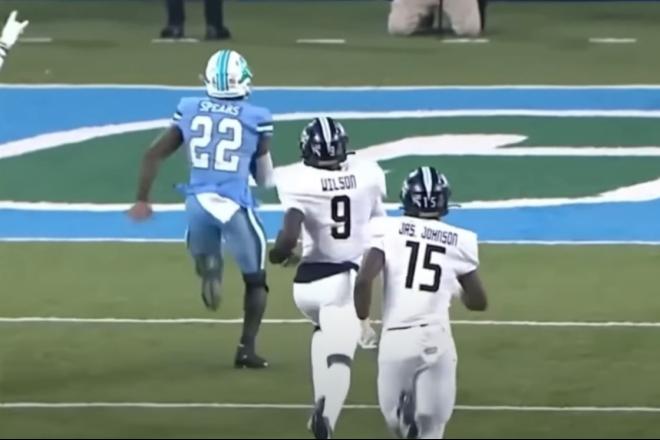 R.C. Fischer
Rookie Scouting Reports
02 March 2023
2023 NFL Pre-Combine Dynasty Rookie Mock Draft: 1st-round (and a VERY important FF strategy message)
Using the 2023 NFL Combine attendees…and using the scouting we've done so far (with a long way to go in the ever-evolving process), here's my look at a generic 1st-round DRD Mock…but more importantly commentary on this group/class for the 2023 DRD…and how we may want to play it after the NFL Combine data comes in. 
I will do a post-Combine Mock as well, just to get a feel for the changes from the Combine…but here's the pre-Combine concept… 
1.01 = Bijan Robinson, Texas/I'm trading this pick…and likely trading my 1st-round pick regardless.
If I had to make this pick, I'd take the obvious guy everyone wants…and then I trade him right after. Actually, I propose trading this pick for real stuff before your DRD.
When I was putting this quick, off-the-cuff mock together…I began by going through the players/positions and writing down names I thought COULD make the top 12. I came up with only 14 names…and I was starting to stretch within those 14 rookies a bit at that because I couldn't believe 'this was it' after the first 5-6 obvious names. It was kind of depressing.
Then, when I went to try and put the prospects in some kind of order…I got even more depressed. I didn't want to pick Bijan at the top…but there really isn't an obvious alternative at the 1.01 that would make me not take Bijan (take, and then trade). As I started to fill in the #2-3-4-5 behind Bijan, I could feel the problem with each pick…the feeling of: 'most of these guys I shouldn't be taking this high/I don't really want this badly/is this really all there is?'
When I get that feeling, then I know it's time to trade away the coveted 1st-round picks. Like we did last year…and see how that turned out (if you weren't with us last year…it turned out VERY well)?
Consider the following…
The top 2023 RB is Bijan Robinson…I'd rather have (in no particular order) 2022 rookies Rachaad, Breece, Dameon, Pacheco, Allgeier than Bijan.
The top 2023 WR seems to be Quentin Johnston or Jordan Addison…I'd rather have (in no particular order) 2022 rookies Watson, Pickens, Wilson, London…and maybe Skyy, Burks, Dotson, Olave, Pierce over them.
I should've painted a clear picture by now…this 2023 DRD is not that good/there is interesting talent later in the draft (just like last year). Sure, there will be a talented enough WR or RB who falls just right (to the right NFL team/situation) and becomes a gem…but that's as likely to happen with a rookie picked #1-5 as it is from #13-50…like we hit on Allgeier and Pacheco as a primary plan last year (and we'll eventually get a Jelani Woods payoff too).
There are great QBs in the 2023 DRD, as well as very good TEs…the QB and TE class is much better in 2023 -- but those are typically not guys/positions you have to/need to take in the 1st-round of the DRD. If you want them, they'll be available in the 2nd-round+ (SuperFlex people excluded…this is a draft to chase QBs in).
My pre-Combine message: We need to get real players in exchange for our 1st-round picks.
What player/s should we target for those picks at the various pick spots…that I'll be going over the next few weeks and months after the NFL Combine. Let's see what the Combine and then Free Agency says, and we can get more specific…but you have total license from me to go ahead and start dealing your 1st-round picks away if you're as convicted as I am on it.
1.02 = WR Jalin Hyatt, Tennessee
If there's a WR who might be that 6'0" +/-, 200 +/- pounds WR who just becomes a kinda Justin Jefferson or Stefon Diggs type WR pop by great landing spot at the right time…it's probably Hyatt among them all. So, for that reason -- I 'reach' here.  
1.03 = WR Zay Flowers, Boston College
If there's an Amon-Ra St. Brown (only faster a foot) type player to come out of this draft, it's Flowers, to me right now. But we've got 'landing spot' to deal with/worry about and analysts complaining about his drop rate (which I am set to study firsthand more next week).
1.04 = RB Zach Charbonnet, UCLA
I think he could be the Tyler Allgeier of this draft…but being the 'Allgeier' is a lot more radical if you get your 'Allgeier' in the 3rd+ round of the DRD, not with the 4th overall pick!
If Charbonnet lands right, he'll be a top 3 DRD candidate…if he lands wrong, then he'll fall out of the 1st-round of the DRD and really be an 'Allgeier' (that we'll target rounds 2 or 3).
See what I mean…how weak this DRD 1st-round is? Look at the conversation we're having about the current #4 guy!
1.05 = RB Tyjae Spears, Tulane
I'm really revved up for Spears, but I am totally worried he's gonna get screwed by the NFL and get pigeonholed as a change-of-pace RB…because teams with a lead workhorse already could make this pick 4th+ round of the NFL Draft and it will be smart of them, but lethal for his FF value.
I can envision waiting/pining away for Spears to get a real chance like we all would have had to wait on Tony Pollard.
1.06 = QB Anthony Richardson, Florida
He's not the instant best QB for the NFL Draft, but his passing upside + the already there running skills makes him the possible top FF QB to reach for.
…and you don't have to pay this high a pick for any FF QB this year, so this is a bad value…see what I mean about this DRD?
1.07 = TE Darnell Washington, Georgia
A Jelani Woods-a-like, only with slower feet potentially/slower 40-time and three-cone, but still an impressive creature, nonetheless.
You won't need to use a 1st-round pick on Washington, most likely, no more than you would have needed to for Jelani last year.
1.08 = QB C.J. Stroud, Ohio State or Will Levis, Kentucky (whoever lands in the best spot)
Joe Burrow wasn't a 1st-round pick in the DRD his rookie season…so, no way Stroud is.
Justin Herbert wasn't a 1st-round DRD pick, so no way Levis is.
But Burrow SHOULD'VE been a top 10 DRD pick in hindsight…thus, I reach for CJS or Levis here.
1.09 = WR Tank Dell, Houston
I am hoping he has some Tyreek Hill in him…but there's as much chance of that as there is the NFL making him a limited touch deep ball decoy and heavy return man. Dell won't be a high NFL Draft pick, so he'll be part of a 2nd-4th-round DRD plan in reality.
1.10 = WR Jordan Addison, USC
Now, I'm reaching…looking for WRs who I might not love but will be drafted to play right away. Addison would be long gone by this pick in reality.
1.11 = TE Dalton Kincaid, Utah
Again, you don't need 1st-round picks to take FF TEs. So, I'm reaching again…hoping for a quick impact 'next Kelce' hope.
1.12 = QB Will Levis, Kentucky or C.J. Stroud, Ohio State
Levis could be the best QB in the class, in the end. Again, you wouldn't need to pick him this high in the traditional DRD. 
Whichever one of them lands in a dome (if) will have the upper hand/valuation. The worst landing spot of the two lands here.
*1.12 BONUS = LB Drew Sanders, Arkansas
If you play IDP, and if you play with 3+ IDPs in the weekly line up…this guy is gonna be a tackle machine who also gets TFLs, sacks, etc. The Luke Kuechly vibes are present.
That's my first reaction/instinct on where we are at with the DRD right now, pre-Combine. We'll be addressing and working through this issue on the best ways to play it all offseason.