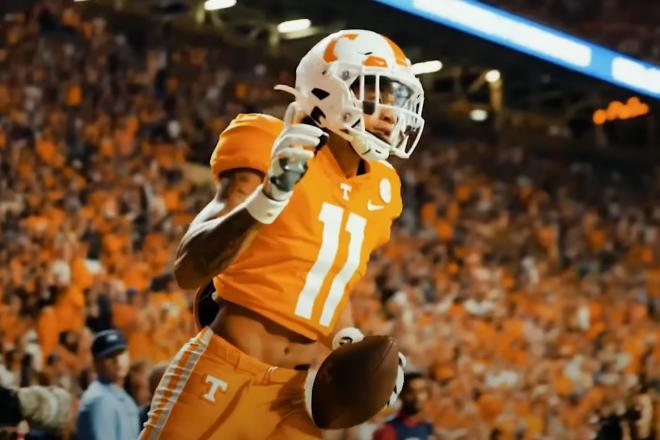 R.C. Fischer
Rookie Scouting Reports
21 February 2023
NFL Draft 2023 Scouting Report: WR Jalin Hyatt, Tennessee
*WR grades can and will change as more information comes in from Pro Day workouts, Wonderlic test results leaked, etc. We will update ratings as new info becomes available.
*WR-B stands for "Big-WR," a classification we use to separate the more physical, downfield/over-the-top, heavy-red-zone-threat-type WRs. Our WR-S/"Small-WRs" are profiled by our computer more as slot and/or possession-type WRs who are typically less physical and rely more on speed/agility to operate underneath the defense and/or use big speed to get open deep...they are not used as weapons in the red zone as much. 
Two years of anonymity at Tennessee for Jalin Hyatt and then a 2022 breakout…in a spot where everyone in the world thought his 2021 decorated WR teammate Cedric Tillman was going to rule -- but as Tillman faded, Hyatt rose to become the breakout star for Tennessee…and also became the (currently) higher rated draft prospect going into the 2023 NFL Draft.
In fact, one of my first thoughts on this shock 'rise of Hyatt' was…did the presence of Tillman aid Hyatt (a la Jaxon Smith-Njigba being assisted in 2021 by his 1st-round WR teammates Garrett Wilson and Chris Olave taking so much coverage attention)?
Well, Tillman missed a few games in 2022…including their big win over Alabama, a game where the week before Hyatt had a 4-63-2 game vs. LSU (and Hyatt had already been producing from the jump of the 2022 season anyway), so Hyatt was not an 'unknown' to Alabama when they met with Tillman out. All Hyatt did in that Crimson Tide win was catch 6 passes for 207 yards and scored a stunning 5 TDs in the contest.
How you interpret Hyatt in the Alabama game…is how, I believe, you should project him for the NFL. Not that he is going to score 5 TDs a game in the NFL, but the 'how' he did it. Hyatt just kept getting open, medium and deep, and Alabama couldn't keep up with him even though he was the obvious difference-maker throughout the game, and Alabama started putting the safety over more and more to help…but it didn't matter. Hyatt did a kinda 'Justin Jefferson' to Alabama…just kept getting open downfield, beating CBs and SAFs by a step or three or running double moves and taking the DBs out of their shoes trying to keep up and allowing Hyatt to get a couple 'wide open by a mile' plays in there.
That's the way Hyatt is going to be in the NFL -- the medium and deep ball burner. Potentially, a 4.3s runner at the Combine…and then it's him (Hyatt) not Jaxon Smith-Njigba (who is similarly built and styled) who is 'like' Garrett Wilson and Chris Olave the most. Hyatt reminds me of a Wilson-Olave hybrid…as good, potentially a tick better.
I watched several games of Hyatt's from 2022…and whether it was in the huge Alabama game, or in the Georgia matchup (6-63-0) or any of the good or weak SEC teams or against FCS Tenn.-Martin -- it was the same guy working medium and deep with superior speed like Garrett Wilson or Chris Olave did in 2021 at Ohio State (and did in the pros) and what Jaxon Smith-Njigba did as well in 2021. They're kinda all the same guy, in a broad scouting sense, but Wilson and Olave ran a 4.38 and 4.39 40-time respectively…and I believe Smith-Njigba will run the 'slowest' of the group in the higher 4.4s or maybe 4.5+…while I think Hyatt could wind up the fastest of the group in the mid-4.3s.
So, when I think of Hyatt…I think of faster Garrett Wilson, however you interpret the value of that for the NFL or Fantasy. If Hyatt does clock in the 4.3s, then he will likely (a) go ahead of Smith-Njigba in the draft, (b) go in the 1st-round, and (c) probably be the first WR taken in the draft. Worst case…only 'b' is true.
Off the field, I did not find any character issues or real injuries worries with Hyatt. He seems like a very gregarious person who is thoughtful and into football. He had to work for it a little bit…it wasn't handed to him (he was 153 pounds his senior year of high school, so a lot of schools passed on him). Hyatt fought off a disappointing first two seasons at Tennessee and built up his body and honed his craft, the coaches noticed, and 'boom' Hyatt is a consensus All-American and Fred Biletnikoff (top CFB WR) in 2022.
Jalin Hyatt, Through the Lens of Our WR Scouting Algorithm:
Sidestepping the surreal Alabama output game, against his toughest other opponents in 2022 (those with top 40 defenses on the season): LSU, Georgia, Kentucky…
4-63-2 vs. LSU
6-63-0 vs. Georgia (not against Ringo mostly/all game)
5-138-2 vs. Kentucky
5.0 rec., 88.0 yards, 1.33 TDs per game
His one game without QB Hendon Hooker playing in 2022: 3-86-0 vs. Vandy in a 56-0 win with the backup QB, who struggled, despite the final score.
2023 Measurables Projections:
6'0"/180-185
9.5" hands, 32" arms
40-time: 4.3s
Three-cone: 6.9+
Vertical: 36-37"+
.
The Historical WR Prospects to Whom Jalin Hyatt Most Compares Within Our System:
I did not know the computer comps before I started spouting off about Hyatt comparisons to Wilson-Olave…but it makes all the sense in the world that he comps with them and the other similar top guys from the 2022 draft.
I think Jameson Williams was/is the more explosive/better than anyone in this group, but Hyatt is graded above Wilson-Olave…for now, before we get better data from the NFL Combine.
I woulda thought Jaylen Waddle to be a computer comp for us as well, but he was not. I see some Waddle in Hyatt. 
| | | | | | | | | | | |
| --- | --- | --- | --- | --- | --- | --- | --- | --- | --- | --- |
| WR Score | Draft Yr | Last | First | College | H | H | W | Power Strngth Metric | Speed Agility Metric | Hands Metric |
| 8.353 | 2023 | Hyatt | Jalin | Tennessee | 6 | 0.0 | 185 | 4.70 | 10.64 | 8.76 |
| 7.553 | 2022 | Wilson | Garrett | Ohio State | 5 | 11.6 | 183 | 4.15 | 9.09 | 8.32 |
| 8.824 | 2022 | Williams | Jameson | Alabama | 6 | 1.5 | 189 | 5.76 | 10.64 | 8.95 |
| 7.703 | 2022 | Dotson | Jahan | Penn State | 5 | 11.5 | 178 | 6.04 | 7.39 | 8.87 |
| 7.439 | 2022 | Olave | Chris | Ohio State | 6 | 0.3 | 187 | 4.25 | 8.81 | 8.20 |
*A score of 7.0+ is where we start to take a Small-WR prospect more seriously. A score of 8.50+ is where we see a stronger correlation of a Small-WR going on to become NFL good/great/elite. A score of 10.00+ is more rarefied air in our system and indicates a greater probability of becoming an elite NFL Small-WR.
All of the WR ratings are based on a 0–10 scale, but a player can score negative, or above a 10.0 in certain instances.
Overall WR score = A combination of several on-field performance measures, including refinement for strength of opponents faced. Mixed with all the physical measurement metrics, rated historically in our database.
"Power-Strength" = A combination of unique metrics surrounding physical-size profiling, bench press strength, etc.  High scorers here project to be more physical, better blockers, and less injury prone.
"Speed-Agility" = A combination of unique metrics surrounding speed, agility, physical size, mixed with some on-field performance metrics. High scorers here project to have a better YAC and show characteristics to be used as deep threats/create separation.
"Hands" = A combination of unique metrics surrounding on-field performance in college, considering the strength of opponents played. Furthermore, this data considers some physical profiling for hand size, etc. High scorers here have a better track record of college statistical performance, and overall this projects the combination of performance and physical data for the next level.
2023 NFL Draft Outlook:
Hyatt is magically in the same range of the mock draft rankings for everyone…#4 WR for most everyone, occasionally someone's #2-3. Projected between #20-32 overall in the draft, usually a 'mode' of #26-28. I would guess that Wyatt runs in the 4.3s at the Combine and then he HAS TO go top 15 like Wilson and Olave, especially with the weak WR class this appears to be.
If I were an NFL GM, I respect Hyatt…love to have him on the team, but I am not paying up 1st-round money for a skinny-ish/speedy WR. But that's just me…I know the NFL absolutely will pay up for a 4.3s running Wyatt.
I would also consider putting some minor money on Jalin Hyatt to be the #1 WR selected in the draft, as of today, at +450 odds (DK).
NFL Outlook:
Just follow the Garrett Wilson or Chris Olave career path (what we know so far) -- 1st-round pick, instant starter, instantly as productive as the skill level of his QB/offense.