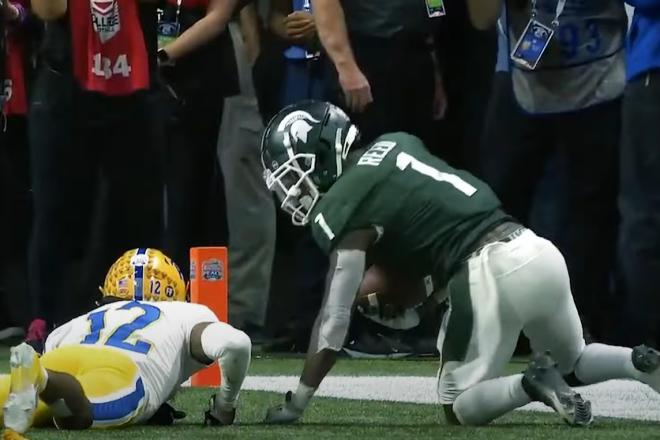 R.C. Fischer
Rookie Scouting Reports
18 February 2023
NFL Draft 2023 Scouting Report: WR Jayden Reed, Michigan State
*WR grades can and will change as more information comes in from Pro Day workouts, Wonderlic test results leaked, etc. We will update ratings as new info becomes available.
*WR-B stands for "Big-WR," a classification we use to separate the more physical, downfield/over-the-top, heavy-red-zone-threat-type WRs. Our WR-S/"Small-WRs" are profiled by our computer more as slot and/or possession-type WRs who are typically less physical and rely more on speed/agility to operate underneath the defense and/or use big speed to get open deep...they are not used as weapons in the red zone as much. 
We have a dichotomy here…
1) Jayden Reed has NFL skills…NFL speed, very good NFL footwork/cut-ability/route running, and can catch the ball fine.
AND
2) Jayden Reed, from what I see on tape, is a finesse…too finesse, 'soft' (SAWFT) WR, and his lack of aggression/presence/toughness could cost him at the next level when he has to swim with the sharks.
…or…he could flip a switch in the pros and come out of his shell and be a really solid NFL WR.
I saw what the analysts were raving about with Reed, at the Senior Bowl…excellent feet off the snap…can get open quickly and can catch the ball from there. Great in non-contact 1-on-1, 7-on-7 drills. Started to disappear a bit, into the backdrop, in 11-on-11 non-contact drills.
But what I saw on game tape is…a guy whose own QB didn't seem too pressed to throw him the ball, a WR who struggled with tougher/top CB opposition…but who's not a WR that opposing teams feel the pressing need to shut down by putting their best coverage on either.
I saw signs on tape of a non-physical WR -- a WR seeking out of bounds over contact or turning his body into contact. Finesse WR can contribute in the NFL, in certain roles, but Reed translates as more of a slot WR type, working over the middle and in between gaps/space, etc., and he isn't as good in the short and medium game (he doesn't appear to operate as smoothly in traffic/congestion)…he's a better downfield game WR (and that's what his mind wants to do) going where it's safer and where he can use his speed to burn CFB coverage from time-to-time.
Reed was working fine enough in college, but playing the medium and deep game isn't going to work as well at the next level at his size unless he has blazing deep ball speed and can run away from everybody…and I don't think he has breakaway speed, just really good speed…a 4.4+ runner like almost every CB in the NFL.
To try to describe this better, I'd say Reed reminds me a lot of K.J. Hamler…college speed stars that NFL scouts adored, who can work OK in the NFL, but looked way better in college…and everyone in the NFL loves them coming out of college but then they kinda quietly disappear in the pros because they are limited in what parts of the field they want to work and they're usually more on the frail side (getting too banged up, missing too much time to get any consistency). We'll see if the computer agrees with my comp of KJH, in a few moments.
Pick a lane, and roll with it on Reed…
1) Reed has solid+ NFL skills and it will serve him well in a more-and-more finesse league. If he lands in the right spot and gets coached well to bring the best out of him…you got a solid WR on your hands.
OR
2) Reed just never finds a groove in the NFL and he becomes forgettable in short order…as there are many WRs flooding in from college with fast feet and decent hands, but many of them seem to want it more…and more stud CBs are hitting the NFL, who can keep up/suppress the quick-footed WRs with their own quick feet.
I'll give you an example of what I'm thinking, what's irritating me about Reed: I just studied Jordan Addison deeper before this Reed study, and they're somewhat close in size and style…but I'd argue Reed has more NFL natural skills than Addison. However, Addison plays with confidence and aggression and desire and gets noticed…where Reed kinda blends harmlessly into the background. If Reed had Addison's 'manner' or 'drive'…Reed would be a way better NFL prospect than Addison.
The fear on Reed is…I'm right, and the new wave of talented CBs handle a finesse WR like Reed…and Reed just disappears into the middle of the WR ranks.
The hope/upside is…I'm wrong, and finesse WRs will be just fine in the new 'no touching' NFL…and if Reed can find 'it' (more aggression and more comfort working the middle of the field), with his higher-end tools, he might be a surprise in this class.
And note…I watched Reed's tape from both 2021 and 2022. In 2022, Reed cut/sliced open his back, in-game, on the sidelines on some metal on the bench, and he was deeply cut and needed a lot of stitching, and he wasn't right the rest of the season, missing games then coming back and trying to play through it. I thought maybe his down 2022 was due to the freak injury issue…but, no, I saw some of my same fears in his higher output 2021 work.
Reed could be a top 3-5 WR in this 2023 (weak) WR class, but he won't go that high because his tape reveals a talented but passive WR. It's a shame, but not everyone has an alpha mentality.
Jayden Reed, Through the Lens of Our WR Scouting Algorithm:
 -- Fully healthy 2021 season, was his best season…59-1,026-10 and 2 punt return TDs. But his bigger output games came against non-conference foes, mostly…or against bad defensive Big 12 teams. For all his getting open well off the snap ways…he really had a disappointing number of catches in 2021 season in 13 games with his skills, though he did have good yardage -- I think because he played a more downfield game than a 'get me the ball anywhere' game, he had lower catches but hit several lightning strike deeper ball/wide open grabs and sprint for a big play or score moments.
 -- One 100+ yard game in 2022…in 11 games…not good for his draft stock. Two 100+ yard games in his final 18 college games. His output, on top of the tape, just doesn't scream 'star'…it's not befitting of his movement skills.
 -- Three career punt return TDs…that keeps you in the game on Reed, hoping he has superior feet and his NFL team can expand his game and toughen him up.
 -- Never finished top 3 in the Big 12 in receptions or yards or TDs in a given season.
2023 Measurables Projections:
5'10.6"/191 (Senior Bowl)
9.25" hands, 30.5" arms (Senior Bowl)
40-time: 4.40+
Three-cone: 6.8+
The Historical WR Prospects to Whom Jayden Reed Most Compares Within Our System:
I like my K.J. Hamler comp…but the computer didn't. Hamler is two inches shorter, so the profiles didn't connect enough, physically, and Hamler missed the top computer comps…so I pulled him special and put him on (last) for my own edification. I also, last second, thought of DeSean Hamilton as another WR whose movement skills everyone loved and fawned over at the Senior Bowl…but didn't have enough 'alpha' to hit in the NFL.
The WRs that the computer profiled Reed with is a collection of never-weres in the NFL…and Mark Clayton was a big disappointment. Not a good sign for Reed.
| | | | | | | | | | | |
| --- | --- | --- | --- | --- | --- | --- | --- | --- | --- | --- |
| WR Score | Draft Yr | Last | First | College | H | H | W | Power Strngth Metric | Speed Agility Metric | Hands Metric |
| 7.099 | 2023 | Reed | Jayden | Michigan St | 5 | 10.6 | 191 | 6.64 | 9.08 | 7.85 |
| 5.478 | 2019 | Johnson | JonVea | Toledo | 5 | 10.6 | 188 | 5.99 | 9.96 | 7.45 |
| 6.980 | 2005 | Clayton | Mark | Oklahoma | 5 | 11.0 | 193 | 7.53 | 9.61 | 7.59 |
| 6.325 | 2011 | Moore | Denarius | Tennessee | 5 | 11.6 | 194 | 7.36 | 10.95 | 7.39 |
| 5.391 | 2022 | Davis | Kaden | NW Mo | 5 | 11.6 | 188 | 4.76 | 8.17 | 6.05 |
| 4.139 | 2012 | Graham | T.J. | NC State | 5 | 11.2 | 188 | 4.16 | 11.78 | 6.56 |
| 6.810 | 2020 | Hamler | K.J. | Penn State | 5 | 8.5 | 178 | 5.69 | 9.13 | 7.00 |
*A score of 7.0+ is where we start to take a Small-WR prospect more seriously. A score of 8.50+ is where we see a stronger correlation of a Small-WR going on to become NFL good/great/elite. A score of 10.00+ is more rarefied air in our system and indicates a greater probability of becoming an elite NFL Small-WR.
All of the WR ratings are based on a 0–10 scale, but a player can score negative, or above a 10.0 in certain instances.
Overall WR score = A combination of several on-field performance measures, including refinement for strength of opponents faced. Mixed with all the physical measurement metrics, rated historically in our database.
"Power-Strength" = A combination of unique metrics surrounding physical-size profiling, bench press strength, etc.  High scorers here project to be more physical, better blockers, and less injury-prone.
"Speed-Agility" = A combination of unique metrics surrounding speed, agility, physical size, mixed with some on-field performance metrics. High scorers here project to have a better YAC and show characteristics to be used as deep threats/create separation.
"Hands" = A combination of unique metrics surrounding on-field performance in college, considering the strength of opponents played. Furthermore, this data considers some physical profiling for hand size, etc. High scorers here have a better track record of college statistical performance, and overall this projects the combination of performance and physical data for the next level.
2023 NFL Draft Outlook:
Reed is tracking top 150 in consensus ranks, but he's starting to get top 100 momentum because Todd McShay decided to attach himself to Reed…and was wanting to draft him in the first-round at the Senior Bowl, to try and profess his love for Reed, like he discovered him and needed to let us know about it every 5 minutes. If Reed runs low 4.4s at the Combine or gets into the 4.3s, he might go in the top 100 with his Senior Bowl momentum. I think he will be right around the #100 mark/a day two pick…assuming he runs well at the Combine.
If I were an NFL GM, I like Reed's gifts -- but I fear his style of play…as Reed's gifts of fleet feet off the snap are getting to be more commonplace, and if his quick feet off the snap aren't going to matter as much if he only wants to play a deeper game. If Reed really fell in the draft, which he won't, at a certain point I'd have to consider taking a shot, hoping my coaches could toughen him up.
NFL Outlook:  
Should be good enough to make an NFL roster and play/see snaps as a rookie.
Could be an OK, weapon/deep speed, finesse WR in the new NFL.
Could develop more toughness and swagger and be a solid NFL starter.
Could get lost in the wave of fast-footed WRs…with the others being bigger and/or tougher and Reed just quietly gets lost in the shuffle.