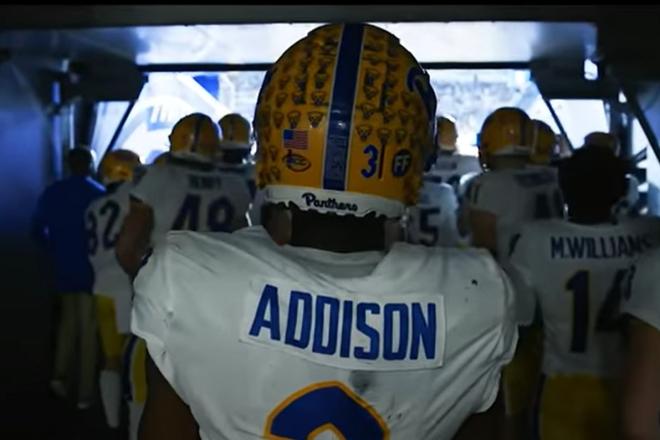 R.C. Fischer
Rookie Scouting Reports
17 February 2023
NFL Draft 2023 Scouting Report: WR Jordan Addison, USC
*WR grades can and will change as more information comes in from Pro Day workouts, Wonderlic test results leaked, etc. We will update ratings as new info becomes available.
*WR-B stands for "Big-WR," a classification we use to separate the more physical, downfield/over-the-top, heavy-red-zone-threat-type WRs. Our WR-S/"Small-WRs" are profiled by our computer more as slot and/or possession-type WRs who are typically less physical and rely more on speed/agility to operate underneath the defense and/or use big speed to get open deep...they are not used as weapons in the red zone as much. 
Jordan Addison
is a solid enough WR prospect for the NFL. But if you're wondering if he's the clearcut top WR prospect, a future NFL star prospect -- no, he is not.
Addison is good. Throw him the ball, and he'll likely catch it. Throw him a lot of passes, and he'll likely catch a lot of passes and have nice output totals. But that describes 50-100+ WRs roaming around the NFL. I see nothing special in Addison's game…I see 'good'…and I see 'was lucky to play with two top QBs the past two years'.
I think Addison is a future NFL slot WR…he has to be, because he'll semi-die in the NFL as an outside WR. Addison is decent off the snap. Can catch the ball and take off with it. He's not overly speedy, but has pretty quick/good acceleration. He's not physically stout, so he doesn't like to take hits and he's not going to run over people. He's simply a quick throw and catch and make a few yards guy. If he fills his too-thin frame out a bit more, maybe he can become a tougher, more rugged slot…but I don't see him doing that.
I don't think Addison will want to play the slot in the NFL - or thrive there. I think he fancies himself as more of a Marquise Brown style…slender/wispy, pretty quick, good hands, play outside the line of scrimmage and stay close to the sidelines to run out of bounds after catches so as not to get smacked into too many collisions/hard tackles. The problem for Addison is, I don't think he's as fast as Marquise Brown…doing a comparison and trying to figure out where/how Addison will fit in an offense. Addison can probably make it work OK in the right offense/with the right QB…but projecting him as an outside WR, in general -- he's not the kind of body/skillset I would want on the outside.
I focused on Addison's games in 2022 vs. high draft pick CB prospects (in 2023), and I thought Addison kinda sucked against them.
2022 v. Utah (two games v. the Utes in 2022) and 1st-round CB hopeful Clark Phillips…Phillips played him physical, and Addison didn't like it. Addison dropped at least one pass…had another 1-2 knocked out by a hard hit from Phillips. Addison basically made his day off swings and screen passes. He had one, what I would call, 'good' catch in their PAC-12 title game…working with a Heisman Trophy winning QB.
2022 v. Oregon State and a CB that I really like, Rejzohn Wright…and Wright totally shut him down in 1-on-1 coverage. Addison had 3 catches for 42 yards and a 1 TD. He barely was a factor all game because Wright took him totally out. Late in the game, Wright passes off Addison to the safety, who was late coming over, and Addison scored a last-minute game winning 21-yard TD.
In 2021, Addison played for Pitt…and with top CFB QB Kenny Pickett. Addison had much bigger output that season, but that's because Pickett was throwing it to him a bunch...and, to be fair, Addison caught the passes. The reason Addison bailed from Pitt last year was because Pickett left for the pros. Addison knew if he played 2022 with Kedon Slovis at QB at Pitt, Addison would have been exposed/been reduced. Smart by Addison…but also is propping him up in analysts' eyes, due to that magical 2021 season.
I go back to my original statement: Addison is good. Throw him the ball, and he'll likely catch it. Throw him a lot of passes, and he'll likely catch a lot of passes and have nice output totals.
Marquise Brown was a more interesting, unique WR in 2019…but in 2022/2023+, there's a bunch of WRs like Brown…and a bunch of just 'better' WRs in general, of all styles. Addison is hitting the league thinking he is special, when he's just generically 'good'…he'll ebb and flow with the talent of his NFL QB/offense. If the Steelers draft Addison, re-pairing him with Pickett -- then he might be really good/have nice output totals and analysts will crow about how they knew it all along. If Addison joins the Jets or Browns, as examples, he'll be forgotten in short order. Remember how excited everyone was about Elijah Moore?
Addison is a solid NFL talent, and that's fine, but not only do I think he's overrated (because the analysts think he's a top 20 player) but I worry he's got an attitude problem as well. The 'Diva' warning llghts are flashing here.
Jordan Addison, Through the Lens of Our WR Scouting Algorithm:
Addison versus top 40 CFB defenses in 2022 season (with the Heisman Trophy QB)…
3-42-1 v. Oregon State
6-69-1 v. Fresno State
3-37-0 v. Washington State
7-106-1 v. Utah
3-45-0 v. Notre Dame
5-65-0 v. Utah
27-364-3…4.5 rec., 60.7 yards, 0.50 TDs = very 'meh' output, and the tape backed that up.
In his 2021 season, Addison faced one top 40 defense all year…Clemson: 5-84-1. Otherwise, he had a steady diet of awful defenses all 2021 and worked it with Kenny Pickett to put up gaudy numbers -- but he had a ton of advantage with that schedule.
2023 Measurables Projections:
6'0"/175
9.5" hands, 32" arms
4.45+ 40-time
6.9+ = Three-cone.
Addison better run with top times at the Combine if he wants to continue to fleece the NFL to become a 1st-round pick. If I were his agent, I would advise Addison to NOT do any times drills and ONLY do the catching drills. Addison is smart…I think he'll figure that out on his own, because he is a diva-like WR (potentially).
The Historical WR Prospects to Whom Jordan Addison Most Compares Within Our System:
He's a spitting image of Paul Richardson…who was a good WR, but too many ACL issues back in a day where that was career death. I was wrong about Garrett Wilson…I thought he'd be OK, but I didn't get the full hype. I do think Addison will come in slower and smaller by comparison…but the system comp provides hope. Again, I think Addison is good…I just don't think he's great or 'wow', and a lot other people do.
| | | | | | | | | | | |
| --- | --- | --- | --- | --- | --- | --- | --- | --- | --- | --- |
| WR Score | Draft Yr | Last | First | College | H | H | W | Power Strngth Metric | Speed Agility Metric | Hands Metric |
| 7.402 | 2023 | Addison | Jordan | USC | 6 | 0.0 | 175 | 3.38 | 8.91 | 8.73 |
| 5.932 | 2014 | Richardson | Paul | Colorado | 6 | 0.3 | 175 | 2.93 | 9.17 | 10.08 |
| 7.553 | 2022 | Wilson | Garrett | Ohio State | 5 | 11.6 | 183 | 4.15 | 9.09 | 8.32 |
| 5.518 | 2017 | Cannon | K.D. | Baylor | 5 | 11.0 | 182 | 5.30 | 10.45 | 7.19 |
*A score of 7.0+ is where we start to take a Small-WR prospect more seriously. A score of 8.50+ is where we see a stronger correlation of a Small-WR going on to become NFL good/great/elite. A score of 10.00+ is more rarefied air in our system and indicates a greater probability of becoming an elite NFL Small-WR.
All of the WR ratings are based on a 0–10 scale, but a player can score negative, or above a 10.0 in certain instances.
Overall WR score = A combination of several on-field performance measures, including refinement for strength of opponents faced. Mixed with all the physical measurement metrics, rated historically in our database.
"Power-Strength" = A combination of unique metrics surrounding physical-size profiling, bench press strength, etc.  High scorers here project to be more physical, better blockers, and less injury-prone.
"Speed-Agility" = A combination of unique metrics surrounding speed, agility, physical size, mixed with some on-field performance metrics. High scorers here project to have a better YAC and show characteristics to be used as deep threats/create separation.
"Hands" = A combination of unique metrics surrounding on-field performance in college, considering the strength of opponents played. Furthermore, this data considers some physical profiling for hand size, etc. High scorers here have a better track record of college statistical performance, and overall this projects the combination of performance and physical data for the next level.
2023 NFL Draft Outlook:
Projected as the #1-2-3 WR in the class and always a 1st-round mock draft projection. I suspect he'll be a 1st-round pick, later 1st-round.
If I were an NFL GM, I'd stick to what I see…and I'd 'pass' on any thoughts of taking Addison 1st-round. I think Nathaniel 'Tank' Dell is a more intriguing, smaller-speedy WR prospect. Maybe I'll be wrong about Addison, and he flourishes at the next level…but, as a GM, if that happens…I'd just have to tip my cap. I just don't see what I like here. I'll find as good/better WRs day two and three.
NFL Outlook:  
I can copy and paste this sentence over and over: depends upon landing spot, QB, and coaching staff…and the existing WR depth chart. Will he be the next Garrett Wilson…or the next Elijah Moore?
…I'll laugh if the Jets draft Addison.