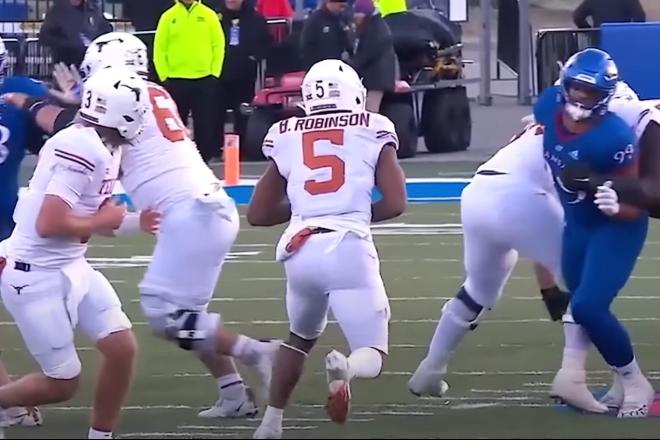 R.C. Fischer
Rookie Scouting Reports
05 February 2023
NFL Draft 2023 Scouting Report: RB Bijan Robinson, Texas
*Our RB grades can and will change as more information comes in from Pro Day workouts, leaked Wonderlic test results, etc. We will update ratings as new info becomes available.
*We use the term "Power RB" to separate physically bigger, more between-the-tackles–capable RBs from our "Speed RBs" group. "Speed RBs" are physically smaller, but much faster/quicker, and less likely to flourish between the tackles.
I don't get it.
I've watched Robinson's tape three different sessions/times now…and I still don't see what everyone else is seeing.
Robinson is the #1 rated RB in the class, universally…I can't find a dissenter on that. But even more shocking, to me, is seeing Robinson in some mock drafts as a top 10 overall pick. With that kind of love/hype, I expected to turn on the tape and see 'it' right away…it should be obvious. Only, every time I watch him…I wonder, 'Do I have the right tape…is this the right Robinson?'
I'm not saying he's a bust prospect…but he cannot be the best RB in this class. I'm not even sure he's the best NFL-style runner/RB prospect on his own team…for 2023, in this very draft – on tape, his stablemate Roschon Johnson looks like I expect Robinson to look.
Now, some/all football analysts and pro scouts in my industry will clutch their pearls at this less-than-fawning Bijan scouting 'take'. How dare you claim this…! You must be stupid…You must be trying to get a rise out of people…You must be some stat nerd contrarian.
I could rattle off my scouting credentials on running backs, but frankly, they're so good it makes me sound like a braggart. It's not about that. But just to compare mine to the mainstream consensus, let me use the past three drafts as an example…
In 2021, you fine folks in the football analyst world told us Najee Harris was an unquestionably elite NFL RB prospect. Have you watched the NFL the past two seasons? Have seen any Steelers games?
In 2020, your gem/top RB taken was Clyde Edwards-Helaire. That aged well.
For 2022, it's too soon to tell whether the mainstream/NFL's call of Breece Hall as the top of the RB class was correct. But my claims that Isiah Pacheco and Tyler Allgeier were on par with Hall…not too shabby a resume enhancer for me, eh?
So, for me to claim the unquestioned Bijan Robinson is not the top, or maybe even a 'great' RB prospect -- it's not out of bounds. My wife, who doesn't watch football, could look at the top pick RB track record of the mainstream and see that you should take 'the field' and you'd end up right more often than by backing the media 100% lockstep top RB prospect pick in any given year. So I have every right…and background to make such a claim against Bijan.
The funny thing is that I really don't want to down Robinson, because he may be the nicest human being in this draft…but I'm not in the 'nice' business. I can't afford to be wrong. I need to be right. My scouting, my film study, my metrics are all pointing to 'good' not 'great'…closer to 'average' than 'great'.
I'll show it to you in numbers in a moment, but let's talk about what I am seeing on tape…
I see a cross between David Montgomery and a slower Kenneth Walker and a smaller Najee Harris. None of those guys are elite running backs to begin with, and I'm saying Robinson is like lesser versions of two of them.
Robinson is 'fine'. He will work. Just like David Montgomery did. I think Robinson's a better version of Montgomery…so, he'll be fine -- but he won't be elite. He won't be a superstar. He simply does not possess the size-speed-agility combo to be a top guy. Like Montgomery, Robinson dances around way too much and tries to change directions often…and it works in college, but as Montgomery found out -- you can't keep dancing away from interior runs, the NFL defenders are too fast and will consume you. Yes, every so often these dancing RBs will make a big jump cut turn and fake a defender out of a first contact…but then they quickly get tackled by others because the constant, exaggerated jump cutting and cutbacks slow them down/they do not have the high-end, breakaway speed, or the size/power to stop, turn away from and then break away from NFL tacklers.
Robinson has decent speed at the 2nd-level, but he's not that quick getting to the 2nd-level for the pros. Robinson will have to be like Montgomery, in the NFL -- learn to be a grinder, save your jump cuts for short space small shifts…stop trying to run up the middle, see trouble and try to do a 180 to kick it to the outside -- you don't have the speed/acceleration/cutting to do that. Jump cutting only slows you down and allows defenders to descend.
It may seem like I'm slamming Robinson. I'm not. He's a 'good' RB talent. He can work as a starter in the NFL. He has enough size and speed, and he'll learn to stop trying to make 11 defenders miss on every other run (he just doesn't have the speed-agility to do it), and he has good+ hands in the passing game. He's got perfect character. He's going to be an NFL Man of the Year candidate. He can run for 1,000+ yards in a season (as can 100 other RBs in the NFL these days if they ever got the chance).
Robinson is a good prospect. But the 100%, universal, unquestionable top RB in this class? I have barely started scouting the RB group deeper, but I can already tell Robinson cannot, will not be our top graded RB prospect…although he'll grade OK/good. He belongs in the NFL, but I just know some dopey team is going to use a top 15-25 pick on him when maybe the single stupidest thing an NFL team could do is waste valuable payroll/a high draft pick on any running back, unless they are some freak of nature. And although Robinson is good, he is not a freak of nature RB prospect…far from it.
He is a 'freak' of great character, and that does matter when ranking the 'good' options at any position. I hope he goes on to be the greatest RB of all time because he is a super charitable, a very nice/engaging, well-spoken young man. My daughter (if I had one) can marry him, but my NFL team is not marrying him…not for the price it will cost.
Great production ESPN background story on Robinson: https://youtu.be/MsLEwuY7z6M
Bijan Robinson, Through the Lens of Our RB Scouting Algorithm:
OK, you probably still don't fully believe me. I'm not infallible, unlike Bijan, I'm not unquestionable! Let me throw this info at you and see how it lands…
Robinson against top 40 CFB defenses in the past two seasons:
20-103-1 = v. Louisiana 2021 (#11 D)
19-69-1 = v. Arkansas 2021 (#39)
21-135-2 = v. Oklahoma St. 2021 (#9)
17-43-1 = v. Baylor 2021 (#10)
18-90-0 = v. Iowa State 2021 (#21)
21-57-1 = v. Alabama 2022 (#9)
28-135-0 = v. Iowa State 2022 (#18)
30-209-1 = v. K-State 2022 (#19)
--------------
174 carries, 841 yards = 4.83 yards per carry (total of the 8 games above)
Under 5.0 yards per carry, in college, for good/great RBs…it's a red flag. I did this same analysis to cast a shadow over David Montgomery a few years ago, among other RBs. It's not a metric that says that these RBs are terrible/busts…but it is a data trend our computer models look for/pick up on, and they indicate there might be a problem.
I see a mediocre/OK/good RB on tape…the numbers against better defenses show an underlying mediocrity/OK/good tendencies. I'm not going to ignore what I see on tape and in the data to join the cool kids club of unconditionally loving Bijan Robinson.
2023 NFL Combine measurables projections:
6'0"/215-220
4.5+ 40-time, could be high 4.4s.
7.0+ three-cone.
The Historical RB Prospects to Whom Bijan Robinson Most Compares Within Our System:
I was thinking about Mark Ingram as a comp before I ran the system analysis…not a special athlete, but big/tough, reads holes well and is highly lauded so they get opportunity that others as or more talented will never get.
Cam Akers is a great example too, in a sense -- fine/good, nothing special, but when his NFL head coach decides to love him, he bases the whole backfield on him. No one thinks of Cam Akers, when they think of the best RBs they see week-to-week in the NFL -- but that doesn't mean Akers isn't useful, decent/good when he's shoved all the touches.
The one advantage Robinson has over most of the RBs on this comparison -- Robinson is a really good, reliable receiver.
| | | | | | | | | | | | | |
| --- | --- | --- | --- | --- | --- | --- | --- | --- | --- | --- | --- | --- |
| RB Score | RB-Re | RB-ru | Last | First | College | Yr | H | H | W | Speed Metric | Agility Metric | Power Metric |
| 7.780 | 7.63 | 7.27 | Robinson | Bijan | Texas | 2023 | 6 | 0.0 | 218 | 6.91 | 7.29 | 8.04 |
| 5.801 | 6.70 | 5.04 | Booker | Devontae | Utah | 2016 | 5 | 11.0 | 217 | 5.78 | 7.97 | 6.36 |
| 7.104 | 5.94 | 7.22 | Ingram | Mark | Alabama | 2011 | 5 | 9.1 | 215 | 6.12 | 2.15 | 7.41 |
| 6.811 | 3.79 | 6.25 | Armstead | Ryquell | Temple | 2019 | 5 | 11.2 | 220 | 7.35 | 5.99 | 7.84 |
| 7.172 | 5.32 | 6.64 | Akers | Cam | Florida St. | 2020 | 5 | 10.3 | 217 | 7.49 | 1.74 | 7.62 |
| 8.004 | 7.40 | 7.61 | Parmele | Jalen | Toledo | 2008 | 5 | 11.4 | 224 | 9.79 | 7.50 | 7.04 |
| 4.878 | 4.34 | 5.09 | Ingram | Keaontay | USC | 2022 | 5 | 11.6 | 221 | 5.89 | 4.08 | 6.59 |
*A score of 8.50+ is where we see a stronger correlation of RBs going on to become NFL good/great/elite. A score of 10.00+ is more rarefied air in our system and indicates a greater probability of becoming an elite NFL RB.
All of the RB ratings are based on a 0-10 scale, but a player can score negative, or above 10.0 in certain instances.
Overall rating/score = A combination of several on-field performance measures, including refinement for strength of opponents faced, mixed with all the physical measurement metrics—then compared/rated historically within our database and formulas. More of a traditional three-down search—runner, blocker, and receiver.
*RB-Re score = New/testing starting in 2015. Our new formula/rating attempts to identify and quantify a prospect's receiving skills even deeper than in our original formulas. RB prospects can now make it/thrive in the NFL strictly based on their receiving skills—it is an individual attribute sought out for the NFL, and no longer dismissed or overlooked. Our rating combines a study of their receiving numbers in college in relation to their offense and opponents, as well as profiling size-speed-agility along with hand-size measurables, etc.
*RB-Ru score = New/testing starting in 2015. Our new formula/rating that attempts to classify and quantify a RB prospect's ability strictly as a runner of the ball. Our rating combines a study of their rushing numbers in college in relation to their offense and strength of opponents, as well as profiling size-speed-agility along with various size measurables, etc.
Raw Speed Metric = A combination of several speed and size measurements from the NFL Combine, judged along with physical size profile, and then compared/rated historically within our database and scouting formulas. This is a rating strictly for RBs of a similar/bigger size profile.
Agility Metric = A combination of several speed and agility measurements from the NFL Combine, judged along with physical size profile, and then compared/rated historically within our database and scouting formulas. This is a rating strictly for RBs of a similar/bigger size profile.
2023 NFL Draft Outlook:
Robinson is the early love for EVERY draft ranker and mock drafter. There is no dissent. Everyone in football MUST have Bijan as their #1 back and include him in 1st-round projections. I even see a few top 10 mocks for him but see him mostly #20+ in the 1st-round. One of the things you can take to the bank on Jan.-Feb. RB rankings…when all of football loves one guy, and he's overrated, come draft day that RB goes later than expected/mocked.
In the end, I'll assume Robinson goes late 1st-round, but falling to the 2nd-round is more likely…even if the first RB taken overall in the draft. He's just not that great…or super-sized…or fast…there's nothing to really sink your teeth into here, except you can fall in love with him in an interview.
If I were an NFL GM, there's no way I would draft Bijan in the first or second round. I would never draft an RB on day one or two of the draft unless they were David Johnson-like special athletes that are once in a lifetime size-speed-agility-hands. That's not Bijan…not even close.
NFL Outlook:  
Will get the same treatment all the super-hyped, 1st-picked RBs get…over-drafted, rammed in as a starter, is fine/solid but not great, but any one of a hundred RBs could produce nice numbers if shoved the same touches and Bijan will be fine, the media will crow about how good they knew he was, while more talented RBs sit on NFL benches for years waiting, but we'll start to not-care about these over-hyped backs about a year later, and two years later they are old news.
Bijan will be fine, but nowhere near as good as everyone thinks. If he gets put on a team with a good+ O-Line, he'll be a producer -- but if he gets stuck with a bad, the wrong O-Line…he could be in trouble (a la Najee in Pittsburgh, or Saquon with NYG -- and Robinson is not as good a prospect as either of those two).
Bijan will be starting instantly in the NFL, as A.J. Dillon and D'Onta Foreman can hardly get a workload/feature spot in the NFL. Dillon or Foreman are superior talents compared to Bijan in 2023…but it won't matter, Bijan will get the push.
A nice (5-minute ESPN) story to make your day on one of the charities Bijan works with: https://youtu.be/tZ_js57Ch7c