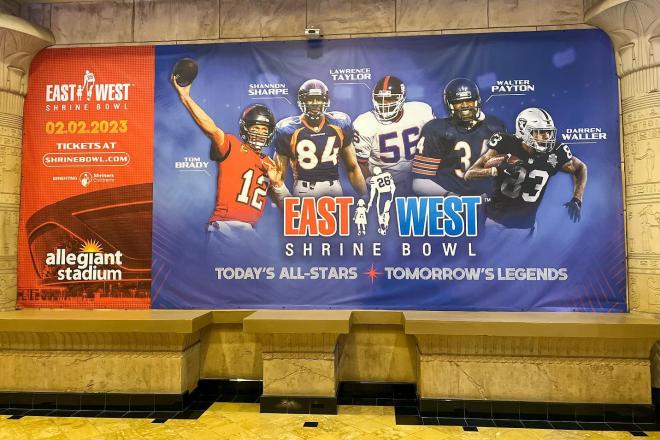 R.C. Fischer
Rookie Scouting Reports
29 January 2023
2023 East-West Shrine Preview Scouting: Running Backs (RB)
RB Xazavian Valladay, Arizona St (Scouting Preview Grade: C+)
6'0"/205
2022: 215-1192-16 (12g), 37-289-2 receiving
Transferred to Arizona St for his final season after playing at Wyoming for 4 years plus a redshirt his freshman season. It was a big step up in competition for "X" as he is known, and many analysts thought he would have a tough time contributing in a meaningful way with multiple other high ranking recruits competing with him for touches. But Valladay seized the job and never looked back, becoming the top playmaker for ASU on the season.
There is definitely a place for Valladay in the NFL. He's probably a little on the thin side to be a main carry RB, but he can contribute as a pass catcher while also taking 5-10 carries per game as part of a rotation. He has excellent feet and can pick his way through traffic as well as break it to the outside. His vision and anticipation help him make up for a lack of elite athleticism. But the thing he'll be drafted for is his elusiveness and hands in the passing game. Valladay could easily make the switch to WR if he wanted to. He's just a natural football player and can contribute in a variety of ways including special teams. He won't be a high pick in the draft, probably 5th-7th round, but depending on his landing spot he could grow into a valuable role.
NFL Comp? = Poor man's Aaron Jones
RB Travis Dye, USC (Scouting Preview Grade: C)
5'9"/200
2022: 145-884-9 (10g), 21-202-0 receiving
Short back but thick and compact, runs bigger and tougher than his size, difficult to bring down 1-on-1 due to his quickness and contact balance. Not a burner in the open field or particularly explosive but as enough speed to contribute in the NFL. What intrigues me is his potential in the passing game. He's a very solid receiver despite only being used heavily in that role during the 2021 season at Oregon. Could definitely see him growing into a 5-8 carry and 5-6 target change of pace back as part of a rotation.
How high Dye's ceiling is will depend in large part on his combine performance but he is still recovering from a season-ending leg injury in November so it's impossible to know if he'll be 100% yet. If he can't participate or performs somewhat poorly it could hide his ability in the short-term but I won't be surprised at all if he becomes a regular contributor "out of nowhere" at some point.
NFL Comp? = Discount Austin Ekeler
RB Mohamed Ibrahim, Minnesota (Scouting Preview Grade: C-)
5'10"/210
2022: 320-1665-20 (12g), 7-50-0 receiving
RC and I previewed Ibrahim last summer and after typing up these notes I went back to see what I had written about him and...my thoughts have not changed one bit apparently. I had the exact same comp in mind and the exact same grade.
Ibrahim is really not a bad little RB. He's not a great athlete, isn't going to test well, will get ignored and drafted very late (6th or 7th round) and yet he's probably going to stick to the bottom of a roster and could be a shockingly effective fill-in option just like my comp for him, Khalil Herbert. Both guys are little bowling ball RBs that make up for their lack of athletic ability with excellent vision, tough running, and an ability to make one defender miss or shrug off indirect tackles. Neither guy is a franchise back. Neither guy offers much in the passing game (Herbert is slightly better in my opinion). But both of them have their place at the next level.
NFL Comp? = Khalil Herbert
RB Tavion Thomas, Utah (Scouting Preview Grade: D+)
6'2"/220
2022: 142-687-7 (10g), 6-43-0 receiving
Transferred from Cincinnati after 2 years of failing to establish a bigger role in the backfield. Put together a solid 2021 campaign with Utah but his senior season was marred by off-field issues and injuries. Thomas has some red flags with his character that teams will need to dig into before they even consider him as a football prospect.
Thomas is a big back at 6'2"/220 and runs with good physicality and power (as he should), but he does showcase a surprising amount of nimbleness at his size. He's not a jump cut guy but his feet are shifty enough to evade a defender or two with the proper angles. As a runner he has fantastic vision and the ability to anticipate holes and cutback lanes. He would benefit the most from an inside zone scheme offense and would fit perfectly with the 49ers due to his patience and vision. Offers almost nothing as a receiver. Thomas has some skills as a pure runner and could make some noise in the right situation IF he cleans up his act and gets his head right, but it's going to take a very niche set of circumstances for him to do so.
NFL Comp? = Brian Robinson/Alfred Morris/Jordan Howard mashup
RB Jordan Mims, Fresno St (Scouting Preview Grade: D)
6'0"/200, 261-1372-18 (14g), 21-126-1 receiving
Very generic looking college-good RB. I don't see anything to get excited about. Average size, average speed, below average agility from the looks of it. He looks unwieldy going trying to cut to the outside. The NFL will wipe him out. Does have decent hands in the passing game but isn't so great that you want him as a 3rd down specialist. Totally unimpressed.
NFL Comp? = Joe Williams
RB Kazmeir Allen, UCLA (Scouting Preview Grade: D)
5'9"/175
2022: 49-403-2 (11g), 15-203-2 receiving
Hybrid receiver/running back that was more receiver in 2022 than back. He's very small and doesn't appear fast enough to justify that small size. I see a guy that might contribute a little in a passing game but probably more as a punt/kick returner which he is quite good at. As a traditional RB I have no interest.
NFL Comp? = De'Anthony Thomas
RB Deneric Prince, Tulsa (Scouting Preview Grade: D-)
6'0"/210
2022: 126-729-5 (8g), 9-84-1 receiving
Very linear runner with surprising speed once he gets going. Prince is able to run through arm tackles but he's not an overly powerful runner and he's not elusive in the least. Completely reliant on his blockers to create lanes. Doesn't look like an NFL back to me. Note: my comp for him might sound like a compliment at first but it is not intended that way. Pacheco is good but one-dimensional and has issues with vision. Prince has the same problems but isn't the athlete Pacheco is and doesn't run with the same energy and toughness either.
NFL Comp? = Slower Isiah Pacheco that runs half as hard