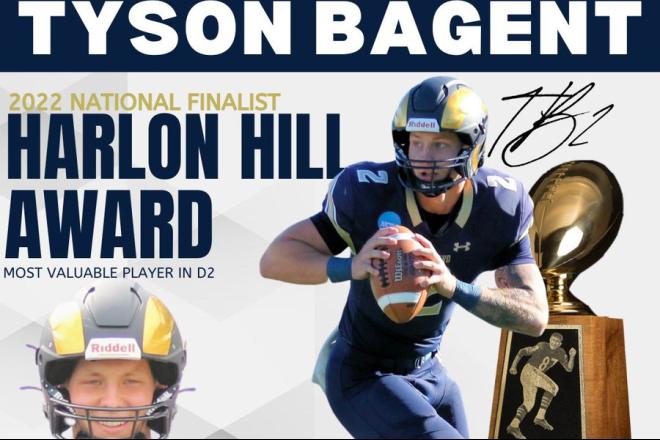 R.C. Fischer
Rookie Scouting Reports
18 January 2023
.
2023 NFL Draft Scouting Report: QB Tyson Bagent, Shepherd (v1.0)
*Our QB grades can and will change as more information comes in from Pro Day workouts, leaked Wonderlic test results, etc. We will update ratings as new info becomes available.
Bagent (BAY-jent)
This is a wild one…a QB prospect out of D2 is headed to the Senior Bowl. He brings some interesting credentials to the party, right off the bat: In 2022, Bagent set the NCAA (any/all divisions) record for TD passes in a career with 159.
It gets more interesting/weird from there…
Bagent was the 2018 West Virginia High School Gatorade Player of the Year. All that got him was a couple low level FCS scholarship offers. He decided to commit to D2 Shepherd University.
Why Shepherd? Most of his family (parents and other relations) attended and played sports for Shepherd. Side family note: Tyson's dad went on to become a World Champion arm wrestler all over the globe, winning big money tournaments. His dad won 28 world championships in total…he won championships right-handed 17 times, and left-handed 11 times. His dad also coached him pre-college to help make him a QB and ensure he would be throwing the ball in games leading up to a college and pro career. He's a pretty intense guy…
Bagent was a 1st-team all-Mountain East Conference/MEC player as a freshman. The school switched conferences for his sophomore season and he was 2nd-team All Pennsylvania State Athletic Conference (PSAC). He lost his junior season to COVID/2020 but picked it up in 2021 and was the Harlon Hill Trophy (D2 Heisman) award winner.
Bagent looked to transfer to D1 after his 2021 campaign, and got offers from West Virginia and Maryland, but ultimately stayed at Shepherd due in part to all the extra classes he would need to take going to D1, when he was just a class away from graduation at Shepherd. In 2022, Bagent was a finalist (not winner) for the Harlon Hill Award.
He now heads to Mobile as a big curiosity for scouts and the other players. He's never faced competition like this in his life.
I set out to scout/study the question everyone wants to know -- can Tyson Bagent play at the next level (also, can he even hang at the Senior Bowl)?
Bagent has NFL physical tools -- he's a purported 6'3"+/220 pounds, a more official measurement…not from the school itself (which is usually fluffed) with 9.4" hands. However, he's not so fast afoot -- a 4.90-5.00 40-timed runner.
He has a decent arm…not a cannon, but not underwhelming either. He has a nice release, can make quick decisions/run an offense, and shows no fear in the pocket when it gets muddy. He has no fear on the field, I think because he may have thrown the ball as a QB about a billion times in his life-to-date. He's very controlled/confident on the field, but at times he can get a little too lax (to my eyes). He gets a little bored and/or sloppy and tries to push passing that isn't there. He has some gunslinger in him, but he doesn't look like an NFL-level gunslinger…or maybe even a D1-level gunslinger.  That could get exposed at the Senior Bowl…or maybe he is so well-trained/practiced that he flourishes there with better weapons to work with.
It's really impossible to tell just how good he is overall, because he's facing D2 defenses on the tape scouts have to work with, and Bagent is so practiced and trained, he's just better than everyone else and he knows it. I will say two things about his play, as a lead-in to his Senior Bowl trip (and then we'll update/adjust this scouting report after Mobile)…
1) He didn't just mow down all D2 opponents with his passing talents. When the D2 opponent was tougher/higher ranked, Bagent's numbers/output/efficiency started to falter. He would crush the crushable, do well against most others…but had some dud games against top D2 teams in 2022.
We also have to allow for the fact that he was not working with the greatest weapon group either. He lost a lot of action via drops and miscues from WRs who will only see the NFL if they buy a ticket.
2) Watching his tape, I never got a sense of 'wow' from him. I saw capable…maybe moldable into a fringe NFLer, but I didn't see 'wow'. He was just really good playing bad competition and throwing the ball a lot.
I hope I'm wrong. I hope he goes to the Senior Bowl and tears it up and becomes a drafted prospect. He seems to be of good character. He's coachable (watching some of his training video). He's yes, sir…no, sir. He's confident and hard working. But we'll see how he reacts when/if D1 defenders reveal him to be over his head at the Senior Bowl. He's never been overmatched in his football life it appears…he's in for a challenge in Mobile. I can't wait!
Tyson Bagent, Through the Lens of Our QB Scouting Algorithm:
It's hardly worth trying to analyze and compare-to-others the numbers here -- he set a bunch of records…single game, season, and career at the D2 level. I will note, Bagent played in his conference title game (won) and then in four playoff games to end last season, making through to the final four before he was beaten. In those late season, better competition playoff games, Bagent's numbers were way down off his regular season accumulations.
For a guy who was usually throwing for 3-5 TDs, 300-400+ yards, and rarely a turnover in most games while completing 70-75%+ of his passes…in the five tougher games at the end of the seasons, Bagent averaged a moderate: 1.4 TD passes/0.8 INTs, 260.4 yards per game and a 5-10% drop in Comp. Pct. in those games.
2023 Pre-Draft Projected Measurables:
6'3.1"/220
9.4" hands, 30.1" arms
4.89-5.00 range 40-time.
The Historical QB Prospects to Whom Tyson Bagent Most Compares Within Our System: 
Bagent comps with really good college QBs who struggled/failed in the pros…but they all hung around in the pros a bit. Bagent has hope to be a fringe NFL QB, who works and works over years to maybe get a crack at some NFL time at some point.
| | | | | | | | | | | | |
| --- | --- | --- | --- | --- | --- | --- | --- | --- | --- | --- | --- |
| QB-Grade | LJax Rating | Last | First | Yr | College | H | W | Adj Comp Pct | Adj Yds per Comp | Adj Pass per TD | Adj Pass Per INT |
| 4.708 | 2.92 | Bagent | Tyson | 2023 | Shepherd | 75.1 | 220 | 63.6% | 11.1 | 22.9 | 44.2 |
| 5.851 | 3.17 | Wenning | Keith | 2014 | Ball State | 74.3 | 219 | 65.7% | 10.8 | 23.1 | 51.4 |
| 5.664 | 1.93 | Couch | Tim | 1999 | Kentucky | 76.1 | 225 | 63.3% | 10.1 | 24.6 | 37.6 |
| 6.005 | 2.03 | Montez | Steven | 2020 | Colorado | 76.0 | 231 | 62.5% | 10.3 | 19.7 | 34.7 |
*'LJax rating' – new for 2023, as we re-do our grading systems to better identify/reward the spread offense QB prospects…looking for the runner-passer talents.
**"Adj" = A view of adjusted college output in our system…adjusted for strength of opponent.
***A score of 8.5+ is where we see a stronger correlation of QBs going on to become NFL good-to-great. A scouting score of 9.5+ is rarefied air—higher potential for becoming great-to-elite.
QBs scoring 6.0–8.0 are finding more success in the new passing era of the NFL (2014–on). Depending upon the system and surrounding weapons, a 6.0–8.0 rated QB can do fine in today's NFL—with the right circumstances…but they are not 'the next Tom Brady' guys, just NFL-useful guys.
----------------------------------------
2023 NFL Draft Outlook:
I've seen Bagent as high as a 6th-round projection but mostly as an undrafted free agent probability. I would bet UDFA for now, but I could change after we see him against D1 athletes for the first time at the Senior Bowl.
If I were an NFL GM, I'd have no interest in drafting Bagent at this point. The NFL does not have the time or patience to work with project QBs for 3-5+ years to develop them. If I had an interest, I'd just wait for a team to cut him then put him on my practice squad.
NFL Outlook:   
Likely undrafted and has to work and scrap for a few years to stick with a team's practice squad and try and hone his craft and make it into the league somehow, someway.