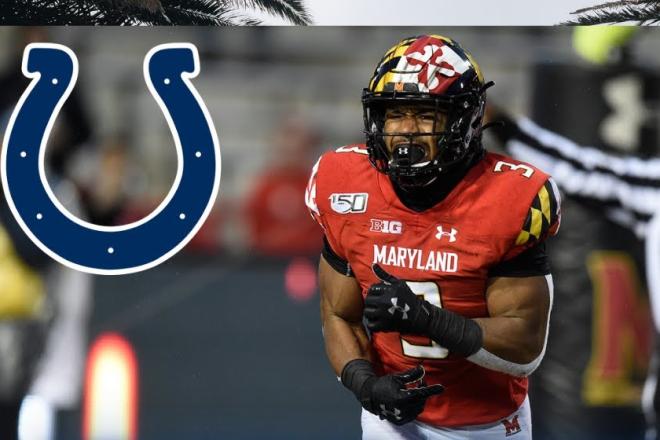 R.C. Fischer
Rookie Scouting Reports
11 August 2022
NFL Draft 2022 Scouting Report: FS Nick Cross, Maryland (by Ross Jacobs)
Nick Cross is, in my opinion, one of the best safeties from the 2022 NFL draft. I would have taken him 2nd behind Kyle Hamilton. RC had him ranked 3rd behind Lewis Cine and Jalen Pitre. The NFL wasn't nearly as high on him as he was the 7th safety off the board in the 3rd round. The Colts thought highly enough of him to trade up though and he'll have a chance to contribute early and often after Khari Willis shockingly retired this off-season after only three seasons in the league.
So why are RC and I so high on Cross and how does he compare to other top safeties of recent years?
Cross was a 4 star recruit out of high school, the #4 safety in the country and the #1 overall player in Maryland. He had multiple offers from big name programs and was originally committed to Florida St but flipped at the last second to his hometown Terrapins.
The departure of Darnell Savage from Maryland would open the door for Cross to play early on. He was already starting midway through his freshman season and would never relinquish the job. In 11 games he totaled 45 tackles, 1 tfl, 2 INTs, and 5 pds.
His 2020 season was cut short by COVID as Maryland would only play 4 total games but Cross still tallied 23 tackles, 1 tfl, 1 sack, 3 pd, and 1 ff in that short time.
In 2021 he managed 66 total tackles, 3.5 tfl, 3 sacks, 3 INTs, 2 pd, and 2 ff in just 12 games.
Scouting Cross is interesting because he essentially just played deep center field for the Terrapins. They relied on his athleticism and range to cover sideline to sideline and he was typically the only line of defense deep. If he made a mistake the offense was going to score.
Cross did make the occasional mistake of course, and because of how the defense was set and what Cross's assignments were, it looks like he is at fault for some egregious mistakes. When you are the only deep safety and the offense hits a deep pass over your head because you bit on a shorter route, it looks really bad. But the reality is the defense was better overall because they could afford to play more 1-on-1 matchups and leave Cross as the lone deep safety precisely because he was so good and so fast.
In other words, because so much was put on his plate by the defensive alignment, Cross tended to take the most blame whenever a big play happened despite the fact that the defense couldn't function the way it did without him.
That's why I believe he fell a little farther in the draft than he should have. There are moments in the tape where Cross gives up a big play behind him because he jumped the wrong route. It makes him look like his instincts are a little suspect. He also looks a little stiff as an athlete at times but again it's largely because he's playing deep center field and when he breaks on a ball he's always moving in a straight line from where he started. The defense didn't ask him to play coverage over the slot where he'd have more opportunities to play side to side and show off his athleticism in other ways.
Scouts are being tricked by the position and role that he played, but if you look hard enough you can find examples of Cross changing direction well, his excellent recognition skills, etc etc. The things most scouts pick out as weaknesses are more a result of his assignments on the field than what he can or cannot do.
That said, Cross does have strengths and weaknesses like anyone else.
On the plus side he's got excellent size at 6'0"/215 with very real 4.34 speed. That is absurd range for someone as big as he is and a huge part of the reason why Maryland built the defense around him. Cross is one of the rare big safeties that can sit in the very middle of the field and still break to either sideline and arrive with a brutal hit by the time the ball can get there.
He is often a big hitter but he really needs a direct line to the ball to reach full speed for those hits. If he's going through traffic (which isn't often because of how deep he plays) he doesn't arrive with nearly as much force and tends to turn into more of a chase and drag tackler. In the open field he's quite reliable at bringing down ball carriers, but I'd like to see him get more reliable at wrapping up. He goes for the ankles too much for my tastes and in the NFL that's going to result in missed tackles from time to time.
In coverage he's pretty good but it's hard to tell what he can do already and what he might be able to do with more practice, again because of the way Maryland used him. He was almost always deep over the middle and was thus coming up to make plays. His style was very much downhill focused but that doesn't mean it's all he can do. Give him a couple of years to develop more techniques and he has all the physical ability to be more of a drop back coverage defender as well. Don't mistake not doing something or the inability to do it.
2022 NFL Combine Measurables:
6'0"/212
4.34 40-time, 1.46 10-yard split
37" vertical, 10'10" broad, 21 bench reps
4.21 shuttle, 6.85 3-cone
Here's a few other top athletes at free safety over the past few years:
Jeremy Chinn
6'3"/221
4.45 40-time, 1.55 10-yard split
41" vertical, 11'6" broad, 20 bench reps
N/A agility times
Kyle Dugger
6'1"/217
4.49 40-time, 1.61 10-yard split
42" vertical, 11'0" broad, 17 bench reps
N/A agility times
Derwin James
6'2"/215
4.47 40-time, 1.55 10-yard split
40" vertical, 11'0" broad, 21 bench reps
4.34 shuttle, 7.34 3-cone
Cross isn't quite as big as these guys or as explosive in his jumps (although they are still very good), but he is significantly faster than any of them. 4.34 at 215 lbs is special and he has excellent agility to go along with it.
Nick Cross NFL Player Comp:
The player that Cross most brings to mind for me would be Marcus Williams but Cross is bigger and faster. It's almost like you took Williams's style and put it in the body of Josh Jones. Cross actually looks a lot like Jones from a physical perspective but he's not nearly as inconsistent as Jones was in college. Cross has the same range and center field ability as Marcus Williams. You think they are out of position and don't have time to make a play on the ball but somehow they get there just in time to break up the pass. Williams does it more with superior timing and excellent recognition ability, but Cross achieves the same effect by simply being the fastest guy on the field. He can afford to react a split second later because he's so fast. If he can continue to hone his football IQ and improve his reaction times, he could ultimately end up one of the most dangerous ball-hawking safeties in the league thanks to his physical ability.
NFL Outlook:
Cross has a chance to play very early on thanks to the retirement of Khari Willis. The Colts brought in Rodney McLeod for insurance but it's likely just a matter of time until Cross takes over. I wouldn't be surprised at all if he's ready to go on day one.
Like any young player he's going to have some bumps and bruises as he learns the pro game. He'll have a bit of a transition to the pros because he's only ever played one coverage for the most part and it's not one he'll be playing nearly as much in the NFL. Gus Bradley is switching the Colts over to a primarily cover 3 scheme and Cross is a fantastic fit for that system. It will allow him to play the same role as he did in college, patrolling the deep middle of the field, but he won't be the lone deep defender anymore and thus not solely responsible for any busted plays in coverage. With help to his left and right it frees him up to run to the ball wherever it is. With his speed from the middle don't be surprised if Cross is playing the enforcer role very early on for the Colts and causing a lot of turnovers. Offenses already have enough to worry about with Darius Leonard patrolling the middle, but now they'll have to worry about Cross coming from nowhere and torpedoing anything that Leonard misses.
I think this is a perfect situation for Cross to very quickly get acclimated to his new role and fit into a very strong existing defense where he won't be pressured to protect against big plays and can instead focus on trying to cause more turnovers. If he can learn the playbook quickly he's got a chance to develop into one of the top young safeties in the game in very short order.
‍