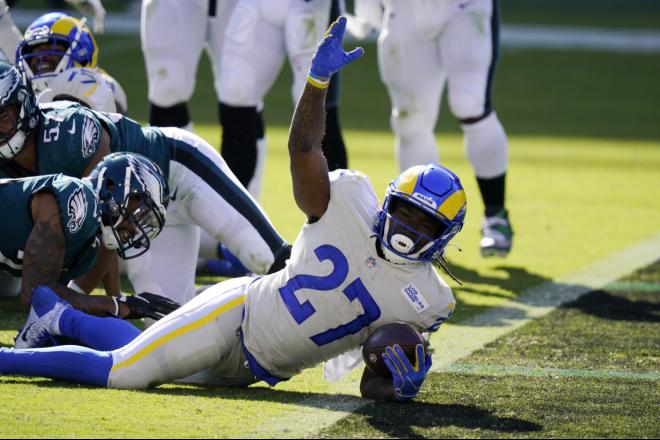 R.C. Fischer
Dynasty Rookie Draft
25 February 2022
Dynasty Rookie Mock Draft Re-do in 2022 (using the 2020 + 2021 rookies)
This re-do DRD is a series we do every January to look back at the recent draft classes to reevaluate the recent rookies and to set up how we'll compare the incoming 2022 class to them. We begin with the 2020-2021 mock draft part.
All positions are eligible. I'm assuming a generic scoring system…like a half-PPR, 5pts per pass TD (in-between 4 and 6), no bonuses. Obviously, a full PPR, 6pts pass TDs, bonus scoring for distance plays or total yards or a TE premium 1.5 PPR would change things. This list is just trying to set the board/rank in a general sense.
We begin on 1/10/22 with the top 5 picks and we'll add a pick/player and commentary every day through the end of the month of January, and if we change the order on any player(s) during this will note it.
1) RB Jonathan Taylor, IND
Jonathan Taylor became the new/young Derrick Henry (for FF) coming off his 2021 – everyone knew he was getting the ball, but no one could stop it. The Colts have a top O-Line group. The head coach got committed to Taylor, finally. Taylor has measurables and pedigree. He has it all…and pretty much everything from the 2021 season will be back for his 2022 season.
The biggest worry is 'mileage'. He took a bunch of carries in college and took 300+ more in the 2021.
You could argue whether a running back should be the top Dynasty asset anymore due to the injury issues, and that's valid, but Taylor was too good in 2021…and his history is as such (good) going back to Wisconsin. You have to take this lay-up choice #1 in a Fantasy environment that still worships the RB.
Taylor is five years younger than D. Henry.
‍
2) RB Najee Harris, PIT (+2 spots since the January end draft/rank)
2/25 UPDATE = The Steelers will build their entire offense around Najee. It doesn't matter what anyone (me) thinks of his running style or limitations, or whatever. He will be their offense…no matter how bad the O-Line or the QB he's stuck with. 
He has a low floor because of workload, and he has a high ceiling if they can ever get a decent O-Line and QB for him to work with.
—--------------------
Org. Comments: 
I don't think he's a top 5 talent, but he is definitely worthy of being in the top five on this list for FF purposes…possibly the #1 on the list even. Why? His 'name' value exceeds everyone on this board. The media so trumpets Najee that his FF value gets boosted by it, because all your league mates drink the Kool-Aid.
I think Harris is a B-C grade prospect with an A+ worldly value with the public, but there's a path for him to be an 'A' for FF/reality if the Steelers get a decent+ O-Line and a decent QB to replace Ben. Harris is a good straight line power runner…he needs an O-Line to just open him some space for him to grind through and he can be a top 3-5 RB in FF in 2022+.
For NFL purposes, I'd take Javonte over him…but for FF purposes, it's still up in the air with maybe Najee should be placed ahead of Javonte. But I'm stubborn to start out the rankings but may change as we go here. Najee is fine for FF, but his name appeal is so massive it is probably undervaluing him back-end of the top 5.
3) TE Kyle Pitts, ATL (+-1 spot since the January end draft/rank)
He is in the argument for #1 overall with Taylor and Jefferson (as we start this rank/list). What Pitts might be able to do at the TE position…a scoring spread so far away from the pack…might force him to be the #1 on this list in retrospect.
I noted/wrote down 40+ possibilities for this top 25-30 list/draft, and there is just one tight end on the list – Pitts. That's some serious supply/demand economics to force Pitts higher up the chain.
If Arthur Smith wasn't such a disaster/a fool in year one as the head man – I'd likely have Pitts over Jefferson, at a minimum.
There are rare 'special' things that you see in this game. There are plenty of good and great players in the NFL, but the 'special' label is rare? And Pitts is that rare unicorn. You want him #1 or #2 on this list…be my guest. You'll get no argument from me. Pitts' future is not about any debate on his talent as much as his coaching and QB to come.
4) WR Ja'Marr Chase, CIN (+2 spots since the January end draft/rank)
2/25 UPDATE = He's obviously Joe Burrow's main target. They're close friends off the field. I'm not going to argue any nuisances – I'll ride what Burrow showed us when he took off late season 2021…he took Chase with him. 
—----------------------
Original. Comments: 
I wasn't a huge fan of Chase's coming out of LSU – I thought he was a decent/OK, speedy WR made great by Joe Burrow. Well, he's had a terrifically productive rookie season and is working way better than I ever thought he would. There's no reason for me to doubt he'll keep this up, because – he's going to be working with Joe Burrow for a while to come. Whatever any of us thinks about Chase…how is it going to get radically worse, naturally, in the seasons to come? He might fizzle some but it's more likely he stays productive as he stays tied to Burrow…whether as a WR1 or just good ole WR2.
You could debate him v. Justin Jefferson for valuation…depending upon when/if there is a new regime in Minnesota, and what the Kirk Cousins future is.
You could also argue that Chase won't be better than his own teammate, Tee Higgins, for FF in the short and long run…but you have to rate Chase higher because his public value/name appeal is off the charts – so much so you could argue he should be ahead of Jefferson on this initial ranking. Maybe we'll move him there. Let's see how the playoffs go.
5) WR Justin Jefferson, MIN 
If you want to get into a debate about the valuations of an RB vs. a WR, then it creates a debate between Jefferson and Taylor for #1. In PPR, you could argue Jefferson is the better asset because WRs are less apt to be hurt/letdowns/replaceable by their backups than RBs are.
The reasons we hold back a touch on JJ not #1 (to start)…
(a) People still freak out about/over value RBs.
(b) Probable new coach in 2022. What system will he be in?
(C) Possible new QB in the next year or two? You start changing coaches and QBs, and it makes the WR more unpredictable. I don't like variation in any WR's flow/norm, but otherwise Jefferson is too good to not take top 3-4-5 here and maybe as high as #1.
6) RB Javonte Williams, DEN (-3 spots since the January end draft/rank)
2/25 UPDATE = There are overtures, this offseason, that the new Denver coaching staff might keep on Melvin Gordon. I can;t push Javonte higher until we see Gordon gone and a real commitment from the new staff…which I think is coming, but I want to see it for real.
—----------------------
Original. Comments: 
I think he's the best-looking RB that I've seen in years…a better version of Jonathan Taylor. What I don't know is – who will his coach be in 2022, and what offense will they run? Who will his QB be? Will they address the O-Line?
Jon Taylor (by comparison) knows who his coach and QB will be (I think…Reich losing to JAX Week 18 might be a curveball firing coming), and JT's O-Line is terrific. Javonte on any of that -- who knows? If Fangio had come back for some reason, I'm not as excited by his terrible offense. A new hire head coach coming…they're scary too.
We'll see who they hire and then maybe Javonte starts to move up on this list.
7) RB Antonio Gibson, WSH
My case for AG is…had he been healthy all season, he would have been a top 5 Fantasy RB and he would then be considered a top 5 redraft pick type RB in 2022 (he might anyway by August). AG finished 2021 strong to re-remind everyone, but he started slow and was in danger of being shut down because of a fractured shin he played through…and then he got turf toe, and then he hurt his hip…but he fought through it to wind up with a decent season – but it might have been a lot more had Ryan Fitzpatrick not gotten hurt right away and if their O-Line wasn't crushed with injury all season.
If Gibson can get healthy and get to work with a decent QB in 2022…he'll be a top producer and hot FF commodity. BUT you have some risk that he continues to battle injuries (as he has for two seasons now) and maybe Washington doesn't get a decent QB and beef up the O-Line.
8) QB Justin Herbert, LAC
Built the way you want a QB to be built – tall, cannon arm, good speed/movement skills plus he's smart/dedicated. He has it all, and he plays in a home dome + faces Vegas once a year…so 9-10 games in a dome are built in right off the bat on the schedule each season. A good thing come December-January of each season.
Was good-not-as-great in 2021 as he was in 2020 (new coach, new offense), but he was still the #2 QB in Fantasy this season. He'll only get better as he goes.
9) QB Joe Burrow, CIN
Burrow or Herbert? That will be a question for years, especially going into 2022. It was clearly Herbert after the 2020 season and about 15 weeks into the 2021 season…until Burrow hit with a flurry the last few weeks of 2021 season and let everyone remember how great he is. No matter which one you choose, Burrow or Herbert…you win.
Why do I have Herbert over Burrow? Two nit-pick reasons…
1) Herbert has the dome, the better climate to work in late into the season most seasons. Burrow has the Cincy climate, and a notoriously bad organization to work for/attract free agents to. Taking a long FF-view.
2) Hebert is better constructed physically. I have to make delineations. I know Tom Brady is not a physical specimen. But Burrow has a serious knee injury already on the books, and Herbert is still clean as a whistle (which are filled with spit, so not sure why they're used as the model for 'clean' clichés…but you get what I'm saying).
Burrow is the 'next Brady' hopeful, but that doesn't mean he's the slam dunk best FF option.
You can't go wrong with either guy here. I could switch horses back and forth every week, every season.
10) WR Jaylen Waddle, MIA (+2 spots since the January end draft/rank)
2/25 UPDATE = It looks like they are keeping Tua and Waddle together, and there's not much FF-better than a QB-WR BFF relationship back to college days. 
—----------------------
Original. Comments: 
If I 100% knew for a fact that Tua and Waddle would be together in the current offense they are running, then I could make a case for Waddle as the #1-2-3 WR on this list (for PPR). But Miami is undergoing a coaching change…and his BFF (Tua) may not be the starting QB in 2022. A lot of variables up in the air.
Waddle is a case study in…it doesn't matter what the scouting is or whether he's better or worse of a talent then WRs on (or not on) this list. He fell into the right spot with the right offense at the right time. If you believe that, then you have to be rattled by all the potential changes about to happen around him.
If you don't care about such things, then Waddle is a top 10 player on this list. Waddle is fine otherwise/when the changes happen but he was in a great spot with just the right QB at just the right time to get a billion little jet sweeps to pad his FF tally. If I thought he would repeat it in 2022, I would be first in-line. I want in on my FF WR getting those kinds of gift targets…I wish KC thought the same of Tyreek Hill. But I think the offense/his surroundings will change radically with a new coach and then Tua could be out in 2022 or 2023, and then we have to erase the board and start from scratch trying to properly project Waddle from here.
‍
11) RB Elijah Mitchell, SF
The lead back for Kyle Shanahan is a good thing…there's always a good O-Line and solid scoring offense to work with. Trey Lance, if he's the 2022 QB, provides some spread/option aid to the RBs in the same way Lamar Jackson does for whomever they want to be their lead back.
The positives: Mitchell is CLEARLY Shanahan's guy. There will be no sharing with Trey Sermon, etc. And Mitchell is a very smart, solid runner…he's a fine talent.
The negatives: He got about every 3rd game he played in and then missed 1-2-3 games, then he'd return, then rinse and repeat with another minor injury his rookie season. And the PPR side of things isn't as hot in a Shanny offense or with Lance at QB. Mitchell is much better for non-PPR.
I really like Mitchell and his situation, but he's not a sensational/amazing RB to watch…he's just really good/steadily boring in a great situation. He's replaceable if he gets hurt too much. He's not an obvious 'great', just an obvious 'good' in a great spot. He works fine whether with Lance or Jimmy G. 
12) LB Micah Parsons, DAL (+4 spots since the January end draft/rank)
The best defensive prospect available in our draft here. He could star in IDP as a pure middle linebacker, or as a pure edge rusher, or as a hybrid of the two.
He's already proven he's a star. He has name recognition. He's the best young IDP out there. Sometimes the smartest thing to do is take 'best in class' regardless of positions/positional need.
13) WR Michael Pittman, IND
I was really impressed with the growth of Pittman from year one to year two…the kind of growth that I had hoped to see from Chase Claypool, but CC got stuck/lost in the Steelers offensive decline while Pittman became a true go-to #1 WR for Indy/Wentz.
As Pittman broke out early on, opponents adjusted and started doubling him (as they should) in part because there were garbage other options around him at WR/TE. It was easy to over-cover Pittman, and he still did well in the 2nd-half of the 2021 season, but he was on fire in the 1st-half.
Assuming the Colts bring in some better receiving weapons to help take some coverage pressure off, Pittman can take another step forward in 2022. He plays in a home dome half of any season, so that's another advantage for his production output.
‍
14) RB D'Andre Swift, DET (+3 spots since the January end draft/rank)
Do we know what this backfield will be in 2022? Anthony Lynn is gone…so the 'Swift as Ekeler redux' narrative is blown up…as it started to when Dan Campbell yanked the offense away from Lynn midseason and Swift's 7.1 targets per game Week's 1-8 dropped to 4.2 targets per game from Week 10 on.
Now, Swift got hurt and missed a few games late…so, we lost some sampling. I don't know if Dan Campbell goes all-in with Swift in 2022 or goes all-in on an RB-duo or RBBC. With that 'unknown' getting introduced we have to be careful spending too much/assigning too much value here in the big picture with all the other more 'known' options available.
I've never been super-high on Swift. He's fine. He's good. His FF output, like most RBs, go as much on their touches than talent.
15) RB Cam Akers, LAR (-5 spots since the January end draft/rank)
2/25 UPDATE = Horrible showing upon his return to action into the playoffs…he was hideous in the Super Bowl. Is it just that he came back too soon? Is it that his Achilles isn't going to be right next season? I don't know, but I was rattled by what I saw and I'd like to 'pass' on him and if he's fine…then I'll assume I took some other good player instead.
His value on this list – is me taking him to trade him because people are loving him for 2022 already…a mainstream RB1 projection over RBs like Javonte or Gibson or Chubb, among others. 
—----------------------
Original. Comments: 
Cam goes from torn Achilles in the preseason to playing in the playoffs. What would have been a shroud of mystery for the offseason (how well he's healed, what are the long-term effects on his foot speed, cutting, etc.) putting his Dynasty value in some question or apprehension…now, it's almost like nothing happened. I'm shocked.
I can only deal with the facts…he's back, he looked fine in limited work Week 18…and then looked normal with extended work in round one of the playoffs. So, we have to see him as 'back'…and have to evaluate him as 'is the lead back for the Rams in 2022' and thus he's a serious RB1 candidate. If there were no Achilles issue in our memory banks, he could be top 3-4-5 on this list…no?
‍16) QB Trey Lance, SF (+4 spots since the January end draft/rank)
2/25 UPDATE = I am waiting to see the 49ers commitment to Lance over Jimmy G., with a Garoppolo trade. There are too many overtures by SF keeping JG and that they are worried about Lance's development. We'll know what they really feel by whether they keep or trade Jimmy G. 
—----------------------
Original. Comments: 
The allure of him developing into a new age, better running Josh Allen type QB has to be valued highly on the promise of it. I still have questions on his passer vision/instinct/ability. I need Lance to be better (someday) than 2nd-year Josh Allen, but fears that his ceiling might be there.
But I see a path to 3rd-year Josh Allen (the breakout season)…I want some stock in that hope ahead if I can find it reasonably. Worries that Jimmy G. could return in 2022 now weigh on this FF situation as well…but those worries might also be bringing a nice 'buy low' opportunity on Lance.
17) WR Darnell Mooney, CHI (-3 spots since the January end draft/rank)
Became the clear #1 WR for the Bears in 2021…he's the better Diontae Johnson developing in the NFL right now. The problem is he has been stuck with a revolving door at QB and too often plays in bad weather later in the season…the QB issue being more pressing.
But as Justin Fields develops, and he was as the season went on (then hurt to end the season), and seeing that Mooney is Fields' CLEAR #1 look – there's a lot of upside here. I really debated back and forth on Pittman or Mooney on the rankings, and I start with Pittman with the edge because of his field (dome) and division – but I love Mooney a lot too and might move him ahead of Pittman depending upon the Bears new coach and free agency and the draft.
‍
18) WR Tee Higgins, CIN (-3 spots since the January end draft/rank)
*1/17/22 = -3 spots on the WR supply + the Ja'Marr continual value rise.
Tee Higgins' numbers this season, for PPR, were right there with Ja'Marr Chase. In fact, right before the insane Week 17 game from Chase, Higgins was ahead of Chase in all FF scoring per game formats and was on a serious roll of 100+ yard games…but that all got lost when Chase threw down 200+ yards and 3 TDs in that big win over KC Week 17.
Chase has the media attention, the name value…but Higgins may actually be Burrow's #1 WR, and that's worth its weight in FF gold too. 
19) Clyde Edwards-Helaire, KC (-1 spot since the January end draft/rank)
I mean, how do we value this guy ahead?
He has draft stock, so that's important to his value. However, he wasn't as important or desired down the playoff stretch like Jerick McKinnon…or Darrel Williams. CEH is a solid player/talent, but isn't it weird that McKinnon and Williams come in, off CEH injury, and do better/look better? And isn't he always hurt; it seems like?
CEH is still a solid pro RB. He has the draft stock. He should be the team's desired starter for KC in 2022…and that has obvious FF value. And, most importantly, people really believe in him – he has intrinsic trade value on a certain level, and I bet he is at the top of every 'sleeper' or comeback' list for FF 2022 as we hit the summer.
I'm not a huge fan, but I'm not radically against…but I know people will give him one more year in love with him before they turn on him…and maybe he finally breaks out. He's becoming more bargain than overvalued.
‍
‍20) WR Kadarius Toney, NYG (-1 spot since the January end draft/rank)
‍I had a hard time placing Toney on this list. At his best, he's the best pure WR talent on here. I mean, his 'debut'/breakout game against Dallas was amazing in 2021. But then he disappeared. Hurt during the preseason. Hurt to start the season. Hurt in his breakout game. Hurt after he came back from the prior hurt. Hurt to finish the season. The big question on Toney was not his ability…it was his mindset – and he didn't win anyone over with his 2021 actions.
At a certain point, you have to pinch your nose, make the pick, and hope you get a winner…knowing you very likely will get frustration at some point, if not right away. All the talent in the world…and he's probably going to throw it all away for a bad rap career. 
But if he ever gets his act together…he's like on a Tyreek level for movement ability, which is amazing for his size.
‍
‍21) RB J.K. Dobbins, BAL (+1 spot since the January end draft/rank)
‍Tore his ACL in the preseason, so he should be healed by the time we get to the 2022 season/Week 1. Dobbins will be the lead in this backfield when he is go-to-go…but the risk factor is – how well did surgery go, how well is rehab going? If he's 100%, he might deserve a bump higher on this list, especially in non-PPR. The risk pressure is…what role is Gus Edwards (also returning from ACL) going to play in this offense? The cleaner the bill of health…the more ticks up the list JKD will/should go.
‍
22) Amon-Ra St. Brown, DET (-1 spot since the January end draft/rank)
I'm not sure how to rank Amon-Ra St. Brown. Before Week 13, I wouldn't have even written his name down for a possibility on this list. From Week 13-18 he became one of the top 5 fantasy WRs in the game. Is the late season run real/a sign of things to come? My tape studies pre-Draft and then observing him in-season says, 'no'…he's not 'that' talented and he's not doing anything that can't be stopped by defenses if they so desired…but the fact remains it happened and if he gets heavy targeting in another crappy year for the Lions, then maybe the 'look' doesn't matter.
They'll be a new O-C in 2022. Possibly a new QB in 2022 or 2023. More WR weapons added. There's a lot that could change ahead for ARSB, but we can't deny the targeting and output that just happened…and if Jared Goff is the QB in 2022, who's to say it doesn't happen again?
He has nice love among the masses…he has trade value, that bumps him up here as well.
‍
23) WR CeeDee Lamb, DAL
I'm not over-the-moon about CeeDee Lamb. I always thought he was overrated, but he has a few FF-things going for him that gives him value: (a) He's good…not great, not a bust…just 'good'. (b) He plays a in an offense that should give him good targets, with a very capable QB. (c) the public LOVES him, loves the name…so he has trade value.
Lamb should be a WR2 in PPR on volume and offense/home dome, but people think 'WR1/1.5' about him because of the name/media…so that's extra value. I'd only /draft to trade or flip him fast.
‍
‍24) Travis Etienne, JAX
‍What will his role be in 2022? Who knows? As of this writing, we don't even know who the coach will be. Is he going to split with James Robinson? Probably. But Etienne might be the PPR guy with 7-10 carries…and that's valuable for FF/PPR.
Really, the 'mystery' of the 'rookie' (guy we haven't seen play yet) will be strong…and that is what props up the value here. If I drafted/owned him, it would be in order to flip him to the 'mystery lovers' out there in leagues. His main value is what your fantasy league mates will create in their minds. 
‍
‍25) RB A.J. Dillon, GB
‍If Dillon could be the clear starter in 2022, he'd be in the top 10 on this list…but Aaron Jones will be back (assumedly), and that will make 2022 a choppy year for output for AJD. I realize this is the long view/Dynasty, so 2022 is just 'one year' -- but the 'right now' matters a lot for `valuations. We're (FF owners) impatient. What you can do for me now is the biggest factor in valuation…then we consider the future along with it.
If Dillon were the clear lead for 2022, he'd be inside the top 10 of this list for sure…possible top five. He has the build and skill sets to be one of the great backs in the NFL. I considered him as high as #10 on this list initially but the Aaron Jones drag on his 2022 really hinders things. If you want to push him higher…and past the likes of sketchy CEH or returning JKD or unknown Etienne…I won't mock you for it. My heart is there, but my computer models taking all things into consideration has him #25 to start.
Honorable Mention/Didn't make the top 25…names of interest (in no particular order)…
Chase Claypool – last year a top 3-5 asset on this type of list…now, not even in the top 25. A top five talent in a very, very messy situation of offense, QB, coach…all dragging him down (plus his attitude isn't helping, but many WRs are arrogant). Nothing but problems here. Perhaps, he'll overcome it all but after an amazing start to his career, Tomlin has squashed him. Will it change in 2022?
Jalen Hurts – A top 8 Fantasy QB in 2021 but using a long term view…he's going to be embroiled in QB controversy and fan/media complaining until he wins a division or wins an MVP or something radical. Love the player, and skeptical of the long-term view.
Rashod Bateman – I'm a fan of his talent, but not of his landing spot. He might breakthrough but he might also be stuck as an erratic WR2-3 with Lamar…more WR3. 
James Robinson – Bad JAX team, new coach, offense, QB, and now Travis Etienne will be back to split touches in 2022. Great…
Rondale Moore – Maybe he'll make a move in 2022 when AJG and Kirk are gone, but visions of the Ghost of Isabella Past are alive and well here.
Chinn-Dugger-Winfield-Curl – All very good DB IDPs, but the heavy supply undermines their individual value.
Josh Palmer – I want key WRs with elite QBs, but Keenan Allen will still be there and likely they bring Mike Williams back…then what's left for Palmer in 2022-2023?
‍